Venice
First of all, before we get into our top 13+ things to do in Venice, do you know that this ancient, beautiful, and historically important city is located in the Adriatic Sea? Small islands (actually 118) connected by bridges create the city of Venice. Furthermore, it is the 11th largest city in Italy and, although has an extremely high tourist population, there are 270,884 permanent residents in this city.
This post contains affiliate links that help keep this website running. By purchasing through our links, we make a small commission at no extra charge to you. Thank you for your support!
Plan Your Calendar
When you think of Venice, you think of the canals, the Historical Regatta, the Carnival, and of course, the architecture. We recommend staying in Venice for at least a few days to truly take in all of its charms.
The Historical Regatta has usually been held at the beginning of September. In 2016, we actually got to stay on the Grand Canal and watched the race from our window while enjoying a spritz and lunch! It was truly amazing but be aware that due to the event, hotel prices go up during this time of year. Especially relevant if you want to stay right on the Grand Canal for the best views. Take a peek at our post Historical Regatta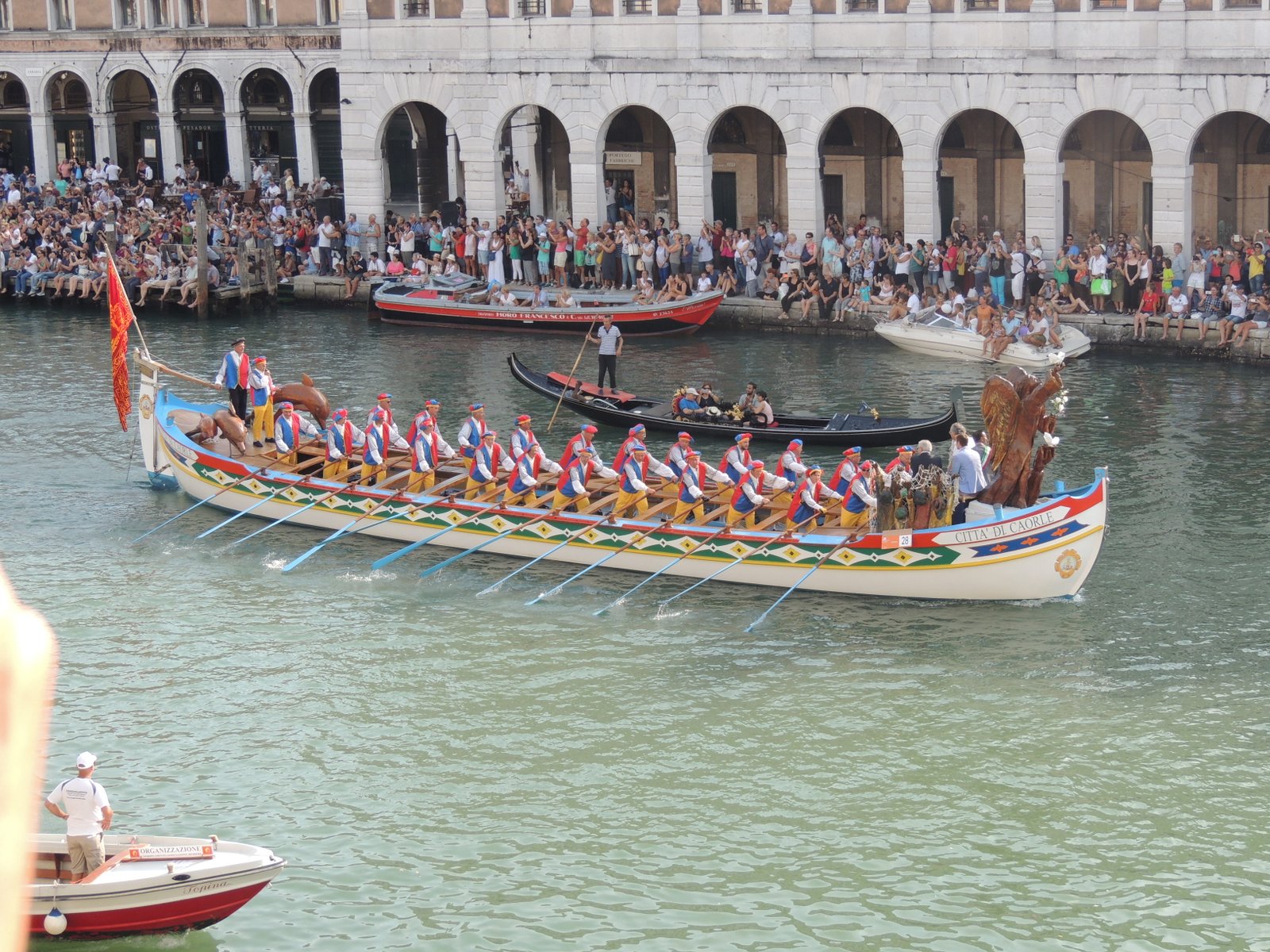 Carnival is usually held at the end of February or the beginning of March. Music, costumes, and especially masks take over the city. This is still on our "Bucket List" of events to see!
Between November and March, be aware of a phenomenon called "acqua alta" (photo below) as it can affect your access to Piazza San Marco. We actually witnessed this in 2012 and the flooding was quite a sight. Due to this event, they actually have raised walkways that they put together in sections to get you from one point to another. While most people use the walkways so they are not knee-high in water, occasionally you will see a tourist just wade through and not use the risers.
Here are our 13+ things to do when in Venice:
1. St Mark's Square
A perfect place to start your adventure in Venice! This is the most famous piazza in Venice and one you won't be able to miss. You will venture through this piazza many times during your stay getting from one place to another. You will find St. Mark's Basilica, Doge's Palace, San Marco, and Campanile all within this square.
2. Mark's Basilica
This church was created in 1092 and is fantastic. The ornate details, mosaics, frescoes, and Byzantine works of art on the inside of the gold ceilings are breathtaking. When we were there during the flooding (acqua alta), the water actually flowed inside the church at the entrance. I am not sure how the mosaic floors have survived all these years of this occurrence. In addition, you can actually walk up on the roof and have amazing views of the piazza. At the time of our last visit, you were not allowed to take backpacks inside. They had lockers available outside in the piazza that you could put your items inside.
3. Caffé Florian
While in St. Mark's Square, a must-visit is to the famous Caffé Florian. The décor hasn't changed much since the 18th century and although a bit pricey to sit and have coffee or dessert, it is well worth the experience. Several cafes surround the perimeter of this piazza and each has a bandstand outside. Each café takes turns playing well-known songs to the tourist's delight. Take your time as the table is yours for the evening. Enjoy people watching, the wonderful coffee and pastries, and most of all; the music. I believe I read that even Charlie Chaplin was once a customer at this cafe!
4. Doge's Palace
Also located in this same area is the Doge's Palace (Palazzo Ducale). This ornately decorated palace is simply stunning. The pink and white marble building is a wonderful example of Italian architecture. It has almost a "lace look" to it with a series of diamond patterns. We took a tour of the palace which was well worth the admission price and in addition, you get to cross the Bridge of Sighs to see the prison that is attached to the palace.
5.  San Marco Campanile
This tower is the tallest structure in Venice and is also located in St. Mark's Square and is 98.6m high. The tower that stands now is actually a reconstruction as the original collapsed in 1902. Through time, the tower has been damaged by earthquakes, fire, and lightning. Take the elevator up to the top for the best panoramic views of the city.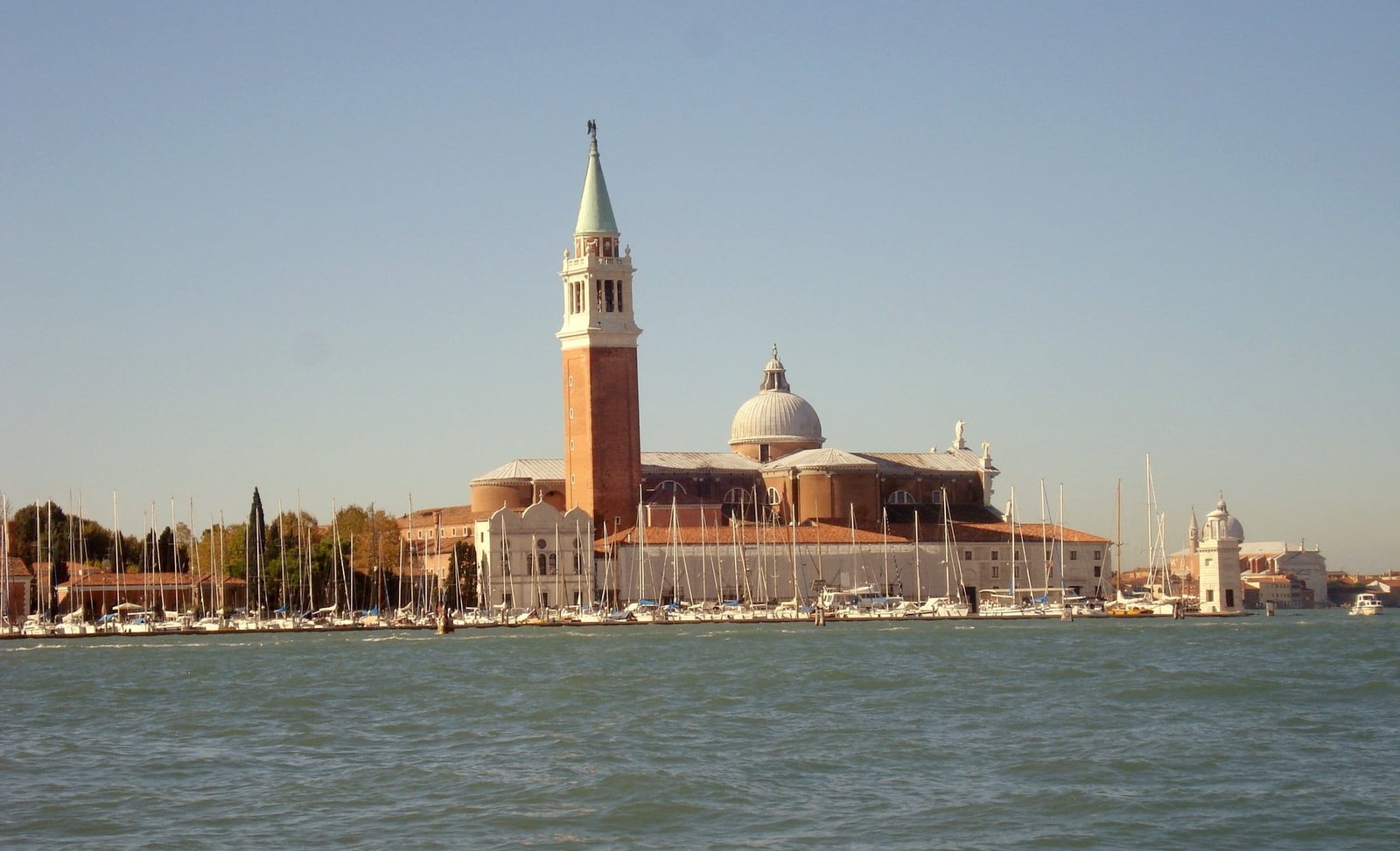 6. Ride on a Vaporetto
Take a ridge on a Vaporetto (water taxi) through the Grand Canal. It is one thing to walk the streets of Venice but you must take the time to see it also from the water. It is very reasonable and more than likely, you will probably take one to get to your hotel when you first arrive in Venice.
7. San Giorgio Maggiore
San Giorgio Maggiore is a small separate island that is located opposite Doge's Palace, across the Grand Canal which can be reached by a short Vaporetto or private water taxi ride. We did a separate post on this which you can view San Giorgio Maggiore
8. Galleria dell'Accademia
The Galleria dell'Accademia is a wonderful museum with works from the Renaissance period. This museum hosts a beautiful collection of pre-19th-century art and features works by artists such as Bellini, Canaletto, and Titian. The Galleria was actually a former convent and converted in the late 1700s. For more information see our post Gallerie dell Accademia
9. Rialto Bridge
The Rialto Bridge is an ornate bridge that crosses the Grand Canal. This bridge has been rebuilt many times and many do not know that the original bridge was made of wood and actually collapsed in 1524. There are four major bridges that cross the canal, but The Rialto Bridge is by far the most famous. This bridge connects the districts of San Marco and San Polo.
Our 13+ things to do in Venice continue…
10. Murano
The island of Murano is well known for its glass-blowing factories and is worth a Vaporetto ride. You can see live demonstrations at many of the factories.
11. Gondola Ride
Take a gondola ride through Venice's Grand Canal. When I think back to our visit in 2012, I went to Venice saying that I wasn't going to take a gondola ride. It "wasn't going to be worth the money", I said. Consequently, one evening we were walking back to our B&B and Gary asked me to reconsider my thoughts on a gondola ride. We bargained (yes, you can do this especially if the weather isn't perfect) and agreed on a price I could live with; and I am so glad we did. It was an amazing experience and one I will never forget. What was funny is our gondolier actually came and visited a friend in Arizona once and said it was way too hot for him!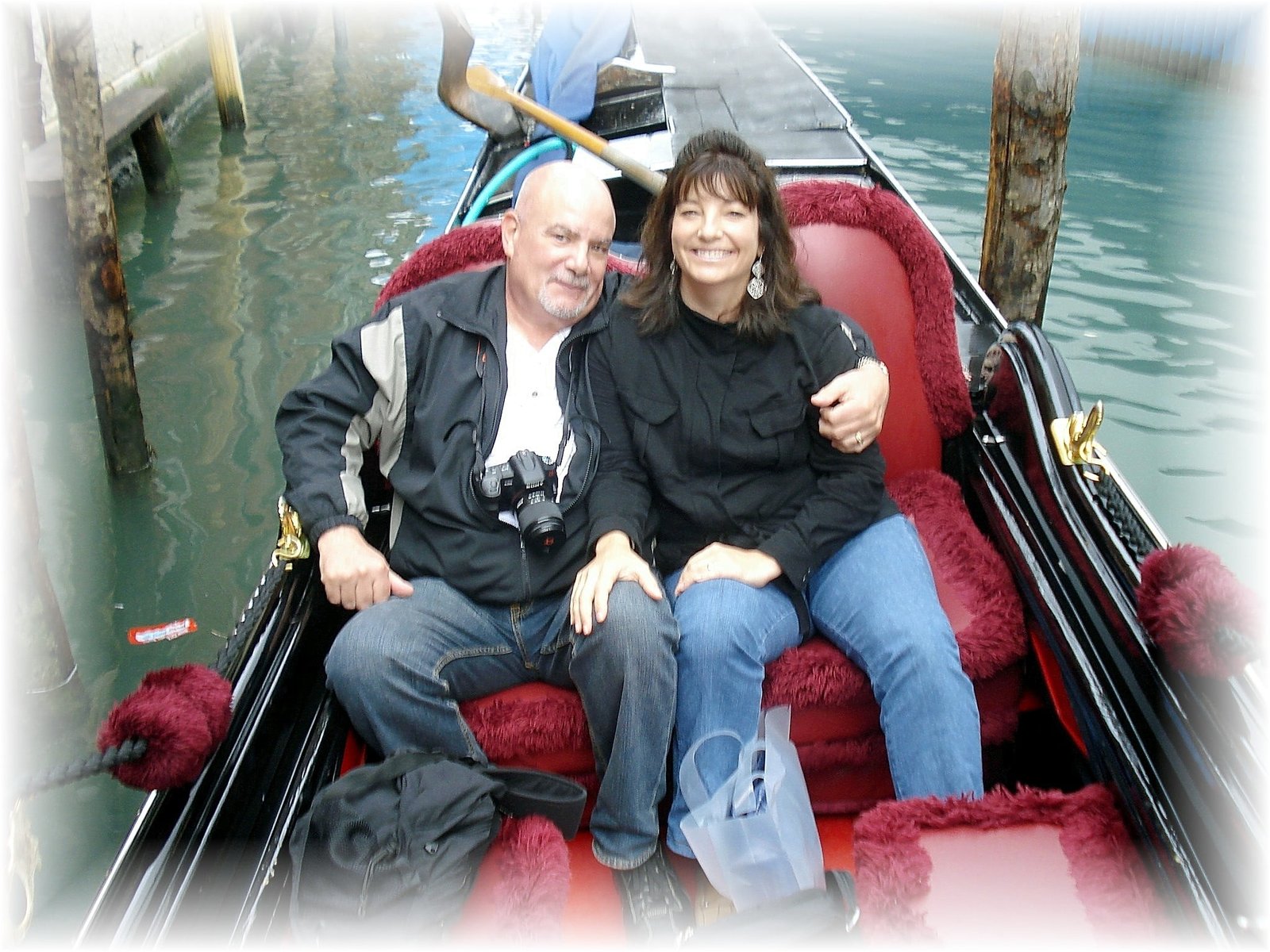 12. Basilica di Santa Maria Gloriosa dei Frari
The Basilica di Santa Maria Gloriosa dei Frari, (Frari) is a Gothic-style church dating from the 14th century. It is very plain on the outside hence why we walked right past it several times. The beauty is definitely on the inside where you'll see works by Titian, Bellini, and Vivarini, among other famous artists.
13. Burano
Burano is about a 40-minute Vaporetto ride from the main island. This island is famous for its beautifully painted homes in just about every color you can imagine. We spent a few hours walking every inch of this island and taking hundreds of pictures! You can see some of them The island of Burano

Other Sites to See
Finally, there are so many more things to see and do when staying in this magical city. Here are just a few more for your consideration:
The Peggy Guggenheim Museum is located close to the Doges Palace and is one of the world's best collections of modern art. While we personally did not visit this museum, we do hear it is pretty spectacular.
The Ca Rezzonico Palace was truly worth the visit. You can read about our visit Ca Rezzonico Palace
The Liberia Acqua Alta Library was such a find! It took us a while to locate it but it was worth the visit Library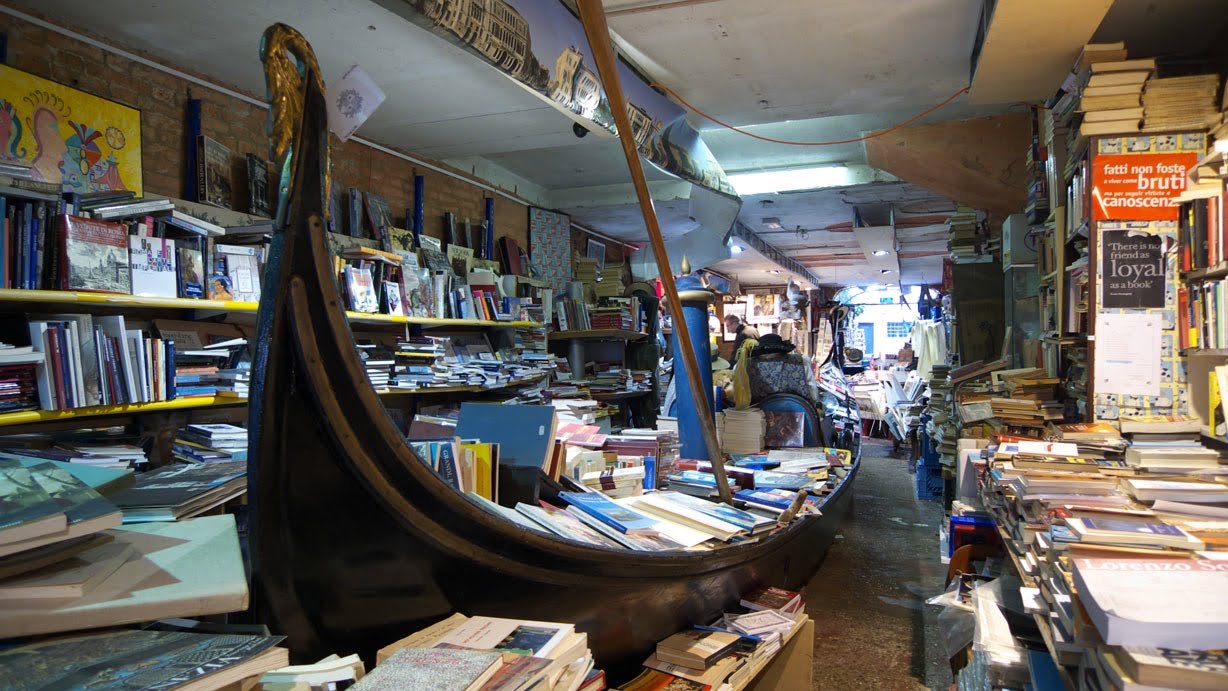 In Conclusion…
Last but not least, guarding the entrance to the Grand Canal is the Basilica di Santa Maria della Salute. Our post can give you more information Santa Maria Della Salute
Please take a moment to comment on this post. We would appreciate it!!