April 26th 2021
We were in the piazza on April 26th for a day of celebration in Italy.
No… April 26th wasn't a national holiday but it was an important day for us here in Italy. To citizens everywhere in Italy! Residents across Italy who have been cooking at home for a year and using "take away" the Italian word for take-out. To those who have missed the social embrace of meeting for a caffè, lunch, an aperitif, and dinner. The entire social scene came to a halt when Covid hit Italy.
This post contains affiliate links that help keep this website running. By purchasing through our links, we make a small commission at no extra charge to you. Thank you for your support!
Update: Live Facebook video has been removed at this time.
Arriving in Lucca
A little more than three weeks ago, we arrived in Lucca. We were able to travel as you know because we are dual citizens with Italia. We've explained a bit about our Covid experience in our previous post about Lucca. But I wanted to clarify and describe a bit more about what it is like to be here during these restrictions.
Our First Delivery Food Order – Ever!
Again, upon arriving and settling in we went to the grocery store to stock up on the essentials. We laugh at our youngest daughter, Ally, and her boyfriend Brett (both mentioned several times in our book,) that they are pros at ordering food using a phone app and having food delivered. Not even pros – they are experts. Something Gary and I have never done.
Our apartment owner, Riccardo informed me that he uses two apps, Just Eat and Deliveroo. So, one rainy day after soon arriving, I downloaded the apps and we were able to accomplish something we'd never done before. Order dinner using an app and have it delivered.
A young woman on her bicycle brought our pizzas to our apartment. Wearing masks, we exchanged our pizzas for her tip which you could tell by her expression, she was surprised to receive. After all – it was drizzling out and she made us happy by finally having pizza in Italy again!
This is our memoir and personal adventure, which has changed our lives forever. Our Italian Journey is a compelling read for anyone who wants to experience and appreciate daily life in Italy and to understand its charm, appeal, and cultural differences. Join in the laughter as we also divulge the trials and tribulations we encountered along the way.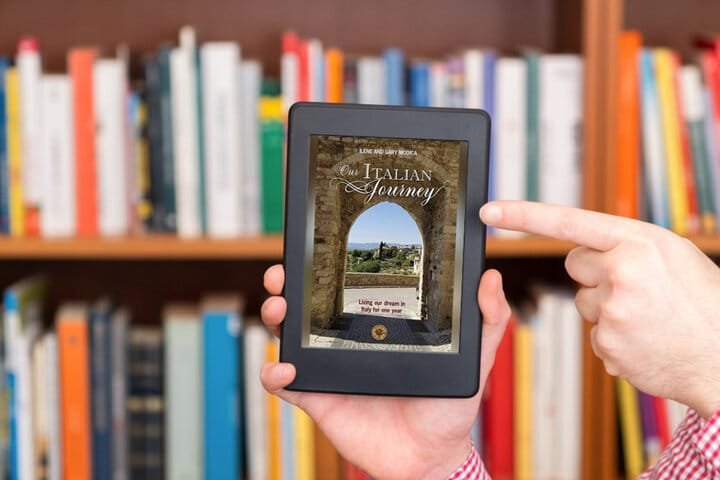 Before the Special Day… April 26th
Before April 26th, the streets were quite empty. Without tourists here, it is only the residents that are able to walk the streets. In Lucca, there are plenty of people riding bicycles – but that's still not it.
What is missing?
Stores & Restaurants in Lucca
It's the number of stores that are closed. Closed due to being out of business or just not open during normal business hours due to special conditions of this pandemic? That I still don't know. Even as of the date of this post.
It's the restaurants that are only open for "takeaway." Their umbrellas are closed tight with chairs and tables stacked and tied together. It's a sad sight for a country that socializes every day in a café and restaurant. Where the norm is meeting especially after work for a cocktail before dinner to catch up on the day.
Before arriving in Italy, Trish, a follower on our social media lived in Lucca for a year and sent us a wonderful email about places she enjoyed visiting and patronizing while she lived here. Most of the places on her list have not been open. We aren't sure if they will open. Were they not able to survive under the restrictions imposed by the Italian Ministry of Health? We will keep walking past these small establishments, hoping and praying we notice some signs of life.
April 26th…
Today, the weather report indicated there was going to be rain. I told Gary, "How can Mother Nature rain on a day like today?" "That would be so unfair to all the restaurant owners!" The Italian Ministry of Health lifted the ban on restaurants, allowing outdoor seating only.
We knew we had to be a part of this day and made plans to sit in a piazza and enjoy an aperitif. We posted on our social media that we were going to go LIVE on Facebook to honor the day and share it with all of you. We had 12.6k views of the video and were amazed by the number of comments and shares.
After This Special Day
We are happy to report that more stores have opened. Some stores still only allow 4-6 people inside the store at one time. People wait in the street, like at our favorite butcher shop, macelleria where only 4 patrons are allowed. No problem – we wait and people watch in the street.
The streets are filled with umbrellas open, tables and chairs cleaned, and positioned in neat rows. Not all have signs of life but we will keep reporting on the status of Lucca and Italy.