Welcome to our store!
Currently, we are pleased to offer a few eBooks and several digital downloads of beautiful doors of Italy. You will also find links to other products we have designed and locations where they can be purchased.
Check back often as we will be adding items available in our store. As always, we thank you for your support.

I designed these fun, multi-purpose lined composition notebooks for everyday use. Great for planning, journaling, or just for note-taking Inspired by travel, gardening, my passion for doors in Italy, and one of my favorite patterns – damask. Available on Amazon – in two sizes. 6×9 and 8.5×11.
We have several 14-day travel planners that coordinate with notebooks. This is the information we use when traveling in a 6×9 compact format—a great tool for traveling and as a keepsake.
NEW! Now available is a 30-day travel planner for those extra special longer trips.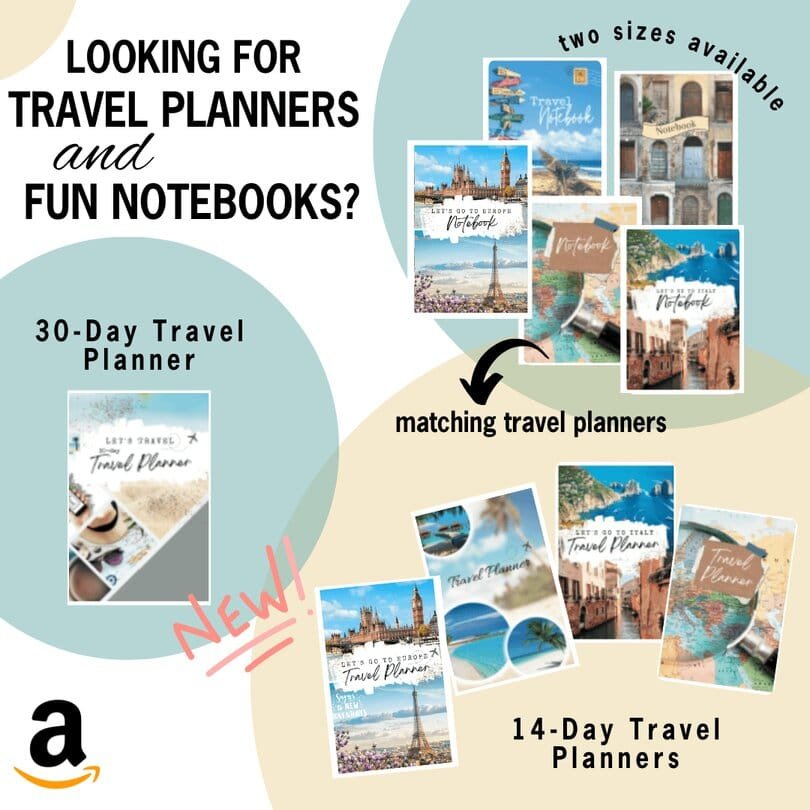 ---
Currently available for purchase directly from our store…
Doors of Italy: Digital Downloads
Please read the information sheet prior to purchasing our digital downloads.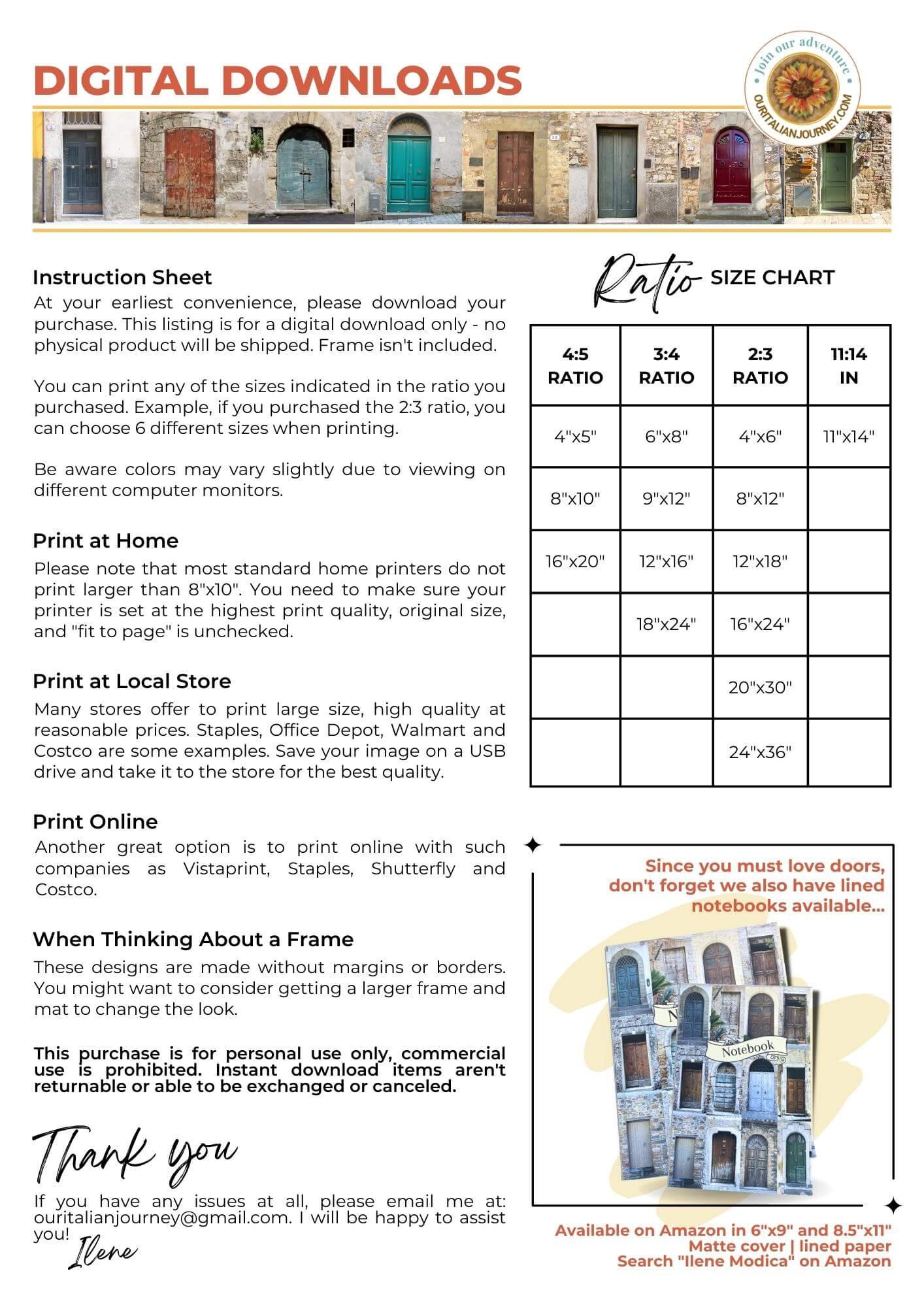 Each download: High resolution, 300 dpi
This ratio allows you to print any of the following sizes: 4″x5″, 8″x10″, 16″x20″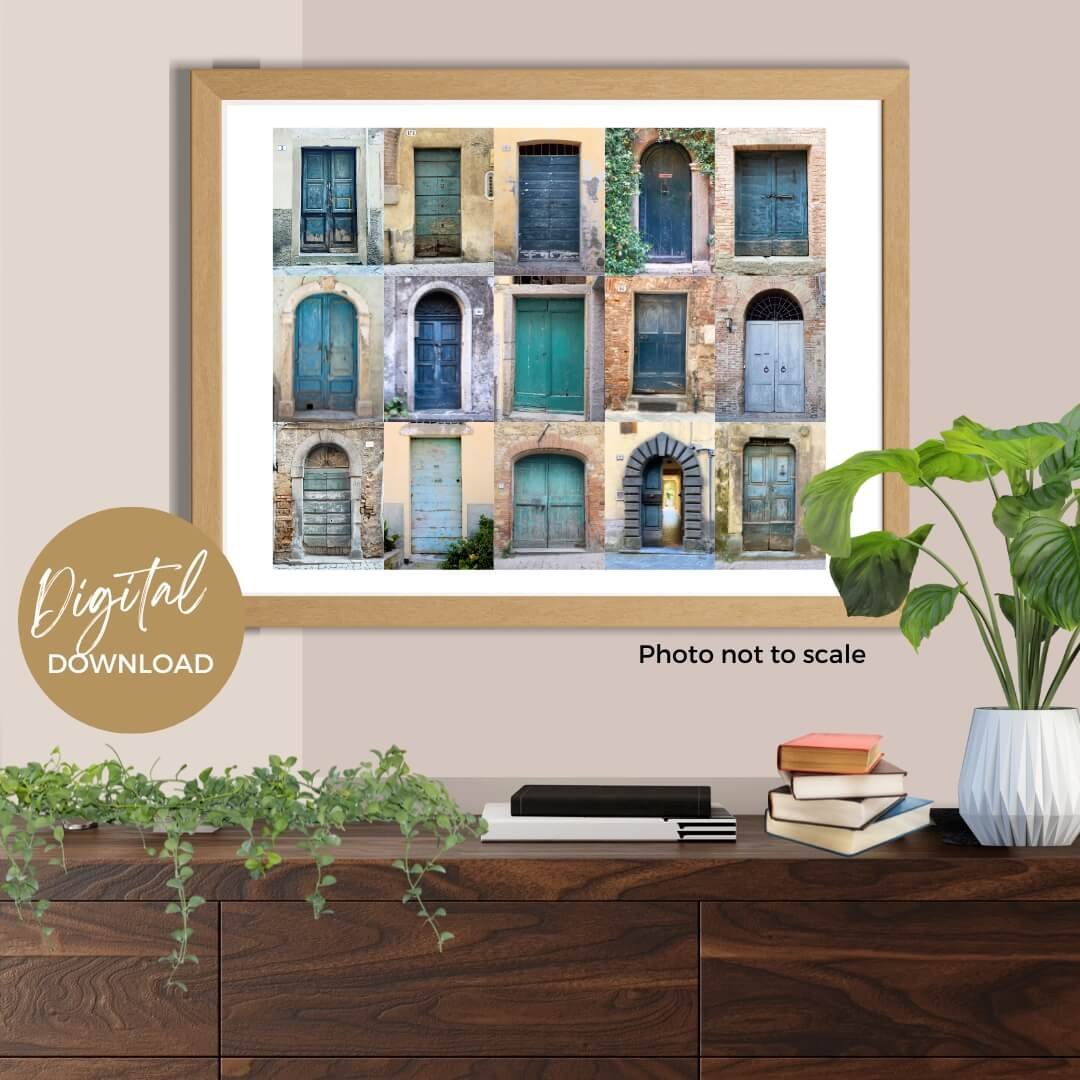 4x5 Ratio (Portrait) Doors in Italy
15 beautiful doors each photo size 4x5 no borders
$9.95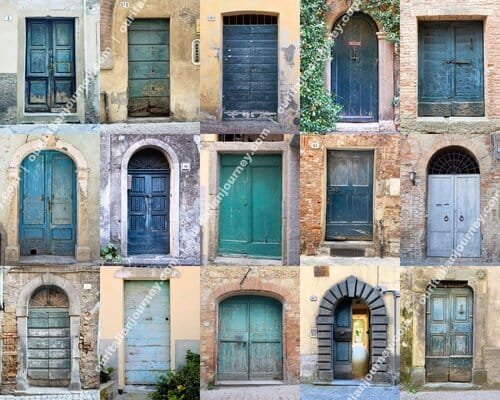 4x5 Ratio (Landscape) Doors in Italy
15 beautiful blue doors each photo 4x 5.3 no borders
$9.95
Each download: High resolution, 300 dpi
This ratio allows you to print any of the following sizes: 6″x8″, 9″x12″, 12″x16″, 18″x24″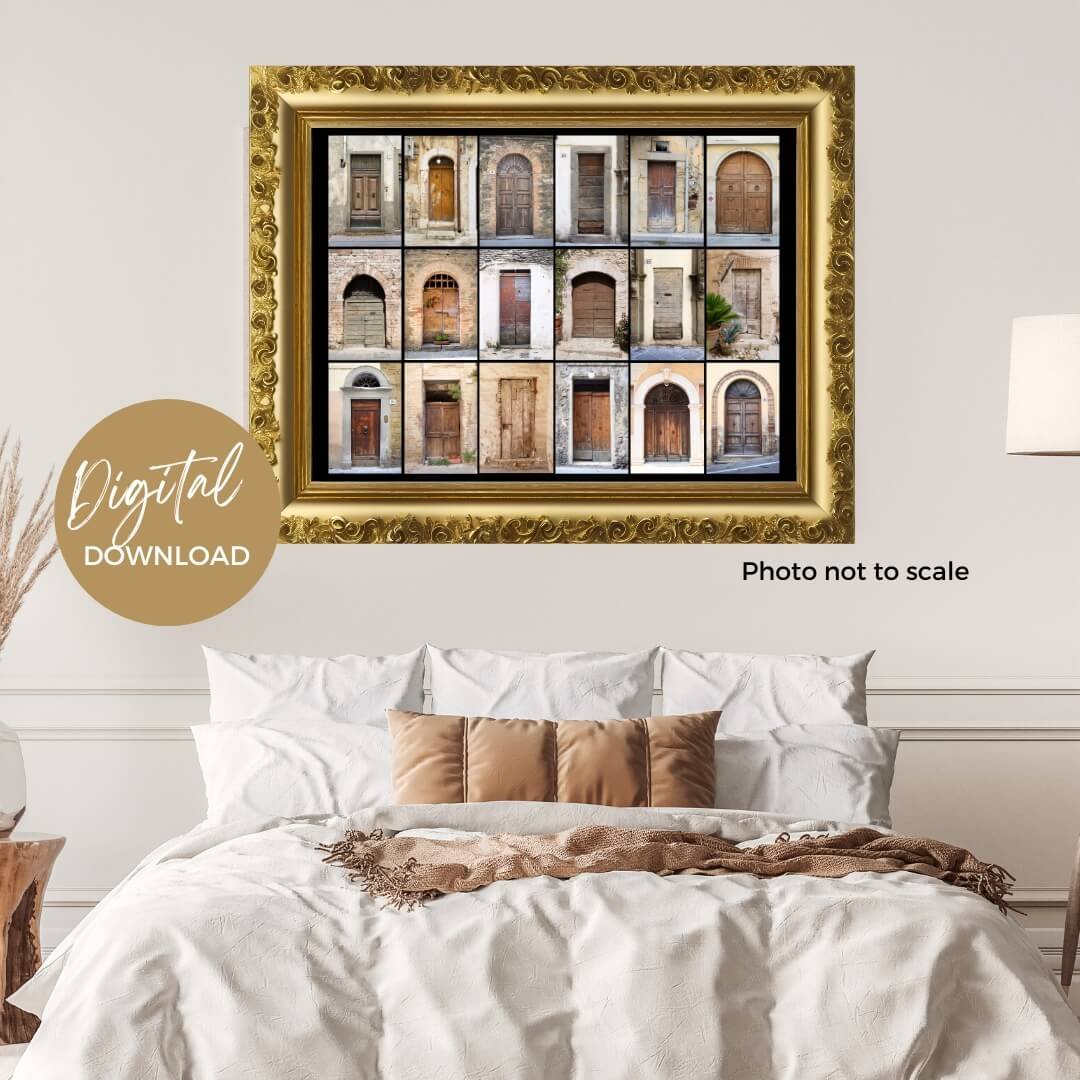 3x5 Ratio (Portrait) Doors in Italy
25 beautiful rustic doors each photo size 3.6x4.8 no borders
$9.95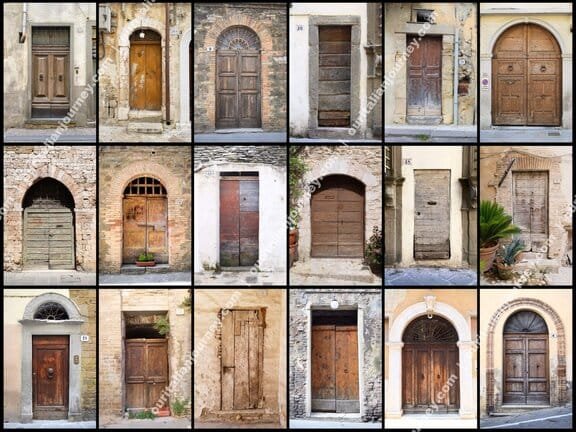 3x4 Ratio (Landscape) Doors in Italy
18 beautiful rustic doors each photo size 4x5.82 black borders
$9.95
Each download: High resolution, 300 dpi. This ratio allows you to print any of the following sizes: 4″x6″, 8:x12, 12″x18″, 16″x24″, 20″x30″, and 24 "x36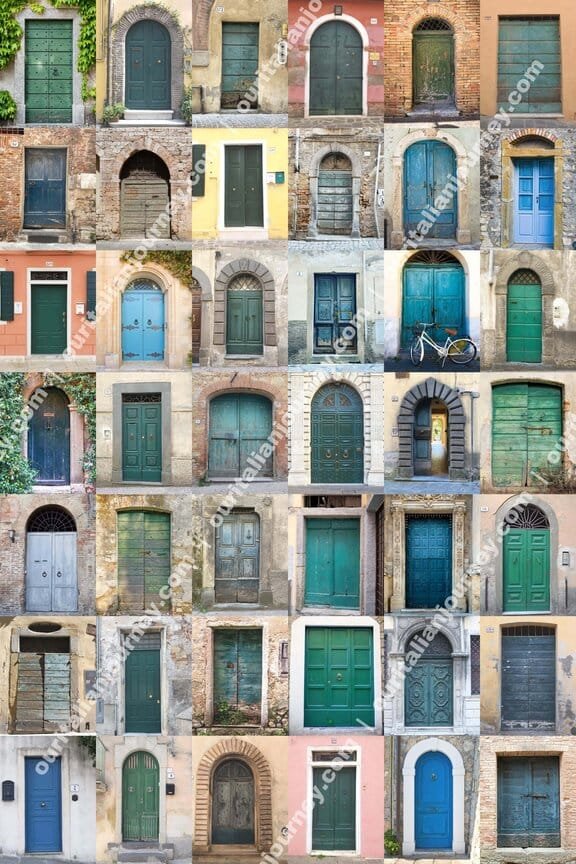 2x3 Ratio (Portrait) Doors in Italy
42 beautiful green and blue doors each photo size 4x5 no borders
$9.95
2x3 Ratio (Landscape) Doors in Italy
45 beautiful doors each photo size 4x4.8 no borders
$9.95
Each download: High resolution, 300 dpi
This ratio allows you to print 11″x14″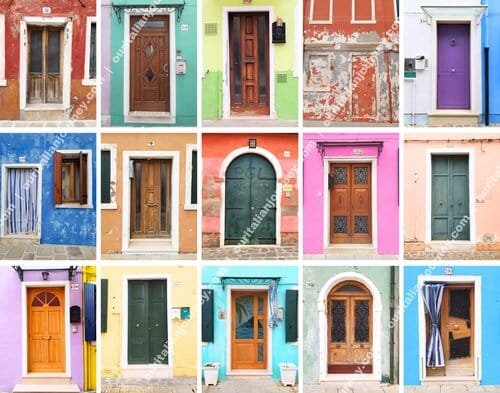 11x14 (Landscape) Colorful Doors in Italy
15 beautiful colorful doors each photo size 2.8x3.56 white borders
$8.95
11x14 (Portrait) Doors in Italy
12 beautiful washed out doors each photo size 2.75x4.67 no borders
$8.95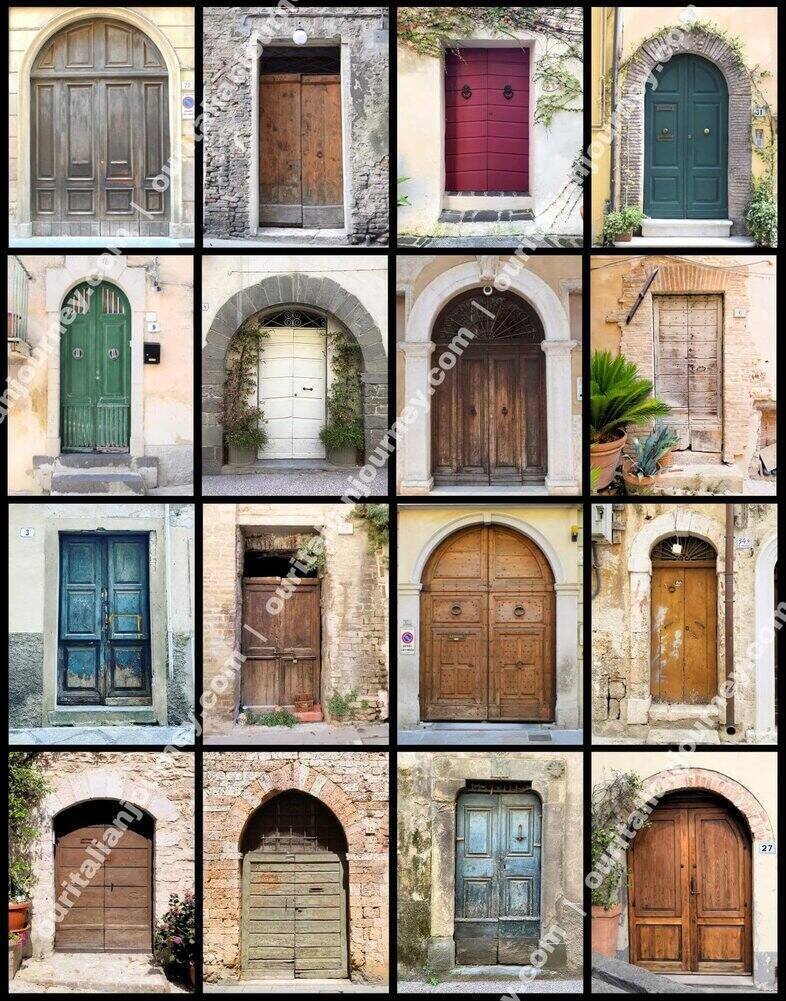 11x14 (Portrait) Doors in Italy
16 beautiful doors each photo size 2.75x3.37 black borders
$8.95
---
eBooks:
Memories of Florence
Condensed blog information on Florence plus lots of tips! - 18 Pages
$1.35
Memories of Rome
Condensed blog information on Rome plus lots of tips! - 24 Pages
$1.35
Additional eBooks will be added in the future