Get to Know More About Us
Want to know more about us? This site is for anyone dreaming about visiting Italy and we hope to be your inspiration for all things related to travel. While our focus is mainly on Italy, we also will share other countries we visit along the way. #Italytravelguide
We hope you find this blog rich with informative content while also enjoying our journey. Our story has various parts to it, let's give you a little background.
The Beginning
We met in New York while working for the same company. Gary has two amazing children and we have two daughters together. We have a blended family that means the world to us and have a total of nine beautiful grandchildren who all live in Arizona! We have been married 39-years and remain best friends.
It Started in 2016
In anticipation of our citizenship, we sold our family home in January 2016, along with most of our possessions. We downsized so much that everything we own fits into four large green Rubbermaid tubs! You know the kind–that you store your Christmas decorations in? It's funny how much stuff you accumulate and how much you don't need.

Dual Citizenship
It has been a true journey through mounds of paperwork and a great deal of time (did I mention money too?) Our initial application at the Los Angeles Italian Consulate was in November 2015 where we provided documents with translations, apostilles, etc. After a period of time with no communication, we received an email that we had to amend many documents. You can read more about our process on our dual citizenship posts.
Obtaining citizenship is not easy and if you are interested in obtaining yours; perhaps we can help point you in the right direction. We have partnered with a great company (IDC) that can help you. Contact them on our main page on the sidebar ad.
Italian Citizenship – Finally!
On September 11, 2018, Gary was notified that he is an Italian citizen through JS (Jure Sanguinis – bloodline.) Finally, no more documents to provide or amend! I was able to get my citizenship through Gary (JM – marriage) as we were married before 1983. We received our passports and spent one year living in Italy in 2019! A journey and adventure we will never forget. It took us nine days short of three years to obtain our dual citizenship. #dualcitizenship
Passion & Obsession
We both love to cook so occasionally we will share a recipe we think you might enjoy. Food is a passion of ours along with wine. Ilene's obsession is with the wooden doors throughout Italy. From time to time, you will find posts just on these charming architectural pieces of art in towns we visit. When photographing a door, I often think of why the color was chosen, the style, details, and accents?
We'd love it if you would share our blog with a friend or family member that loves Italy or will be traveling there soon.
More About Us… Interviews
mi.o – My Modern Italian Network
We were thrilled when Gina and Matteo from Mi.o wanted to interview us when we were in Florence in May 2019. We truly love this group of people and were more than happy to participate. Sharing our story is something we love to do!
Instantly Italy
Cinzia from Instantly Italy saw us on Facebook and wanted to get to know us better and write about our story. We were happy to answer her questions and enjoyed the interview process with her in April 2019. Interview with Cinzia!
Be sure to follow us on social media to enjoy our photos!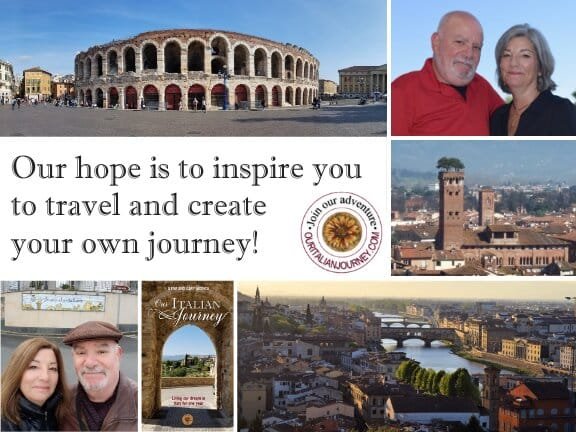 We hope you share your stories with us and keep up with ours!

Please take a moment to subscribe by entering your email address below:
As a thank you, you will receive a 20-page inspirational ebook on Italy!