This post contains affiliate links which means that we may receive a small commission if you make a purchase through a link at no additional cost to you. Thank you for your support!
Buccellato di Lucca is from the Tuscan region and particularly – the city of Lucca. The bread is made with raisins, and it used to be the favorite of the Roman army.
Shaped in the form of a ring or a loaf, this ancient bread is different than other bread. The distinctive anise flavor is prevalent and adds a good flavor to the bread. This bread is just slightly sweet, filled with raisins and while soft inside, and has a crisp crust.
Buccellato bread is particularly made for the Holy Cross Day in September and enjoyed after the mass. Enjoy it with a glass of Vin Santo or toast leftovers for breakfast.
We always take visitors to our favorite bakery, pasticceria, in Piazza San Michelle, Fabbrica Taddeucci to try a loaf. Other places in Lucca make the bread – just slightly different. One particular place chops the raisins very fine and has a softer crust. It's good, just not our favorite. You can find them here.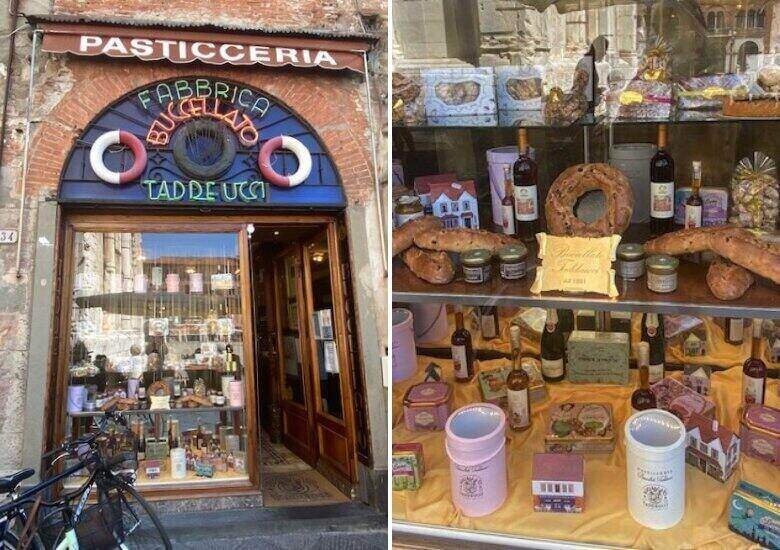 Buccellato Bread
Buccellato bread is an ancient bread and favorite of the Romans when visiting Lucca in Tuscany
Servings
12
slices minimum
Ingredients
3

cups

All Purpose Flour

1 1/4

tsp

yeast

1/4

cup

sugar

1 1/2

tsp

salt

1/2

tsp

crushed anise seeds or fennel powder

1

cup

milk

2

tbsp

butter

3/4

cup

Golden and regular raisins
Instructions
In a bowl, mix together flour, sugar, salt, fennel powderand yeast

Add milk and butter and mix to make a soft dough

Add raisins and knead the dough for 5 – 10 minutes untilelastic and smooth

Cover and set aside until double in volume. This will dependon the weather but could be at least an hour

Punch it down and roll it into a log, if making it into acircle shape

For a round shape – grease a baking sheet and place therolled log on it and bring the sides together to form a ring. Pinch themtogether. Place a small bowl (like a pirex dessert bowl) in the center and letthe bread rise – covered – for about 15 minutes.

For a log shape – grease a baking sheet and place the loafin the center. Let bread rise – covered – for about 15 minutes.

While the Buccellato bread is in the final proving, preheat oven to 200° C

Optional: You can choose to glaze the bread or not. I love the darkcolor it provides so I usually do it. Can use a combination of a beaten egg with a little milk or a sugar and water. I prefer the egg with a little milk.

Using a sharp knife, score the bread on top for either shape

Bake for 40 – 45 minutes until the top is golden.

Remove from oven, cool the bread on wire rack before slicing
Notes

Let us know if you make Buccellato – we'd love to hear from you!