You would think that moving to Italy and renting an apartment would be easy peasy, right?
This post contains affiliate links that help keep this website running. By purchasing through our links, we make a small commission at no extra charge to you. Thank you for your support!
The Process
First, you need to find the apartment which is a process all on its own. Then, once you find your "home sweet home," your landlord must register your information with the comune where you have chosen to live. More than likely, you will need to have the utilities transferred under your name. You will want to have them automatically paid to make life easier.
This entails opening an Italian bank account so you can pay the utility companies automatically. The other options are to pay these bills directly at the bank, posta, or a tobacco shop in person every month. Be aware, some utilities are billed every other month. Of course, I've simplified these processes for this blog post, but I think you get the idea. Now with all of this taken care of, you figure it is time to relax and enjoy your apartment and your surroundings and start living La dolce vita.
Not So Fast…
Well, I hate to burst your bubble but when renting you need to know what you are responsible for and exactly what your landlord's responsibility entails regarding the apartment. Now you would think that like in the States the landlord is responsible for everything except for things like light bulbs, soap, etc. However, in Italy, things like water heaters, plumbing, and appliances even though supplied by the landlord… can possibly be your responsibility! Basically, when renting in Italy the law says if you use it, you are responsible for it.
When we moved into our apartment, our landlord gave us an official government list advising us of his responsibilities as well as ours. Yup, there is an official government listing. I guess this list exists to protect you and the landlord from unnecessary arguments or lawsuits.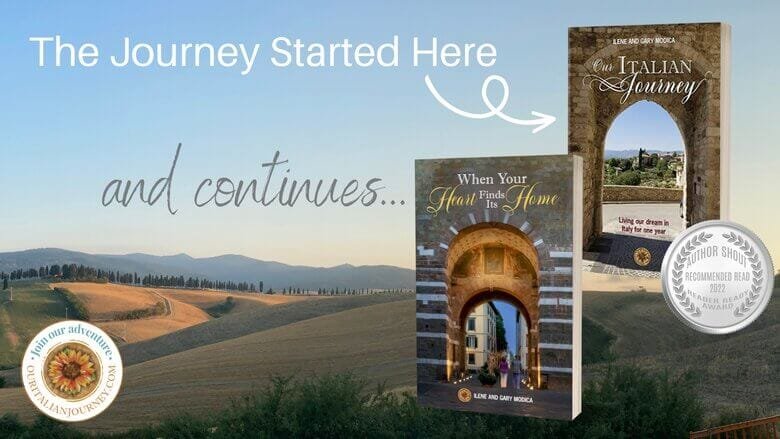 We hope you will consider joining our journey. It started in 2019 with "Our Italian Journey," and this part of the adventure has concluded with "When Your Heart Finds Its Home." Both are available wherever books are sold.
Please take a moment when completed to leave a written review. It truly makes a difference in ranking. We also love to receive photos of our book(s) cover with you, a pet, or some creative way for our social media!
Our Responsibilities Renting an Apartment
Here are a few things that have come up in our apartment since we began renting that have turned out to be our responsibility:
Hot water and heating system
Once a year by law the tenant must have a boiler inspection. This inspection becomes part of the continuing file or service log for the life of this appliance. This inspection cost can range from as little as €20,00 to about €500,00 depending on the system. Our first yearly inspection cost €65,00.
We were only in the apartment for just a few weeks, when we encountered a problem with the boiler leaking and had to have the repair man come to fix it. Our landlord informed us it would be at our expense to fix it. I paid the bill for a new manifold and plastic piece of pipe which came to €120,00. A few days later to my surprise, our landlord stopped by the apartment to make sure the unit was working properly. He gave us cash for half of the repair expense. Even though we were responsible according to the law, he felt he should pay half since we had only just moved into the apartment.
Plumbing
From the day we moved into our apartment, the toilet tank was constantly running, not a lot but enough to be annoying. I tried adjusting the system myself… but to no avail. It's an old pull-chain system and the inside mechanisms needed to be replaced. I called our landlord, and he made an appointment with the plumber for us. Of course, he made sure we knew that this would be our expense since we use it.
The plumber came and after looking at the system, he called our landlord to inform him what needed to be done. He also told our landlord that this is not something "we did" but the issue was caused by time and age. To my surprise, when he finished the repairs and I asked how much it would be, he informed us that our landlord agreed to pay, so we owed him nothing. Go figure.
Air Conditioning System
From day one the air conditioning/heating system never really worked properly. Some days it worked fine and others it did not. We were constantly getting an error message and a red light would always come on. Once again, we informed our landlord explaining the issue. We inquired as to when the unit was last serviced.
Once again our landlord, Maurizio, called for a repairman and set up an appointment for us. Luckily, it was nothing serious, just the filters needed to be cleaned and the system reset. The bill came to €50,00 which we paid reluctantly since this was not something we used very much and unfortunately no maintenance had been done on the system for years. We were shocked when our landlord reimbursed us.
Rent an apartment in Italy…
Remember, if you use it, you are responsible for it.
La dolce vita in a whole new light.