We are finally settled in our Italian apartment. Home sweet home. This was no easy feat, mind you. If you follow our journey, you know we had several contenders for our "perfect Italian city." Parma, Arezzo, Lucca, Spello, and Conversano were all top contenders.
Gary and I both thought we explored this peninsula enough that we should be able to make up our minds this year. Before COVID hit, we were already booked for Arezzo for our long-term stay. When things got put on hold and our favorite apartment was already booked, we decided to return to Lucca in Tuscany.
This post contains affiliate links that help keep this website running. By purchasing through our links, we make a small commission at no extra charge to you. Thank you for your support!
Notice: This post is longer than usual so we added a Table of Contents to help you if you are short on time.
The Adventure Begins
When we arrived in Lucca during COVID on April 1st (no joke) we hadn't quite made a final choice, but Lucca was going to be our home base for the entire stay this year. After about two weeks, I looked at Gary after just leaving a cafe in Piazza San Michele and announced that I thought "Lucca is the one!" Gary looked at me very nonchalantly and declared he could have told me this years ago! Lucca was a great choice for him too!
So we both laughed and decided to start looking for a permanent home in Lucca. We knew it would take months to find exactly what we were looking for, and we weren't in a hurry. Friends told us about a Facebook group in Lucca called "English Mondays," and they met at a bar next to an old convent/Mercato in town. We went that Monday and met English speakers from Australia, Canada, France, South Africa, and of course, the USA. At this same time, we met a wonderful couple through the blog who have become our good friends. JoAn and Jim are from Virginia. We told them immediately about my revelation about Lucca. We all laughed. It was through this English Monday group that we found our real estate company and contacted them.
Our List
Our list was quite short, relatively speaking, for our Italian apartment requirements. We did decide after looking at several homes to buy, that it would be easier for us, in our situation – to rent rather than purchase. That might not work for everyone but we felt at our age, financially that would be best.
So what was on our list you might ask?
Two bedrooms
Two bathrooms
Large kitchen
High ceilings
Inside the medieval wall
First floor or
An elevator
A place for two bicycles
Lots of light
High ceilings
Outdoor space
Budget: about €800/month
Our real estate, Vacation in Lucca, consisted of Roberto and Margarita (husband and wife,) and Margarita's sister, Rugiada. They didn't all laugh at us but conveyed our list was pretty substantial – especially for inside the wall of Lucca.
Residency
To obtain residency in a town/city, you must have a legal rental contract. Once signed, this contract has to be registered with the local police headquarters. It can take up to 45 days for this to occur. Meanwhile, a police officer will come to your new location to check with you, or your neighbors if you are not home, to make sure you actually live at the location. This prevents people from using a friend's address for residency when they technically are not even living there.
Our Italian Apartment Search in Lucca
After looking at quite a few places, we realized we were going to have to give up a few things. Yes, two bedrooms/two bathrooms would be nice for guests and some extra space, but was it essential for just it being Gary and me? The answer was – no. We could concede on this. We visited about a dozen apartments. Gary also did some searching on his own. He uses these sites when looking for apartment rentals in Italy.
One day at the beginning of June, we had an appointment with Margarita to show us two apartments. One was listed with another agent that Gary found on one of the sites above. We met the agent at the apartment along the Lucca Canal. Margarita informed us it was small – only one bed and bath… but she had a surprise for us.
The Good
As we walked up only one flight (17 steps total) the woman opened the door and we all stepped inside. I immediately went to the right to see the kitchen. OMG. There was only one small counter (about 12″ wide) that could be used as a prep area. The cabinetry was as basic as you can probably get. Two small overhead cabinets and three drawers. Oh boy – this could be a challenge I thought to myself. The floors are beautiful in this Italian apartment, with original ceramic tile, and quite pretty. A bit dull – but pretty. The kitchen had three large windows but no view. Not an issue, the light was amazing. Then I heard Gary calling my name.
He was in the living room on the opposite side of the foyer. As I walked in – I saw it too. The terrace – 340 sq. feet of beauty was just outside the living room. I walked out to meet Gary and I turned to Margarita and almost started to cry. It was glorious. Not the best view but it was okay. They are refurbishing a palazzo behind us and a huge garden area. In time, it will be lovely. The living room had also a tile floor but in a different pattern from the kitchen.
The only bedroom was large – but it has a painted ceiling that is incredible. I'm not sure if it is considered a fresco – but gorgeous! The bedroom also has access to the terrace. The large built-in wall cabinet would be all we needed but there was also an antique wooden dresser, nightstands, and headboard all matching in beautiful wood details. This too had a different patterned tile floor totaling three different floors – four if you count the foyer – but all beautiful.
The Bad
From the living room was one bathroom with a teeny-tiny shower stall that was filthy. Mold and dirt were quite evident in the grout lines of the two tile walls. There was no storage. It looked dingy. My heart sank.
Gary and I met back up in the kitchen while both real estate ladies were chatting on the terrace. "This place is worn and old," I told Gary point-blank. "It needs so much work: so many furnishings, the kitchen is bare, and it is not clean." Would all the hard work we'd have to put into it be worth it?
Then Margarita made the sale or the rent as in our case. She told us the monthly price. €650 including the condo fee.
What?
Is this price correct? So technically – this part is not part of "The Bad!" It had just come on the market and we were the first to see it. She had another apartment to show us after this one. Gary and I headed back to the kitchen to talk. For this price, we could make the effort to clean, have money to travel, and probably be within budget including utilities.
We both shook our heads and made the decision not to look any further. The terrace would be the extra space we were looking for and how often would we have guests that we should worry about it? The IKEA couch in the living room was a sofa bed. We could make this work.
Our Italian Journey, a memoir written during a year in Italy experiencing the seducing charm of the country, twists and turns, and humorous moments along the way. This experience changed our lives forever. Join us and let us be your guide to some of the most beautiful places in Italy.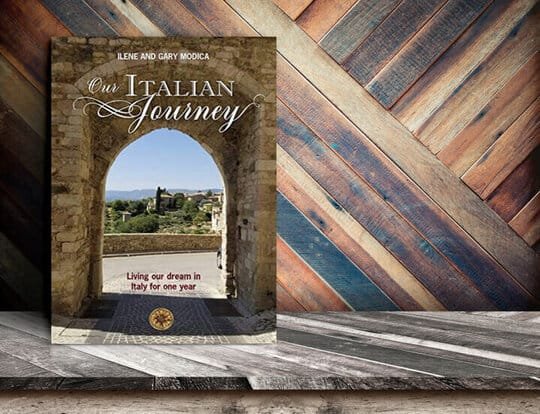 Moving In
Our landlords are wonderful and we look forward to being custodians of their lovely apartment. This is not always the case in Italy – and I've heard some horror stories. This won't be an issue for us, thank goodness!
We had to immediately take care of an issue that bothered me more so than Gary. Mosquitoes. They love me. We hired a great handyman that we found out through other ex-pats and he installed netting on all the windows and doors. I don't know how Italians leave their windows open. I've seen a few photos taken of birds sitting on a toaster in a kitchen and perched on a living room table. So funny!
Utilities needed to be transferred into our name and again, we had our real estate group help us. The endless forms to fill out would have been a nightmare for Gary and me to undertake ourselves.
We had a bit of an issue with the kitchen sink and made the decision to just replace it with a taller faucet. It's not something we want to deal with for five years.
… and the Ugly
Finally, when you rent an apartment in Italy, do not expect it to be sparkling clean when you move in. It's just the way it is – anywhere. It took me three full days to scrape the build-up of dirt and scrub the spots of mold from the small bathroom shower. Bleach, vinegar, and putty were my new best friends. It was brutal.
While I was working in the bathroom, Gary tackled the kitchen. We understand the apartment wasn't really empty for that long – so we are not sure how the people before us could have lived with cobwebs under the furniture – but I know not everyone is a "clean freak" like I am. It is a curse but what can I do?
So here are some of our "before" photos to give you an idea, although you really can't appreciate it much from the photos.
Our Italian Apartment in Lucca
Here are some "after" photos. We aren't completely finished with our Italian apartment as we need to add a few final touches. Some photos on the walls, and perhaps one day replace the kitchen table that isn't quite my taste. But thanks to JoAn taking me to the garden center – we have flowers and even a small lemon tree to add to our three olive trees that were here when we arrived. Gary is now the king of putting together IKEA furniture, and his back is finally starting to feel better. He put together all five cabinets in the kitchen, three living room tables, and two living room chairs. Way to go Gary! We've started to enjoy our terrace and have our first BBQ.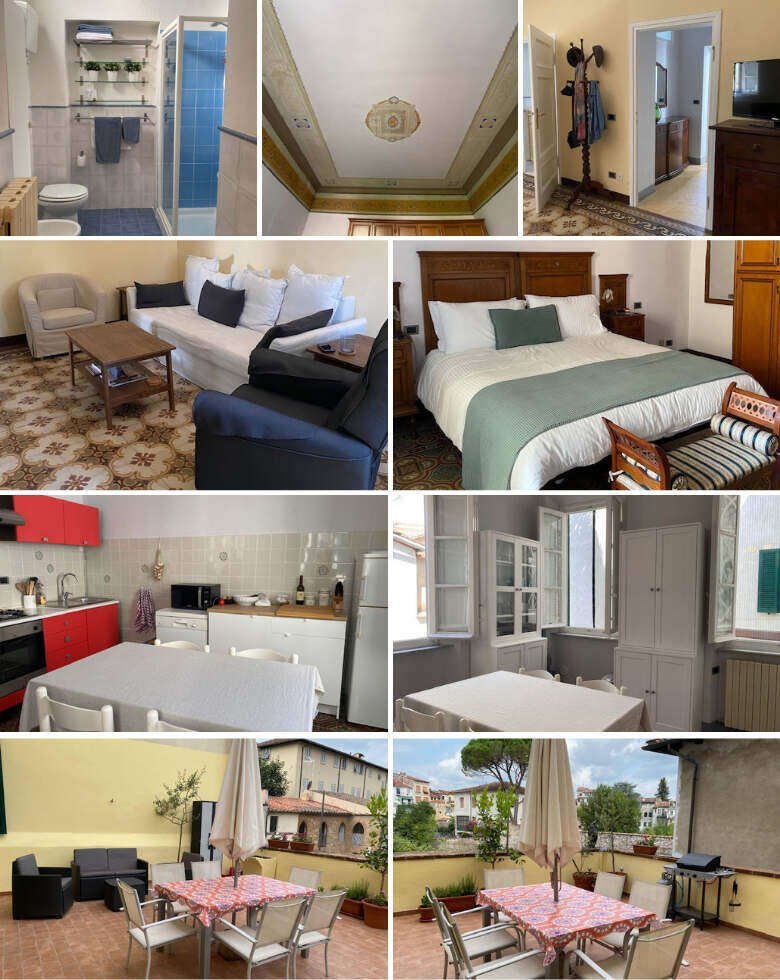 Some Helpful Information to Know About Italian Apartments
If you want to rent an apartment for a mid-to-long-term stay, there are two options. You can rent through an agency, or you can rent directly from an owner. Renting an apartment is very different in Italy than in the States. In the USA, most apartments are managed by a property manager. In Italy, the property manager is usually the owner.
Rental contracts are regulated by the country – and the rental price is by the city/town. There are basically three rental contracts recognized in Italy.
Transitory: Usually a 12-18 months stay
3+2: A 3-year contract with options to renew for two additional years
4+4: A 4-year contract with the option to renew for four additional years
Agency Fee: Our owner/landlord was with a different agency than ours. He paid one-month rent (fee) to them, and we in turn paid the same to our agency.
Deposit: Most rentals will require anywhere from a month to a three-month deposit, which is refundable when you leave. Providing that there is no damage, of course. This is no different than in the States.
Rental Contract: Read your contract carefully before signing. Ours indicated that if we wished to leave the apartment, we would have to give 90-day written notice. I will say, Italian laws tend to favor the tenant in case of an issue or trouble.
Codice Fiscale: Before renting an apartment in Italy, you must have a fiscal code that is similar to a Social Security number. It is easy to obtain and free. We already had ours so we were good to go on this item.
Condominium Fee (if apartment building): Fees are not as extreme as we know them in the States because you won't have a pool, gym, clubhouse, or tennis courts to pay your share to maintain. In Italy, this fee would cover the elevator maintenance (if applicable,) and the common foyer entrance. Generally, this fee is included in your rent.
… and let it continue with:
Furnished (arredato) Vs. Unfurnished (non-arredato): A major thing to consider when looking at rentals. One difference in Italy… unfurnished can also mean they don't have a kitchen. You have to put a kitchen in which might include, a sink, cabinets, and appliances. Not sure how or why but people generally "take" their kitchens with them when they move. It's an odd thing I find humorous about Italy. But that's me.
Vacation Rental: If you rent this type of Italian apartment, it is always furnished and comes with the essentials, dishes, glasses, pots, pans, etc. Depending on the rental, however, you might need to supplement a few things. Generally, we have to purchase a cheese grater, herbs and spices, and a wine opener. Vacation rentals are pretty well stocked with the basics.
Renting Costs: Of course, they vary from city to city but, it will also depend on inside the city center versus outside in a more residential area. Decide where you want to be and check everything in that area.
Garbage Can Location: Be mindful when looking at homes/apartments as to where the central garbage cans are located. If your apartment is near one of these, perhaps you wouldn't want a window near them – especially in the summer. Ya, not good.
Parking: If you have a car – is a parking spot included?
Storage: If you need storage, is it available to you in the building?
Windows: It's nice to help with expensive utilities to have double-pane windows.
We love our Italian apartment!
It's not as beautiful as some of our friend's apartments in Lucca but… it's now home.
We did a Facebook and Instagram LIVE walkthrough of the apartment on Sunday, August 8th. I'm pretty sure you can go back and watch them if you missed them