Andrea Bocelli
Gary and I have had a few magical and beautiful nights when it comes to classical music. We have been fortunate enough to see Andrea Bocelli twice in Phoenix, Arizona, USA. As amazing as those evenings were, there was still a "bucket list" item for me regarding Bocelli. My wish was to attend a concert in his hometown of Lajatico, Italy.
This post contains affiliate links that help keep this website running. By purchasing through our links, we make a small commission at no extra charge to you. Thank you for your support!
My wish came true at the end of July when I saw a group do a Facebook post about his upcoming concert. But it wasn't just the concert, it included a walking food tour in Lucca, along with transportation to and from the concert. I gave Gary "the look" with pleading eyes. He agreed to book the tickets with this company as a birthday present for me.
" Ti amo Gary, and thank you"

During the Day
The walking tour with Paola was wonderful and we got to experience different places and foods in Lucca that we have yet to try. It was a small group of us and we stopped and tasted espresso, gelato, Buccellato, (a lightly sweetened and spiced Lucasian bread), local cheeses, vino, and a sample of China Massagli (pronounced KEE-nah Mah-SAH-lee) in a pharmacy in Piazza San Michele. Created in 1855 by Dr. Massagli, this "elixir" was sold as a medicinal beverage during the Malaria outbreak in Lucca. It's an unusual taste. Gary and I did go back and purchase a small bottle for days when one of us needed a little TLC.
Then all eight of us sat down for lunch at Trattoria da Giulio. We all had Tortelli Lucchese, pasta made from eggs and flour and similar to ravioli. This pasta is filled with beef or pork, Swiss chard, pine nuts, raisins, bread, spices, and grated cheese. Along with vino and dessert, it was amazing. After lunch, we all went our separate ways to reunite later in the day to be driven to the Andrea Bocelli concert.
Teatro del Silenzio
A private car took two other couples along with Gary and me through the countryside to Teatro del Silenzio from Lucca Centro. It took us a little over an hour to get there.
Teatro del Silenzio is an open-air amphitheater located in the city of Lajatico, Tuscany. In 2006, Bocelli convinced the municipality of Lajatico to build this outdoor venue whose structure utilizes the natural formations of the hilly landscape. Always loving these hills, he wanted a way to bring together nature, art, and music in a divine way.
Sculptural art is created each year for the stage by local and international artists. The entire stage is set up just for the show, then taken down immediately after, returning the landscape to its natural state. The stage is outlined with a half-wall made of blocks of travertine and the entire setting is magnificent.
The Concert
The setting was spectacular. Did I mention the amazing picnic basket provided by our tour company? A cooler bag filled with Prosecco, wine, water, grapes, cheese, salad, focaccia bread, chocolates, crackers, and dolce, along with a wine opener, silverware, plastic glasses, and a blanket in case it got cold. This was a great addition to the concert experience.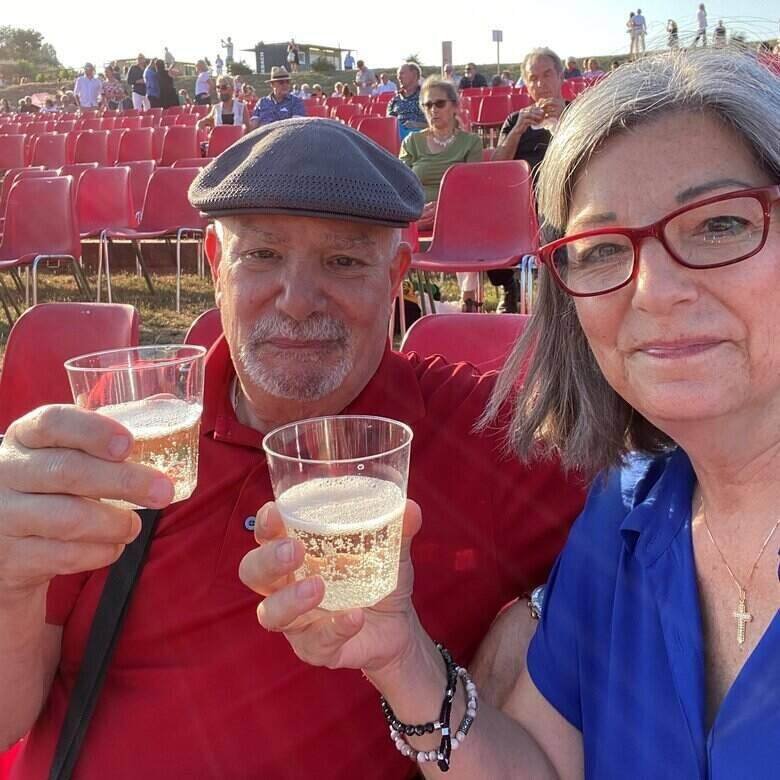 The music selection was a bit different than what we had heard in the States. He actually sang two opera arias. The first solo, "La donna e mobile" da Rigoletto di G Verdi" and the second with Gianfranco Montresor, "Finale Secondo Atto di Otello di G. Verdi." The orchestra was excellent and I read in the program that the "Teatro del Silenzio Orchestra" is made up of 60 young, expert musicians from different regions throughout Italy.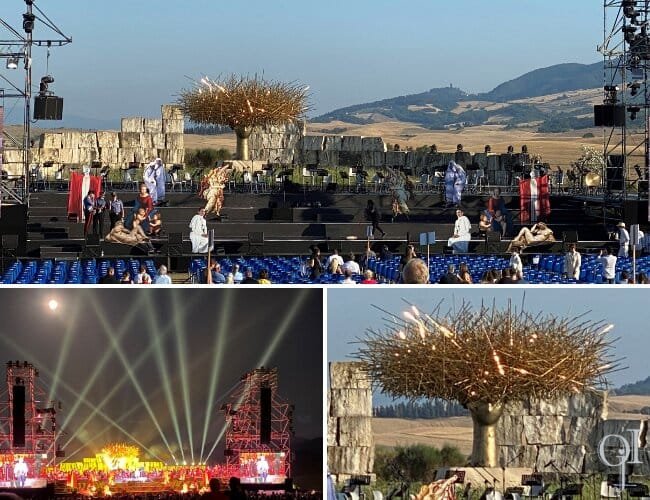 What was very different was the ballet dancers who enhanced the entire performance. At first, I thought I'd find them distracting – but they weren't. What was odd was the "cardboard" (for lack of a better term) figures that were throughout the front of the stage. At times the dancers interacted with them – but I think I would have preferred them not there. Of course, that is my opinion.
The evening was amazing – in fact, the entire day was memorable. Thank you Gary for a wonderful birthday present that will have a special place in my heart for years.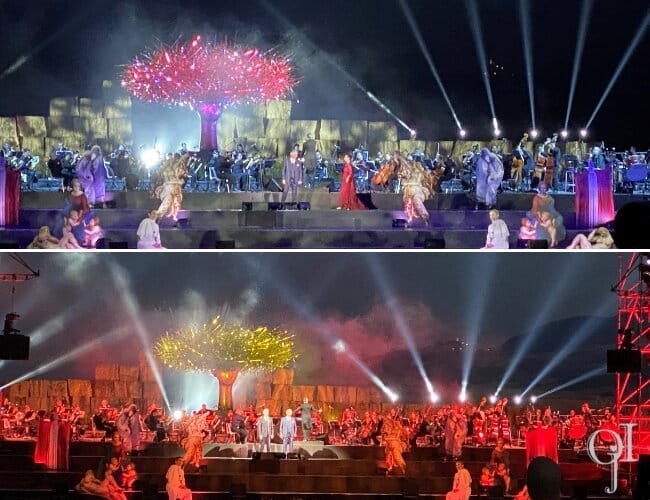 Background on Andrea Bocelli
Bocelli was born on September 22, 1958, in Lajatico, Italy. Andrea was only six years old when he began studying the piano. Visually impaired from birth, he became blind at the age of twelve following a soccer injury.
Andrea Bocelli Music
You don't have to love classical music to enjoy Andrea Bocelli. He has sung many songs that would be considered "pop," and his style has evolved throughout the years. Here are some of his most famous, and my favorites:
"Time to Say Goodbye" | "Con te Partiro" – Originally written in Italian for him, it was first sung at the Sanremo Festival in 1995. A year later, an Italian-English version was released as a duet with soprano, Sarah Brightman.
"Because We Believe" – This song is a Bocelli original composed for the closing ceremony of the 2006 Winter Olympics in Turin. David Foster and his daughter, Amy, co-wrote this song.
"The Prayer" – Bocelli has duetted with many female artists over the years. But, none so beautiful as this song sung with Celine Dion. This classical crossover song won several awards in 1999 and 2000.
"Canto Della Terra"
"Somos Novios"
"Vivo Per Lei"
A clip of Andrea singing "If Only" with Annalisa
Please comment on this post which one is your favorite and why?
"Canto della Terra"
Tour Company:
2Italia
Contact Name: Kåre Sigurd Myhre
They have many different tours available. We highly recommend them!
Email: info@2italia.com