Polignano a Mare
While staying in Conversano for two months, we took a day trip to Polignano a Mare. What an amazing and beautiful town! The coast around Polignano a Mare is full of more than 70 sea caves, due to the phenomena of sea and wind erosion.
This post contains affiliate links that help keep this website running. By purchasing through our links, we make a small commission at no extra charge to you. Thank you for your support!
As you walk through the streets while following the coastline, there are several panoramic terraces that offer breathtaking views of the beautiful Adriatic Sea and coast. Consequently, as a result of the sea and wind erosion, take a look at this balcony below. Would you trust stepping out on it? Not me!
Polignano is Famous for 3 Things
Polignano is famous throughout the world for mainly three things:
The yearly Red Bull cliff diving competition, (more details later in this post)
G-E-L-A-T-O! We stopped even though it was March and still cold, at Il Super Mago Del Gelo in Piazza Giuseppe Garibaldi. It was originally opened in 1935! Not only was the gelato amazing – ask for the Panna (whipped cream). I had a pistachio cone and he put the Panna into the cone, then the gelato, and then dipped the cone in more Panna. Ahhhhhh!
The last thing is the great Domenico Modugno!
Marchesale Arch
The Marchesale Arch, also known as Porta Grande, dates back to 1530 when the city wall was built. Most of all, it was at one time the only access to Polignano. A drawbridge was originally used to cross the moat, which was partly natural. Furthermore, two holes on either side of the arch are the only reminders of the chain mechanism which operated the drawbridge.
A Bit About Polignano a Mare
Polignano is located around 34km south of Bari on the S16 coastal road. It is built on the edge of a ravine filled with caves. During the season, they offer boat tours of the coastline and even entry into some of the caves. The weekends are crowded with day-trippers (like us) to visit the caves, beach, beautiful coastline, and crystal clear turquoise water.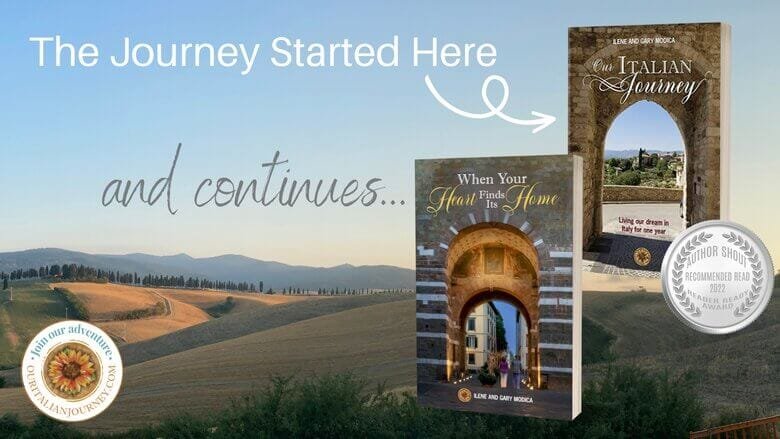 We hope you will consider joining our journey. It started in 2019 with "Our Italian Journey," and this part of the adventure has concluded with "When Your Heart Finds Its Home." Both are available wherever books are sold.
Please take a moment when completed to leave a written review. It truly makes a difference in ranking. We also love to receive photos of our book(s) cover with you, a pet, or some creative way for our social media!
Lama Monachile
Lama Monachile is the most famous place in Polignano. You probably have seen a photo of this cove on social media. It is where two sheer rock walls offer a small inlet between and are filled with pebbles and rocks. The name "monachile" comes from the fact that once there were numerous monk seals living here.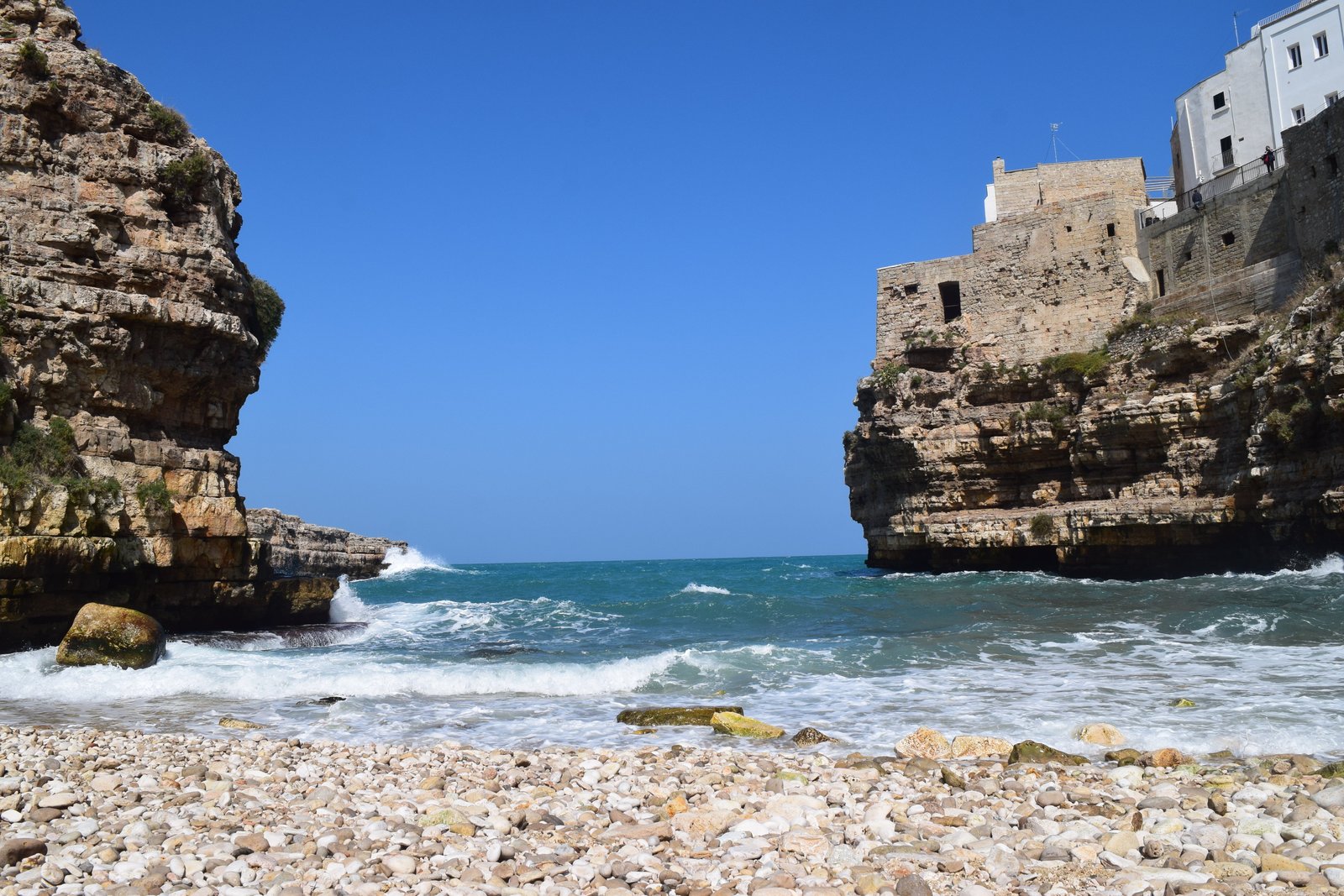 Since we were there off-season, we were able to have the beach almost to ourselves. We were able to take this amazing video too!
For a bit of perspective, this beach is packed with blankets and umbrellas in the summer. This is what it looks like in March…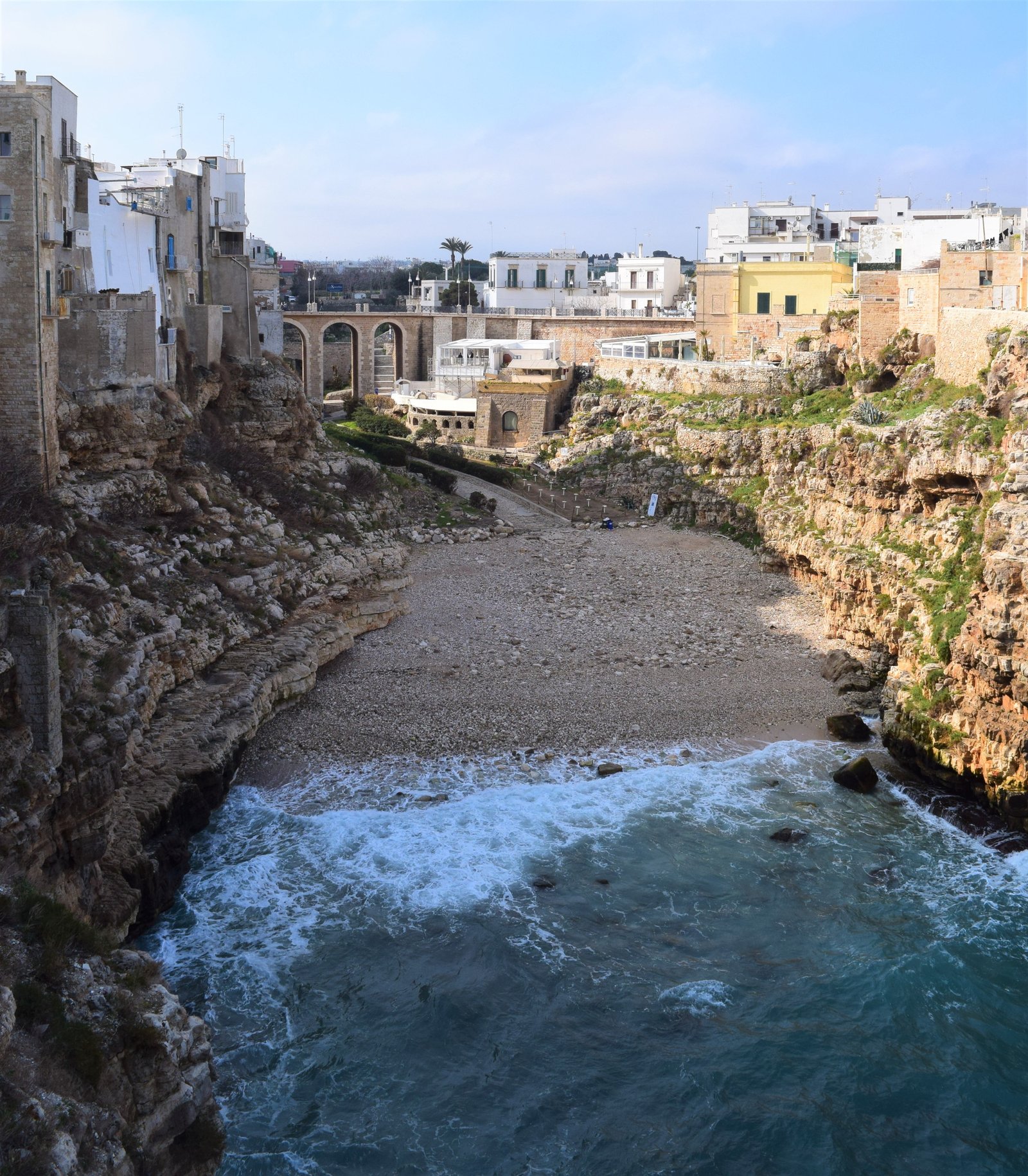 Bourbon Bridge
The Bourbon Bridge is 15 meters high, and a great place to take a photo and see the entire cove. Needless to say, we've heard it is packed with people in the summer!
Domenico Modugno
Domenico Modugno was born in Polignano on January 9, 1928, and was considered the father of Italian singers and songwriters. He recorded almost 230 songs and was among the most well-known "In the Blue Painted of Blue", universally known as "Volare". I can hear it now ♫♪ "Volare, oh, oh… Cantare, oh, oh, oh, oh…♫" As a result of its popularity, this song has been translated into more than 20 languages. On May 31, 2009, this bronze statue was dedicated to him.
Behind the statue of Modugno, there is a staircase that ends on a rock surface that is like a terrace but is not completely flat. From this vantage point, you have a great view of the coastline. From here you can watch the waves come in and meet Polignano. Somehow Google identifies this area as the "flat stone".
view from "flat stone"

Cliff Diving Competition
The Red Bull Cliff Diving World Series has taken place all over the world since 2009 and, last year 70,000 people attended the Polignano a Mare event. The diving platform is attached to a private roof-top terrace and the competitors actually have to walk through a private living room to get to it. The platform is 27 meters high and it is 21 meters above the beautiful turquoise waters of the Adriatic. The 2019 Polignano event will be held on June 2nd. Here is an amazing video from the Red Bull website where you can learn more the Polignano Cliff Diving
Street Views
What a Difference a Month Makes
Our first visit to Polignano a Mare was on March 22nd. The photos in this post are from that day except for the one below. We took the bus for a second visit on April 20th and look at the crowds below! The street over the bridge was even closed to traffic. If you can travel other than high season, I strongly urge you to do so. What a difference!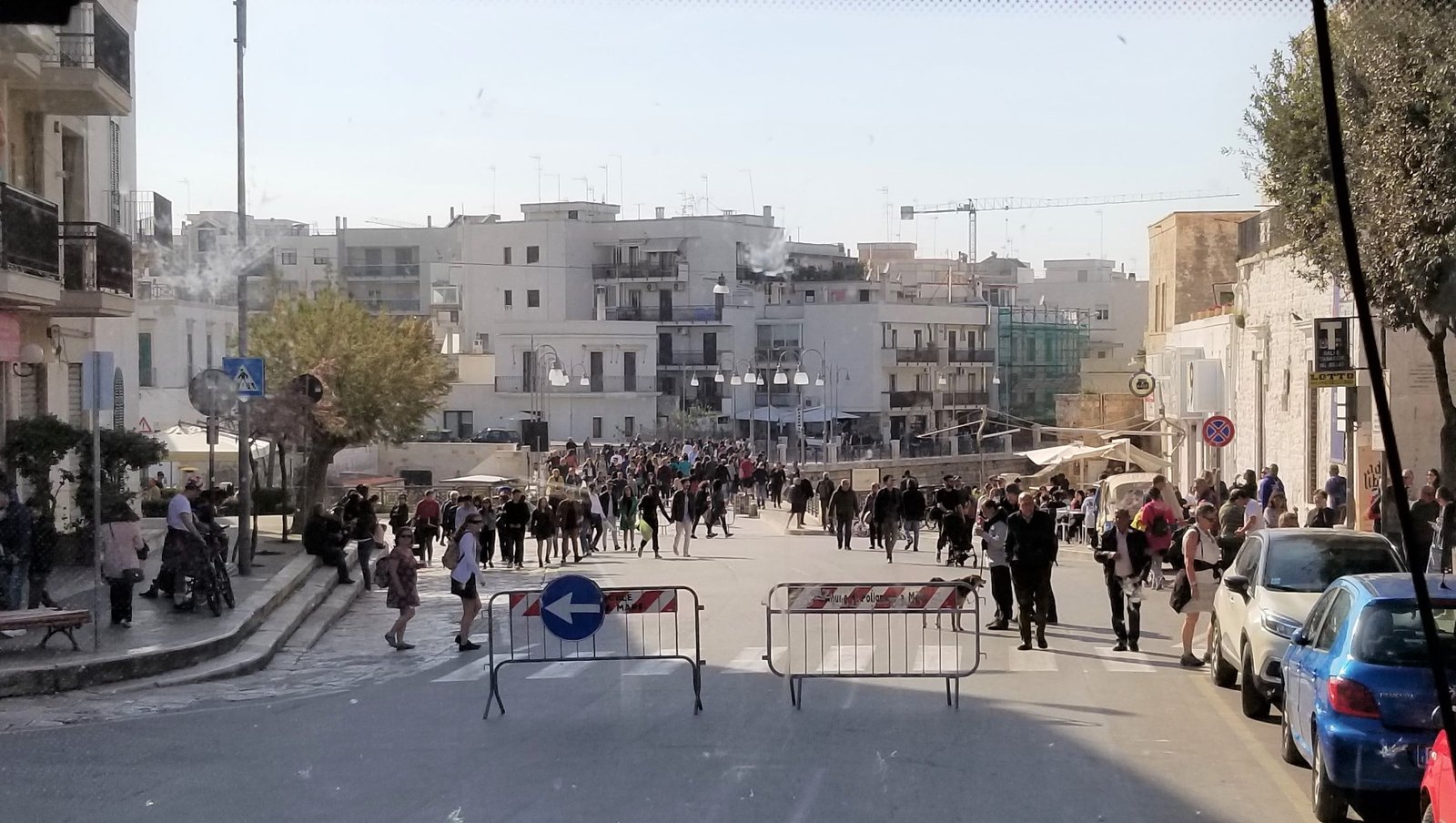 In Conclusion
If you are visiting the Puglia region of Italy and only have one day, you will not be sorry if you visit this town. It is easy to get to and worth your time!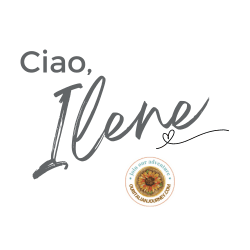 Don't Miss Any Posts: