I wasn't sure what to expect when disembarking the ferry on Isola d'Elba in June. What I am sure about is Napoleon would never recognize it today. Definitely more congested than when the emperor was exiled to the island in 1814.
This post contains affiliate links that help keep this website running. By purchasing through our links, we make a small commission at no extra charge to you. Thank you for your support!
How to Get to Elba?
Most importantly, you need a car to really get around the island. So, most Italians take their car on the ferry. There are several companies to choose from and locations where to arrive. All the ferries to the Island of Elba leave from the port of Piombino located in the province of Livorno.
We went with our friends Jim and JoAn in their car and left Lucca, taking the 1.5-hour ride to Piombino. We did find out for a possible future trip, that there is indeed a train that would entail two or three stops and take anywhere from 2.5 to 3.5 hours to reach the port. Ferries to the island of Elba are available throughout the year with daily departures. There are various routes and you should compare prices and timetables.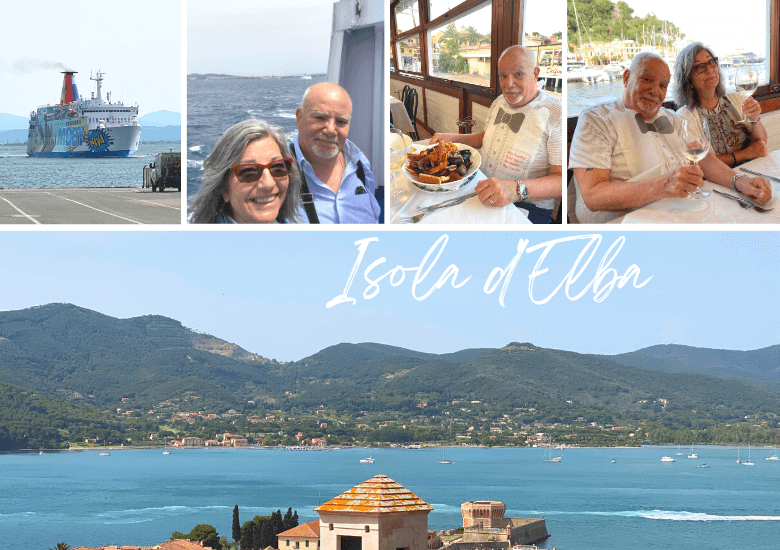 You don't have to take your car, you can walk on and use the busses on Elba, or why not rent a fun Vespa? It was a bit more expensive than I thought to take your car on the ferry but, it does save you from renting when on the island.
Ferries to Elba
There are three ports on the island of Elba that you can arrive at Portoferraio, Rio Marina, and Cavo. Routes are active all year round and operated by four different ferry companies: Blu Navy, Corsica Ferries, Toremar, and Moby Lines.
The duration of the trip from Piombino lasts about 45 minutes to one hour – depending on the port you're traveling to. There is even a high-speed hydrofoil with Toremar, allowing you to reach the port of Cavo in Elba in a quick fifteen minutes. The distance between Piombino and Elba is approximately 13 nautical miles.
Prices range from: €12.00 – €90.00/ one way. On all Piombino-Elba ferries, children from 0 to 3 years travel for free, and children up to 12 years old will receive a reduced fare. As you might expect, there are special rates for the residents of Elba or for those who own a business on the island. If you're ready to book a trip… here's a great site for more information.
Isola d'Elba
Elba is an Italian island in the Tyrrhenian Sea's Tuscan Archipelago National Park. It's the third largest island after Sardinia and Sicily in Italy and about 86 square miles. The island is a glorious paradise of beach-laced coves, vineyards, turquoise-colored water, and hairpin turns. Views along the drive are glorious and worth stopping for several snapshots.
Hiking, biking, sailing, and kayaking are just a few things you might want to do when visiting. And most definitely… enjoy the abundant seafood cuisine.
Napoleon
The Mulini Palace, Napoleon's residence, overlooks the sea near Portoferraio which is Elba's main town, on the north coast. It was closed when we arrived opening later in the day, but we got a good view from up at the lighthouse.
Napoleon arrived on Elba on May 3, 1814, after his defeat in the Battle of Leipzig. Napoleon's period of exile on the island lasted only 9 months – ending on February 26, 1815.
West of Portoferraio is a village, Poggio which is supposed to be known for a mineral water spring named after Napoleon. A reason to return to Elba one day.
We use this program to create a memory eBook of photos and stories:
Special Reason to Visit Elba
Gary and I often speak about our favorite hangout… our "Cheers" here in Lucca called Vinarkia on Via Fullingo. Owned by two of the nicest people – this is the lovely couple we were honored to attend their wedding in 2022. Well… they opened a bar on Isola d'Elba and we had to go and check it out.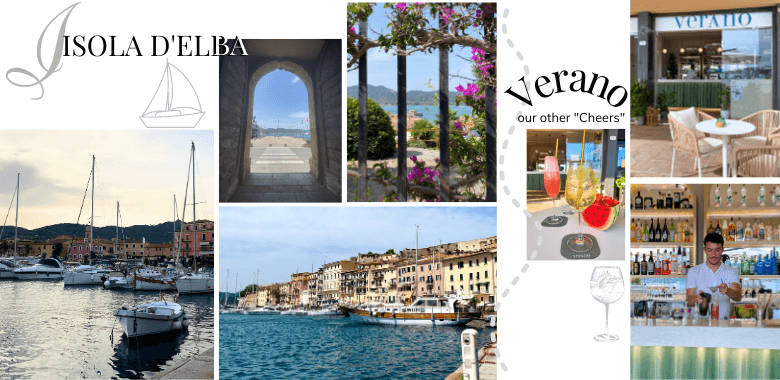 Verano Cocktail Bar is a beautiful bar located right by the marina at Lungomare Alcide De Gasperi, 9 – Porto Azzurro. You can follow them on Instagram. The deck is so pretty, covered with huge umbrellas and the gorgeous blue colors of the bar itself. The comfortable seating and watching the boats travel in and out of the marina make for a delightful afternoon/early evening. Well, for us 'ol folks anyway. We hear the place is pretty happening until the wee hours of the morning. While we are sleeping.
When you go, say hello to Rebecca and Nicola and enjoy one of their amazing cocktails. However, most of the time they are not there together as one of them is usually in Lucca at Vinarkia.
We use Canva for all our graphics on the blog