This post contains affiliate links which means that we may receive a small commission if you make a purchase through a link at no additional cost to you. Thank you for your support!
Bari is more than a port on the Adriatic Sea on Italy's eastern coast. It is the capital of the Apulia or Puglia as it more well-known region and the second largest city in southern Italy. Bari is more than 5,000 square kilometers in size and a very prominent seaport. This town has also become one of the top commercial and industrial leaders in Italy.
Visiting Bari
Gary and I had two completely opposite experiences of this town. Our first impression of Bari was not a favorable one. We lasted almost 24-hours back in 2017. From Bari, we went to Florence to stay for 90-days.
But we did not give up on Bari. Our second encounter was in 2019 when we stayed for 60-days in a small town just south of Bari called Conversano. We traveled into Bari several times to transfer trains to several of our adventurous destinations. But we also spent several day trips in this town – and it redeemed itself.
What's to Discover in Bari?
Bari is more than just a seaport town. It is an off-the-beaten-path destination, with beautiful beaches and churches, fantastic shopping, spectacular castles, and some amazing food.
More travelers to Italy are discovering the less known or should I say less popular region of Puglia. Puglia occupies the "the heel of the boot" of Italy. For many tourists, their trip to Puglia begins in Bari. This large seaside city has a major airport, a port in which ferries from other countries located around the Adriatic come to dock, and a charming old town center. Many Romanesque structures can be enjoyed in this old town area.
Bari by Train
Bari has a fantastic rail line in which you can enjoy many beautiful cities in this region by train. You can reach Bari in about four hours from Rome. South of Bari is the beautiful town of Conversano, Polignano a Mare, Alberobello (although you also have to take the bus which was quite easy), and all the way town to Lecce.
The train station is centrally located in the city and is a short walk from the historic center. There are beautiful shops along the main pedestrian only street directly out of the train station – straight to the historic center and the ocean.
Lungomare Nazario Sauro
This town has a beautiful promenade called Lungomare Nazario Sauro. This picturesque walkway can be enjoyed from the harbor, Porto Vecchio – around to Parco per Cani. You will enjoy the white-washed buildings as you stroll along the water.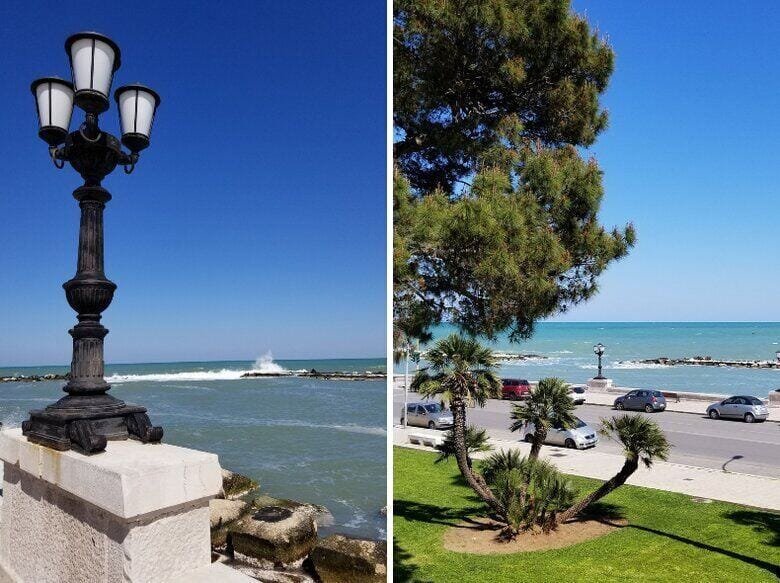 The Cathedral
This immense church dates to the 12th century and it is dedicated to Saint Nicolas. It is the first Norman church built in Southern Italy and built for the purpose of housing the remains of Saint Nicholas. Built in a Romanesque style, it stands distinctly in the center of the old town near the harbor.
Take a moment and enjoy the front façade with all the small details and sculptures. Upon entering, you notice right away the stunning gold ceiling with painted artwork. Inside is the tomb of Saint Nicolas, along with many notable sculptures and mosaics.
Castello Svevo
This castle features a traditional design with a central courtyard, four main guard towers and is surrounded by a moat on three sides. Built in the 13th century by Norman King Roger II, it remains in excellent condition.
For a small entrance fee, you can walk through the courtyard and passages. There is plenty of information shared, as well as several interior rooms containing artefacts and exhibitions about the history of the castle. All the times we passed, there were several exhibitions taking place.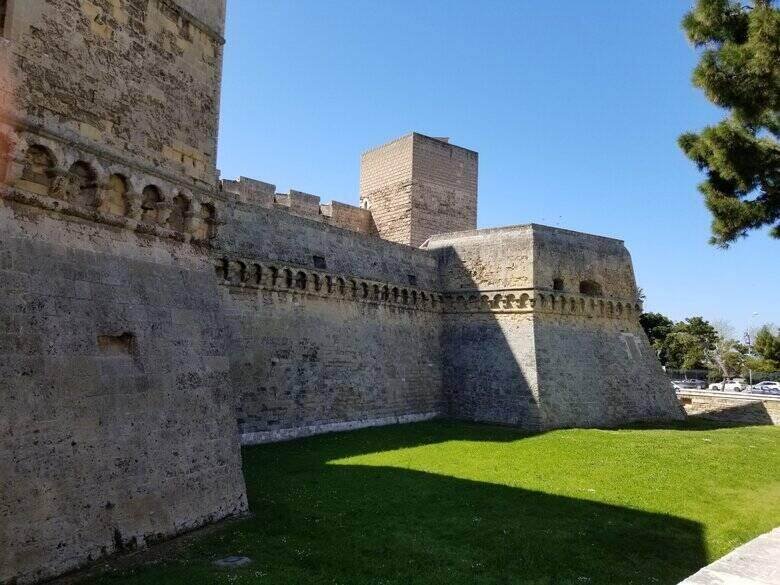 The Historic Old Town
This old town has charm. The small, narrow cobbled streets become a maze in which you can never get lost. Down several streets you catch a glimpse of the blue water off in the distance. On laundry day, the streets smell clean and fresh. Take time to browse and stroll these streets. They are enchanting and you might even catch an open door with women making pasta together.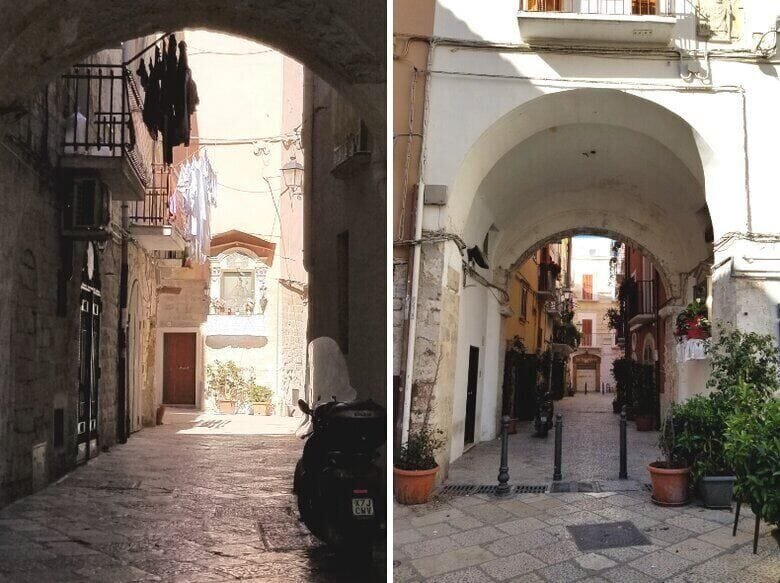 Piazza Mecantile
Piazza Mercantile has been the heart of the city's commercial business district since the 14th century. Together, locals and tourists gather here to enjoy the many restaurants and caffes. The town's cultural and holiday events happen in this large gathering place. It is a hub for nightlife in Bari during the summer months, and a wonderful place to partake in the Italian evening stroll called "La Passeggiata." This is the This evening traditional promenade, generally between 5 and 8 PM, in which families walk and socialize together.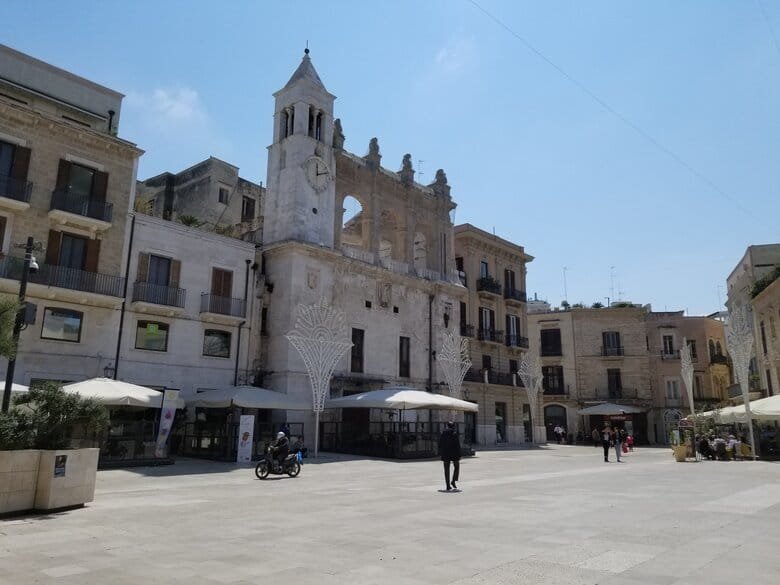 This is our memoir and personal adventure, which has changed our lives forever. Our Italian Journey is a compelling read for anyone who wants to experience and appreciate daily life in Italy and to understand its charm, appeal, and cultural differences. Join in the laughter as we also divulge the trials and tribulations we encountered along the way.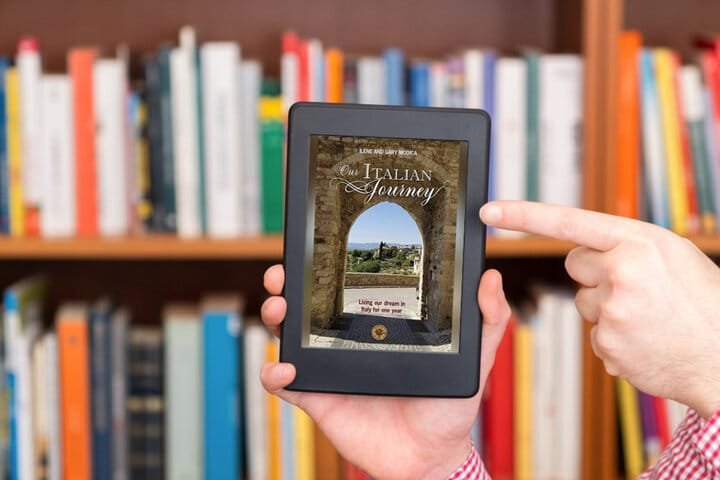 Shopping
Located straight from the train station is a pedestrian only street, Via Sparano. This is the newer district of Bari and it lined with beautiful buildings and designer brands and shops. Here you will find stores such as Michael Kors, Benneton, Zara, H&M, Pandora, and so much more. Aside from shopping, this street also offers a number of bars, cafes and restaurants. Other well-known streets for shopping are Corso Cavour and Via Manzoni.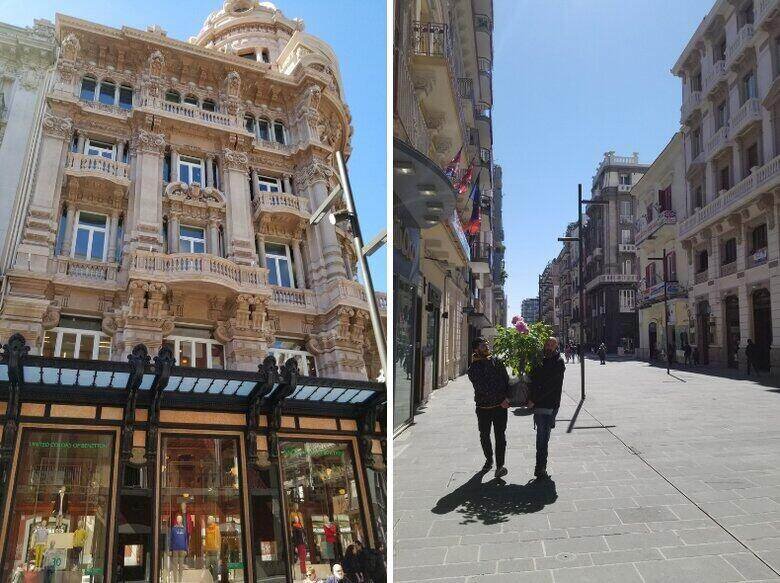 Find your perfect stay here: