Conversano
A place that will always be in our hearts ♥♥
Conversano in Puglia is a little gem unspoiled by mass tourism and a wonderful place to experience authentic Puglian life. The moment we got off the train, we knew this town was going to be special. This small town is located in the Province of Bari. We used this town as a "home base" for exploring the Puglia region.
This post contains affiliate links that help keep this website running. By purchasing through our links, we make a small commission at no extra charge to you. Thank you for your support!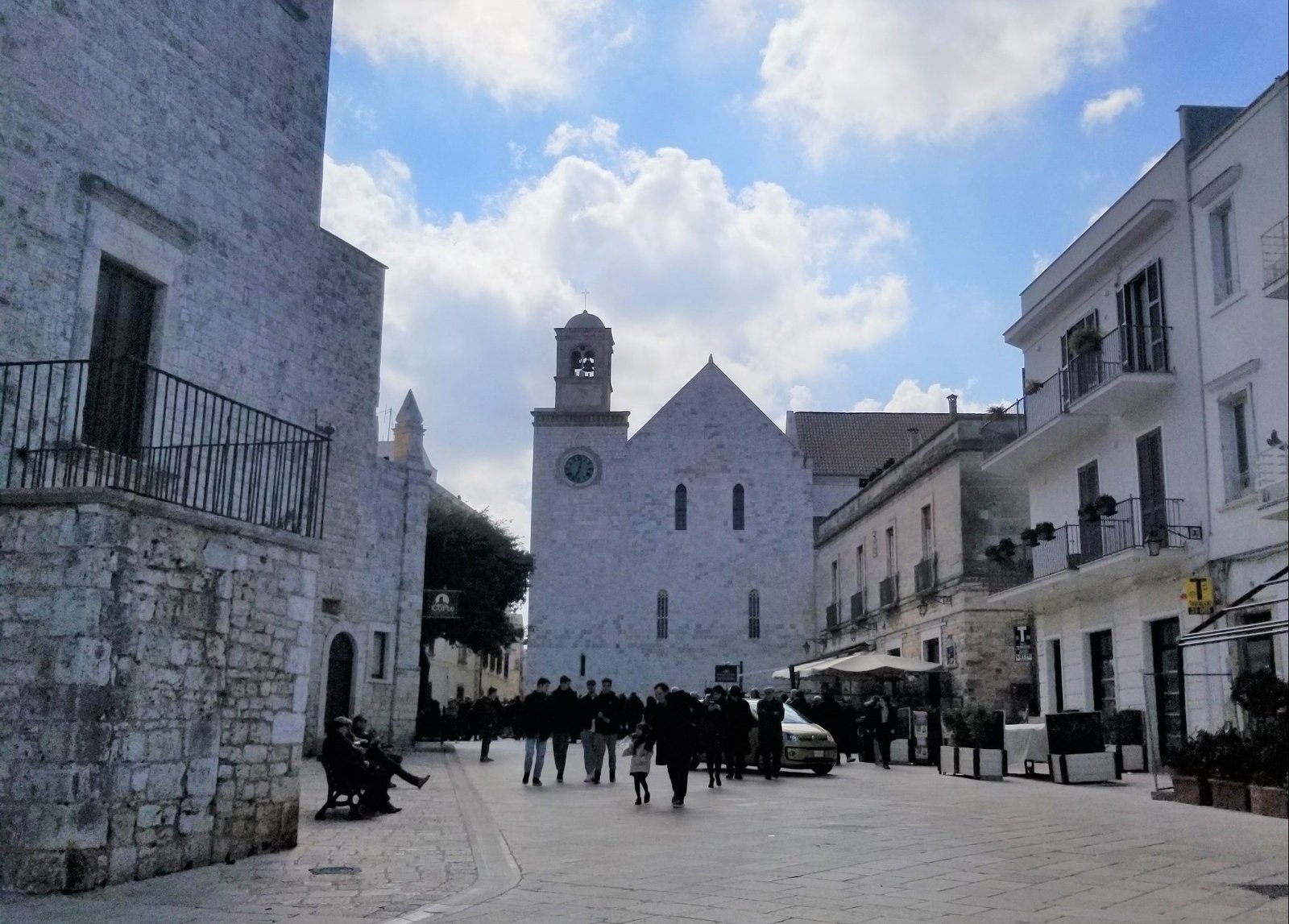 This little town has gleaming white limestone slabs throughout the streets that have been polished to a high shine by the traffic over the years. If you have a chance to see this town, even for a day, it will be worth your time.
Benedictine Monastery
The monastery was founded on an ancient crypt dedicated to San Mauro in the 6th century. The yellow and blue mosaic tiles on the tower's domed roof truly seem to gleam in the sunlight. At one time, it was once the most important monastery in all of Puglia.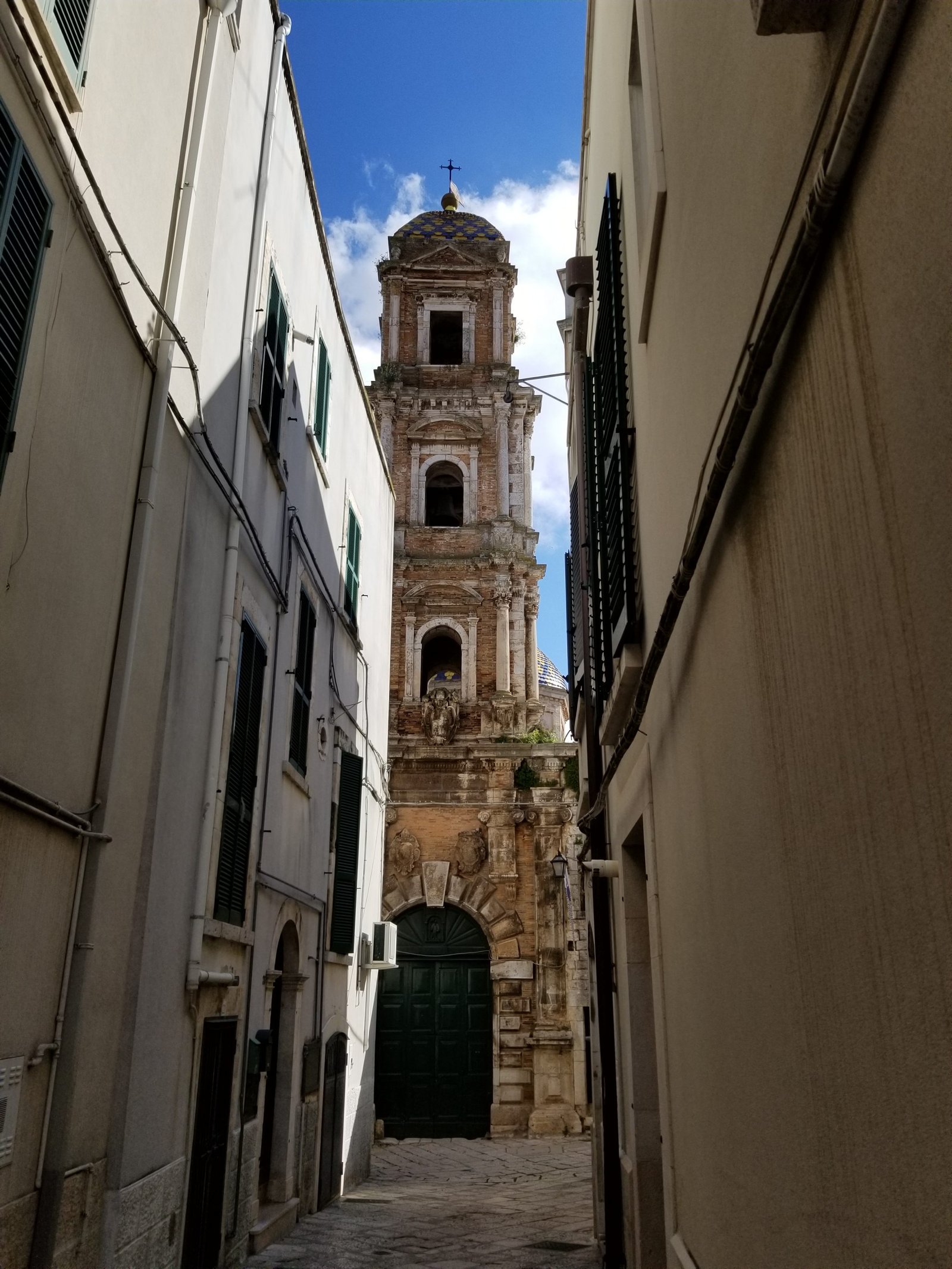 Cathedral
Conversano's Romanesque cathedral dates back to the 11th century and was damaged by fire in 1911 but has been restored. Also built of white limestone, which is a distinguishing characteristic of Puglian architecture.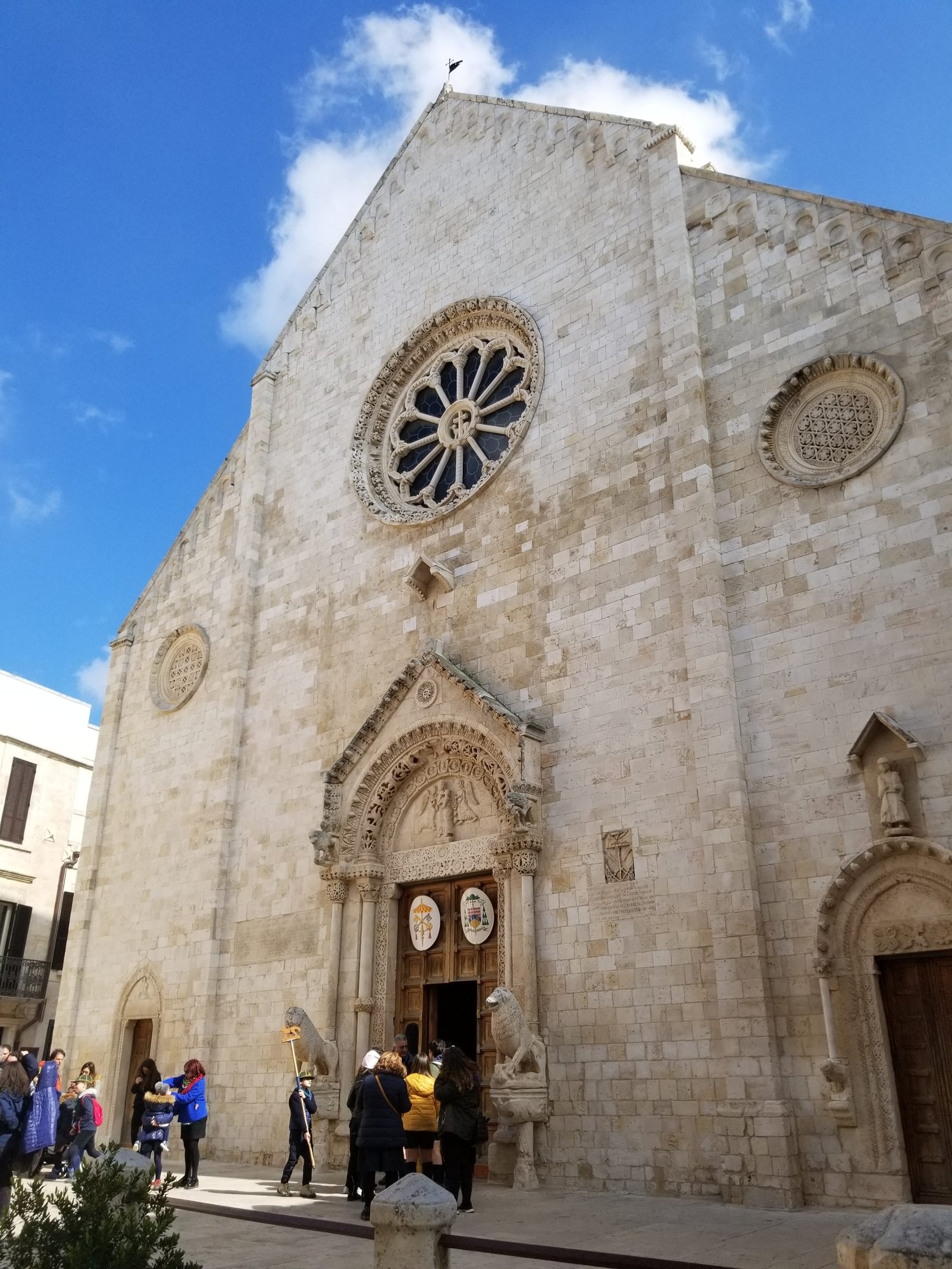 Conversano in Puglia: Food and Wine
A few staples are important to Gary and I. We love trying regional wine and Puglia did not disappoint us. In fact, Primativo has become a favorite! The other staple is bread. The bread in Conversano has been amazing! If you have read our previous post on Parma, that is probably the one thing we were not happy about – no salt makes for tasteless bread in Parma.
The first thing we tried (and kept enjoying) is the focaccia bread in Conversano. We found two great places in town that make and sell this. It is not quite like the focaccia bread I make with herbs. The Panetteria's here sell this bread thin or double that substitutes for pizza; but even better! There is just a brush of sauce, cut small tomatoes, and no cheese but it is truly amazing. We are going to miss our indulgences in Conversano's focaccia! Each one at this Focacceria is different. They do sell it topped with other items such as olives, artichokes, sausage (that tastes similar to what we know as hot dogs), salami, and even ham.
A local specialty is taralli, a crunchy and delicious small biscuit ring made with flour, oil, and wine. They are basically breadsticks in a round shape. We have found them flavored with fennel too.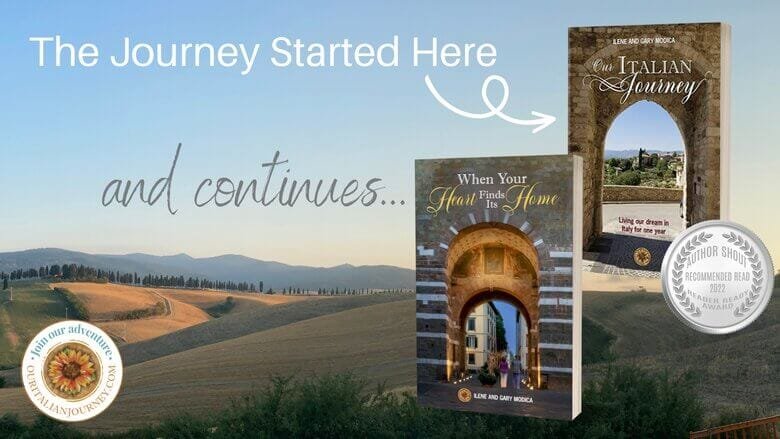 We hope you will consider joining our journey. It started in 2019 with "Our Italian Journey," and this part of the adventure has concluded with "When Your Heart Finds Its Home." Both are available wherever books are sold.
Please take a moment when completed to leave a written review. It truly makes a difference in ranking. We also love to receive photos of our book(s) cover with you, a pet, or some creative way for our social media!
Recommendation on a Place to Stay in Conversano in Puglia:
We enjoyed almost two months at Lanova house owned by a lovely family. It was a recommendation by our favorite author team, John and Nancy Petralia. We can't say enough about how wonderful our stay was at this home; it had every convenience you can imagine and was centrally located for visiting the Puglia region. They own three homes in the historic center. Here is the VRBO link Conversano House to Rent. The photos of our house (Lanova) are photos 17-24. More on the main menu of the blog under the PLACES TO STAY tab.
Lent and Easter:
We were fortunate enough to be in this medieval town during this holiday. We were able to enjoy two events that we will cherish forever. This is what we love most about small towns. They hold onto traditions – and we love them.
The first event was the Stations of the Cross which is a devotion that commemorates Jesus Christ's last day on Earth as a man. This devotion dates back to the 4th century. It was chilly and windy that day.
The second medieval event we participated in was on Good Friday. It was the first time we saw so many people out in the piazza! It was a beautiful day and we enjoyed every moment.
The evening procession was even more amazing! They kept bringing statues out of the church, we really weren't sure there was anything left inside. It lasted about 2-hours as they went through and around the historic center. Piazza XX Settembre is where the procession ended with all the statues being brought together around the piazza and a blessing from the priest. You can find more videos on our YouTube channel.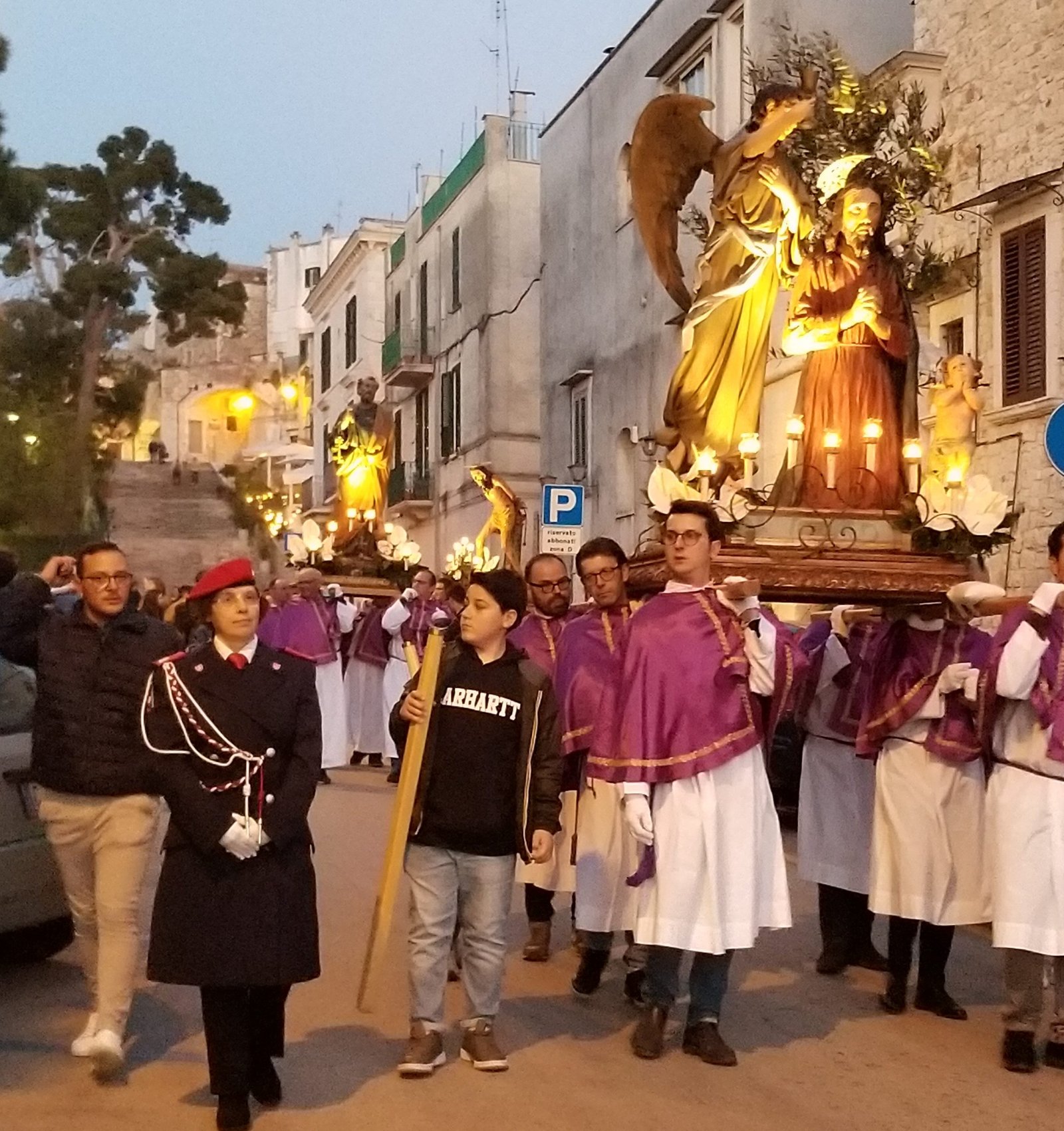 Some Street Photos
Agriculture
Conversano is an ancient agricultural center built on a hill located south of Bari. While traveling by train through this region you will see many olive groves, grape vines, and cherry trees. Conversano is famous for its excellent cherries. Unfortunately, we were here prior to summer so we did not get a chance to taste them.
Castle
The castle (11th-18th century) was built for military function. Its trapezoidal plan with four quadrilateral towers connected to the city walls was built by the first count of Conversano, Goffredo Altavilla, the so-called "Norman."
Hence, this beauty is known as Norman Castle. The castle sits at the highest point of the city. Inside the castle, there is an art gallery by seventeenth-century Neapolitan painter Paolo Domenico Finoglia. From the piazza outside the castle, you can see the Adriatic Sea in the distance (below).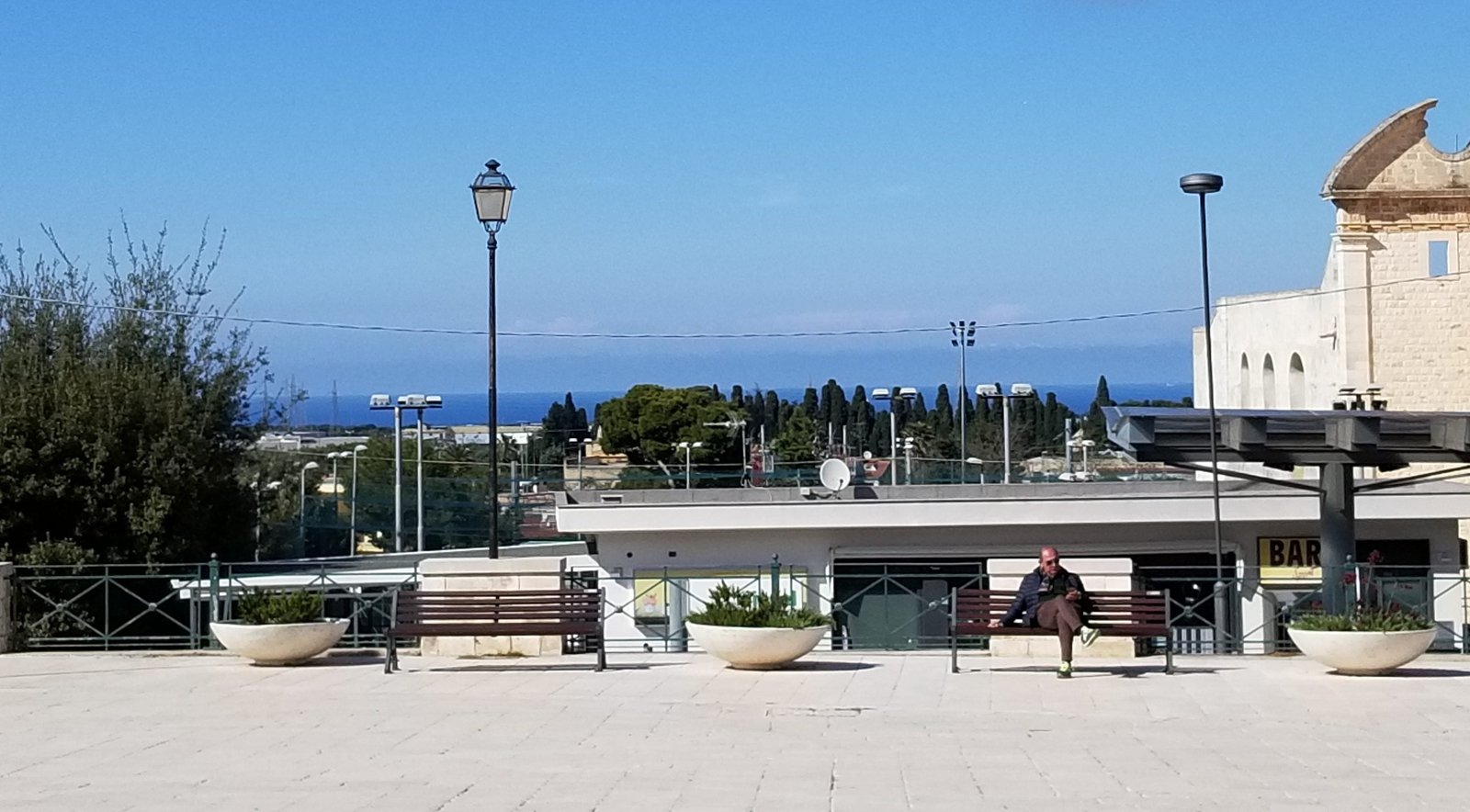 Conversano in Puglia is an amazing place to visit!