Spoleto, Italy
We weren't sure what to expect when arriving in this small medieval town. We hadn't seen photographs or heard much about it. It was, however, conveniently on our train line when staying in Arezzo in Umbria.
We looked at each other and said, "Why not explore?"
This post contains affiliate links that help keep this website running. By purchasing through our links, we make a small commission at no extra charge to you. Thank you for your support!
This quaint town is at the foot of the Apennine hills and as a result a perfect base for exploring the nearby towns of Todi, Assisi, Perugia, Spello, Montefalco, and Orvieto.
This little town is off the tourist "beaten path" and another hidden gem to discover!
Planning Our Trip
After disembarking from the train, we knew from our research, that the historic center and the Information Office were a bit of a walk from the station. Normally before we plan a trip to any town, we do a little research. We will search the web for sites about the region, in this case, Umbria. Umbria is considered "Central Italy." As an example, we looked at this site regarding the region, Italia, and I often use Italy Magazine for details on individual towns such as Spoleto.
There were plenty of small "mom-and-pop shops" close to the station. Each time we passed a forno, bakery with an open door, we were drawn to the smell of fresh baking bread and pastries. Gary would pass a look my way and I would remind him to focus on getting to our destination – the city center of this town.
The main street was quite busy with cars and buses passing us at a fairly good clip. Occasionally, along our journey, we would hear the all-familiar sound of an Ape, a three-wheeled light commercial truck pass us by. They have a distinctive sound and I love taking photos of them.
Historic Center
Finally reaching the lower part of the medieval wall, we stopped to take in the view. The stone wall directly in front of us is beautiful and defines the entrance into the city center by the two large arches. One to allow cars to enter and the other for them to depart.
This wall dates to the 6th century BC. It's in remarkable condition and I wonder, to myself, if it is original or if any restoration has been done over the years. We enter under the arch and immediately find a church to explore just inside the opening. Upon exiting the church about 30 minutes later, we make our way up the narrow main street.
There are many Roman remnants to be found throughout the historic city center. Spoleto is also known for its delicious cuisine, vineyards, truffles, and lots of small stores filled with traditional handicrafts. We could attest to this, as again, several food stores had their doors propped open and the aroma permeated out into the small streets. At times we would just stop and take it all in.
Exploring…
Rocca Albornoziana
At the top of Spoleto is Rocca, a must stop. We found out there are a series of elevators and escalators you can take to the top. Of course, we found this out after we made the climb!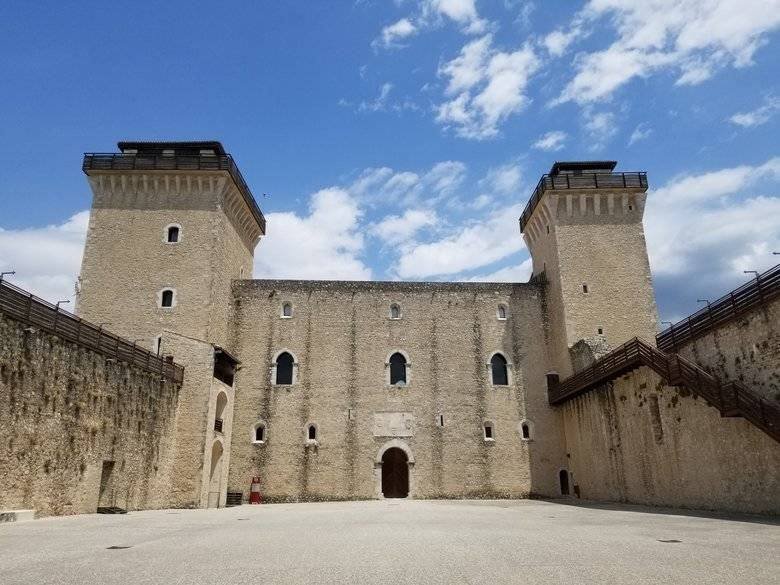 You can enter the beautifully preserved castle but can only go inside with a guided tour. Check with the ticket office for the schedule. It is said Rocca Albornoziana was built on the foundation of a Roman acropolis during the 14th century. It has six towers, two very large courtyards, and inside beautiful frescoes and a museum. The views of Spoleto in Umbria and the Umbrian countryside are magnificent.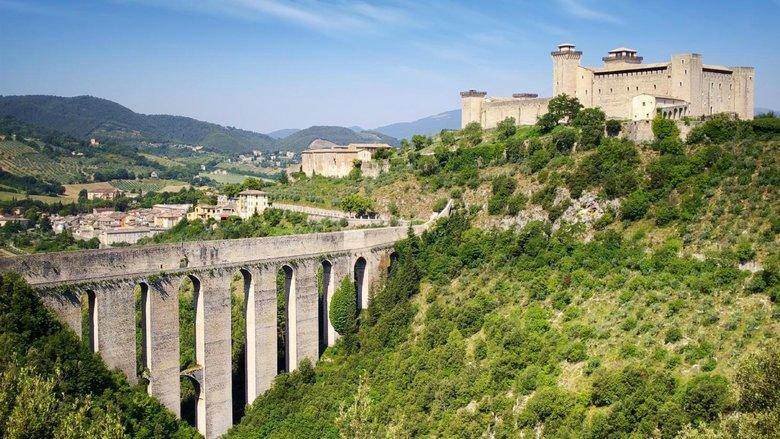 Ponte delle Torri
This beautiful Bridge of Towers is located near the Rocca and spans the deep gorge. It was built in the 14th century over the foundation of a Roman aqueduct. This bridge is about 780 feet long and spans 300 feet above the deep gorge.
We didn't see how to get to the small fortification tower on the other side. We found out later you can walk on the bridge for breath-taking views of the valley below. Wish we did that!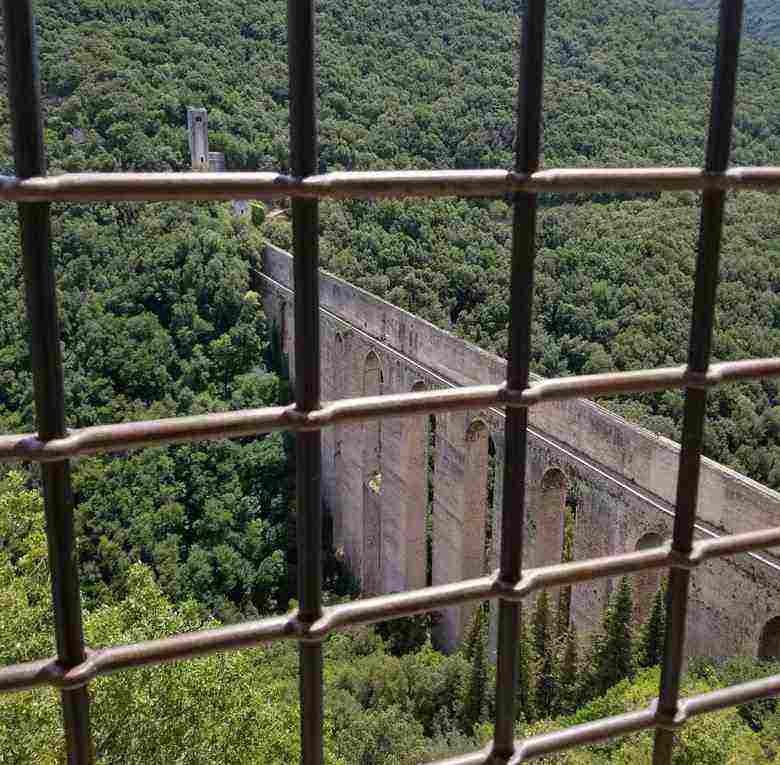 Little Italy: Italian Essentials
Piazza del Duomo
The Duomo itself is a beautiful sight but so is the piazza it stands upon. It has a Romanesque facade with amazing pinkish stone and a total of eight rose windows and stunning gold mosaics. Above the entrance is a Bernini bust of Pope Urban VIII and stunning frescoes by Pinturicchio and Filippo Lippi.
In the photo below, they are setting up the stage for the festival that was held on the weekend.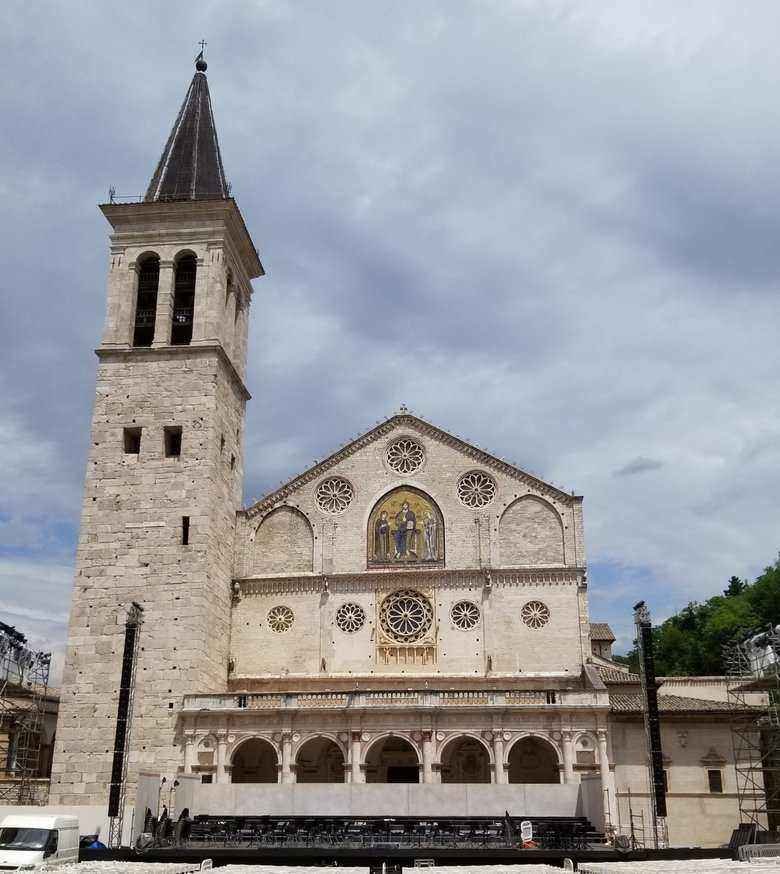 Spoleto Festival
Piazza del Duomo also is the setting for the Spoleto Festival, the festival of the two worlds held each year from June through mid-July. Festival dei 2 Mondi, is an international festival of music, theater, and dance.
Fun Fact: Television Entertainment… Don Matteo, a popular television "soap" in Italy is filmed in Spoleto! I found this out when reading an article in Italy Magazine.
It is filmed here because Spoleto is considered the purest of all the Italian cities. Spoleto is welcoming to tourists but has been said to be self-sufficient and not spoiled by tourism.
Our Day Comes to an End
Tired from walking in the heat of the day, climbing the hill to Rocca, and full bellies from stopping at a restaurant for lunch in Fontana di Piazza del Mercato, we decided it was time to head back to Arezzo. Gary and I always recap the day while sitting on the train watching the beautiful countryside pass by our windows. We love traveling by train. It is our preferred method of travel when in Italy.
Our discussion always consists of sharing what we liked, and perhaps – what we didn't about the town. Was there anything extra special about it? Would it be the kind-of town we might like to live in?
We both decided we really enjoyed the City Center but outside the medieval wall was a bit plain. It also was a little further to walk to the train from the center than we might like – but doable. We both loved the charm and history of this town. The castle, sitting high above the town, was incredible. The small street had such allure and appeal. The Duomo simply stunning and seeing photos of the festival that takes place in Piazza Duomo each year is something we would like to attend and experience.
We will return to Spoleto one day and explore a bit more. You should too.
Getting There
Spoleto in Umbria is easy to reach by train or car. Although, doesn't a drive through the Umbrian countryside sounds like an exciting trip? It is simply stunning. It's about 1.5 hours from Rome and about 2.5 from Florence. Most of all, this providence of Perugia is an amazing part of Umbria and should be on your Bucket List.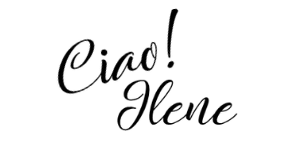 A post about Orvieto in case you missed it!
---