Why we blog is a great question. Why does anyone? There are thousands of bloggers out there blogging about everything from food to fashion. A recent email from a subscriber made it very clear to me.
Crystal clear
The connection between writer and reader is unprecedented. It's an interaction that can be amazing – and sometimes brutal. I'm sure a journalist sees things in a little different light than a blogger. I know my friends think I eat bonbons all day but that isn't the case as I mentioned in a recent post, Day in Life of a Blogger.
This post contains affiliate links that help keep this website running. By purchasing through our links, we make a small commission at no extra charge to you. Thank you for your support!
A Blog
A big difference is a blog is more of a daily thing. It's trying to figure out what information people want about your subject. Obviously, our main subject right now is Italy. It's about our fascination with all things Italian. We try and capture amazing destinations to visit, and give some historical educational information, all of why providing our experiences. Italy's charm is seducing and we want to share our passion for travel and the Italian zest for living.
My Perspective
There are times I feel like I am sailing on the ocean in a small boat. Not a rowboat but something slightly larger. There is nothing in sight, no land to be seen – anywhere. As I bob along the surface, the waves rocking me ever so slowly, I find myself wanting to stop blogging.
There are so many great blogs out there, why bother?

I'm really not a good writer, why should I spend so much time doing this?

Not many people read our blog, why should we continue?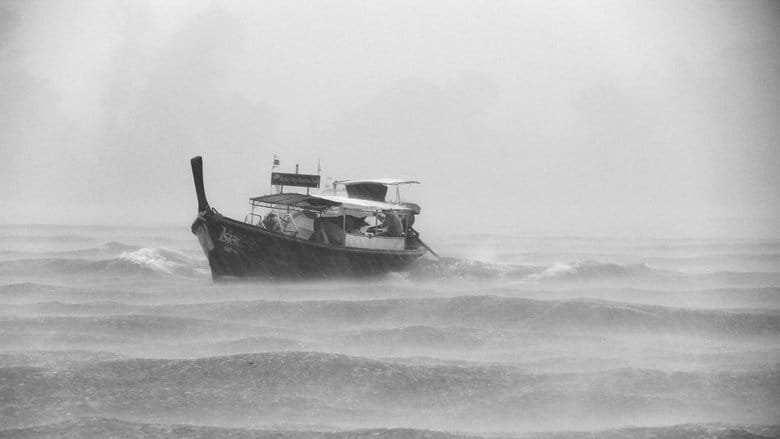 With all of these self-doubts, I sincerely just had a serious discussion with myself. I'll let you in on a little secret. Every year I sit back and decide on my birthday if I will continue with the blog. After all, it really only provides us with pocket change in income. Not what I had once hoped to achieve – a full-time job that pays well.
AND THEN THIS HAPPENS…
The Power of Email
We've mentioned many times how grateful we are to our subscribers. It's people like you that tell us by subscribing that you are interested in the information we are providing. Information about travel, tips on traveling, and our recommendations.
But, it's the type of emails below that make the difference! It's the comments left on a blog post that makes a difference. I thought perhaps today I would share a few with you. Names have been changed to protect the innocent. Notice: I've not altered any words of the email but have left out personal information with this as the indicator (. . . )
Just Recently…
If you ever wonder if anyone's paying attention, wonder no more. Our Italian Journey is a breath of fresh air to those of us who've gotten too old to travel physically to Italy, and we hope you'll keep writing for the rest of our lives and yours.
– Howard H., August 2023
A Little Bit Ago…
Just wanted to send a note letting you know that you've made an impact on my life. Last year my husband and I were able to take our first trip to Europe…

I jumped onto some ex-pat blogs and ran across one sentence on someone else's blog that changed everything in an instant: JS/dual-citizenship. I immediately jumped off that blog and ended up finding your blog when I searched for more info about it. Literally I got no sleep that night as I determined through my old Ancestry account that indeed I was eligible. . . Anyhow, your advice to join the Dual Citizenship Facebook group was amazing, and after reading about your downsizing post I started to walk around taking pics of everything I knew I no longer needed and wouldn't be taking with me, and selling them on OfferUp. . .

To be honest, I feel like just the possibility of this has been a lifesaver; with this COVID era, we have been isolating since March. . . HOWEVER, this dual citizenship has consumed my life, in a good way. It's like I see a light at the end of this tunnel now, my escape route. Reading your blog, I'm more and more convinced that I need to apply in Italy. . .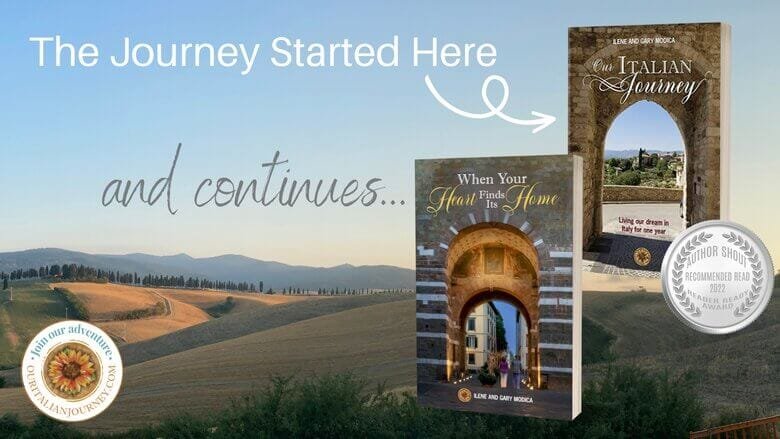 We hope you will consider joining our journey. It started in 2019 with "Our Italian Journey," and this part of the adventure has concluded with "When Your Heart Finds Its Home." Both are available wherever books are sold.
Please take a moment when completed to leave a written review. It truly makes a difference in ranking. We also love to receive photos of our book(s) cover with you, a pet, or some creative way for our social media!
Other Impactful Ones …
My name is Paul and I have an appointment later this month in the LA Consulate to open my case for jure sanguinis citizenship. Needless to say, I am a big fan of your blog and would love the opportunity to chat with you as I prepare to go in for what I hope will be a life-changing appointment.
Hello to both of you I loved following you all over Italy, what an adventure !!  I read about your 5 towns that you are now narrowing down.  I had to agree with you that being near the train station is very important. All the questions I asked you about trains and tickets were so helpful and we finally got to just "do it"..  It was much easier than I thought it would be, we even took the fast train.  We enjoyed the trains and buses to a lesser degree. I look forward to your next adventure and where you may actually pick as your home base in Italy. Enjoy Arizona and your family and a very happy new year to you both.
–Kyla

Little Italy: Italian Essentials
A Few More…
Hello, I just discovered your site and I love it. So much great info. We were in Florence last year and plan on going back in October. We want to stay in Florence and do day trips to Parma Lucca and Grosseto. Is it possible to do each trip in one day? I find the schedules are a bit confusing, any insight would be appreciated. Also are there tour companies around Florence for last minute excursions? Thank you and enjoy your Italian journey…
My name is Debbie and I found your blog online as I was looking for information on how to speed up the process to dual citizenship through my husband's descendants from Italy. We found out we are eligible through his brother and he gifted us all the paperwork process he collected over the years that qualifies us. We just are disappointed because we booked the appointment through our qualifying consulate in Los Angeles and our appointment is 9-years from now! I couldn't believe it so I began to do more research online and that's when I found your journey with the Italian consulate in Los Angeles. It seems it's complicated because of the volume of people they deal with. Either way, Congratulations because you endured the process and now you are living the dream in Italy! My question is that you said we can apply in person in Italy which we are going to try to do this when we visit Italy. Can you apply at any municipality or only the one with your family descendants came from?
My Final Thoughts
I can't tell you how much we appreciate these types of emails and comments on posts. To know we are actually making a difference in someone's life is what we are all about. So we want to thank you for all your kind words and support. Please share our blog with friends and family – we are always looking to expand our readers.
With that said, we want you to know that any time you click on any of our affiliate links (the ads no one likes to talk about) we earn a few pennies (literally) which enables us to keep posting on the blog. There is no additional cost to you when you use one of our links. However, we appreciate your support in this manner.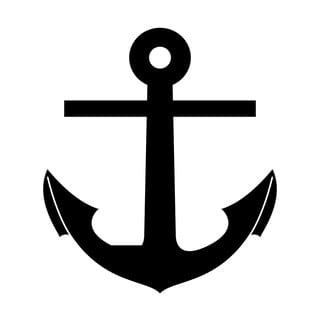 Most of all…
For now, as a result of these amazing emails, I feel more self-confident about my little boat thanks to your emails and comments. I'm throwing the anchor, staying for a while, and blogging some more. Thank you!