The tempranillo grape is a lesser-known grape in all the grapes found in Spain. It is also an important grape for Spanish winemakers as creates an integral part of some of the most popular blends.
This post contains affiliate links that help keep this website running. By purchasing through our links, we make a small commission at no extra charge to you. Thank you for your support!
But why am I talking about a Spanish grape festival in Italy?
Let's find out more…
The Grapes
The end of summer marks the very beginning of the grape harvest. An amazing time of year. Countless festivals dedicated to wine are held throughout Tuscany. I have two particular "bucket list" items on my list while in Italy. One is to help bring in the olive harvest to make olive oil and the other is to assist in some capacity for a wine harvest.
This is our memoir and personal adventure, which has changed our lives forever. Our Italian Journey is a compelling read for anyone who wants to experience and appreciate daily life in Italy and to understand its charm, appeal, and cultural differences. Join in the laughter as we also divulge the trials and tribulations we encountered along the way.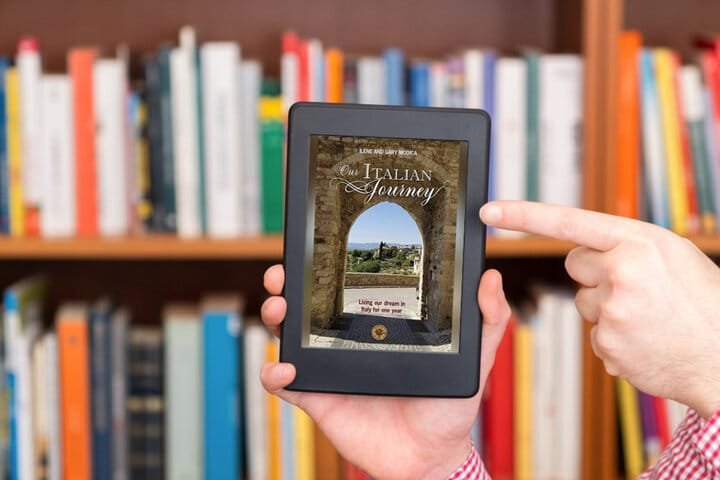 Friends of our Book
Last year while on a plane, a gentleman named Paul emailed me. Yes – while still on the plane! He was reading our book, Our Italian Journey, and he stated he had to let us know right away how much he was enjoying it. How amazing I said to myself and read the email to Gary.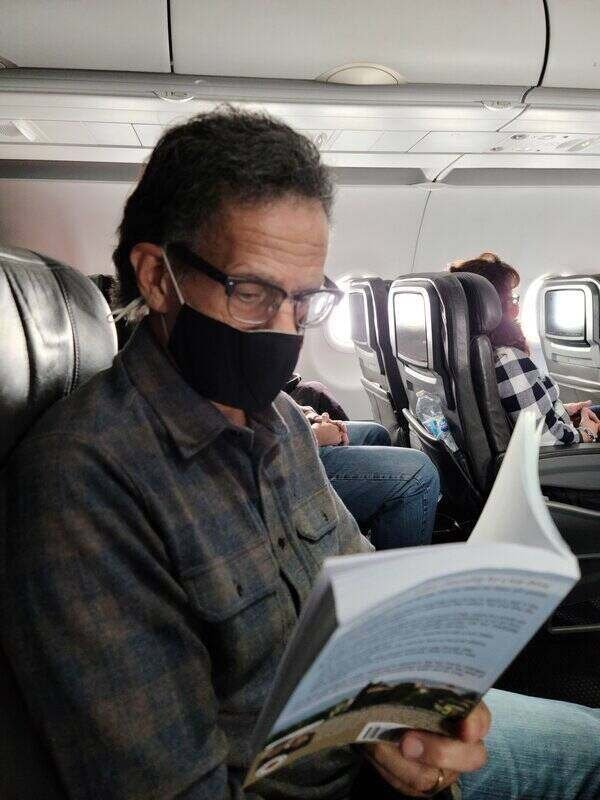 I emailed him right back and asked if he would be so kind as to have his wife take a photo of him reading it. He replied right back that he didn't like his photo taken but he would do it for us – and within a few minutes, the photo was received. We've become friends and he and his wife live in a hill town close to Lucca. And guess what? Yes, they have an olive tree grove and graciously offered for us to come to their home and help them bring in the harvest.
This year, unfortunately, it was not to be. The extreme heat and drought in Italy caused the olive trees to produce fewer and smaller grapes. How do I know this? Paul emailed me the bad news but said he had a connection with an amazing winery and would make the introductions.
Pietro Beconcini
Leonardo Beconcini and his wife Eva have an amazing winery in the hills of San Miniato. They grow several types of Tuscan grapes but one in particular – the Tempranillo – a Spanish grape! After purchasing the property, they began "getting to know" their land. It was a DNA analysis that proved some of the unknown vines were the Tempranillo.
The original pre-phylloxera grape in Tuscany they guess came to Italy around the eighteenth century. Those passing through the ancient Francigena pilgrimage route must have left or dropped them as the original route passed through the vineyard. Their website has a great video in Italian but with English subtitles that better tell their story.
The Tempranillo di Toscana Festival 2021
The festival was held the first weekend in September and because of Paul's introduction, we were asked to be guests of Eva and Leo. How could we refuse? Drinking wine in a vineyard amongst these beautiful grapes. Did I mention there was dinner too?
The first thing Gary and I thought of was our friends JoAn and Jim who live also in Lucca, and thankfully only a five-minute walk away. They also love wine like we do – especially Jim. So we asked if they would like to join us for dinner in a vineyard.
San Miniato is about an hour's drive south of Lucca. We didn't want Jim to have to drive back after the event, so we all decided to stay overnight in this cute little town. Look for a post shortly on San Miniato.
We decided to attend on the first day of the event, Friday. Arriving in town earlier in the day we explored this town for a few hours. Then it was time to head to Beconcini Winery for the Tempranillo di Toscana Wine Festa 2021.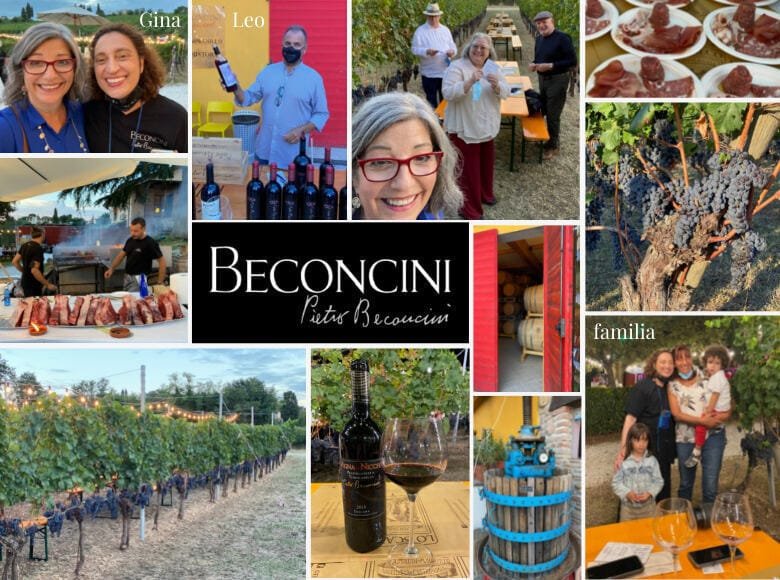 Arriving at the Vineyard
The drive through the vineyard to the parking lot was spectacular. The countryside – breathtaking. As we walked to the entrance, the lights through the rows of vines were strung and lit, along with tables. It was a dream come true – one of those items I could now check off my list.
We checked in, given wine glasses, and the evening began. We tasted some of their amazing wine – each getting better as the tasing continued. Then we tried the VignaLeNicchie – Tempranillo Toscana IGT. Our expressions after clinking glasses in a toast said it all. We all were in heaven. The wine was amazing. The Tuscan beef appetizer assortment, huge Fiorentina Steaks on the BBQ grill with baked potatoes, along with dessert – all enjoyed with good friends among the incredible scenery was beyond words. The live music added to the festivities and the evening couldn't have been more perfect. Even under pandemic restrictions, Eva and Leo, along with their family and crew, created an amazing event and an evening I will never forget. We got to celebrate the beginning of the 2021 grape harvest of Tempranillo di Toscana.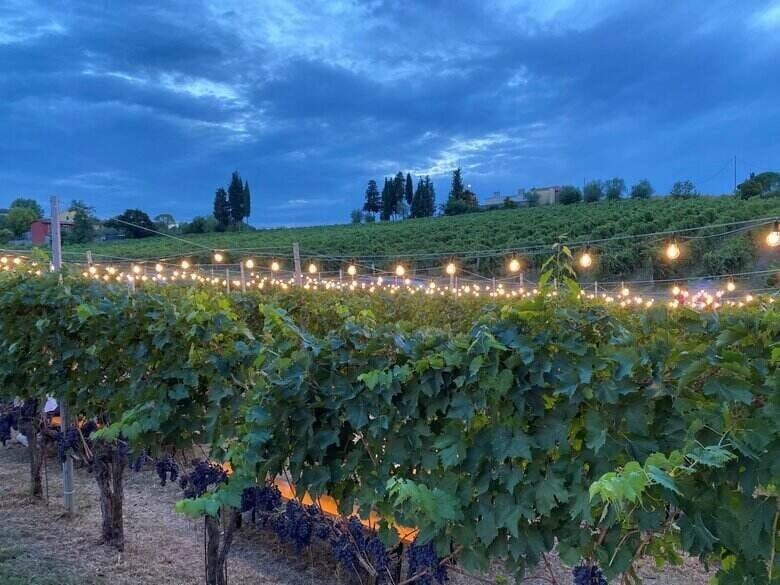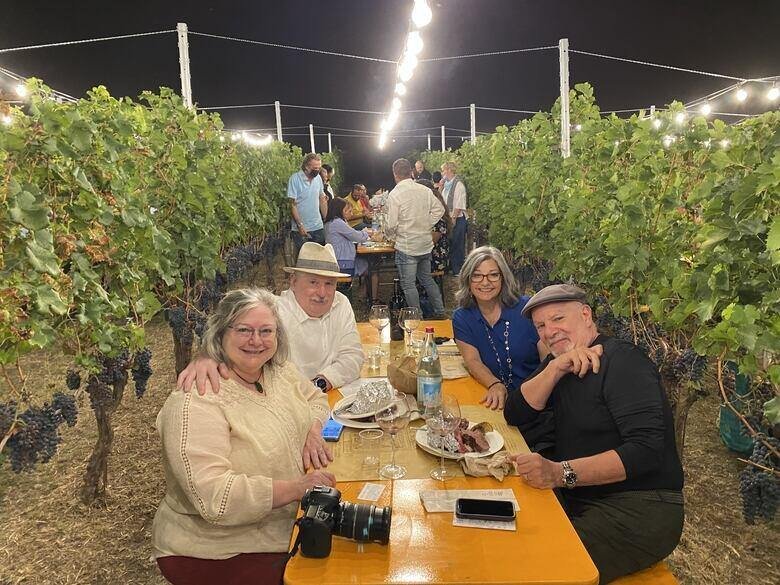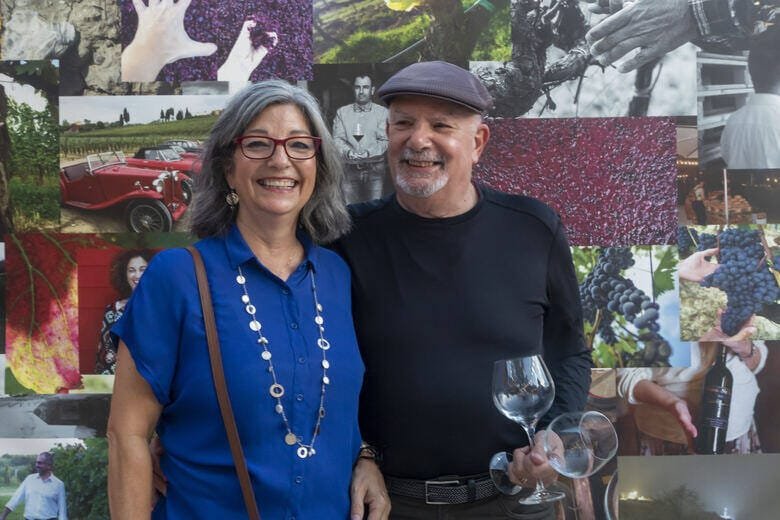 ---
---
"Custodian of a secret – ancient like our land" "… Long live the Tempranillo, the grape harvest"

Eva and Leo Beconcini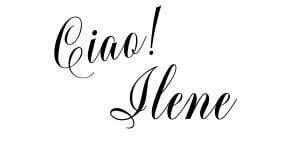 Pietro Beconcini Agricola
Via Montorzo, 13/A – San Miniato, Pisa, Italy 56028
Email: info@pietrobeconcini.com
Phone: +39 (0) 571 464785
Website