What do I mean when I say proper etiquette? What in the world am I talking about? Every country loves its tourists. They depend on your visit and your hard-earned cash spent in their country. It's worldwide.
This post contains affiliate links that help keep this website running. By purchasing through our links, we make a small commission at no extra charge to you. Thank you for your support!
But, you know each country has its quirks. Italy is no different. From general greetings to being respectful in churches, proper etiquette has its place. This post is just a little reminder – just in case you didn't know – or just may have forgotten.
Etiquette for Greetings
Here are some common sense etiquette situations you might come across when visiting Italy:
Were you aware that it's proper if you are in an elevator, to greet the person that enters after you? A simple acknowledgment is all you need. A slight head nod might even be considered alright in this situation if you don't want to greet them with a "Buongiorno."
Always say "Buongiorno" or "Buonasera" when entering a shop or restaurant. You can also say "Buonagiornata" or "Grazie" [pronounced with three syllables: graht-see-eh] when leaving. There is an "e" on the end of grazie that you pronounce almost like an "A" sound. You can also say "Grazie Mille" meaning thanks a million.
Make sure you smile. It's amazing how far that will get you. Silly I know – but true.
If you are learning Italian, let them know it. Every Italian will react with joy when they hear you are trying to learn. Sto imparando l'italiano, is I am learning Italian.
Italians like to shake hands when meeting someone for the first time. Kissing on both cheeks is for friends. When in doubt, let the person lead and you follow.
If you are walking and trying to get past someone, you can say permesso which translates to excuse me.
Are you still with me on the etiquette stuff? Makes sense?
Etiquette on Transportation
This category is pretty straightforward. Always sit in your allocated seat if you've purchased that type of ticket. On local trains, make sure you validate your ticket before you get on! Some trams, like the one in Florence – you can validate when you get on. Busses will also have the validating machine either in the front or middle of the vehicle.
Church Etiquette
Almost every trip to Italy will involve visiting a church to admire some of the most incredible art and paintings. These customs might seem strange to some but you need to be aware and follow the customs of any country.
Women are expected to cover their shoulders and knees when visiting a church. There might be exceptions in the summer but it is wise to think about what you are going to wear if visiting a well-known church. I always carry a scarf for this reason when traveling. It's lightweight and I can easily throw it over my shoulders.
Men (and women for that matter) are expected to remove hats in churches. It's a sign of respect and Gary always removes his cap before entering.
Churches are a place of worship. Phone conversations should be taken outside, especially if someone is saying a prayer near you. If there is a service going on, perhaps make your visit later in the day so you don't disrupt the worship.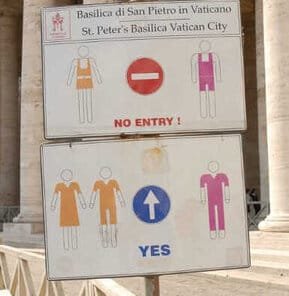 Cafes, Bars, Gelatoria's
Italians don't drink milk after 11:00 am. This can vary til about 11:30 but that is why you won't see an Italian drinking a cappuccino after that time. They strongly believe that it's difficult to digest and that there is a definite cut-off time for this breakfast drink. By all means you can order one… but they will know you are a tourist for sure. If that's okay with you… enjoy!
Typically, you will order your coffee and gelato at the register, pay and get a receipt. You take this receipt to the barista or person(s) scooping gelato. Give them your order and away you go. It's not always done this way, but be prepared.
Also, if you choose to sit at a table – whether inside or outside, it's going to be more expensive. You pay for the use of the table and the person waiting on you. Sometimes it's not too much and let's face it… there are times you just want to sit and people-watch and rest.
One of Our Most Asked Questions… Tipping Etiquette
Salaries are different in the United States than in Italy. Most servers live for tips in the States. Whereas in Italy, salaries are higher and you might even find the same person in the same job years down the road. Serving can be a real career.
Of course, if you've had an amazing experience whether in a restaurant or with a tour guide, a tip would show them your appreciation. But understand, it is not a necessity like it is in the States. It's not expected. If we run across this situation, we usually round the bill up. Make sure the staff will get it though as a true "tip."
Last But Not Least… Photos
It's a little pet peeve of mine. People take photos of others without permission. This especially goes for children. These days it's a completely different ballgame. I would not want my child's photo taken by a stranger and posted on social media.
When Gary and I meet people that have read our books or are subscribers of this blog, I always ask if it is alright to post the photo. I even do it with friends. It's just good etiquette.
Conclusion
If I've forgotten anything you think is relevant to this post, please comment. We are always willing to add and adjust our information.
So in proper etiquette fashion… Thank you for reading this post. We appreciate you!