The Work of Art – The Exhibitions
The MARIA Exhibition: On a recent trip to Assisi, we stopped into a church we were passing as we explored the small streets. Upon entering, I stopped – dead in my tracks and headed back out the door to find Gary. He was taking a photo of the outside of the church. "Gary, you have to see this now," I said as I could not imagine us missing what I saw briefly inside. What if they are about to close? is what I was thinking. At the end of this post, we have a surprise for you. You will experience this yourself.
This post contains affiliate links that help keep this website running. By purchasing through our links, we make a small commission at no extra charge to you. Thank you for your support!
When you enter, there is a large structure with hanging glass tubes. What could this be,? I thought. I was truly moved when I began reading a bit about this sculpture of Mary.
The Artist
Guido Dettoni della Grazia began his artistic route at the end of the 1950s, working with both painting and sculpture. The first exhibition of the work MARIA was in Barcelona in 1998. Guido decided to add the family name of his mother, "della Grazia" to that of his father, Dettoni.
Since 1969 his work is mostly the result of the encounter between hands and matter. Often while blindfolded, he molds malleable matter, such as wax.
How It Began
Using wax he had gotten in a market in Puebla, Mexico, he molded the first sculpture or image of Mary to be held in his hands. In July 1995, an article by a priest and writer, Miquel Ambròs was published in a magazine telling the story of Guido's work.
When Guido had originally let Father Ambròs see and touch the sculpture he had asked, "But…might we hold in our hands the Virgin Mary?" Father Ambròs' response was to quote the First Epistle of St. John to Guido, "We herald that which we have heard, that which we have seen with our own eyes, that which we have contemplated and have held in our hands: the Word of Life."
The Sculpture
Guido realized he was not satisfied with the shape and in September 1995 he finalized MARIA as it is seen today. The image of Mary fills the void in our hands. It is a "spiritual instrument" aimed at reaching the hands of all of us.
The sculpture from different viewpoints indicates moments of Mary's life. Mary with the Child, The dove of peace, Mary expecting, and also kneeling as she listens to the Annunciation.
The MARIA Exhibition Experience
In the exhibition, we are invited to hold in our hands one of the reproductions of the original sculpture. We can see the sculpture of Mary suspended within glass columns and also the enlarged one in marble. The structure of his installations, triangle, square, cross, and alpha-omega reveals a symbolism that is part of his work. The glass columns evoke light; the earth (rocks at the bottom) from which they raise, fertility.
This exhibit truly touched my soul. So much so that when we were waiting for the bus to leave Assisi to take us to the train station, two nuns came and stood by us to get out of the sun. We started talking and I told them about the exhibit. They had no idea what I was talking about; even the sister who spoke English! I immediately took out my phone and started showing them my photos and then put my hand on my heart to express how amazing it was. They asked where the church was located and I showed them the map. We assume they will return one day to see and experience it for themselves.
There are several of these exhibitions throughout the world. In every exhibition, Mary's sculpture is always the same, repeated 33 times, and reminds us of the years Her Son lived on Earth. They are all a reproduction of the original one shaped with wax, created with different woods or marbles from all over the world.
Both these books beautifully capture the essence of Italy, its people, and the strong sense of community that defines life in small Italian towns. With lyrical prose and reflections, Ilene & Gary invite readers to accompany them on a journey of self-discovery and transformation in the heart of Tuscany.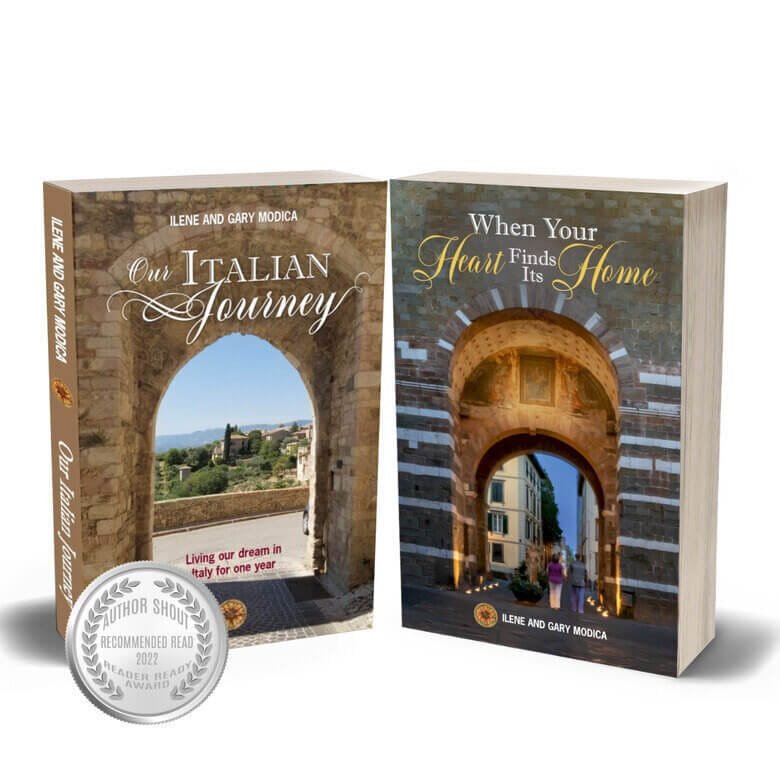 ---
The Wood
The first collection of sculptures was carved out of 33 different kinds of wood in 1998. This collection is located in this church, Santa Maria Della Rose in Assisi and is a permanent exhibition there. Here is a photo of the different kinds of wood that were used for this exhibition:
---
And now that you have the background…
Experience it yourself
---
Note: Guido Dettoni della Grazia's work and projects are promoted and edited by NESHER, a Cultural Association.
Update December 1, 2020
Gary surprised me with an early Christmas present. He said it was something he always thought about getting me.
He surprised me with the gift of MARIA. My very own MARIA. I was touched that he recalled the exhibit meant so much to me. Perhaps it was when he was rereading our manuscript for the umpteenth time as I was the one who wrote about visiting Assisi.
I will treasure this gift and the memory of visiting Santa Maria Delle Rose that day. Ti amo, Gary.