Soccer in Italy:  A dream of ours was to one day attend a game in the Italian Premier League. Gary and I made our dream come true when we attended our first soccer game in Italy at the Stadio Marcantonio Bentegodi in Verona. While we were in Arezzo, Gary found out that Hellas Verona was playing his favorite team – – AC Milan while we were going to be in Verona. We couldn't miss this opportunity to participate in such an incredible experience. Soccer is by far the most popular sport in Italy, the home country of some of the most historic and legendary soccer teams in the world!
This post contains affiliate links that help keep this website running. By purchasing through our links, we make a small commission at no extra charge to you. Thank you for your support!
The first thing you need to know is that the Italian Serie A, as well as the other minor Italian professional leagues season, runs from the end of August to mid-May. Here is a list of the Serie A teams playing in this current year:
SERIE A Teams for 2019 – 2020
| | | | |
| --- | --- | --- | --- |
| Bologna | Hellas Verona | Milan | Sassulo |
| Brescia | Inter Milan | Napoli | SPAL |
| Cagliari | Juventus | Parma | Torino |
| Fiorentina | Lazio | Roma | Udinese |
| Genoa | Lecce | Sampdoria | |
Purchasing Tickets
If we were in Verona at the time of the game, we could have purchased tickets directly from the club, Hellas Verona. Most of the time, tickets are less expensive when purchased directly. The other choice, as we opted for, was to purchase them online. Be aware… that not all Serie A teams make their tickets available for purchase on their website. In this case, you will need to buy your ticket via Viagogo, which is the website we used. It is supposed to be the world's largest ticket marketplace. The website was easily translated into English to make it easier. This website also has a buyer's guarantee.
The only problem we had is that the tickets needed to be physically mailed. Now, that could have just been the website we used as I did see people holding a sheet of paper that looks like it was printed from a home printer for their tickets. It turned out not to be an issue because our Airbnb owner in Verona told us to have the tickets mailed to her home address. Problem solved.
Other Ticket Options
It is possible to buy tickets directly at the stadium on the day of the game. The only issue with this is there is a chance there might be no tickets available, especially if it is a big match game.
Another easy option is to buy tickets directly at the team's points of sale and ticketing offices located all around the city you are located. You can also ask the city's Tourist Information Office. The very important "i" that all tourists should look for when visiting a new city or town. They should be able to guide you where to purchase or if staying in a hotel, they should certainly know where the best location is to purchase tickets.
The Game is About to Begin…
Is Attending a Game Safe?
Our only experience has been the AC Milan vs. Hellas Verona game we attended on September 15th. Gary and I both felt very safe and had no concerns before – during – or after the game. We can only speak from experience at Stadio Marcantonio Bentegodi but they seem to have plenty of security guards around. We did not see any fights or arguments in our area.
I will say that Gary had his AC Milan shirt with him but we knew we were sitting on the Hellas Verona side of the stadium. To be extra sure of having no issues, Gary did not wear his shirt and rooted for his team in a bit of silence, poor guy. We wore neutral clothes as to not have any issues with that!
There was lots of red smoke down at the AC Milan section. We had seen this before when in Salerno when they had maroon smoke flares, celebrating their team turning 100 years old. I guess you are allowed to bring them into the stadium or perhaps they snuck them in. At times, it looked like the entire section was on fire! There were a few explosions of what I would think were "cherry bombs," down in the same area.
---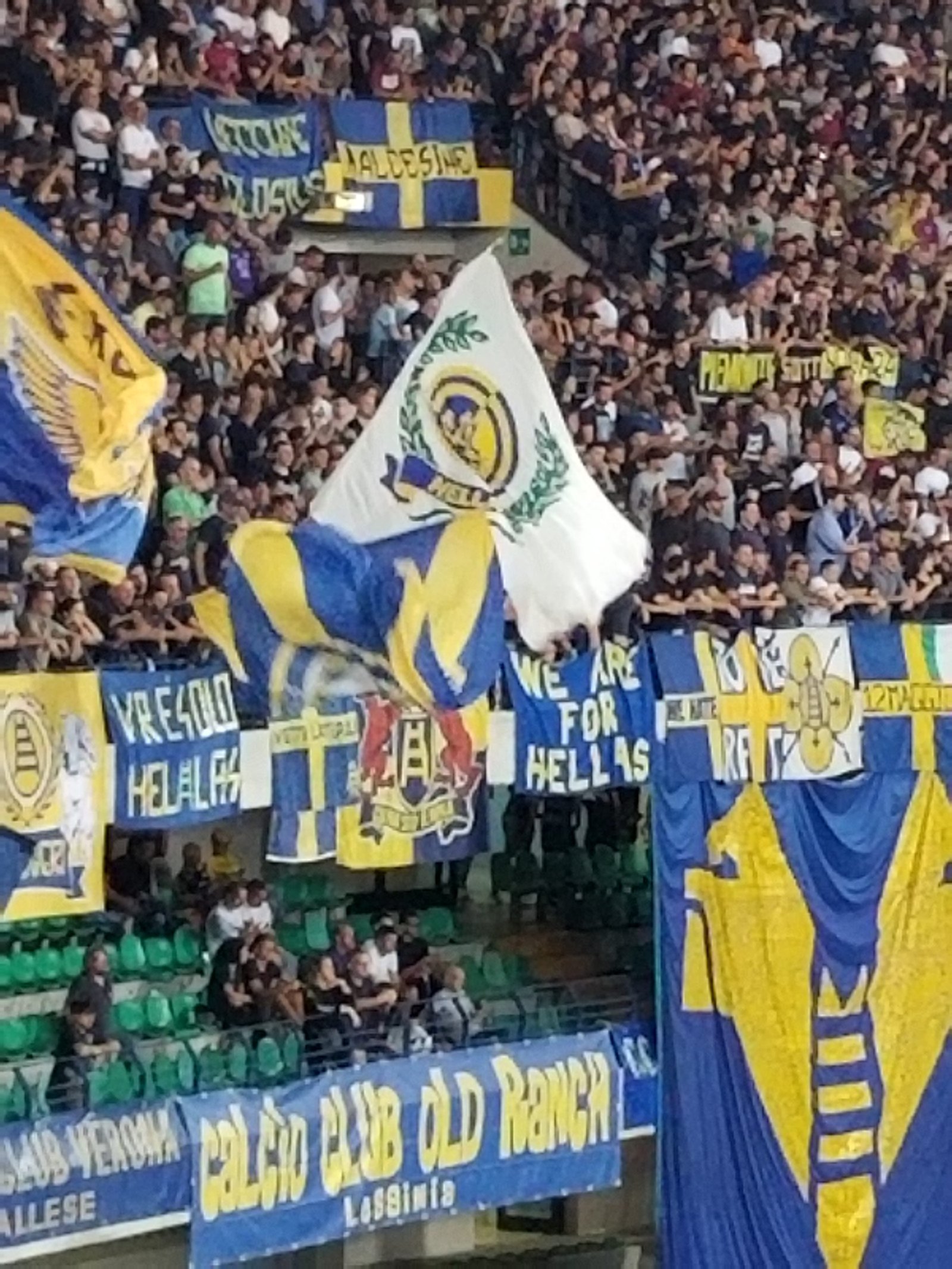 Are Food and Drinks Available?
While you will not see vendors inside the stadiums like in the States, there are stands inside the stadium selling basic food items. You will be able to purchase beer, soda, and water too. I have heard that they do sell drinks by vendors wandering through the stadium seats but I have to say, I don't recall seeing any at the game we attended. Perhaps I wasn't looking for something to drink either.
What we did notice is there were a few food trucks in the parking lot prior to entering the gates at the beginning of the game. They were still open when we were leaving too. It seemed they had street snacks, pizza, hot dogs, and other quick food items.
The Big Concern You've Probably Heard… Tessera del Tifoso
It is confusing when you read about a fan card called, Tessera del Tifoso. This term refers to a fan card that is sometimes required in order to purchase soccer tickets in Italy. The card identifies the supporter of a particular team.
This card was introduced a few years ago for security reasons, and it has been widely criticized by numerous fans. It does, however, present some advantages by allowing the holder to have facilitated routes inside the stadiums and discounts on other events organized by various companies.
As a general rule, you must have the card if you are an Italian citizen living in the region of the opposing team. It is a must to have the card if you want to watch the game from the away fans section of the stadium, regardless of your nationality or residence.
As a tourist, if you want to purchase a regular ticket you won't need the Tessera del Tifoso unless you want to see the game from the away fans section of the stadium. In our case, Gary would have preferred to sit in the AC Milan section but we thought it was too much of a hassle to worry about this.

Tips
Support the local team! While at the game, I did root for Hellas Verona only to make it fair as Gary is an AC Milan fan. You could wear the home team's colors or purchase a team's scarf or hat in the local team store. Hellas Verona had one in the historic center just off of Piazza Bra.
Make some noise! Even though we are not fluent in Italian, we joined the crowd. It was amazing the number of flags and banners the home fans were waving! When they started to sing, ♫ "Oh when the saints, come marchin' in" ♬♫ in Italian, I sang it in English!
Don't forget to bring your Passport/ID card with you on the day of the game. The name printed on the ticket must match the one on your identification. I was a little concerned here as my Italian passport has my maiden name on it (as it should), but the name on my ticket was my married surname. I brought both passports, just in case, but the man at the gate didn't say anything. Obviously, he saw that Gary's last name and mine were the same. No issues.
Recommendations
Arrive early! You need to have your tickets in hand, along with your ID. They will also quickly check all pocketbooks and backpacks. We waited in line for about a half-hour. You must enter the stadium at your correct gate which is noted on the ticket. The stadium was blocked off into sections on the inside so you can't just walk around the stadium without exiting and walking around the outside. Again, this has to do with that fan card.
Check-in: We saw lots of water and juice bottles when we went through check-in. Perhaps they were bottles already opened, I am not sure but they weren't overly priced in the stadium.
Bring cash, especially if you are trying to buy tickets directly at the stadium and if you want to buy some food or drinks during the game. Credit cards are rarely used.
Milan won this game 1 – 0!