Best Pizza in Naples, Italy
In June, Gary and I were able to experience two of the oldest and best pizza places in Naples! I had heard about pizza in Naples but could all the hype be true? When I think of pizza, I always think of Dean Martin. I love this song and this video clip! ♬♪"When the moon hits your eye like a bigga pizza pie, that's Amore"♬♫ (Credit: NM Catalogue)
This post contains affiliate links that help keep this website running. By purchasing through our links, we make a small commission at no extra charge to you. Thank you for your support!
We first attempted to go to Pizzera Da Michele on a Friday shortly after arriving in the area. Taking the train from Scafati where our apartment was located we headed to Napoli, Naples. We arrived at the restaurant at about 1:00 pm and the line was down and around the block! We decided to then return another day – earlier when they first open.
So I looked up on Google the other place we wanted to try and it was located just up the road. "Let's go," Gary said, "I'm hungry!" So off we went and we were able to get a table right away.
Antica Pizzeria D'e' Figliole – 1860
This amazing pizzeria has such a history, opening in 1860! When I looked up some history, I decided rather than adlib, to tell you what comes right from their menu:
Typical dish of Neopolitan Gastronomic tradition which reminds the post-war difficult period and its people's creativity. In 1860, the first house of "pizza fritta" was founded and the grandfather Gennaro gave it the name dedicated to his daughters: Anna, Antonietta, Nunzia e Rita. In 1945 the pizzeria moved to Street Enrico De Nicola until the early 70s because of war disasters and ruins. Antonietta in 1973 became manager of the pizzeria moving again to the actual site Street Giudecca Vecchia. Now the place is famous for its pizza fritta, the one and only dish you can find here.

-Antica Pizzeria D'e' Figliole
Experience #1
Gary and I both ordered the Completa. This amazing pizza is filled with mozzarella, ricotta, pepper, tomato, cicoli, and salami. What is cicoli you might ask? It is pork scratchings or cracknel. The fritta we ordered was only €5,00 each! The menu is very limited in its selections but the only pizza you can order is a pizza fritta!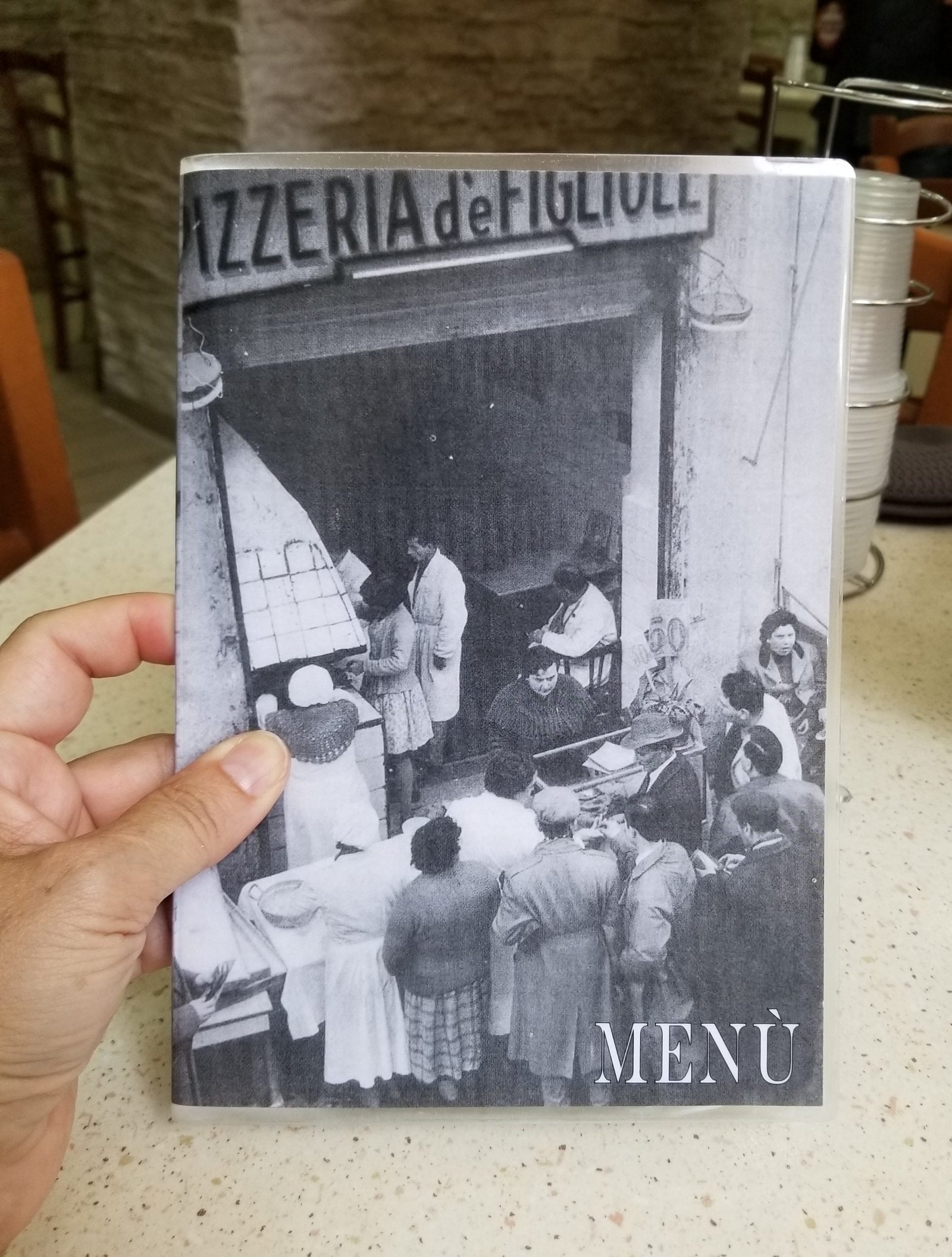 I asked if I could take their photo and of course, they said, yes! They roll out the dough, fill half with the ingredients, fold, and seal, and the deep fryer is right behind them. As soon as you cut into it, it deflated. This puff was amazing and like nothing, we had ever had before. We left very satisfied and will return again one day!

Little Italy: Italian Essentials
from: Cratejoy
Experience #2
Lantica Pizzera Da Michele – 1870
Another famous restaurant and more well-known is Pizzera Da Michele. This restaurant opened in 1870! For our second try at dining here, we arrived 45 minutes prior to the opening and there were already 30 people in front of us.

 The System
They have a system for when and how you enter the restaurant. As they let people in, they fill the first room first. If you are a couple, you might start off at one table and then they will ask you to move to a table of four with another couple. If a single, you will be dining with another single.
As that room is filled, they bring in and fill the next room. This was our group. We noticed the waiters already taking orders from those seated in the first room. Gary and I sat down at a table for two and then asked to sit with another couple. They were a really nice young couple in Naples specifically to come to this pizzeria!
There are only two kinds of pizza on the menu, margherita, and marinara. That's it. You can order a "doppia mozzarella" with double the cheese but we decided to try it the regular way. The couple next to us did order one doppia and one marinara. The doppia looked good but I was more than satisfied with our order.
You can order three different sizes. Normal, medium, or maxi. Gary and I ordered the normal, thank goodness – I don't think I could have finished anything larger! Did I mention the prices? Yup, €4,00 for each of our pizzas! Such a deal!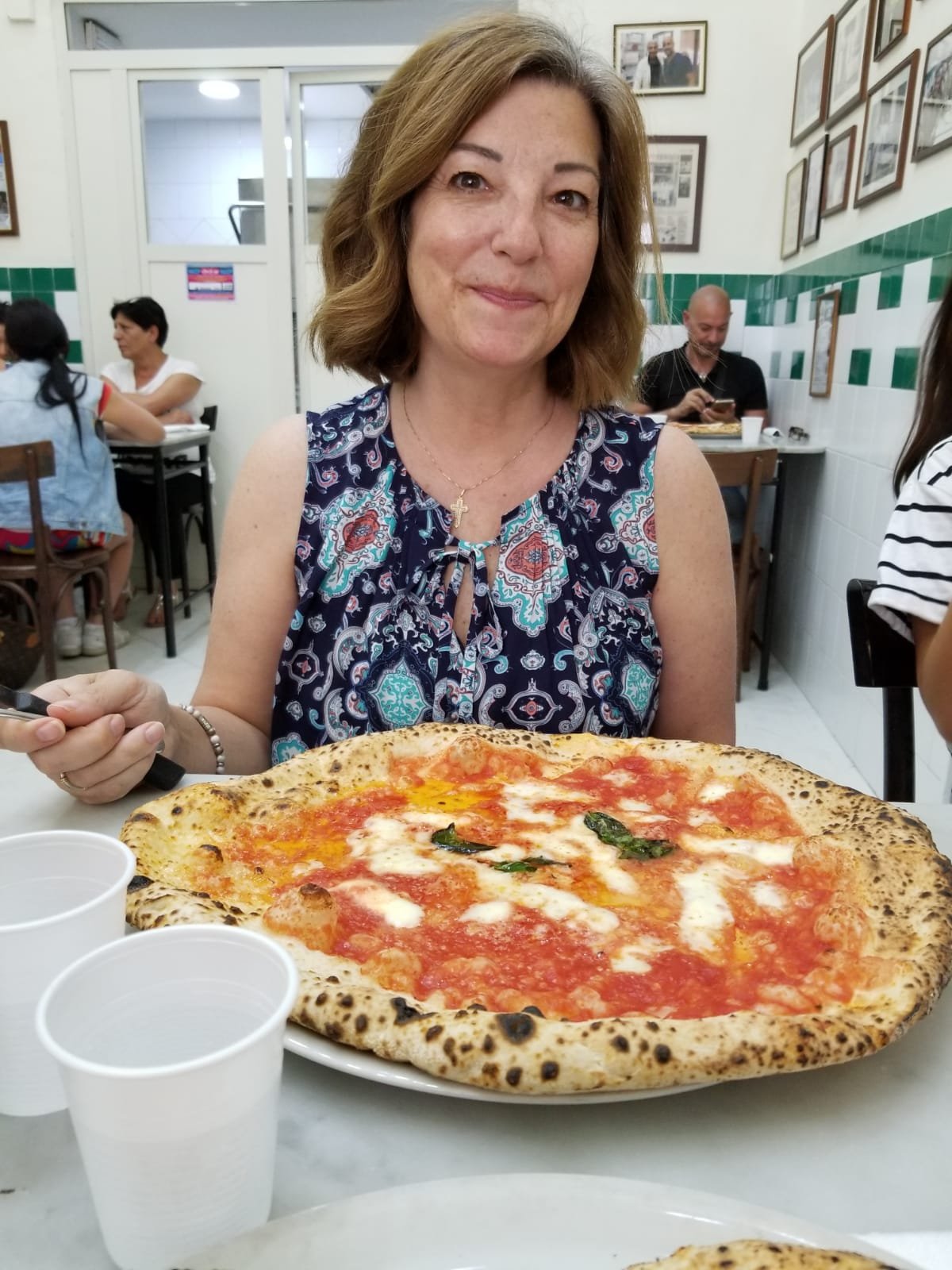 Here is their website Lantica Pizzera Da Michele
In Closing
These are the only two pizza restaurants we were able to try and truly loved both of them. Each was different and delicious. Who knew that pizza so plain in Pizzera Da Michele could be that good? You don't need toppings to make a pizza taste good–that's for sure! If you find yourself in Naples, you can't go wrong with having a meal at either of these locations!