Italian Sports Cars
Pagani  •  Lamborghini  •  Maserati
This post is unusual for us, Italian sports cars? But the day was so memorable – we had to share it. Hope you enjoy it as much as we enjoyed experiencing it.
This post contains affiliate links that help keep this website running. By purchasing through our links, we make a small commission at no extra charge to you. Thank you for your support!
The Surprise
We were so happy when our youngest daughter, Ally, and her boyfriend Brett came to Florence, Italy to visit us for 8 days. It was the first time that we actually had family visit us here. We had a few surprise days planned for them and we found out; they had one for us too.
Brett swore Ally to secrecy. The day's events were only revealed to us 20 minutes prior to leaving. They took us on a private tour of two Italian icon car factories and museums, as well as a visit to a private collection/museum of Maserati cars.
Both these books beautifully capture the essence of Italy, its people, and the strong sense of community that defines life in small Italian towns. With lyrical prose and reflections, Ilene & Gary invite readers to accompany them on a journey of self-discovery and transformation in the heart of Tuscany.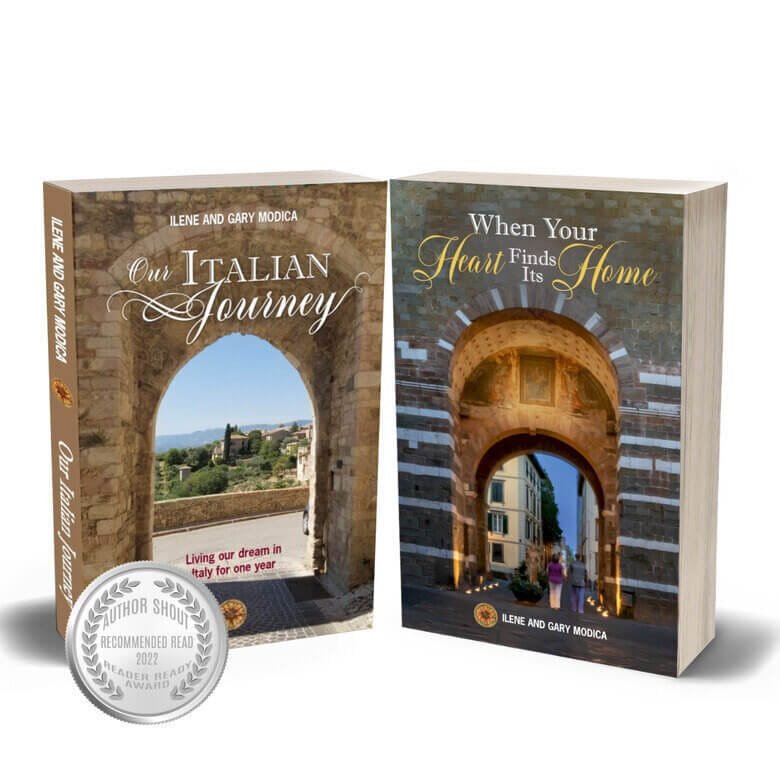 Italian Sports Cars: Pagani Automobili S.p.A.
Our first stop was the factory and museum of Pagani which is located in Modena. Don't feel bad if you never heard of Pagani, neither had we. A tour of this factory is by reservation only and took about 1.5 hours. Cameras were allowed in the museum but when it came time to go into the factory, all cameras and cell phones had to be stored in a locker.
They produce 30 cars a year at an average starting price of €2.2 million. Pagani is the most expensive hypercar manufactured in the world. The Zonda Barchetta model is the most expensive car of its type selling at a mere $23.65 million dollars and only three of these models will be made! When you order one of their cars, it will take between 6 months and one year for delivery. All of their cars are 100% hand-made using no robotics of any kind! They even produce their own carbon fiber parts in their in-house ovens.
The Story
As the story goes, Mr. Pagani went to Ferrari for a job but was turned down by Enzo Ferrari because his ideas were too radical. Maybe Enzo should have listened a little better. Mr. Pagani walked away and decided to start his own company with his own designs and ideas. Bravo – Mr. Pagani!
Italian Sports Cars: Lamborghini
Next, we headed to the Lamborghini museum and factory in Bologna, but first, it was time for lunch. We sat down with our driver and tour guide, and placed our orders when Brett asked if I'd like to test drive a Lamborghini Huracan Evo? It seems they rent them for test drives at the restaurant that was located conveniently, across the street from the factory. Of course, Brett already knew this and had it planned all along.
Driving a Lamborghini
Well… how do I begin? I filled out the papers and went out to the three Huracan's parked in front; two white and one black. Of course, I chose the black one; it just looked mean. I was given instructions on the car by the rental agent who then jumped in the passenger side and said: "Let's go." It was only a ten-minute test drive but that's all I needed.
We drove through town, the speed limit was 50 kph (30 mph). At the second roundabout, he said, "If you like you can kick it" and since there were no cars in front of us, we went from 30 kph (20 mph) to 120 kph (75 mph) in about three seconds! As we approached traffic in front of us he informed me if I could pass them to go for it. With no cars coming towards us I gunned it and this time he hit 180 kph (112 mph)! We passed the six cards in front of us in seconds. W-O-W!
I don't recall what I had for lunch that day as I will never forget my Lamborghini test drive.
Thanks, Brett and Ally… now, how do I afford one?
Lamborghini Museum
The museum is filled with new and old models. As the same with Pagani, we were able to take photos in the museum but lockers were mandatory for all cameras and cell phones.
I learned that Lamborghini made the first SUV and has come out with a new version for today's market. I was amazed to learn that they produce a car from start to finish in about 3 days. The stations are timed and while it's a true production line, all cars are assembled by hand. No robots are used other than the chassis welder. They also have their own carbon fiber oven and produce their parts in the shop. They only send parts out of the shop to be painted.
At the end of each production, an employee gets in the vehicle and takes it for a test drive. I really would like that job! Lamborghini Huracan Evo's start at about €206,000. Quite reasonable as compared to Pagani. I was quite impressed with the factory, museum and my unforgettable test drive.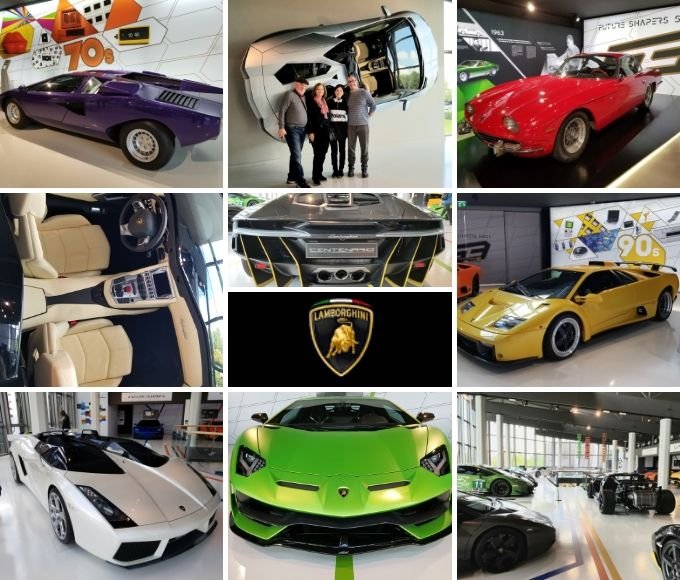 The Lamborghini Story
It seems that Mr. Lamborghini also approached Enzo Ferrari for a job at the Ferrari plant. Lamborghini was known at that time for his farm tractors and was told by Enzo to stick to what he does best – tractors! Thankfully Mr. Lamborghini didn't listen to Enzo and started manufacturing his own cars. Thanks for the ride in your Huracan Evo, it was truly my pleasure! Of course, I need to thank Brett and Ally too!

Italian Sports Cars: Maserati
Maserati was founded in Bologna in 1914 by Alfieri Maserati as a car repair workshop. There is a great deal of history regarding Maserati which of course, you can find online.
The private collection of Maserati cars that we visited was actually located in the middle of a farm! The Umberto Panini Collection (also known as CUP) is located within the Hombre organic farm of the Panini Family, just outside of Modena. Panini worked as a welder and mechanic in various workshops in Modena including Stanguellini and Maserati Moto.