Are we already at months 7 & 8?
I'm not sure why time is flying by so fast and why we are already in Italy for months 7 & 8 of our year-long adventure. The days seem sometimes to run together and I actually forget what day of the week it is. These last two months have been as wonderful as the previous ones. I truly have to stop and realize how lucky we are to be experiencing this year together in a country we love so much. A country we can now call our own.
This post contains affiliate links that help keep this website running. By purchasing through our links, we make a small commission at no extra charge to you. Thank you for your support!
Scafati
We left Florence on Saturday the first of June and arrived in Scafati via the train. It was about a 4-hour train ride.
We got to Scafati and Monica showed us to the house. The owners were in another town which was not an issue. If we needed anything, they said to message or call them. The first thing we usually do is head to the closest grocery store. We choose Scafati because we didn't want to stay a month in Naples and Sorrento was not in the budget. Well, be aware – there is nothing to do in Scafati. It is a small town with easy access to trains but other than that… zippo, nada. Let me say that the house was nice and comfortable, the owners terrific as you will find out, but the area not much. We never went to a restaurant. We never participated in the evening  passeggiata (the evening Italian stroll on the main streets.) But the location was great for traveling the coast. Pompeii, if we wanted to go again, was just a few minutes away.
Making New Friends
We got to meet Giuseppe (aka Joe) who is the owner of our Airbnb home when he stopped by on a Thursday. His wife who I was corresponding with was in their home in Genoa. Giuseppe told us his parents wanted to meet us after seeing our blog and reading about our story. We set up for us to visit the next day. Meeting us at the train station, Giuseppe picked us up and drove us to his beautiful childhood home, high on a mountaintop.
Their home was beautiful. The views were spectacular. His parents were so sweet, welcoming, and very Italian. Neither spoke any English. You might ask how the evening went. It was amazing. We had our moments when I needed to refer to my Google translator but all in all, we did well! Gilda, Giuseppe's mom is an excellent cook and made eggplant parmesan, tomato salad, a cheese-zucchini-egg what I would call a "quiche." We indulged in homemade wine that Felice, Giuseppe's father makes at a neighbor's home. It was so good.
The Experience
The evening was an experience that Gary and I had hoped for during this year in Italy. We came as strangers and left as friends – almost four hours later! Giuseppe called Stefania, his wife, and we got to speak to her. She was so thrilled that Gary and I had a wonderful evening and only wished she could have been there. By the way, both Giuseppe and Stefania both spoke very good English.
As if this experience couldn't get any better, Giuseppe told us his sister, Gina just opened a restaurant in Sorrento and he would like us to meet her. We made plans to go into Sorrento for lunch on Sunday. Gina was just as warm and friendly as her brother. We enjoyed some amazing dishes that the chef recommended to us. This restaurant is amazing and you will find it in our FOOD/RESTAURANTS/SORRENTO recommendations on the main menu. The staff was wonderful and kind and we got to meet Gina's husband, Marco too.
Revisiting Sorrento
We went into Sorrento by train several times while staying in Scafati as we both love this town and the beautiful Old Town.  The town is one of our favorites but visiting in June it is high tourist season which means lots of people. Sorrento is known for its lemons and hence, limoncello. Both are amazing in Sorrento.
Naples
We had never gotten the chance to visit Naples in previous visits to the area. You hear all these horror stories about Naples and I think without our New Yorker background, you could be overwhelmed with the hustle and bustle of this town. It's known for pickpockets and again, if you are smart and keep your belongings in front of you, and are aware of your surroundings, you will be fine – as we were.
Everyone knows that the piazza was "born" in Naples and we visited two of the most notable places. Both pizzas were as different as they come. One traditional and one is called a pizza fritta. I droll every time… Naples Pizza
Capri
Once again, this is a place we had not had a chance to see during previous area visits. We planned on a 3-day/2-night trip and once we arrived, immediately decided to extend our stay for another day. This island is just breathtaking and pictures really don't do it justice. For more beautiful photos, look at our post on Capri
We also did a post with amazing comments on the Blue Grotto. Everyone appreciated our tips and suggestions. You can see more Blue Grotto Experience
 Salerno
Salerno is south of Sorrento on the coast in Campania. We took the train from Scafati and decided to stay 3-days/2-nights. The weather was beautiful and the town was just as much. While there, Salerno's football team was celebrating its 100 years. Salernitana is in the Serie B pro league and finished either 12th or 15th this year and turned 100 years old. Italians take their football seriously and the celebration lasted both nights we were there.
We found an amazing restaurant which we have added to our recommendations. The fish was so fresh, I don't think I enjoyed it more than maybe in Sicily.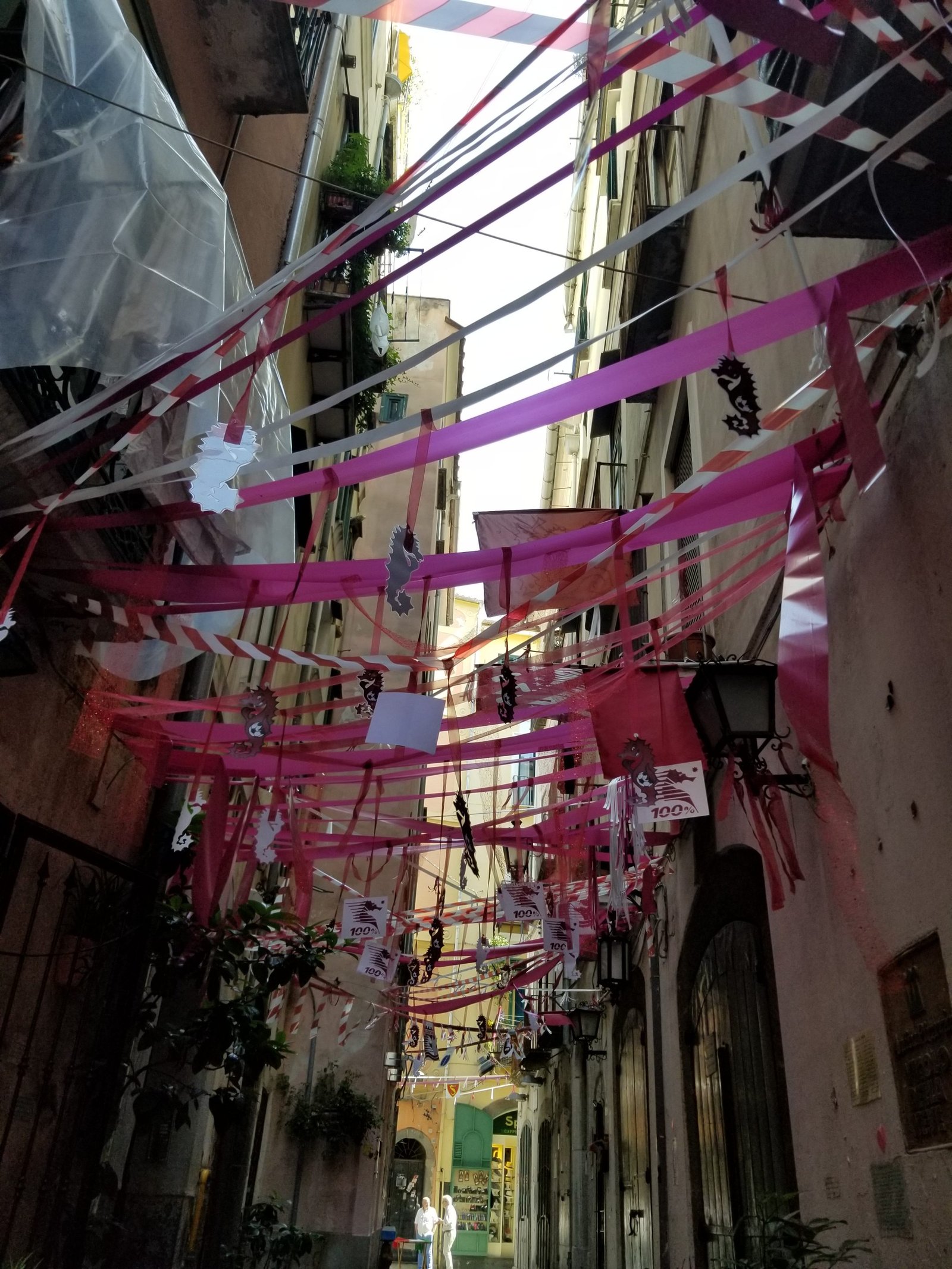 Amalfi
For a quick visit, we decided to go have lunch in Almafi, after all–why not? We got on the train to Sorrento and then took one of those hop-on-hop-off busses. It was relatively inexpensive and enjoyable. We took the bus from Sorrento directly to Amalfi. After spending several hours there and revisiting the 9th-century Roman Catholic Cathedral, we headed for pranzo, lunch in a busy piazza. We were going to stop off at Positano but decided against it, having been there before and people were saying the town was packed with tourists. We enjoyed the bus ride back to Sorrento and then back on the train to Scafati. It was a nice day and we got to say to friends, "We decided to go to Amalfi for lunch today!"
Packing in Scafati
The night before leaving Scafati, we got to meet Stefania who we rented their home in Scafati. They happened to make a quick trip from Genoa and since we met the rest of the family; I think she felt left out. Stefania was wonderful and so easy to speak with. We have made some lasting memories with this family.
And as we do, we sent them a card with all the photos we took of each other using our business, SendOutCards. We have received so many "thank you's" from people we have met that love our cards and keep them in a prominent place in their homes. It takes just moments to do and lasts a lifetime of memories. Click on the link below and find out more.
---

---
Foligno
We arrived in Foligno which is located in Umbria after a long day on the train. This town is flat, bicycle-friendly, and has a medieval look to it in parts of the town. We caught it just right as we walked around the town the next day, the flags from the different Rione's were still flying in the streets. We will be doing a separate post on this town as it truly has captured our hearts. It is a great "home base" for visiting Umbria as it is located right in the middle!
Spello
A quick 5-minute train ride and we found a beautiful hilltown filled with flowers. Spello is known for decorating with flowers and it seems the streets are rated somehow as we found different numbers which were an indication of how they ranked. This town is simply gorgeous and one we hope to return to this month before heading further north in Umbria. Definitely a medieval town with so much charm, we spent the day investigating the churches and streets. We enjoyed a nice lunch before heading back to Foligno. We will have a separate post on this special town too!
Spoleto
Another day trip was to the lovely town of Spoleto. A very nice town but not quite the charm of Spello. This town has a castle up on the top of the hill which we indeed climbed up to. The Duomo was absolutely stunning and filled with history. We were so exhausted walking this town that we had to stop for some water and decided to have lunch. Seems like we always do that…hmmm?
Assisi
We have been to this town previously but are always happy to return here. On this trip, we found a church that has an amazing display, unlike anything we have seen. We will be doing a separate post on Santa Maria Delle Rose. In fact, so unique, while we were waiting for the bus to take us back to the train station, we were joined by two Lay Sisters, or perhaps they were nuns. I began talking with them as one spoke English. I showed her the photos I had taken in the church and neither was aware of the exhibition that is now permanent there. They were amazed by the photos and said they would go another time to see for themselves. They were very grateful. That exchange, made my day.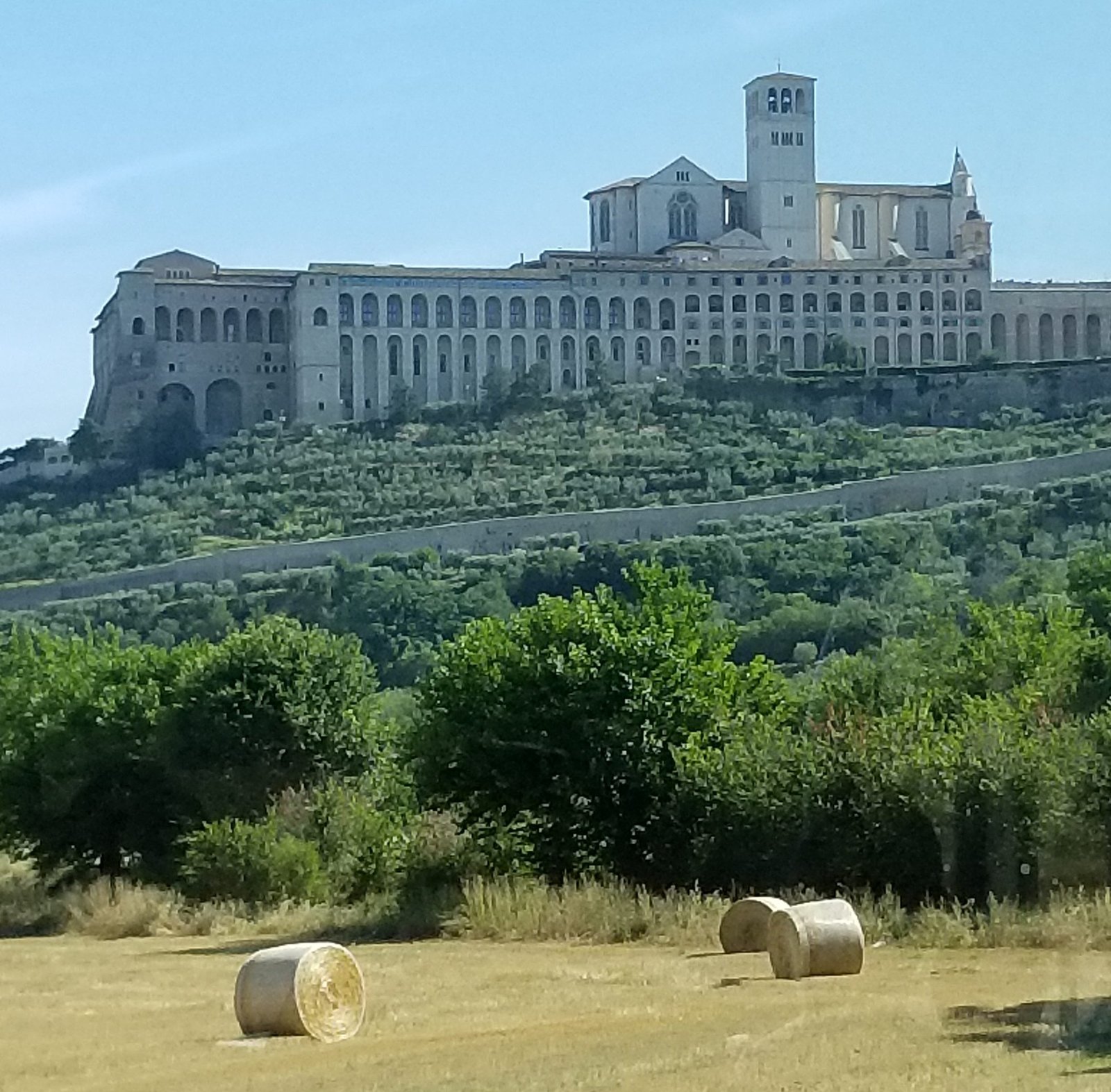 Montefalco
This town is not on a train line so Gary and I were trying to figure out the bus route. We went to the Information Office in Foligno and they gave us a printout. We checked the website, and there was different information. What was the same is that there were very few busses that traveled to this town we wanted to visit. The times the busses ran were also very early in the morning, and later in the evening. After letting a few weeks pass, we decided just to take a taxi.
Silvestrini, our taxi driver was so nice, he spoke some English and was telling us about going several times to Tucson, Arizona for the big gem show when he was in the business. He even gave us his card and told us when we were done exploring the town, call him and he would come back to pick us up; and he did.
The Town
Montefalco is home to our new favorite wine, Sagrantino. We explored the town, disappointed that the duomo seemed to be closed. Walking the streets, we found a great place to do some wine tasting and met a lovely couple from Belgium. We enjoyed lunch but it was 94,° humid, and a bit uncomfortable. Europe is having a heatwave and everyone is suffering. We were even talking about it with the couple from Belgium during our wine tasting. We headed back to purchase some wine and called Silvestrini to take us back to Foligno. It was a bit of an expensive day taking a taxi versus the train, but we didn't have much of a choice. It was a nice day and another wonderful town checked off our list.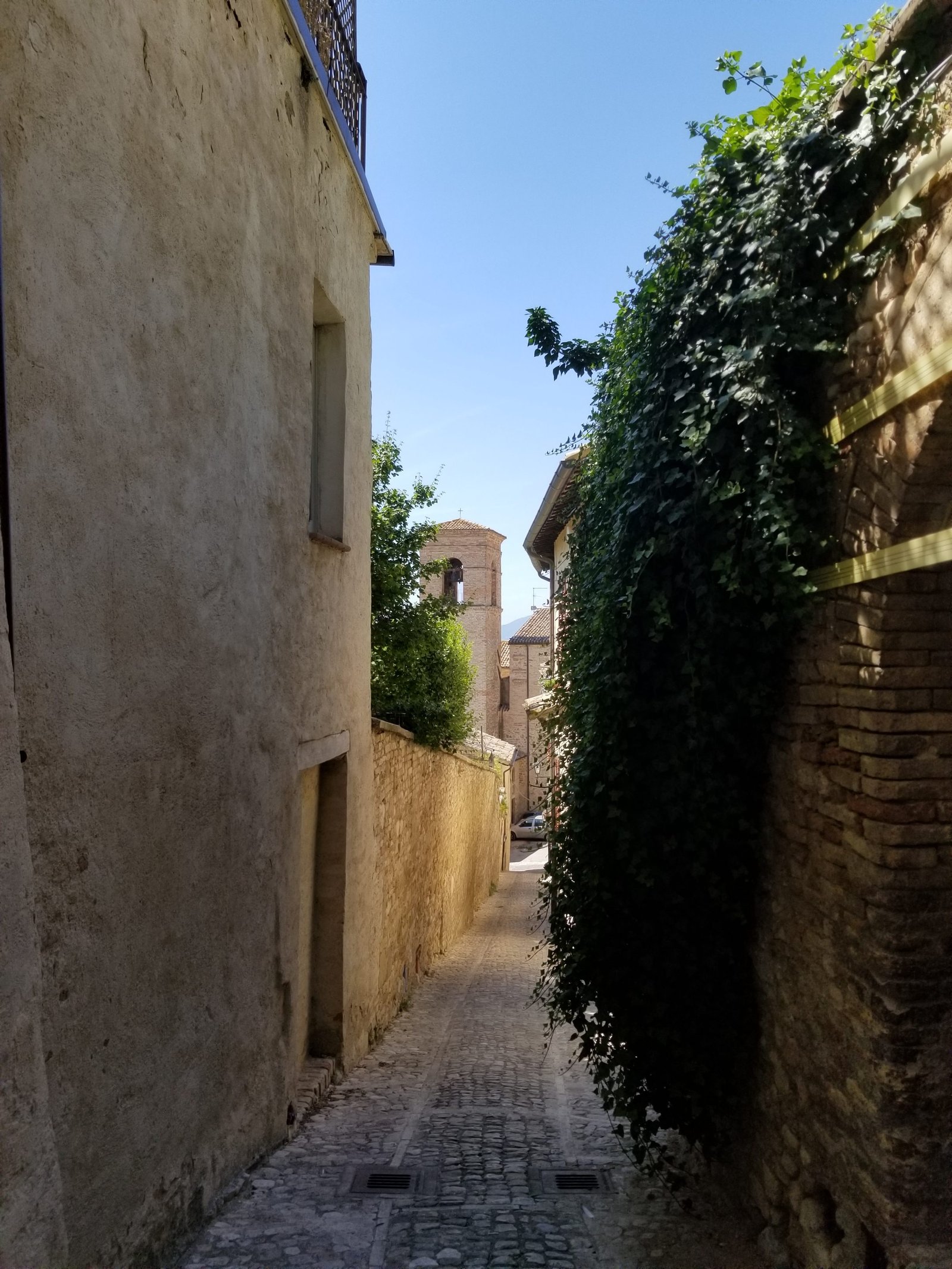 Finally…
This weekend Foligno is having a Swing Festival! Not sure Gary and I will be doing the Lindy but there is supposed to have some great food. We will be checking it out!
Next week we stay in Umbria but further north to Arezzo. We visited this town one day from Florence and loved it. So much so that we decided to make it our destination for the month of August. Stay with us for more posts from our year in Italy.