The Island of Capri
While staying in the Campania region of Italy, we took a few days to visit the Island of Capri. We had been to this area previously in 2012 but Capri wasn't included in our itinerary. Big mistake! We decided to really enjoy the island and all it has to offer by staying 3 days/ 2 nights. We could see almost everything by then, no?
This post contains affiliate links that help keep this website running. By purchasing through our links, we make a small commission at no extra charge to you. Thank you for your support!
Getting to Capri
There are many ways you can get to the Island of Capri – even a helicopter! Since this was not in our budget, we opted for the ferry. We also opted to go to Capri via Sorrento. The reason for our decision is that it takes less time to get to Capri from Sorrento than Naples because it's closer. Of course, if you are staying in Naples, this would be your preferred port of departure. But because we were not staying in either city, we choose to take the ferry from Sorrento. A bit less expensive and also, they have more times available for departure than Naples which we found interesting.
At the port, there is an area where all the ferry companies have their ticket offices. They are all side by side in an oval shape building and all have their routes and schedules prominently displayed. The ferry boats are very popular with visitors and the lines waiting to board are long but we all seemed to get aboard somehow.
Both these books beautifully capture the essence of Italy, its people, and the strong sense of community that defines life in small Italian towns. With lyrical prose and reflections, Ilene & Gary invite readers to accompany them on a journey of self-discovery and transformation in the heart of Tuscany.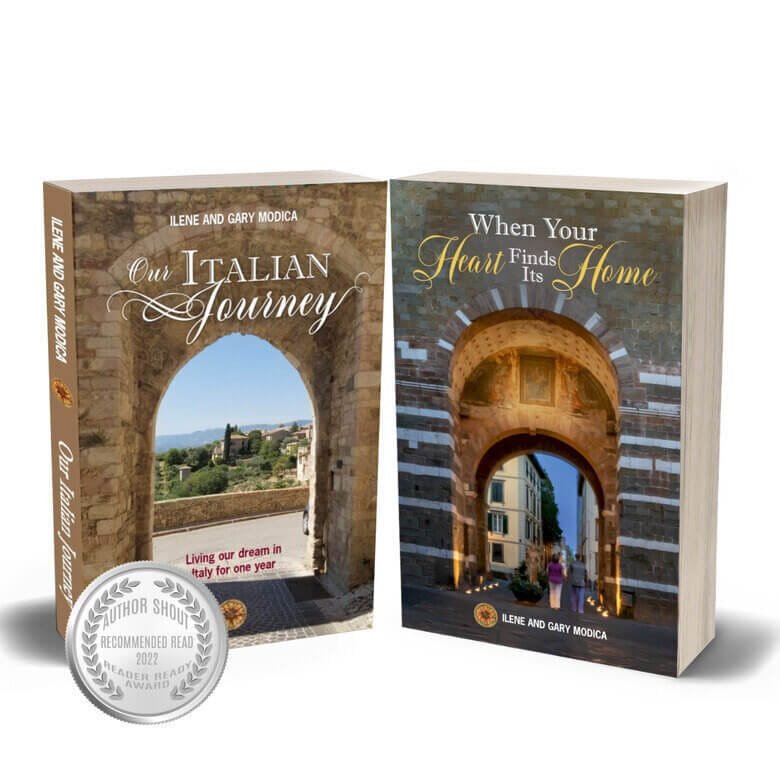 It is also less expensive to purchase your tickets at the dock rather than online. Another thing I found unusual. To give you an idea of the cost, the NLG line was €41,22 for both of us (one way) from Sorrento. Caremar was €31,30 per person (round trip) from Sorrento but has fewer times available. There are several companies:
SNAV (ferry)
NLG (ferry)
Alilauro (hydrofoil)
Caremar (hydrofoil and ferries)
Make Note:
Be aware that all the companies charge an additional cost for a large suitcase. We both had a small carry-on with wheels and they did not make us pay extra. Also too, the time of day you travel can affect the cost. Note that these scheduled times change often. Here is a good website to at least give you an idea Capri.net
How to Get to the Ferries in Sorrento
Marina Piccola is straight down several steps from Piazza Tasso from on top of the cliff. It is a pleasant 15-20 minute walk but I wouldn't recommend it if you have a large suitcase. For our return from the marina back up to the train station, we choose to take the orange local bus run by EAV rather than climbing the stairs. It was only a few Euro and we understand it runs every 15-20 minutes.
Anacapri
The island of Capri has two sections; Anacapri and Capri. Our first hotel was up in Anacapri which is the other part of the island from where you dock in Marina Grande. It is generally less crowded than the Capri side of the island. Why do I say our first hotel? The moment we were checking in, Gary and I realized we immediately wanted to stay an extra day. After all, why not? It turned out that we could not stay at the hotel for the third night because they were completely booked. June is a very popular month on Capri. We immediately got online and started checking other hotel availabilities. We found one in Capri just up from Marina Piccola. PERFECTO!
Things to Do in Anacapri
The Hotel San Michele was just an easy 10-minute walk into the main piazza in Anacapri, Piazza Vittoria. Here you will find wonderful restaurants, and small shops with oodles of t-shirts, pretty dresses, jewelry, sandals, limoncello, ceramics, and so much more! There are so many small streets to get lost in! Plan to do the evening la passeggiata, the art of taking a walk in the evening, an Italian social ritual you'll see in many parts of Italy. A great thing to do while people-watching and enjoying a gelato.
The chairlift to Mount Solaro is located in Piazza Vittoria. For just a few euros, take this 12-minute ride up for the best views of the island. Mount Solaro soars 589 meters (almost 2,000 feet) above sea level and is the highest and most panoramic point on the island. Here the view extends across the whole island, the surrounding Bay of Naples, the Amalfi Coast, and the island of Ischia, and on a clear day, you can see the mountains of Calabria. One of the best views from here is that of the Faraglioni.
There are many hiking trails you can do around Anacapri and even walk to the Faro di Punta Carena lighthouse. Anacapri was truly beautiful and while there, we enjoyed good food, and people, as well as enjoyed the largest swimming pool on the island at the Hotel San Michele.
Capri
This is the most touristy side of the island and also where you might catch a glimpse of some celebrities. We were told that Kate Hudson was there with her family while we were in Capri, but we didn't run into her. Capri's main piazza is Piazza Umberto 1 (La Piazzetta). It too is filled with restaurants and shops. Take the beautiful meandering street walk through La Piazzetta next to the Town Hall and you will come across what Gary and I would call, "Fifth Avenue." (We grew up in New York!) High-end stores which I dare only window shop while taking in the beauty of the streets.
Via Krupp is one of the more famous streets in Capri. It connects the historical center of the island to Marina Piccola. It is a winding walkway that is supposed to be beautiful but, is closed most of the time due to rock slides. In our case, it was closed.
There is a funicular that takes you from Marina Grande up to Piazza Umberto (Piazzetta). Both our hotels offered free shuttles so we did not use it but it looked like the lines never really got too long.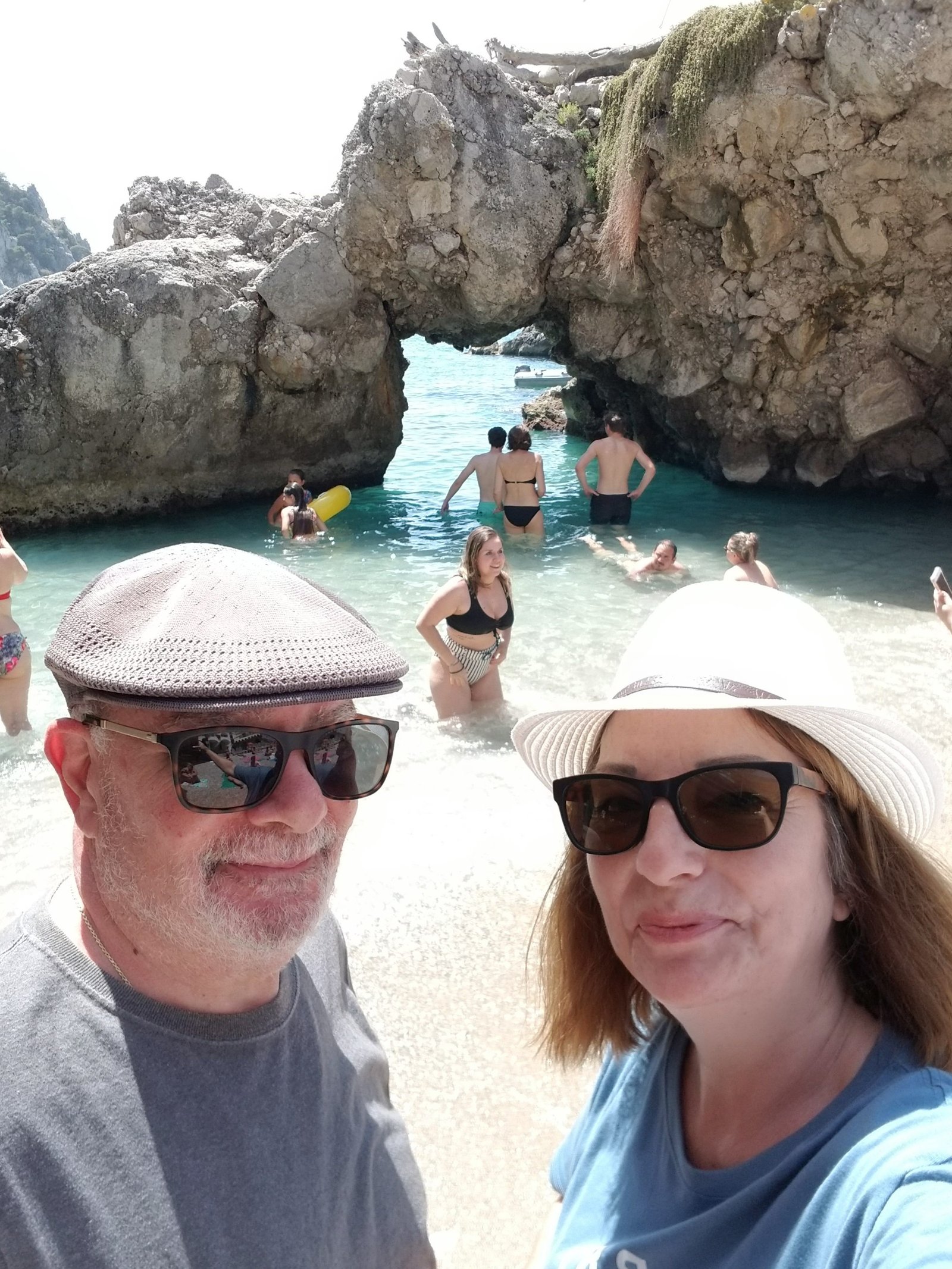 Our hotel was up several steps from the public beach. We spent about an hour swimming in the Bay of Naples, well – at least I did! The beach was rocky and it was difficult to walk to get to the water but so worth it.
The water was the prettiest shades of blue and so clear you could see the bottom and rocks. I was surprised that it was as chilly as it was but, it was only June. I bet the water gets much nicer as the summer arrives.
Take a Boat Tour
Taking a boat tour is a must when on Capri. You view the island completely differently from the sea. We took a boat tour which included a boat ride (smaller transport boat) to the Blue Grotto. Gary has a post following the publication of this one that will tell you all about that. We felt it was too much information to combine into one post.
In Conclusion
Keep in mind that the island empties out once the day-trippers leave the island, usually after 2:00 pm. It can be a whole new experience to be there in the evening!
There are more sites to see than those we have mentioned. There are White and Green Grottos, On Capri, The Gardens of Augustus, Villa Jovis, Cave Matermania (natural arch), and Villa Lysis. On Anacapri, there is the Villa San Michelle, Imperial Villa of Damecuta, the museum and historic house Casa Rossa, several forts, the monumental church of San Michele Arcangelo, and the Fortini path which takes you to the lighthouse. For us, these are a reason to return to Capri.
For more beautiful photos and additional information on Capri, our post on Blue Grotto!