How are Italian bathrooms different than the ones you will find in the States? There are several differences, and in today's post, we will explore a good deal of the differences and even discuss a bit of protocol.
This post contains affiliate links that help keep this website running. By purchasing through our links, we make a small commission at no extra charge to you. Thank you for your support!
General Information
So first let them say that generally speaking, Italian bathrooms are small. Most of them are pretty tiny yet they always include one porcelain object that I originally thought if eliminated, could save a good deal of space. Yes, I'm talking about Europen bidets that grace each Italian bathroom I have seen. We'll get into that later in this post.
Back to differences, they are pretty clear. Smaller, rarely a bathtub, lots of tile or marble, and showers that could match the size of a telephone booth. In fact, in our new book, "When Your Heart Finds Its Home," I describe our small bathroom in our apartment and how shaving my legs is not an option in our shower. But… let's discuss more.
---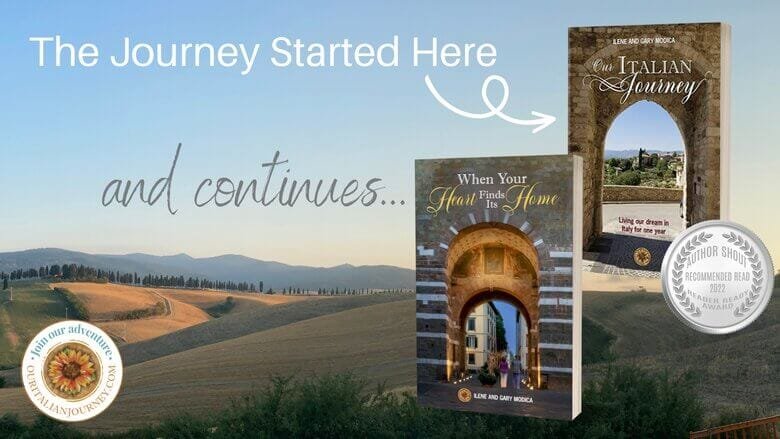 We hope you will consider joining our journey. It started in 2019 with "Our Italian Journey," and this part of the adventure has concluded with "When Your Heart Finds Its Home." Both are available wherever books are sold.
Please take a moment when completed to leave a written review. It truly makes a difference in ranking. We also love to receive photos of our book(s) cover with you, a pet, or some creative way for our social media!
---
Using Public Bathrooms
The first thing you should be aware of is most large cities will have public bathrooms. Always keep €0.50 or euro on hand as in most cases, you will need to pay to use it. You might grumble at the fact, but these bathrooms are generally clean and what is the saying? You get what you pay for.
When out and about, you can also stop in a café and order an espresso, cappuccino, or even a bottle of water. Any purchase will allow you to use the restroom. How to ask where the bathroom is in Italian… "Dov'é il bagno?" [pronounced doh-VAY]. Some locations will have a code printed on the receipt for you to use to open the bathroom door for access. We ran into this in a Mcdonald's. (Yes, I know what you're thinking!) This was their way of ensuring you had made a purchase and were authorized to use the facilities.
Two Public Bathroom Surprises
There are two things you might not find in a public bathroom or in a café. First, always carry some toilet paper. They sell small packets of paper individually wrapped that you should keep with you at all times. A package of tissues can be a great alternative. Many a time I shut the stall door and realized the paper dispenser was empty.
The second thing? Don't be surprised if there isn't a toilet seat. There are several reasons for this one. They are troublesome to clean – hygiene is at the forefront of this reason, and most private places don't want to bother with them. It's easier and quicker just to clean the bowl itself. If you find one missing in a public location, there was one there at one time. When broken, it never was replaced. Why there are so many different sizes and shapes of seats is beyond my comprehension, but this could very well be another reason.
Bidets
What are bidets [pronounced Bee-DEH] used for? Bidets are used to clean yourself 'down there.' Of course, there are two 'down theres', and depending which area you want to clean, depends on which way you face. They are used in addition to, not in place of toilet paper in Italy. I also found out, there are special soaps or cleansers you can purchase in farmacias and grocery stores that are milder and pH balanced for this purpose.
I must admit, I was very confused about this subject on our first trip to Italy. Without getting into the nitty gritty about this, there are plenty of YouTube videos about how to use a bidet.
The Unexpected in an Italian Bathroom
Truly, I think the greatest culture shock I have experienced in Italy has got to be in public bathrooms. Nine times out of ten, I will refuse to use the bathroom at a train station. Some can be alright, especially in a large city. But, I was shocked when I entered the one in Lucca. Our Lucca! It has what you would call, a "squat toilet." I'd rather have a missing toilet seat than even try to use one of these.
What you will find is a floor pan and raised footplates with a hole in the floor. Yup… that's it. You are expected to position yourself on the footplates and squat. Not my cup of tea. Thank goodness most of these will have some kind of flushing mechanism whether it be a button or pull cord.
Italian Bathroom Sinks
When leaving the public bathroom, you might be concerned when you don't see a faucet to turn on the water to wash your hands. Some older-styled sinks will have a foot pedal (more than likely red in color) on the floor to activate the water.
The faucet marked "C" is hot water (caldo is 'hot' in Italian) and "F" freddo is 'cold'.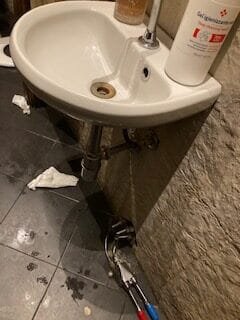 Conclusion
Always be prepared and have a packet of toilet paper or tissues and a few coins. Know ahead of time what you might expect and make the best of it. It's always polite to ask permission ahead of time but know that most cafés will allow children to use the bathroom without a purchase.
Take a deep sigh and remember that some of these buildings are ancient… and you're in Italy!