In Italian Christmas folklore, La Befana (pronounced [beˈfana]) is represented by an old woman riding a broomstick through the air. She delivers various sweets and candy to good children on Epiphany Eve. But if you were bad – watch out… you may wake up to a lump of coal.
Sound familiar?
I can assure you she does not say, "Ho, ho, ho" or has any association with reindeer – just an ordinary broom.
This post contains affiliate links that help keep this website running. By purchasing through our links, we make a small commission at no extra charge to you. Thank you for your support!
History
After the winter solstice, the death and rebirth of nature were celebrated. It was believed that a goddess flew over the fields, ensuring fertility for the next season. Despite possible ancient roots, La Befana only became popular in Italy in the early 1900s.
In the popular fairytale version, the wise men invited a witch-like woman, to join them on their journey to Bethlehem. They invited her to bring gifts to the Christ child. She refused initially, due to being too busy with housework, but then experienced second thoughts. La Befana then tried following them using the same star but was unable to find the manger before the Wise Men on January 6 – the Epiphany. Unable to find Jesus, the kind-hearted Befana gave the toys to other children.

Befana enters houses through chimneys, or other secret techniques when a home doesn't have a fireplace, she wears her shawl caked with layers of chimney soot. She's also very kind as she is known to sweep the floor of a home before she departs, a symbolic gesture for clearing out the old just as the new year is dawning.
Is La Befana Only in Italy?
La Befana is mainly associated with central Italy and especially Rome, where the Christmas market in Piazza Navona is known by her name. But, the custom spread to the rest of the country during the 20th century.
Although overshadowed by the modern tradition of Santa Claus, La Befana remains adored by Italian children, who hang up their stockings in anticipation of gifts on the night of January 5.
La Befana has been in the Italian tradition since the eighth century, as part of the Epiphany. In Italy, the Epiphany marks the official end of the Christmas season, commemorating the day when the three Wise Men arrived at the manger bearing gifts. Every year throughout Italy, January 5th is celebrated with living nativity scenes and processions through cities and towns.
Treats Enjoyed on January 6
Special treats on January 6th include small cookies called, befanini and Befana cake. This cake is large with a dried bean inside. Whoever gets the bean in their slice is celebrated as the king or queen for the day.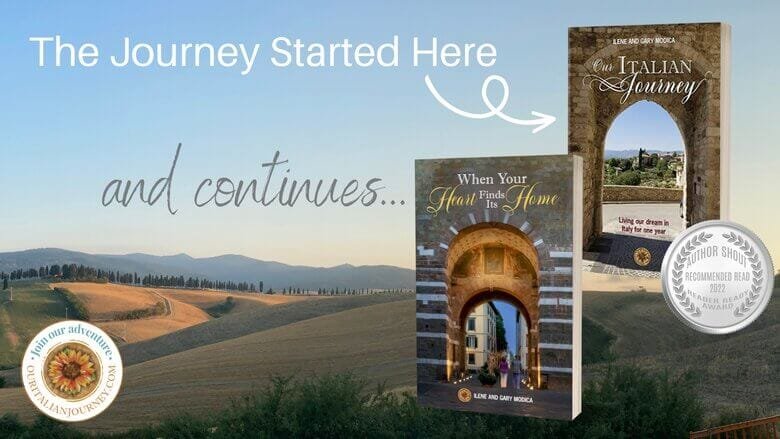 We hope you will consider joining our journey. It started in 2019 with "Our Italian Journey," and this part of the adventure has concluded with "When Your Heart Finds Its Home." Both are available wherever books are sold.
Please take a moment when completed to leave a written review. It truly makes a difference in ranking. We also love to receive photos of our book(s) cover with you, a pet, or some creative way for our social media!
La Befana Today
La Befana today continues to travel the world on Epiphany Eve, searching every house for children, leaving candies for the good, and coal for the naughty. This Italian tradition has been celebrated since the eighth century. Every year throughout Italy, January 5th is celebrated with living nativity scenes and processions through cities and towns.