Cortona, Italy
Twice Gary and I have been very fortunate to visit Cortona, Italy. In 2012 we stayed for several nights and again in 2017 visited for the day. We laugh because we say that you have to be part billy goat to live in Cortona!
The main street, Via Nazionale, and still usually referred to by locals by its older name of Ruga Piana. It is the only flat street in Cortona. Although you could, we would not recommend trying to see this town in one day unless you are in good physical shape.
This post contains affiliate links that help keep this website running. By purchasing through our links, we make a small commission at no extra charge to you. Thank you for your support!
Cortona is a hill town and comune in the Province of Arezzo, in Tuscany, Italy. It is located about 70 miles southeast of Florence. It's an elevation of 600 meters (2,000 ft) above sea level and commands great views of the entire valley below. You can even see Lake Trasimeno in the distance.
Click here to see exactly where this town is located in Italy.
What's To See & Do In Cortona?
There are many small shops on the streets of Cortona which offer salami, cheese, and locally handmade items. Amazing red wines that are made in the area are offered in the local bars. If you enjoy red wine, we highly suggest you try a few. Cortona is just a few kilometers from Montepulciano and Montalcino where some of our favorite grapes are grown.
There are many restaurants in the city offering traditional local and Tuscan cuisine. In restaurants, you will find on the menu the Chianina cattle, one of Italy's oldest, high-quality bovine breeds. It is bred not far from Cortona in Valdichiana and is the largest and one of the oldest cattle breeds in the world. The famous beef dish "Bistecca alla Fiorentina" is made from its meat.

Basilica di Santa Margherita
The Basilica di Santa Margherita is a beautiful church sitting high above the town. It is worth the climb to visit. We asked a policewoman how to get there. She asked (in Italian, of course) if we were driving; we said no. Then she made the funniest hand gestures. She was explaining directions with her arm; you go to the end of the street and go up. And then up some more and she kept raising her arm in a forward-up position until she couldn't raise it anymore! It was truly funny. Even though she only spoke Italian, we got the idea that we would be walking quite a way and climbing most of it. You can find more information about this Basilica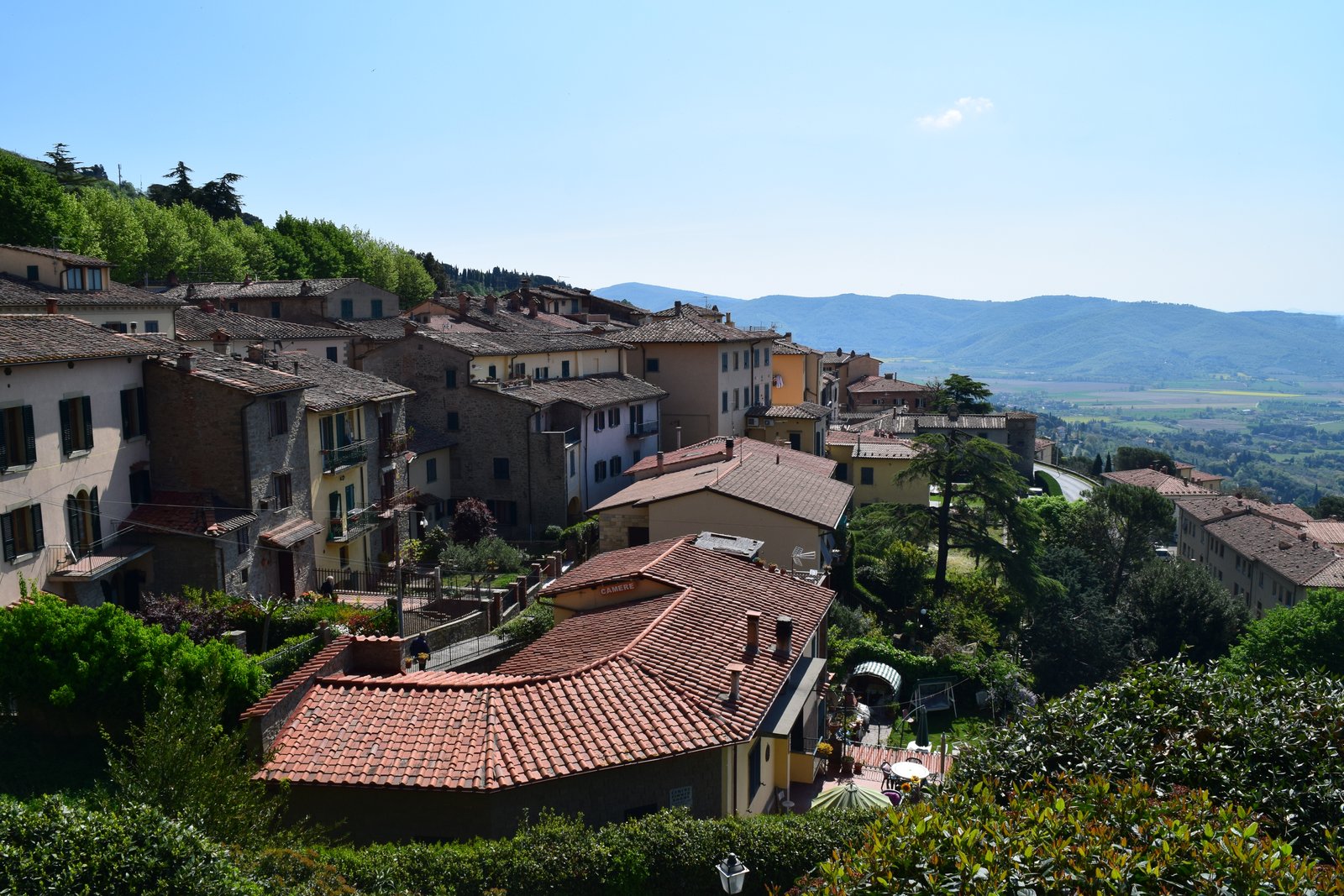 Cortona is enclosed by ancient stone walls that date back to Etruscan and Roman times. Just outside of Cortona's walls, you'll find the Franciscan hermitage Le Celle, the first monastery built by Saint Francis of Assisi in 1211, where a small community of friars still lives today.
Under The Tuscan Sun
Believe it or not, Cortona was a well-known Tuscan hill town before Frances Mayes wrote about renovating her house, "Casa Bramasole." Under the Tuscan Sun is one of our favorite movies. We tried to find her house on a walk one day but never did locate it. Perhaps that will be accomplished on our next visit to this charming town!
Here are some of my favorite street photographs of Cortona. I think you can get an idea of how gradient some of these streets can get!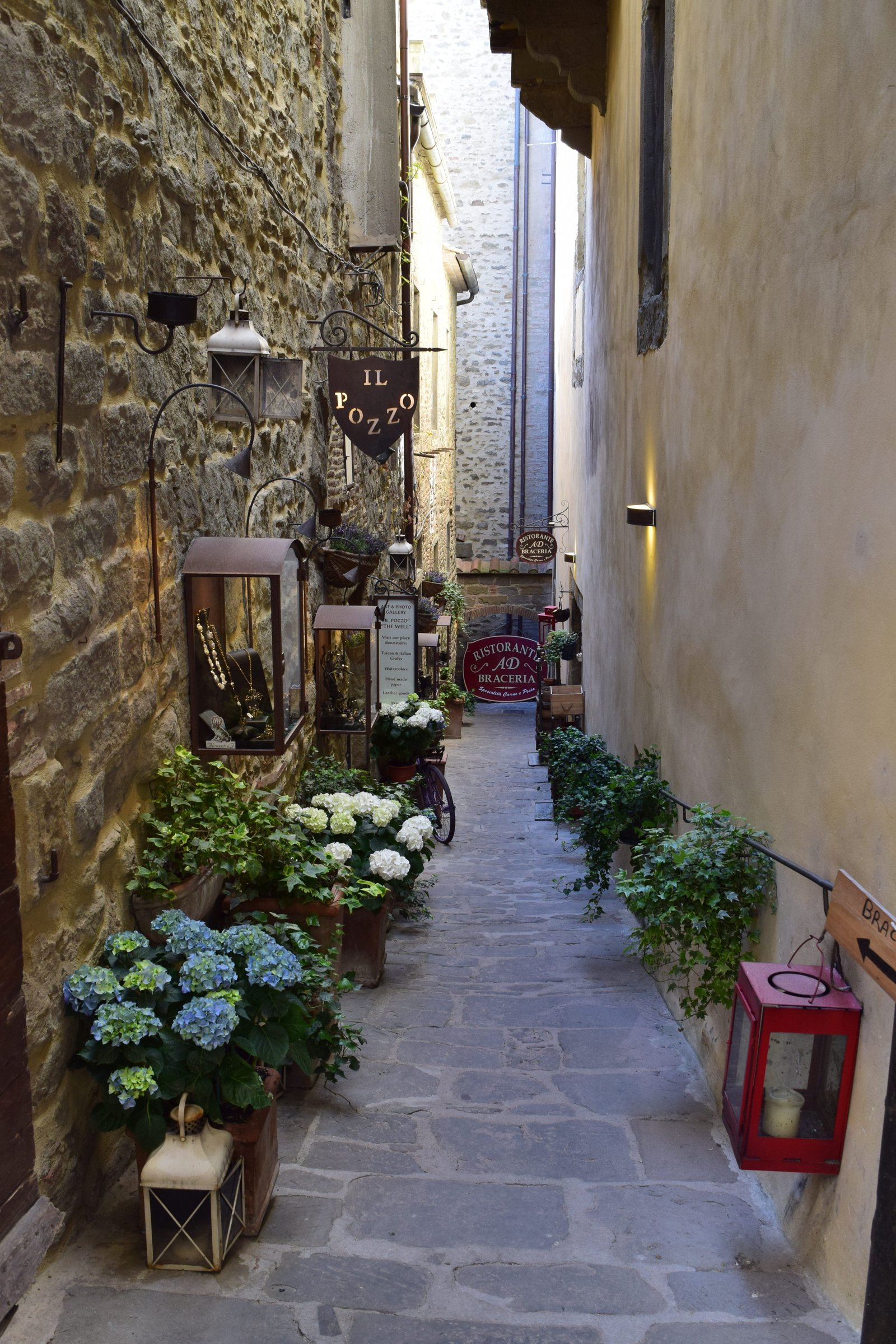 For more information about Cortona