Gelato Festival 2017 – Europe
Editor's Note: This post was originally published in June 29, 2017 and has
been updated 
to announce the winners!! (Bottom of post)
The Gelato festival first started in 2010 to celebrate the Florentine origins of ice cream. We were so lucky to be in Florence and participated in this years event. It was held in Piazza Michelangelo.
It was a windy day but it was worth it and, we arrived before the crowds came! The cost was 15€ for one entry and 25€ for two. Not too bad when you consider how much gelato we consumed. In fact, I couldn't even taste all the participants. Some vendors gave you small cones and others gave you quite a bit in a small cup.
History
It is said that gelato was invented by Florentine artist Bernardo Buontalenti in 1559 when at a banquet held at the Court of the Medici served the first cold cream made from milk, honey and egg yolk. It was a huge success! At the time gelato was synonymous with the power, imagination and creativity of the noble kitchens. From there gelato began to spread, first throughout Italy and then to France, taken there by Catherine de' Medici.
The Festival
The festival is a European competition that recognizes the best Italian and foreign gelato artisans and the flavors they create for the event. The votes of a panel of experts and those of the public determine the winner of each stage and the winner of the European final. The number of flavors to be tasted vary in each city.
Unique and original flavors are custom made for the festival. In each of the cities below, the competition stops and will see up to sixteen of the best local gelato artisans compete against each other. Each with an excellent, new recipe battling to win the title of best Italian gelato. At the Final in September, the top two finishers from each of the cities on the tour will compete for the title of European Champion.
There are two category competitions held in each city; one for the established gelato masters, and one for young up-and-comers. Over the years, it has become one of the most popular traveling festivals all over Italy and Europe. There are competitions, workshops, demonstrations, and of course taste testing!! 

Schedule
Here is the schedule for 2017:
 
Italy
Florence:  April 21 – 25

Rome:      April 29 – May1

Torino:     May 25 – 28

Milano:     June 1- 4

 
England
London:    June 16 -18
 
 Poland
Warsaw :  June 22 – 25
 
Germany
Hamburg:   June 28 – 30
For the finals, the festival returns to Florence and will be held September 14-17, 2017.
For More Information on Gelato, See Our Previous Posts:
If you would like to know the difference between American ice cream and gelato, see our post:  https://ouritalianjourney.com/gelato-vs-american-ice-cream/
If you would like more information about a gelato museum located in Bologna, see our post:  https://ouritalianjourney.com/carpigiani-gelato-museum-bologna
Our Vote for 2017…
Upon each paid entry, you get a card that each vendor signs off to show that you tasted that booth. You can then go online and vote at the end of the day or, go over to the ticket booth and they scan your QR code (quick response) for your vote.
It was pretty easy to decide who we thought we would vote as our favorite. There was a ricotta cream with vanilla and caramel by Carmelo Pannocchietti from Ara e Sicila gelateria. He actually did win the "master" category. The "new upcoming" winner was actually our second choice too!  It as a strawberry or in Italian "Ettamo Fragola" by Roberta Rabatti from Ettamo geleteria. How funny we actually picked both of them and they won!! We must be great at gelato tasting.

2017 Winner Update:
In Piazza Michelangelo, September 14th through 17th, Europe's sixteen best ice cream makers competed with their special flavors that were created especially for the Festival.
Winners were chosen by two panels.  Each panel accounted for 50% of the vote. A panel of technical experts composed of journalists and sector experts and a panel composed of all the members of the general public taking part in the Festival.
Here is a list of the 14 winners from the different European competitions for 2017:
Ettamo Fragolaby Roberta Rabatti of the Ettamo ice cream parlour in Florence. A strawberry sorbet with zesty notes of balsamic vinegar, in a heady contrast reminiscent of love itself.
Crema di ricotta azteca al bergamottoby Carmelo Pannocchietti of the Arà: è Sicilia ice cream parlour in Florence. What would the famous Sicilian cannolo (cream horn) taste like if it were an ice cream? Here it is… the authentic flavours of Sicily become a delicious ice cream.
Zabaione come una voltaby Emanuele Alvaro of the Il Re Sole ice cream parlour in Rome. For those seeking traditional flavours such as egg, wine and sugar, like the ice cream of times gone by.
About Strawberry and Red Pepperby Vincenzo Lenci of the Bar della Darsena ice cream parlour in Fiumicino. He is not English but his wife is, hence the English name, for a flavour especially created and dedicated to her. Strawberry and peppers, in a harmonious contrast, just like the personality of a woman!
Miami Viceby Francesca Marrari of the Golosia ice cream parlour in Turin. This ice cream will take you on a marvellous journey across the ocean. Just taste it and close your eyes and you will find yourself on the Miami Boardwalk with a delicious coconut, pineapple and strawberry cocktail.
Gelato del Vignaioloby Nicolò Arietti of the Gelati d'Antan ice cream parlour in Turin. From the farmlands of Piedmont, a gift of grapes, particularly Malvasia DOC. A sweet note accompanied by the freshness of raspberry sorbet.
Femminello IGPby Michela Guerra of the Bar Marea ice cream parlour in Foggia. A refreshing dip into the flavours of Apulia. This IGP lemon, the Femminello Garganico, blends harmoniously with the sweet almond of Toritto, creating a fresh, light, clean flavour.
Il mio primo vero latteby Massimiliano Scotti of the VeroLatte ice cream parlour in Vigevano. Brunilde milk fresh from the cow, honey and rice from the Po Valley plantations. These are the authentic ingredients of an ice cream that takes you back to the gentle embrace of your mother's arms.
Creme dela Baklavaby Akash Vaghela of London's Creme Glacee ice cream parlour. London offers an ice cream that tastes of Baklava, a luxurious sweet dessert that originated in Tunisia but is now served all over the world. Enriched with delicious pistachio grains.
Scottish Raspberryby David Equi and Kaelin Halcrow of Equi's Ice Cream in Hamilton (UK). Scotland is home to the most luscious raspberries. Red jewels transformed into an ultra-fresh sorbet, dedicated to all the women of Europe!
Plums by Peter Bertotiby the "Quattro si" ice cream parlour in Pruszkow. An innovative idea of sorbet, based on plums with a flavour all of their own. In line with Polish confectionery traditions, a touch of cinnamon creates a brilliant and totally innovative combination.
Inne lemon curd by Giacomo Canteri of the Limoni ice cream parlour in Warsaw. This is not just a mere lemon sorbet, but a fresh cream with a hint of vanilla that exalts this aromatic, yellow fruit typical of Southern Italy.
Wild Cherry – Great Freedomby Taseer of London's Fabulous Ice Fires ice cream parlour. Like the Beatles, they were born in England and grew up on the Reeperbahn, hence the taste. A sorbet with a funky rhythm consisting of 4 types of cherries and a fifth secret ingredient. The Sweet Red and the Dark cherries come from England, the Saurkirschen sour cherry from Germany and the Selvaggia black cherry from Italy blend to delight the palate with a wild sensation of freedom and joy!
Communis fortisby Francesco Bontempo of the Cristallino ice cream parlour in Bad Tölz. This flavour features the ice cream superstar, pistachio, with an incredible mix of nuts and raisins. An ice cream made of almond milk and hazelnuts and topped with mixed nut grains.
Two special selections are also entitled to enter the European Final:
Nonna Rosaby Lucia Cosentino of the Marrons Glacés ice cream parlour in Catanzaro (selected by Trofeo Punto.it, the sector's leading trade journal, official media partner). A flavour inspired by the unmistakeable aroma of homemade cakes, that sweet and wholesome taste that only grandmothers can create.
Yogurt e Fragolaby Elvis Bogicevic of the La Piazza ice cream parlour in Bargteheide (the German ice cream parlour that came second at the Hamburg stage of the competition, with the extremely high approval of the general public panel). A flavoursome strawberry from the North of Germany which thrives thanks to the long days typical of summer in these areas, it is presented to the European public accompanied by a classic fresh yoghurt for moments of sheer pleasure.
Drum Roll Please…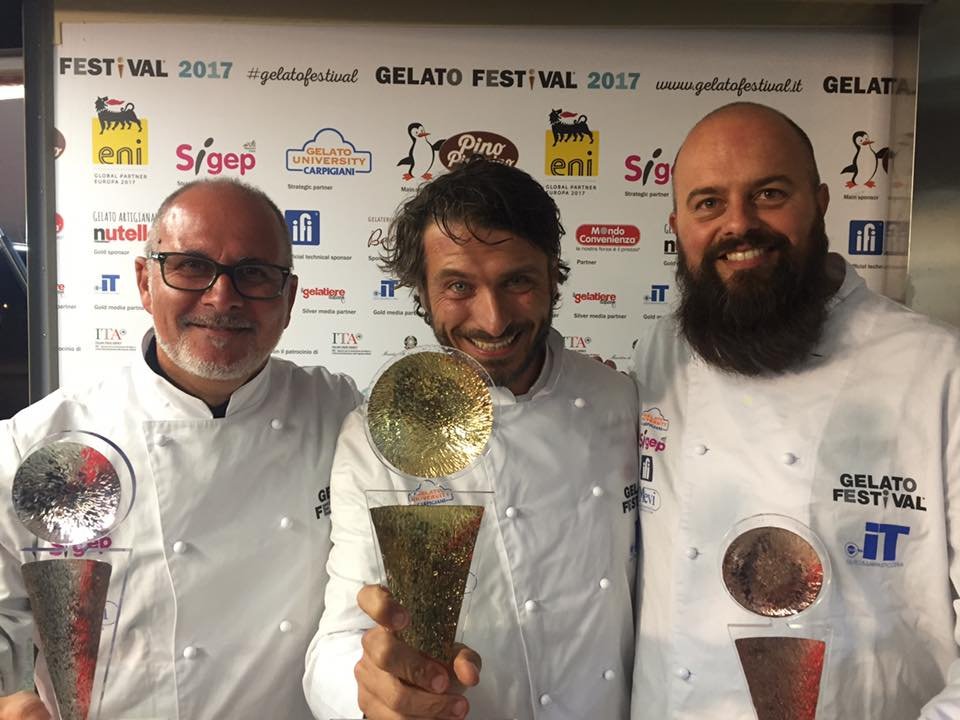 New European Champion:  Massimiliano ScottiVerolatte (pictured middle) 
2nd Place:  Vincenzo LenciBar Della Darsena (pictured left)
3rd Place:  Lodziarnio-Cukiernio-Gastronomie Limoni Canteri 1952 (pictured right)