Italian Traditions
Italian traditions are deep-rooted in the culture of its people. Passed on by generation after generation, various traditions are sacred. Perhaps each generation makes a few changes – perhaps improvements but the basic tradition usually stands in tack.
This post contains affiliate links that help keep this website running. By purchasing through our links, we make a small commission at no extra charge to you. Thank you for your support!
Recently, Gary and I had the pleasure of connecting with some friends. Some Italian friends. What is usually one thing that brings people together? You probably guessed it – food! It's funny how food can bring people together even without the cultural part of it. Food is comfort. It's something that can bring enemies together at a table. It can be nostalgic or have sentimental value and usually can be applied to a specific heritage.
In our case, the night was all Italian. Susan and Ed, our hosts are warm and genuine people. They enjoy cooking and sharing their love and passion for it. They even hold Italian cooking classes out of their home. This couple happens to be our gift from Italy. This is the couple we've mentioned previously that we met in Orvieto, Italy, and live 40 minutes away from us in Phoenix. A gift that keeps on giving.
The Blog
Anyway, Susan knows how we struggle with blog post subjects. Especially not being in Italy this year and sharing our experiences. Topics or subject matter at times can get – a bit stale. But she is always thinking. She contacted me about getting friends together to share stories about Italian traditions and the art of keeping them alive as Italian Americans. I loved the idea. "When shall we do this," I asked her.
Their home is lovely and perfect for entertaining. We are the only ones living outside their community, Victory at Verado. A beautiful community near the White Tank Mountains in Buckeye, Arizona. They invited three couples with at least one having Italian heritage. The invitations were sent out asking each couple to bring a traditional dish to share.
The Evening of Italian Traditions
It was wonderful to meet these couples again. Gary and I had the pleasure once or twice before at Susan and Ed's home at a previous Italian heritage gathering. It is heartwarming to have this amazing couple as friends, but now to consider their friends – our friends – such a delight.
Gary and I had a few questions to ask each couple about family, culture, and traditions. As we sat around the table, it was fun to learn more about each of them. I do hope I got all the information correct as there was a lot of chiacchierare, chatting going on and at times difficult to follow. Perhaps the amount of wine poured throughout the evening didn't help. Let me introduce you to this great group of people:
In no Particular Order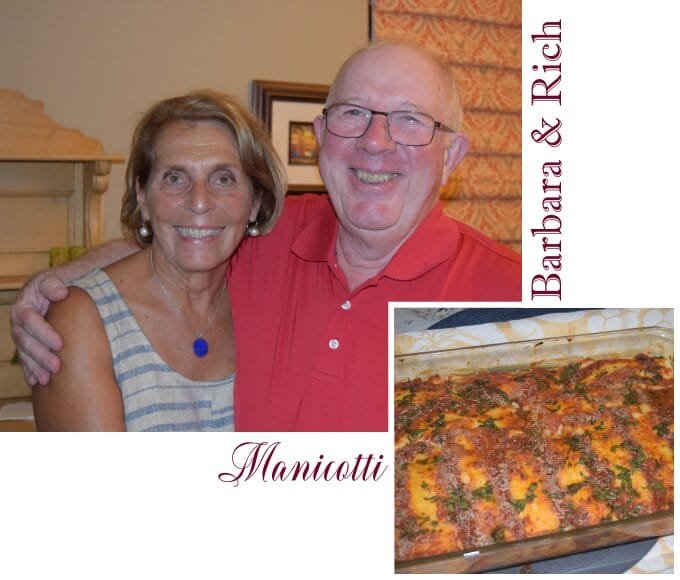 Barbara and Rich: This couple is both from Massachusetts and actually met in high school. How sweet is that? While Rich's family originated in Ireland, Barb is fully Italian. Her family is from Avellino in the region of Campania.
Barb and Rich brought manicotti to share. The manicotti was made from crepes, not pasta, as I am most familiar with. She told us it was her sister's recipe. "This is a very traditional way to make this dish," Barb informed the group.
Their four oldest grandchildren continue the tradition of making pasta and especially ravioli.
Kris and Pete: While Kris has no Italian background, Pete is a first-generation American. His family is from Popoli, a comune and town in the province of Pescara in the Abruzzo region of Italy. Unfortunately, his cousin, who he shared a photo with from a previous trip, just passed away. As far as Pete knows, he has no other family in Italy.
Kris and Pete brought a dish his father taught him how to make – gnocchi with cinghiale. He actually imported the cinghiale from a supplier in Chicago to make this! It took several days to slowly cook the meat to become tender enough to shred. This dish is usually served at Christmastime and is sometimes made with shredded beef. Pete also told the group that pizzelles, a traditional Italian waffle cookie, were also served during the holidays.
Pete taught his son the traditional recipes and also the grandchildren.
More Lovely People…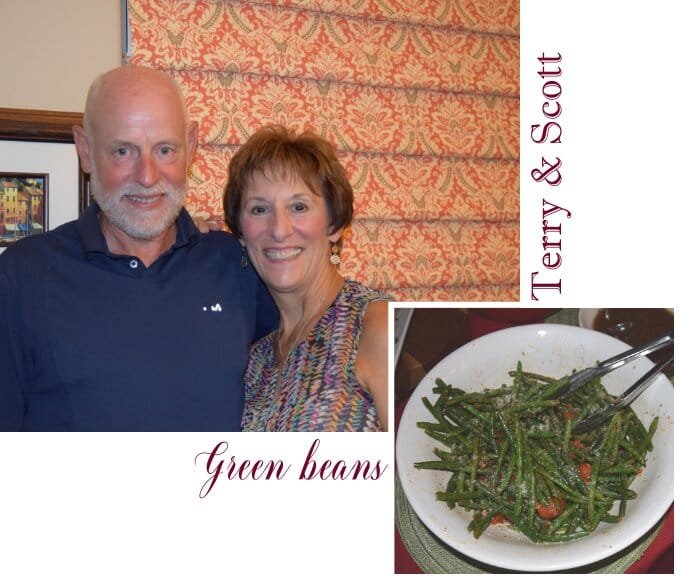 Terry and Scott: Terry is the Italian in this duo with her great-grandfather coming from Sicily and great-grandmother from the Abruzzo region. She has no family currently in Italy. Growing up, she recalls her grandmother always serving antipasti on Christmas Eve.
They brought a dish of green beans with fresh tomatoes, a recipe shared by a close friend of hers. Today, they serve meats and cheeses as traditional dishes and have two sons, but no true traditions are followed today. It happens!
Now Let's Meet Our Hosts…
Susan and Ed: Susan's maternal line hails from Poggiomarino, a Commune in Naples. She is not aware of any family still there. They try to visit her paternal side of the family yearly in Campomaggiore, a commune in the province of Potenza, Basilicata, in southern Italy. Susan has posted many beautiful photographs of this lovely town on Facebook. They shared a wonderful photo and memory taken last year in Chianti.
Tonight, they made porchetta with salsa verde and beans. Ed cooked this pork slowly in the wood-fired oven they have on their beautiful patio (photo in feature image). This is a very traditional dish throughout Italy. The white beans are an old family recipe, usually made with great northern or cannellini.
Still, today, Sunday's early dinner consists of pasta and sauce and Ed continues to make fresh sausage and pancetta. Susan grew up with various types of meat inside the sauce usually meatballs, sausage, and pork neck bones. Hand-made Tortellini en Brodo was served on holidays while ravioli was usually saved for family celebrations. Susan shared a memory of her mom making the ravioli in the basement kitchen and using an ironing board to carry them upstairs to the bedroom where a "pasta bedsheet" was used to spread out the pasta until they were ready to be cooked. Barbara also recalls her family using the "special bedsheet" holding all the finished pasta!
Both Susan and Ed have taught their daughter and grandsons who make fresh pasta, sauce, braciola, meatballs, and biscotti.
Our Italian Traditions Results
All of the food shared was delicious. Our eyes were rolling with delight during each taste. Gary and I contributed a Tuscan soup called Pappa al Pomodoro, a thick Tuscan bread soup, and freshly filled cannoli. Neither is a family recipe, but we recall wonderful memories of being introduced to Pappa al Pomodoro, considered a "peasant dish" in Florence at one of our favorite restaurants, Trattoria La Mescita. The cannoli filling is courtesy of my Italian language professor, Nicolino Applauso from Applauso Italian Learning Center, During a recent Zoom class, he shared his grandmother's recipe.
The food was excellent, the atmosphere fantastic, the wine perfect, the stories heartwarming, and the company – priceless. We truly enjoy this group of friends and hope to continue enjoying their company in the future.
Gary and I can't thank Susan and Ed enough for their hospitality and the great idea for this blog post of individuals sharing family Italian traditions and how they keep them alive.