Our first time at the cinema in Italy! What a treat it was to experience going to the movies in Lucca!
When I saw a notification in one of our Facebook groups that "No Time to Die" was being shown this week in a theater in Lucca, I asked Gary if we could attend. I'm not a huge James Bond fan but this film was special. It is the 25th film in the James Bond series produced by Eon Productions.
This post contains affiliate links that help keep this website running. By purchasing through our links, we make a small commission at no extra charge to you. Thank you for your support!
Why was it special, you ask?
The Town of Matera
While in Italy in 2019, we stayed several days in the small, historic town of Matera located in the Basilicata region of Italy. This region is in the southern half of the peninsula and toward the "instep" of the heel of the boot.
We stayed several days here and must return one day. Matera is mainly known by the two areas, called Sassi of Matera; the Caveoso, and the Barisano which surround the town. When visiting in 2019, they were gearing up for the amazing announcement of becoming a UNESCO World Heritage site. Read more on our post here.
But so, I digress… while staying here the town was thrilled as the newest Bond movie was going to be doing some filming in the town. Even more, the reason I wanted to see this new Bond film. Even just to see this incredible town and what they filmed there. The movie didn't disappoint me as the Matera scene was at the beginning of the movie. I was able to pick out several areas and know exactly where they were in town. I pointed and whispered to Gary, and he nodded his head in agreement – he knew exactly what I was referring to.
This scene in Matera was filmed in August 2019 and involves a chase sequence (so typical Bond, I know) involving an Aston Martin DB5 through the streets of Matera.
Purchasing the Tickets
I wasn't sure if you could just go to the cinema and purchase tickets. Not in this day and age of COVID. Not being sure, I decided to purchase online so I could choose our seats. We asked our friend Joel if he would also like to go, and he agreed. I informed him he would need to show his "Green Pass" once we got into the cinema.
It wasn't too difficult to navigate purchasing tickets online, however, I didn't quite understand the criteria for the €6,00 tickets vs. the full-price €8,50 ones. Were the less expensive tickets for students or senior citizens? Just to be sure, I purchased the full price. I'll have to do more investigating the next time.
Show Time!
We met Joel in front of Cinema Moderno and saw so many "English speakers," from our English Monday weekly group. Guess we all had the same idea for a rainy Monday night! Upon entering, we had to show our "Green Pass" and I printed out the invoice for our tickets. From there, we had to make a pit stop. Yes indeed – they have popcorn at the cinemas in Italy! There were many snacks and drinks available for purchase. Although no "Ices" as our grandchildren enjoy – that's definitely an American thing. We purchased a small popcorn at the cost of €2,50. I can't even remember what the price is in the States.
The Theater: Cinema Moderno
Located in Centro Lucca, this cinema opened in 1924. Having not been in a theater in Italy before, I wasn't sure what to expect. We have, however, been in a few opera houses that were spectacular with their architecture, design, and decor. This theater was beautiful. The balconies of course were empty but still beautiful. The ceiling was amazing and the theater itself was in pristine condition. As I looked around the vast room, I wondered if it was recently renovated. The seats were large and beautiful red in color.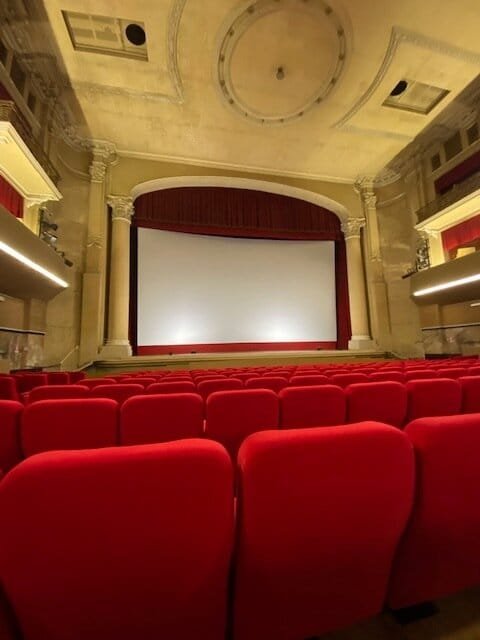 A Strange Occurrence
Actually, there were two strange occurrences during the evening. The first one was that the movie started on time. Not "Italian time" but at the exact time, it was advertised. No lateness allowed going to the movies – that's for sure!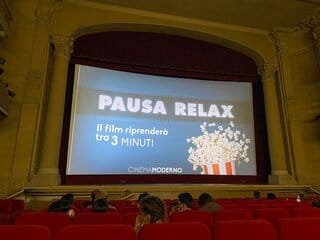 Another moment for us, anyway – was halfway through the movie, the screen went black. After a moment, the theater lights came on, and a notice on the screen about a 5-minute intermission! At first because of the stormy night – I thought they lost electricity! Nope, there was a break for snacks. What is no vino being served? It was only a 2.5-hour film but guess it was long enough for a break! By the time I got my phone out… there were three 3 minutes left – and they meant it. The movie started at exactly the 5-minute break!
WARNING: STOP HERE
If you haven't seen the movie and don't want to know the ending!
The Film: "No Time to Die"
Delayed by the COVID-19 pandemic, this film has finally been released. If I recall correctly, I read they had some "cultural difference," between writers, and that too led to the delay. Either way, it is Daniel Craig's (current James Bond) fifth and final Bond film.
In the story, Bond is retired, living a tranquil life in Jamacia and of course, is pulled out of retirement and recruited by the CIA to rescue a "kidnapped" scientist. Again, not a huge Bond fan but I really enjoyed the movie. Maybe it was the whole Matera scene, perhaps it was being in an Italian movie theater for the first time, or I really have to say I enjoyed reading the Italian subtitles and picking out words I knew.
They say a "Bond film" is only as good as its villain. That might be true but this one was no different to me than any other Bond film I've seen. Not better or worse.
But… the shocking part?
Bond actually dies in this decade-old series. Something I didn't expect.
The Guardian review for more details.