Balsamic Vinegar: What is it about that "black gold" liquid that's so special?
Who doesn't love balsamic vinegar? A recent trip with our good friends JoAn and Jim took us to an amazing family-run place in Modena. They've enjoyed visiting the Cavedoni family several times before, but on a day trip in the area, they wanted us to experience the charm of this particular place too. Gary and I were eager to have the same encounter we'd heard them talk about.
This post contains affiliate links that help keep this website running. By purchasing through our links, we make a small commission at no extra charge to you. Thank you for your support!
What is Traditional Balsamic Vinegar?
The Traditional Balsamic Vinegar of Modena is made from cooked grapes that are aged by a long and slow acetification process. It is accomplished through natural fermentation. That's the first part. The second part is a progressive aging process achieved through a series of barrels. Modena's "black gold," balsamic vinegar is a unique product with a thousand-year-old history. Modena's balsamic vinegar is known all over the world. There are only two provinces in Italy that can claim to be "traditional balsamic vinegar," Modena and Reggio Emilia.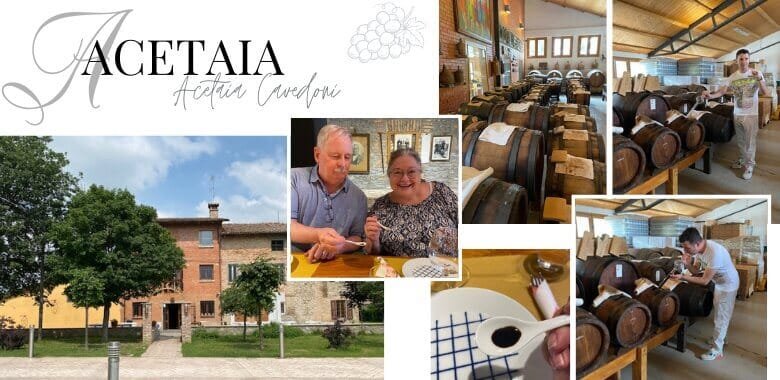 Acetaia Cavedoni
As our balsamic tour began, Marcello introduced us to his father, Paolo. He is the fifth generation to continue the family business. The family has owned this land and has produced one of the highest-quality balsamic vinegars for more than 150 years. The walls were adorned with precious black and white photos dating back generations. Listening to Marcello, I could already feel his passion. His passion as the sixth generation to work on this land and produce this amazing product.
But it wasn't always a business. Marcello told us for years, they only produced balsamic for family and to give as gifts to close friends. I was surprised until he explained the process and how little they actually produce each year from each "batteria". A batteria is a series of barrels, usually anywhere from six to ten, that follow the progressive aging process I spoke of earlier.
The Tour
Marcello brought us into a back room and we stood in front of a batteria of barrels. These barrels are quite small in size. In front of me, I noticed a photo and wooden plaque of a young girl, "Giorgia". She was born in July of 2016. A family member with six barrels, all lined up with her name imprinted on each barrel. Each family member has several barrels that are strictly theirs for the rest of their lives.
Marcello explained the process and how only one liter of black gold (that's my term for it) gets taken from the final barrel in the line—the oldest barrel, each year. Can you believe that… one liter? About one liter of new becomes added to the newest barrel, then one liter from the next in line is moved until it reaches the oldest barrel in that succession. Basically, the fermenting liquid's transferred from barrel to barrel.
As I looked around the room, Lorenzo and Giacomo were other names I could clearly see engraved on barrels. Marcello pointed and showed us the row of small barrels for his children and nieces and nephews. From this room, we entered a smaller room where barrel successions were from his great-grandparents and grandparents.
It's not about money here. This family takes care of its own through tradition, quality, and passion. I inconspicuously wipe the tears that had fallen on my cheeks. His words and the stories moved me greatly.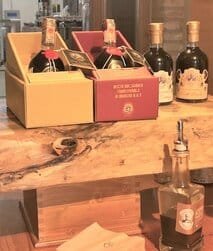 Taste Testing Time
We took our seats at a long, beautiful wood table back in the main room. Bottles of their Lambrusco were brought to the table for all of us to enjoy while large boards were served with various salamis, prosciutto, and other gastronomical delights. Aged parmesan wheels were put on the table along with a simple salad and bread.
Marcello began explaining the different bottles in front of him. He would then walk around the table, and while you held up your ceramic-tasting spoon, he would drip several drops on it for you to try. We started at eight years, then sixteen, thirty-five, and then he brought out some from his great-grandfathers. It was 160 years old and I made a comment as he was walking around the room, that if it were me, I wouldn't be sharing it. Not even a few drops. The anticipation showed on all our faces as we each tasted, all of us seem to close our eyes to enhance the experience. We tried some of their other products too, all while enjoying our feast. We each dropped the different aged balsamic on the cheese to taste the differences.
This excursion will give you a deeper understanding of this symbol of Modena's culture and history. We highly recommend this family and experience when in Modena. Make a reservation – you won't be disappointed!
Different Types of Balsamic Vinegar
I'm sure you are aware that there are different types of balsamic vinegar. Aceto Balsamico Tradizionale di Modena DOP (PDO -protected designation of origin) and Aceto Balsamico di Modena IGP (PGI protected geographical indication). It is the ingredients and production methods that make the difference between these two types of balsamic.


How Can You Tell if It's Real Balsamic?
There are two easy indicators to look for to make sure the balsamic you are buying is real or not. The first one is the shape of the bottle. It is a distinctive shape and is a good "first sign" to look for, (reference our photos for the shape.) Of course, many companies bottle their balsamic in smaller, gift-size bottles.
The more important of the two is the stamp on the label. It should have the "I.G.P." notification (Indicazione Geografica Protetta). This means protected geographical indication. The condiment balsamic's might also indicate the seal of the Consorzio di Balsamico Condimento. This is a group that monitors the different grades of balsamic and is a good indicator of quality.
What is Balsamic Vinegar Made Of?
By this point in our post, you've realized that true authentic balsamic vinegar contains grapes and should be the only ingredient. On the label, it might also be referred to as "cooked grapes." It will indicate there are no added sulfates. If it contains anything else, it is an imposter. End of story.
But there are different types of balsamic. For example, the Saba Alla Mele Cotogene we purchased from Acetaia Cavedoni is a balsamic you would use on salads so the label clearly indicates it's made of "mosto cotto d'uva, aceto di vino." It's also made with quince apples.
A typical grocery store balsamic glaze, for instance, might indicate it's from Modena, but look at the ingredients. It also contains "caramello" (caramel) which is a colorant and inevitably – sugar.
This is our memoir and personal adventure, which has changed our lives forever. Our Italian Journey is a compelling read for anyone who wants to experience and appreciate daily life in Italy and to understand its charm, appeal, and cultural differences. Join in the laughter as we also divulge the trials and tribulations we encountered along the way.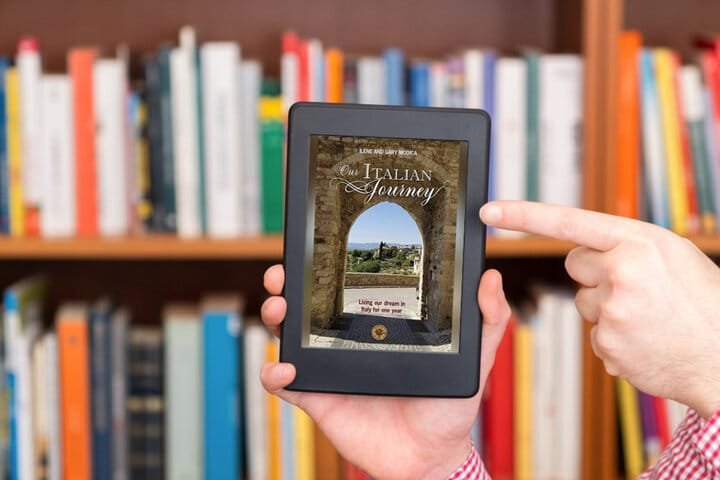 How Long Does Balsamic Vinegar Last?
True balsamic vinegar has already been fermented for twelve or more years. It will continue to be safe for consumption, almost indefinitely. Remember, we tasted a bottle that was 160 years old! To protect and preserve the precious flavor, be sure to clean the rim and tightly seal the bottle after each use. Store in a cool, dark cabinet. By all means, don't refrigerate!
Conclusion
We purchased several products, along with some of their Lambrusco to take home and enjoy. I'm not sure how great a job I did in explaining balsamic vinegar, but have included their information below. Their website can explain in more detail what I have tried to touch upon.
We will return to Acetaia Cavedoni, as JoAn and Jim have done in the past too. We've enjoyed drops of their balsamic on Parmigiano Reggiano, strawberries, gelato, and at the end of a meal – a few drops on a small spoon as a digestive. It's incredible.