It's sauce – not gravy!
When I think of Italian food, I think of a beautiful Marinara sauce over my favorite spaghetti with a sprinkle of fresh cheese whether it be Pecorino or Parmigiano Reggiano. Add a nice loaf of bread and you have a meal fit for a king. Of course, I also like a nice lasagna or pasta with Ragu or Bolognese. In fact, just about any sauce with pasta or stuffed pasta is good with me. But I'd be remiss if I left out reminding you to enjoy it with a nice local wine with your favorite dish.
This post contains affiliate links that help keep this website running. By purchasing through our links, we make a small commission at no extra charge to you. Thank you for your support!
Did You Know?
Now here comes the shocker. Did you know that there is no such thing as Italian food? That's right, there is no official Italian food. You see before Italy became united it was 20 different states or regions – each with its own rules and regulations. More importantly, each had its own unique foods, specialties, and ingredients.
North vs. South
Just like in the United States the Northerners and Southerners look at each other and their foods differently. The Italians in the north see southern Italians as lazy and loud and the Italians in the south see northern Italians as polenta-eaters and obsessed with their jobs.
As for their food differences, Northern Italian food includes more butter, cheeses, cured meats, rice, egg pasta, and stuffed baked foods while Southern Italian cuisine is Mediterranean based with tomatoes, olive oil, vegetables, and meats. Like pasta, there are many different sauces in Italy. Each region has its own specialty or a variation of another's sauce.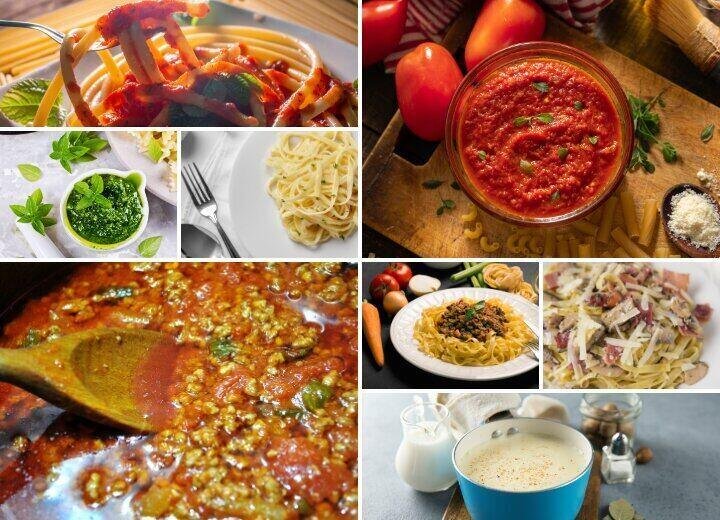 Popular Sauces
So here are the top ten sauces you may or may not be familiar with. I've personally tried all of them during our travels in Italy. I have enjoyed each of them but my heart still belongs to a simple Marinara. As you can see, all of these sauces are made with a few simple ingredients and a lot of Italian love.
| | |
| --- | --- |
| Marinara | This comes from Roma and is made with pancetta or bacon, hard cheese, eggs, and pepper. |
| Bolognese | Also known as "ragu," this is a meat sauce made with very little tomato sauce. Typical ingredients are meat, carrots, celery, stock, and wine. |
| Carbonara | This comes from Roma and made with pancetta or bacon, hard cheese, eggs, and pepper. |
| Amatriciana | A traditional sauce made with guanciale (pork cheek), pecorino cheese, tomato, and onion. |
| Pesto | Also known as Pesto alla Genovese, it is made with crushed garlic, pine nuts, coarse salt, basil leaves, and cheese (Pecorino or Parmigiano Reggiano). |
| Cacio Pepe | Another from Roma made from pepper, cheese (usually pecorino) – that's it. |
| Arrabbiata | A spicy sauce from southern Italy made from tomatoes, garlic, olive oil, and dried red chili peppers. |
| Bechamel | This sauce is basically used as a binder used in baked pasta dishes like lasagna made with butter, flour, milk, nutmeg, and salt. |
| Vodka | Yes… there is vodka in this sauce along with a smooth tomato sauce, Italian herbs, and heavy cream. |
| Bigoil Slasa | This simple sauce comes from Venice and contains just two ingredients – onions and anchovies. |
"Vieni a tavola e mangia" (Come to the table and eat)