10 Top Street Names Found in Italy
Lets find out the 10 top street names in Italy. It seems when traveling through Italy, Ilene and I often noticed the same street names in different cities. These names started to intrigue us and we began to wonder how popular indeed were these same names. So, does every town have a "Via Roma" even though the town isn't in or near Rome?
This post contains affiliate links that help keep this website running. By purchasing through our links, we make a small commission at no extra charge to you. Thank you for your support!
In order of popularity, here are the top 10 street names found throughout Italy:
First of all, there are 7,870 street names called Via Roma in Italy. While all roads don't necessarily lead to Rome, in most Italian cities and towns they do indeed point in the direction of Rome. You will find even in the small Alpine Village of Courmayeur the road Via Roma points in the direction that Hannibal marched in 218BC on his way to Rome.
In Italy, you will also find 5,472 streets with the name Via Garibaldi. Garibaldi is one of a select group of Italian heroes to have a street (Via) or Boulevard (Corso) named after him.
Garibaldi fought with the Piedmontese against the French, Austrians, Spanish, Sicilians, and Neapolitans to unify Italy. As a result of his efforts, he actually received an offer from Abraham Lincoln to a Civil War Commission.
Via Marconi has a total of 4,842 street names. Marconi was an Italian inventor and electrical engineer who worked on long-range radio transmissions. Who invented the radio you ask? The US Supreme Court invalidated all of Marconi's patents and gave the patents for the radio to Nikola Tesla who at the time was creating a basic design for the radio.
The 10 Top Street Names Continue With…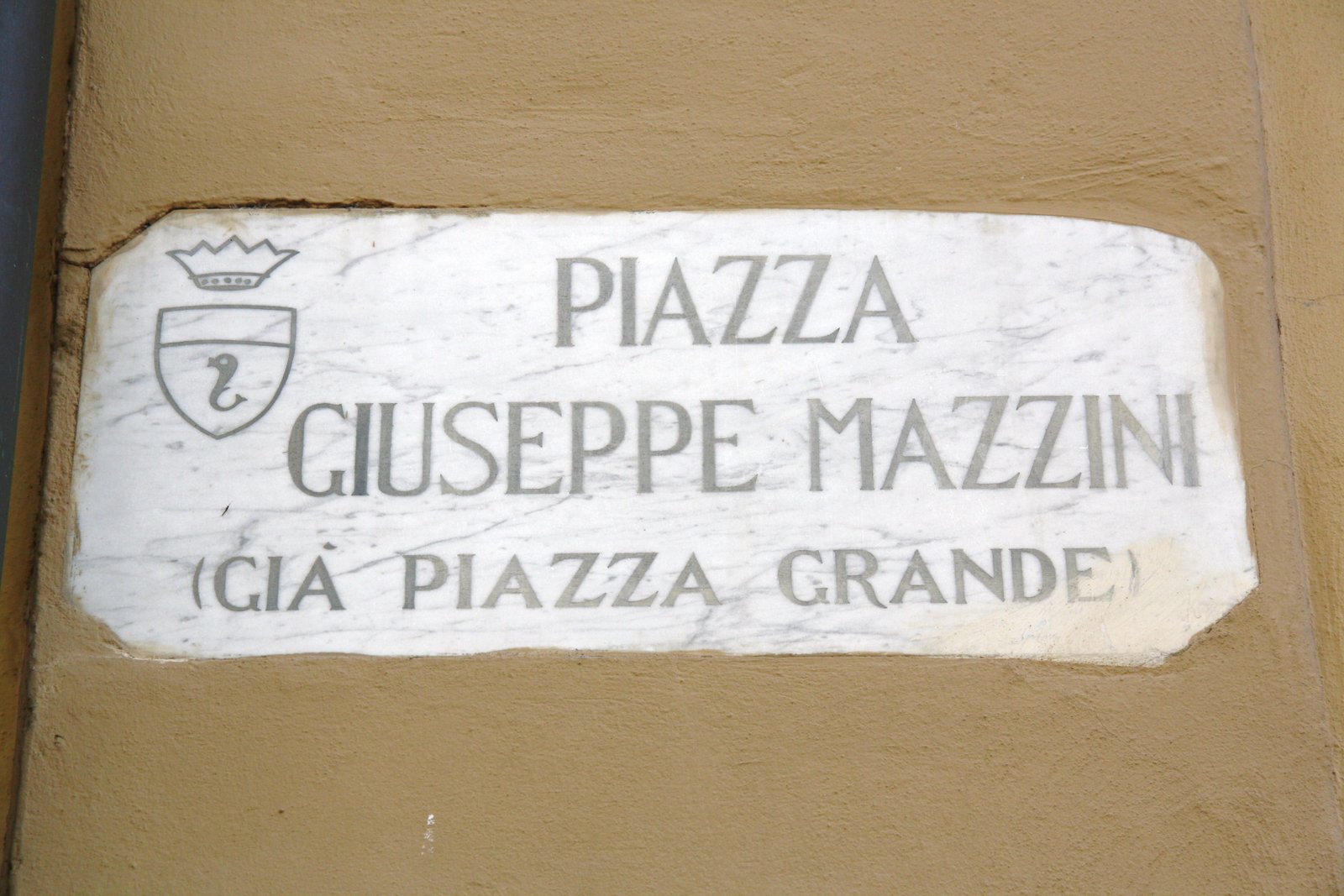 You will find Giuseppe Mazzini has 3,994 streets or piazzas in Italy named after him. He was an Italian politician, journalist, and activist for Italy's unification and the spearhead of the Italian revolutionary movement. In addition, he founded the secret movement called, Young Italy which promoted Italy's unification.
While visiting Italy, you will find a total of 3,793 Dante Alighieri signs. Born Durante "degli" Alighieri, he was a major Italian poet prose writer, literary theorist, moral philosopher, and political thinker.
Most noteworthy, and I'm sure most of you know Dante is best known for his monumental epic poem La Commedia. This well-known poem was later renamed, La Divina Commedia (The Divine Comedy). Exiled from Florence by the powerful Medici Family, he died of malaria in Ravenna, Italy in 1321.
Our Second Half Continues…
This name probably surprised Ilene the most as she thought this name would have been higher on the list. You will find only 3,334 Cavour names in Italy. Named after Camillo di Cavour who was a conservative Piedmontese statesman and the leading figure in the movement to unite Italy. His real name was Camillo Paolo Filippo Benso, the Count of Cavour.
Also, there are 3,292 Giacomo Matteotti signs to be found in Italy. Almost anywhere you go in Italy, you will find a street named for this socialist politician.
Ahhhh, Giuseppe Verdi! There are exactly 3,000 streets with his name found in Italy. He was born Giuseppe Fortunino Francesco Verdi and is known as the greatest composer of Italian opera who ever lived. Some of Verdi's famous works include Rigoletto, Il Trovatore, and La Traviata. He died of a stroke in 1901.
While in Italy during our 90-day stay in Parma, we actually saw Il Trovatore and were fortunate to also see Rigoletto while in Rome for our one-year adventure.
Cesar Battisti was an Italian patriot, geographer, socialist, politician, and journalist. There are 2,657 street signs with his name throughout Italy. Born Giuseppe Cesar Battista, in 1916 the Austrian government accused him and found him guilty of high treason.
Finally, Our Last Name For The 10 Top Street Names…
Prime Ministers are usually popular choices for Italian streets and piazzas. In Italy, you will find 2,628 Aldo Moro street names. Moro served as the 38th Prime Minister of Italy, from 1963 to 1968, and then from 1974 to 1976.
Editors Note: These numbers are as of November 2018