Getting ready to travel but do you book with Airbnb vs Vrbo? Or should you consider a hotel site as your host? This happens to be one of the top questions we are asked time and time again. So it's time we take a deeper look. Who should you consider for your next vacation? Which would suit the needs of you and/or your family?
This post contains affiliate links that help keep this website running. By purchasing through our links, we make a small commission at no extra charge to you. Thank you for your support!
The two top competitors and host sites or online platforms are hands down, Airbnb and Vrbo. They are the most popular and both have good reputations. Every time we look at renting through either one of these, we take the time to go through all the reviews. It might be time-consuming – but I assure you, it's worth your time to read what other visitors thought about a rental you are considering.
Another step you should consider taking is to check the profile of the company or person you are interested in renting from. This step includes their social media. It might seem like an unnecessary step, but why would you not check out every avenue available?
Airbnb and Vrbo have differences… let's check out some of them.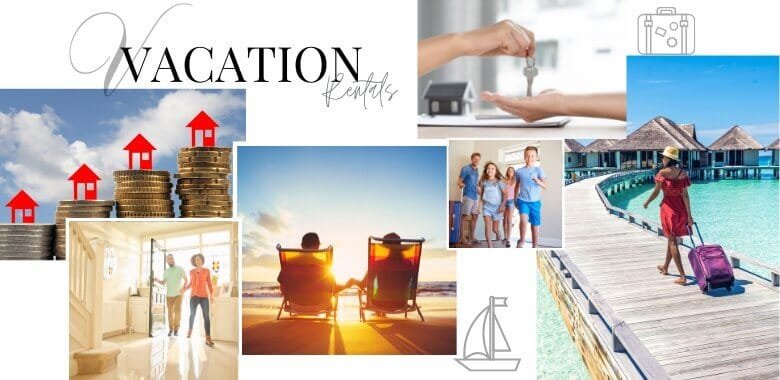 Amount of Time in One Location
First and foremost, the amount of time you are planning to stay in one spot should be your first consideration in which host site to use. If it's just a few days, a standard hotel might be your best option. Normally for just a few days, you won't plan on cooking and a furnished kitchen would be a total waste of money.
Similarities Between Airbnb vs Vrbo
Both services are online and connect homeowners wanting to rent out their space with customers looking for short-term vacation rentals. Each has both apartments and separate homes available. Other similarities are the reservation process, the availability to contact the host for additional concerns or questions, and of course, cleaning fees. Both sites enable the host to charge their own individual fees. Airbnb and Vrbo both are "brokers" as they do all the advertising and collect the fees. Both receive commissions from every booking. However, both offer different features and bonuses which might make a difference when planning your next trip.
Airbnb
Airbnb was founded back in 2008 as a true bed and breakfast site. In 2009, Airbnb rebranded itself as a home rental platform connecting people looking for short-term rentals with homeowners. This concept was the brilliant idea of Joe Gebbia and Brian Chesky when they wanted to rent space in their San Francisco, California apartment to offset the cost of their rent.
Here are some facts from their website:
Airbnb has currently over 4+ million hosts worldwide and over 6 million listings on the platform
They are listed in over 100,000 cities worldwide
Their platform operates in 191 different countries
Airbnb lists just about everything from entire properties to a private room in someone's home
Vrbo
Vrbo is known as "Vacation Rental By Owner," and was founded in 1995 by Brian Sharples and Carl Shepherd in Austin, Texas. It has been in existence for 13 years longer than Airbnb. This concept enabled homeowners a platform to advertise their properties to rent. In 2006, the HomeAway network acquired Vrbo and it was combined with sites such as VacationRentals.com. Vrbo boasts listings in 190 countries and 2 million rentals worldwide.
Vrbo specializes in various types of vacation rentals such as apartments, cottages, cabins, condos, houses, and villas. Unlike Airbnb, listings on Vrbo are complete space rentals meaning there are no shared accommodations.
Differences Between Airbnb vs Vrbo
I was surprised to find out during the research of this post that there are quite a few differences that I wasn't even aware of. I do have my preference between the two companies which I will reveal to you at the end of this post. But let's dive into Airbnb vs Vrbo…
---
Airbnb
Airbnb users can rent single rooms in shared spaces. An example could be a spare bedroom in a home or in a hostel. Such accommodations obviously lack privacy but are great for travelers who don't mind sharing amenities in exchange for a lower nightly rate.
Vrbo
Vrbo only rents complete spaces whether it be an apartment, condo, or home. You never have to worry about sharing a bathroom or any other accommodation.
Airbnb
Airbnb's service fees are a split-fee structure. 3% is deducted from the host payout and a guest service fee that is currently under 14.2% of the booking subtotal. This is calculated by the nightly rate plus the cleaning fee and any additional guest fees.
On rare occasions, properties offer a host-only fee of 14%-16% and no Airbnb service fee is paid by guests.
Vrbo
Vrbo's service fees are typically lower. Guests are charged a 6-12% service fee of the total reservation cost, minus taxes.
Airbnb
Airbnb property owners set their own cancellation policies using a 6-tiered scale. These are Flexible, Moderate, Strict, Long Term, Super Strict 30 days, and Super Strict 60 days.
The Airbnb service fee is refundable three times a year when the cancellation takes place within 48 hours of booking and at least 14 days before the scheduled stay.
Vrbo
Vrbo hosts also set their own cancellation policies. These 6 options are No refund, 60-day, 60/30 day, 30/14 day, 14/7 day, or a custom policy.
Airbnb
Airbnb offers an "Experience" section on its site. They are hosted by locals and can include things such as cooking classes, workshops, and yoga.
Vrbo
Vrbo does not offer this at this time.
Airbnb
Airbnb does not offer travel protection insurance at this time.
There is no direct customer support for non-emergencies. You must complete an online form and will be contacted after an investigation.
Vrbo
Vrbo guests can add travel protection insurance to every booking.
When it comes to customer service, Vrbo has a 24-hour direct support line for questions or assistance
---
Important to Note
It is important to know that regarding both Airbnb and Vrbo, hosts do not have the ability to discount or waive their service fees. Both companies also will refund this fee if you cancel during the free cancellation time period for your reservation.
In Conclusion – My Opinion: Airbnb vs Vrbo
I will repeat… in my opinion… reservation costs for properties on Vrbo tend to be less expensive than Airbnb. Sometimes by more than you might think. What I will often do is see if the property we are interested in renting is listed by both companies. When I enter the same timeframe information, you will often see the total – bottom line – less expensive on Vrbo for the exact same place and for the same time.
I also like the availability to create "Trip Boards" where I keep our favorite rental properties. This way I can refer back to them in the future. You can also save these boards and share them with family or friends and invite them to comment and look at this board.
We will use both platforms when searching for properties but time and time again, it seems we usually book with Vrbo. Perhaps that's just us but we hope this intensive look into these two competitors has given you some knowledge and food for thought.
What has been your experience?