Top 12 Things to do in Florence, Italy
The top 12 things to do in Florence is a list of our favorite sites. We were very fortunate to recently spend 90 days in the historical center of Florence. Our apartment was just moments from the main sites to see in this beautiful city. We were just down the block from Piazza Della Signoria and a few minutes walk to the Duomo (Cathedral) and the Ponte Vecchio.
The list is in no particular order and of course, there are many more things to see. These are just our favorites we wanted to share with you.
This post contains affiliate links that help keep this website running. By purchasing through our links, we make a small commission at no extra charge to you. Thank you for your support!
The Boboli Gardens is a good way to pack a lunch and stroll through the beautiful scenery. It is part of the Pitti Palace and there is a fee for entrance. The garden is a park and home to a collection of sculptures dating from the 16th through the 18th centuries, with some Roman antiquities.
2. Florence is, of course, known for its leather shops. You will find jackets and pocketbooks everywhere in store windows to vendors on the street. You will also find an amazing place where you can go for free. It's called the Scuola del Cuoio (Leather School) and it is located right behind Santa Croce. They have items for sale and you can see the students through the windows at the street level. When you purchase an item, they will engrave it for free. See our post when Gary purchased a wallet and we bought a small coin purse for one of our daughters.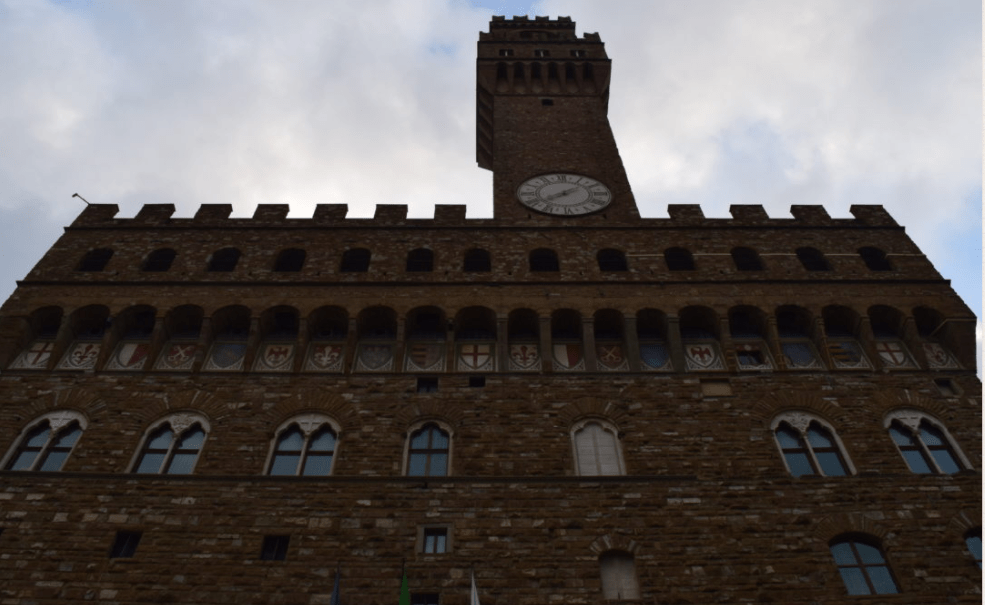 3. Piazza della Signoria is an L-shaped piazza in front of the Palazzo Vecchio. It is a great place to people watch. The Loggia dei Lanzi is also located here. It is a gathering of impressive statues under a portico that you should not miss either.
---
This is our memoir and personal adventure, which has changed our lives forever. Our Italian Journey is a compelling read for anyone who wants to experience and appreciate daily life in Italy and to understand its charm, appeal, and cultural differences. Join in the laughter as we also divulge the trials and tribulations we encountered along the way.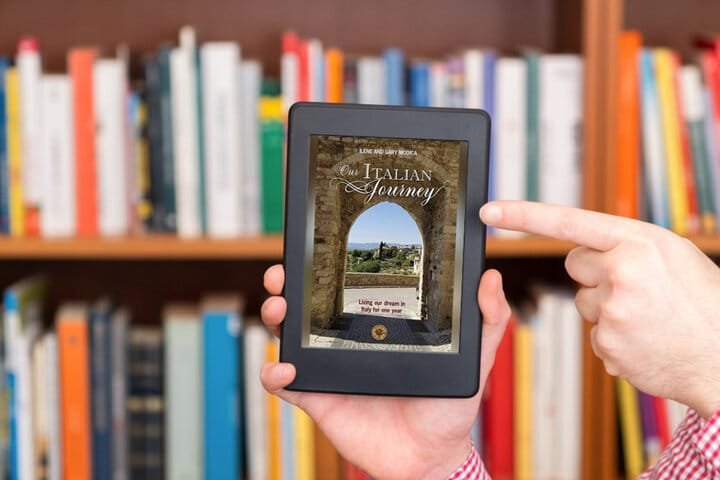 ---
4. Our absolute favorite place in all of Florence for gelato is La Carraia. You will find no better prices – anywhere! And… the gelato is excellent. They have so many flavors to choose from they list them outside so perhaps you already have an idea when you get in the store. You will probably have to stand in line, but it is worth every moment.
5. The Mercato Centrale is a great place not only to shop – but to eat!
You will find vendors selling everything from fresh pasta, fresh vegetables, olive oil, meats, fish, and EVERYTHING! The restaurants are located upstairs even though you can eat at some of the vendors on the first floor. The restaurants get their produce from the vendors. It is an amazing place to walk around.
You never know what you are going to find. Look at what found for sale one day…….. EEEKKKK!
And the top list continues with the next half…..
6. The Uffizi Gallery is a prominent art museum located adjacent to the Piazza della Signoria in the Historic Center of Florence. It is wise not to try and see the entire museum in one day. If you like art – this is the place to go. I strongly urge you to pay the extra money for the audio tour as it helps you understand what you are viewing.
7. The Pitti Palace or The Palazzo Pitti in Italian is a huge Renaissance palace. It is just beautiful and the Boboli Gardens are directly behind it. They have a combo ticket that we would recommend as you get to pick and choose some of what you can see inside the palace. Usually, the gardens are part of any package.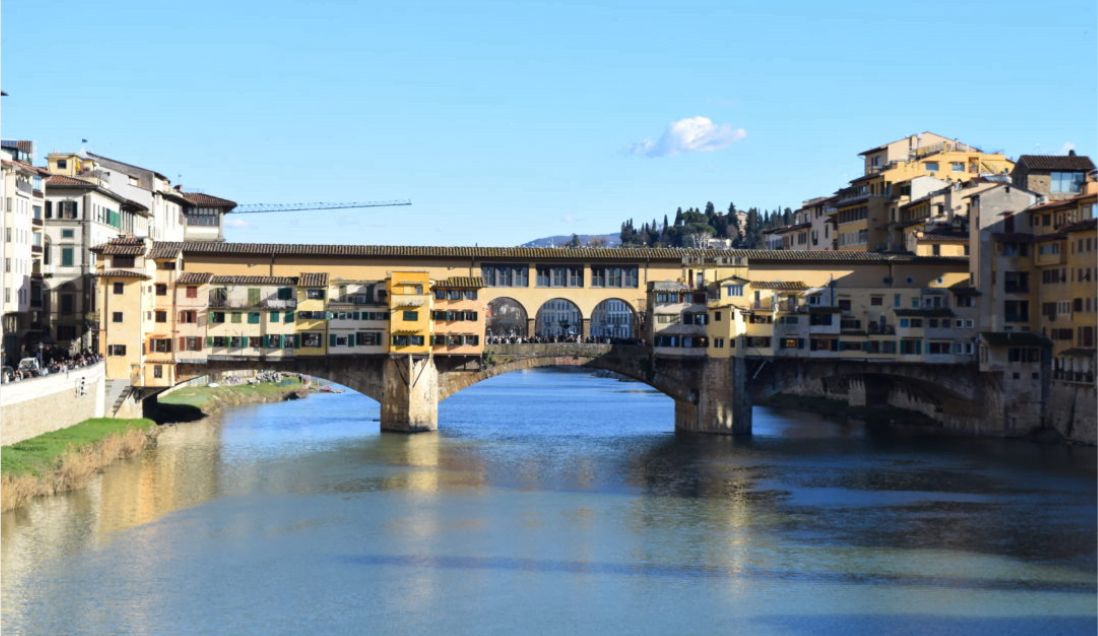 8. The Ponte Vecchio bridge is where the gold and silversmiths sell their jewelry. I can't take enough pictures of this bridge. It is so beautiful and has such a history behind it. It connects both sides of Florence over the Arno River. Click the picture to find out more, including a video of what happened to this bridge in 1966!
9. Our next favorite place takes you high above the city. It is well worth the walk but I will warn you it is a bit of a hike. There is a bus that will take you there. One of our favorite churches is located just above Piazza Michelangelo. You must go and see this piazza during the sunset. You will get the best photographs of the city.
Click here to see post: Piazza Michelangelo
10. The Bargello is THE place to visit for statues. It was a former barracks and prison before it finally became a national museum. The museum has a collection of important Renaissance sculptures and masterpieces from varying periods, including masterpieces by Donatello, Luca della Robbia, Verrocchio, Michelangelo, and Cellini.
And the last two favorites are…..
11. Anyone who has visited anywhere in Europe knows that the churches are where the art is. Not all of it, but some of the most beautiful paintings are still in their original location. Here is a list of our favorite churches in Florence, Italy:
Duomo (Cathedral)
SS Annunziata
Orsanmichael and Museum
Santa Croce
Santa Maria Novella
Santo Spirito
San Miniato
Santi Apostoli
12. The Galleria dell' Accademia is where you will find the original statue of David. David is a masterpiece of Renaissance sculpture created between 1501 and 1504 by Michelangelo. This museum is well worth the visit and is not a far walk from the historic center of town.
---
Let us know if you visit any of these sites and find them to be your favorite too! We'd love to know!!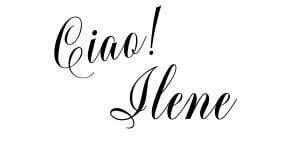 Editor's Note:  This article was initially published on October 6, 2015, and was updated on November 2023 for accuracy and additional information.
---