Through social media, Gary and I have met and befriended (I hope she thinks so too), ex-pat Marilyn Ricci. Consequently – we'd like you to meet her too. We almost had the chance to personally meet when we were in Italy in 2019, but due to her visiting family back in the States at the time, it was not meant to be. Fingers crossed, we hope to officially meet her this year if traveling between regions opens. Most of all, we found Marilyn's story interesting and thought you might think so too. She is also currently writing her first travel book which will hopefully be published in 2021. So, without further ado – meet our friend, Marilyn Ricci.
This post contains affiliate links that help keep this website running. By purchasing through our links, we make a small commission at no extra charge to you. Thank you for your support!
Dreams Can Come True, My Path to Life in Italy
Tanti anni fa, many years ago, in 1971, my life changed forever. And dreaming of Italy became a force in my very existence.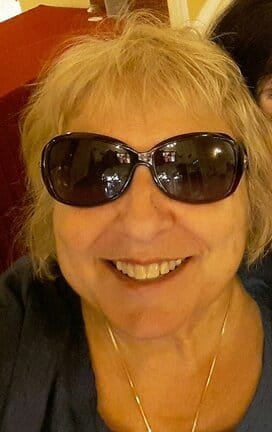 Buon Giorno a Tutti, Mi chiamo Marilyn Ricci.
Greetings everyone. My name is Marilyn Ricci.
I am 100% Italian-American. I was born during a blizzard one December day in the 1950s. My heritage is composed of Abruzzo and Campania blood and I grew up with some of the very people who came to the USA and left their families behind in Italy.
Italian Heritage
I always knew I was Italian and heard the musical language when my Nonna e Bisnonna, my grandmother and great-grandmother, would argue in front of us. I loved the words I heard and tried to understand them. And I loved when Orphilia, my great-grandmother, spoke with her Italian accent. These two women were so deeply embedded into my psyche that, even today, I can hear their voices talking to me. I miss them and cherish the opportunity I had to know these true Italians as well as those on my father's side, Nonna and Grandpa Ricci.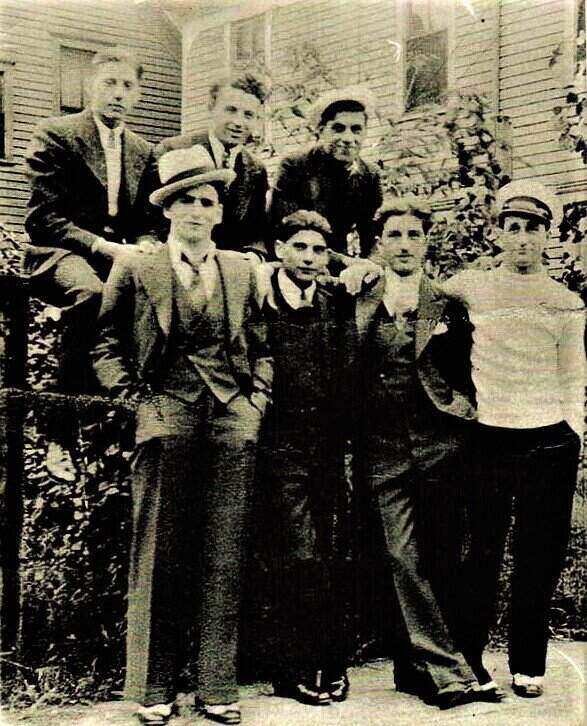 Men from the East St. Paul, MN Italian neighborhood in the 1930s, including 2 uncles
As I attended school, I strove to learn more about where these people, my people, came from. I read all about the Romans, their gods, and goddesses, their music, their science, and their art. It was the beginning of my love affair with Italy. I did two extensive reports in secondary school, one on Michelangelo and one on DaVinci.  I fantasized about meeting them, learning from them, and thinking like them. DaVinci became my life hero and I wanted to know more.
After Graduation
After graduating in 1969, I attended the University of Minnesota and eventually became part of the protesting hippie youths in the changing times of the 60's, and early 70's. In 1971, I bought a round-trip ticket to Luxembourg on Hippie Airlines (Icelandic Air), had $200 in my purse and a backpack.  I stayed in Europe for nearly a year. My first visit to Italy occurred when my cousin from St. Paul met me in Rome.
Familia
I met my cousin Maureen and her husband, Jim at their Rome hotel. First, we explored the city including the Roman Forum.  In 1971, it was quite a mess and almost no rules. Maureen and I enjoyed climbing on top of pedestals, posing as goddesses while Jim took photos. Next, I met the first of many cousins in Rome, Rosa Pinna, and her son, Gianni. Their home was near the Colosseum and all the food she prepared reminded me of my great-grandmother's cooking.  Also, we met the family of Vincenzo and Celeste Buzzelli and it went on from there.

The three of us left Rome to travel to Naples and Pompeii together. Everywhere we traveled, a piece of my heart remained behind. Italy was stealing it. My family was stealing it. When we arrived in Paterno di Avezzano, our town of origin in Abruzzo, I left nearly my entire heart in that basin surrounded by the mountains.
Maureen had visited Paterno before. Everyone was excited to see her. However, this was my first experience in Paterno. And, lo and behold, through my Ruscitti grandfather whom I never knew, I was related to nearly every single person in Paterno. I was treated like the Prodigal Son in the Bible. They slaughtered an ox and had a town-sized barbeque. I met everyone.
I never wanted to leave this place and these people. They were my bisnonna's (great-grandmother's) family. She had just passed on a few months before I traveled to her hometown. I missed her desperately but found a piece of her soul in Paterno.
Returning to the States
When I returned to my so-called normal life, I felt the loss of the European life, especially the Italian Life. And I began to have a particular dream. I saw myself living in Italy in a coastal town, walking along the beach and the water often lapped over my bare feet.  All my senses were involved. I caught the scent of the salt in the air, the wind tossing my hair and attire, the warmth of the sun on my skin, and the colors of a sunset on the water.  It was so real. And, funny, I had never even been to the sea in Italy.
The dream became a part of my daydreams too. It was always there, with me. Life in the USA changed things. I got married, had a child, moved, and divorced. I was a single mother raising a daughter while singing in a Pop/Funk band for years.  After that, I worked for builders selling homes for 26 years. My dream collected dust and sat on a shelf in the back of my mind. But, occasionally, it would pop into my consciousness and I would feel the pull.
Finally, after my daughter had her own life, and her own child, things began to change. Italy became more intoxicating to me, and not just for a visit but for a home. To have a dream come true, usually, there is some work and planning involved. That was my next move.
Marilyn Ricci's Next Move
As I dusted off the dream and kept it fresh in my mind I began the process of becoming a doppia cittadinanza, a dual citizen of the US and Italy. It took work, and 2 years of patience, a thing I have in short supply. Finally, in January 2015, my daughter, granddaughter, and I became citizens of both countries. Now we can choose to live and work in Italy.
At this time, I also created my business, Take Me Home Italy, a custom travel business helping others find their Italian Soul (www.takemehomeitaly.com). I plan exclusive travel to fit your budget and lifestyle and personalize it to meet your needs, not the needs of a tour. I wanted to share my love of Italy with everyone, especially others, like me, who may be Italian-American and seek information on where their Italian family came from.
But where would I live and work? I thought of all the places I had been and I knew I needed to look further. I needed to go on a hunt for my home by the sea.
Where to Call Home?
I visited 3 times more, searching. I spent time with my dad's family and I adore them. But they are also in the mountains. I love the Amalfi Coast but it is difficult to travel to and from there without a car—I don't want a car. And it is expensive. I checked out the east coast of Abruzzo and northern Puglia. It had the sea but it did not really work for me.
Finally, I received a writing assignment in Sestri Levante in June 2016. Frankly, I had never heard of it. But when I saw its location along the Mediterranean Sea, I was intrigued. I planned a sea hunt trip.
I traveled north from the seacoast of Lazio on my search. When I reached the border of Liguria, I could feel that I was discovering the area where I would settle. I was enthralled with Tellaro, Portovenere, Cinque Terre, and the entire rugged Ligurian coastline.

Sestri Levante is a lovely coastal town. I could live there, I thought. It has all the things one needs to live in a town: shopping, hospital, movie theatre, arts, music, train service. It was there. In the summer, you can take ferries to Portovenere, Cinque Terre, and Portofino, another gorgeous town but one I could not afford. Maybe this was the place for me.
My host suggested Chiavari, the next town on the train and a quieter place with fewer tourists than Sestri Levante. I decided to have a look.  I only spent an hour or so there and yet, my gut feelings told me "This is IT!"
Chiavari
After going home, I did more research into the costs of living in Chiavari, who lives there, what is there, and why it would be a good place.  And I made my plan, my plan to move to Italy all by myself.
I needed to divest myself of most of my earthly goods, including my car and furniture. I needed to save a little cash to feel comfortable and I needed to find a 1-year rental near the sea in Chiavari. With a short lease, I felt that I retained the freedom to change my mind if things did not work out or if living alone where I knew nobody and was not fluent in the language might be too overwhelming.
Currently
Today, I have lived in Chiavari for over four years, and I am in love. My one-bedroom furnished apartment is a two-minute walk to la passagiata, the promenade, along the beach, and as a result, I go there nearly every day.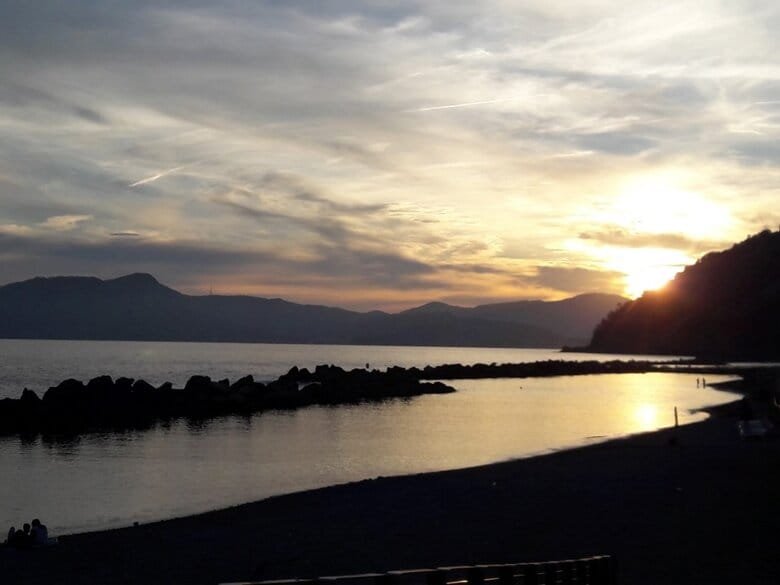 I visit the bar/restaurants on the promenade. The natives are getting used to me and the owners of the Gelateria, Renato and Mario, have become my goodwill ambassadors to the area.
I am also beginning to make friends and people recognize me when I return. Tiziano, the owner of the local market, checked on me during the Covid lockdown in 2020, knowing I had no family here. What a gift.
Centro Storico, the center, is less than one kilometer's walk and I do that every week. The gorgeous Portici, and the arched, covered walkways portray the feel of medieval life without the hardships, while the market itself feeds us all.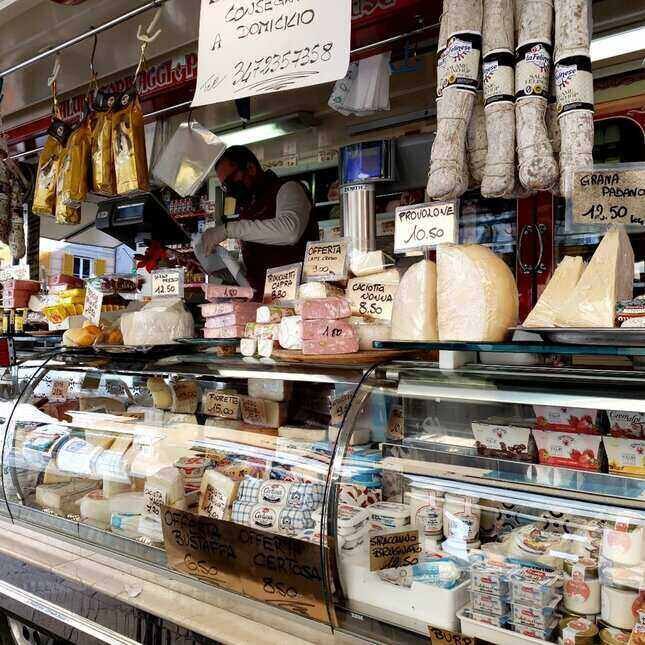 This is our memoir and personal adventure, which has changed our lives forever. Our Italian Journey is a compelling read for anyone who wants to experience and appreciate daily life in Italy and to understand its charm, appeal, and cultural differences. Join in the laughter as we also divulge the trials and tribulations we encountered along the way.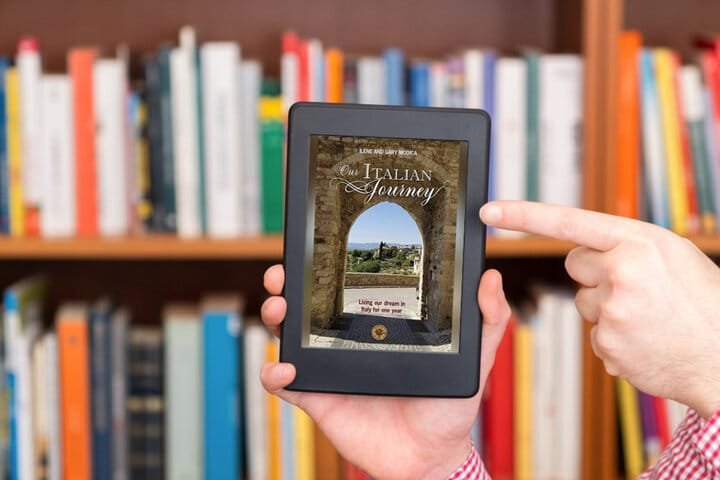 Finally, in Conclusion
I love my new hometown. It is all I had hoped for and so much more. Still, there is so much more to Italy. In my 4+ years of living in Italy, I have traveled extensively, searching out unique locations off the beaten path where tourism has hardly touched the towns and organic farming by families and other local artisans prevails.
I find places for travelers to sit down to a four-course meal while winetasting or olive oil tasting. I've met farmers, goat-herders, historians with their own museums, walked small fields of olives, and seen how an artisan creates his Parmigiano Reggiano while others their goat cheese.
Most of all, I discover these unique, unforgettable experiences so that my clients can enjoy a guaranteed adventure with locals. I am also writing a book right now featuring these places, places most travelers simply will not discover on their own.
Dreams
I have realized my dream. It was not easy. I had to do my work and I had to leave the people behind in Washington State and Minnesota who mean the most to me. I paid my dues to get here. It was worth every cent and drop of perspiration.
You can accomplish your dreams too. Hold them in your soul always. Make a plan. Do research. Give yourself permission to do it and then JUMP!
Buona fortuna! Good luck! Stay healthy and keep dreaming.
Ciao for Now!
Marilyn Ricci, Founder of TAKE ME HOME ITALY
Check out my blog at www.takemehomeitaly.com/blog You can sign up for blogposts and news sent directly to your email at the blog section of the website. Please sign up and follow. It would mean the world to me if you do.
My Patreon page: www.Patreon.com/TakeMeHomeItaly1
Facebook and Twitter: @TakeMeHomeItaly
Instagram: Take.Me.Home.Italy
YouTube Channel (a work in progress): Take Me Home Italy
Contact me if you would like to visit Italy by yourself or with a group of friends. I know the exclusive locations of small wineries, excellent food, great art, and lovely seaside escapes. In addition, I can also organize transportation, small day tours, and great local hotels from one star to five. Or, another option, I can create a plan for you that makes sense, and you can do all the booking yourself. Also, if you are on my email list, you will receive not only the blogposts but also updates regarding the progress on the travel book.
Gary and I thank you Marilyn Ricci for taking the time to write this post!

We hope you have enjoyed Marilyn Ricci's story and will follow her on social media.
Maybe you missed them… here are also two other amazing ladies we have featured so far!