Discover Milan
Milan is a major metropolis in northern Italy's Lombardy region. It is well-known as the global capital of design, fashion and for its high-end restaurants and shops. It is the financial "hub" of the country, has the most amazing Gothic Duomo, and is home to Leonardo da Vinci's fresco mural The Last Supper.
This post contains affiliate links that help keep this website running. By purchasing through our links, we make a small commission at no extra charge to you. Thank you for your support!
Gary and I have only visited Milan once – and that was just an overnight stay. We were staying in Venice and headed to the Cinque Terre. Our overnight visit was enough time to only walk on the roof of the Duomo and visit the Galleria Vittorio Emanuele.
An important lesson from our trip to Milan. If you are headed to a city for a particular reason – to visit an exhibit – make sure you research ahead of time. You might ask, "Why am I sharing this information?" The reason we stopped in Milan was to see The Last Supper but we neglected to find out that it was closed on Mondays – the day we were supposed to visit.
Galleria Vittorio Emanuele II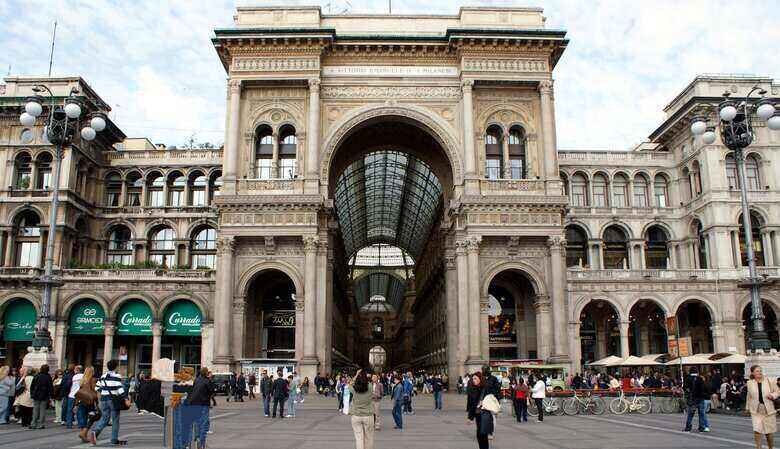 The Galleria is Italy's oldest active shopping mall and a major landmark in Milan. It is a beautiful piece of architecture boasting a four-story double arcade located in the center of town, next to the Duomo. It is named after Victor Emmanuel II, the first king of the Kingdom of Italy, and was built by architect Giuseppe Mengoini between 1865 and 1877.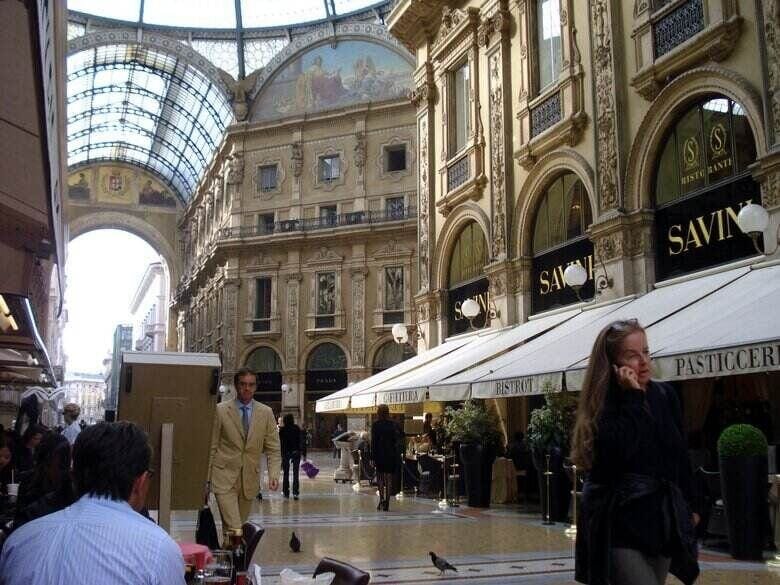 Gary and I enjoyed lunch in the Galleria. We did walk around a bit and I just could not focus that we were not in some fancy government building but a shopping mall. This mall is filled with high-end designer shops with names very familiar as Prada, Versace, and Vuitton. The epicenter of Italian fashion and design, Milan is home to the biggest names in the industry. Just to name a few: Valentino, Versace, Prada, and Dolce & Gabbana.
If you are a bargain shopper – this is not the place for you. I didn't even dare go inside one of the stores. Well, I could have gone in but Gary would have certainly made me leave my wallet in his care!
Milan Vs Other Cities
Milan has such much to offer. If you like an active nightlife, this is a great city for you. If you like to wander away from the beaten path while still having lots of options – Milan is for you. Milan is a bustling city populated by working-class professionals who still find time for balance. Work and friends and family – balancing life as most Italians do.
Transportation
This major city boasts a fantastic train line and a just as excellent underground subway that connects to every suburb. You can travel by train from Milan to Venice in about two hours and 15 minutes. To Florence in approximately two hours while it will be about three and a half to Rome. The prices for these excursions are very reasonable too!
The Masterpiece
Home to one of the most famous Renaissance paintings in history – Leonardo da Vinci's The Last Supper dated from 1494–1498. As I mentioned, our poor planning did not enable us to see this masterpiece, but it is something to return to see. You must book in advance and you are only allowed to stay in the room for a brief period of time before the next group is allowed in for their allotted time.
Walk on the Roof of the Duomo
Every major city has its famous site. Whether it be the Leaning Tower in Pisa or the Colosseum in Rome – Milan has the majestic Duomo. The Gothic cathedral is the largest and most elaborate in all of Italy. Constructed from pink-hued white marble from the quarries of Lake Maggiore, the church began construction in 1386 and took nearly six hundred years to complete.
Visitors to the Duomo are granted a unique and rare opportunity to climb all the way up onto the rooftop. From here, you can view almost the entire city. While on the way to the roof, take a close-up look at the menacing gargoyles and intricate spires surrounding you. It will take your breath away.
The interior is just as incredible as the exterior. The decorative and beautiful stained-glass windows burst with color and the paintings are worth an extra look. Take time to explore the inside as there are many statues, artwork, and frescoes to be discovered.
Piazza del Duomo
As the central Piazza in Milan, the Piazza del Duomo is a huge open public space that features some impressive architecture and sculptures. In the center of the square stands a glorious statue of the first King of united Italy – Vittorio Emmanuel.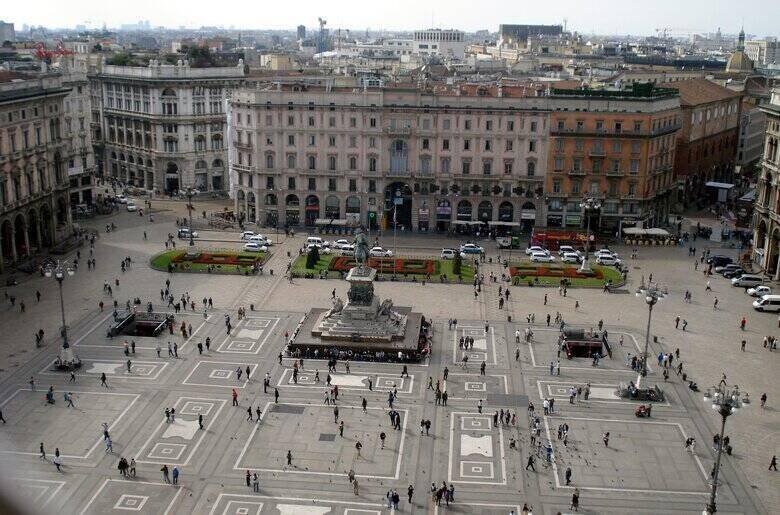 10 Best Things to Do in Milan:
AC Milan San Siro Stadium (Gary's favorite futbol (soccer) team!
Archaeology Museum
Castello Sforzesco
Duomo
Galleria Vittorio Emanuele II
La Scala Opera House
Leonardo da Vinci National Museum of Science and Technology
Parco Sempione
Piazza del Duomo
Santa Maria delle Grazie