The Enchanting Quartiere Coppedè
One sunny day while in Rome, Gary and I took a walk, venturing out of the Centro Storico, to discover the secret and enchanting neighborhood called Quartiere Coppedè. Some say this place is "magical," and I completely agree that it is truly unique. I don't recall how we heard about the area but, I can honestly say that I have never seen anything like this before.
This post contains affiliate links that help keep this website running. By purchasing through our links, we make a small commission at no extra charge to you. Thank you for your support!
Nestled in the Trieste district, Quartiere Coppedè is a little-known fairytale-like area in Rome. It is filled with an unexpected mix of architecture such as Roman Baroque, Ancient Greek, Medieval, Mannerist, and especially – Art Nouveau. You might be asking yourself, "Who was behind the creation and design of this extraordinary architectural wonder?"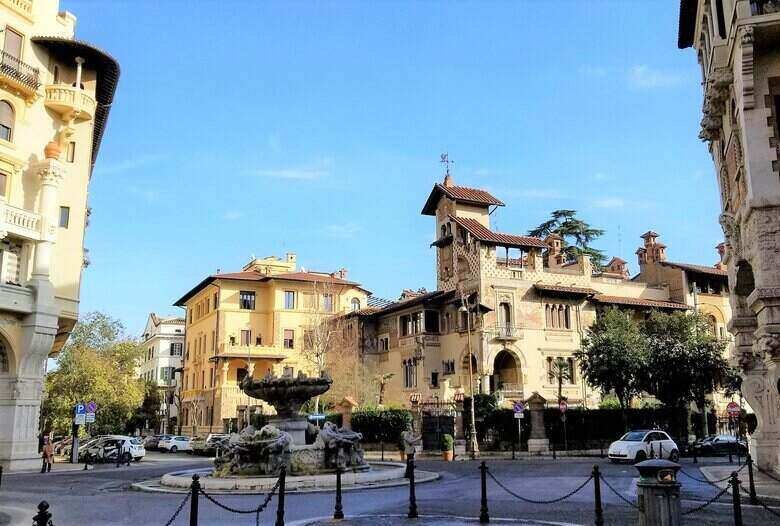 The Architect
Gino Coppedè was commissioned to create a new residential district for wealthy professionals. He began designing and building this quarter in 1919 until his health in 1927. According to legend, Coppedè received a great deal of criticism regarding his creation of this distinctive neighborhood. Because of this censure, he ended his life in suicide. There are about forty buildings in this neighborhood, all designed by Coppedè. This quarter and tiny nook of Rome covers about 31,000 square meters.
The Unexpected Chandelier & Archway
The Coppedè neighborhood is very distinct from any other area in the city. Everyone knows Rome has no shortage of architectural wonders, but this one is worth the trip to visit and experience yourself. The archway below is called, the Arcone, and is located just in front of the Piper Club.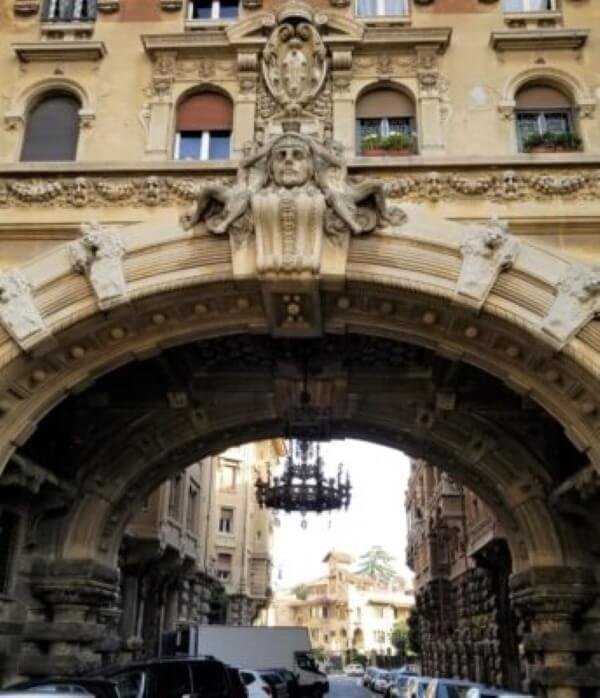 The first thing you might notice when entering this neighborhood is the incredibly large, wrought iron chandelier hanging under the main archway. This beautiful detail called il Grande Lampadario, was designed by Coppedè himself. The dramatic chandelier is decorated with twisted floral tendrils in a seahorse motif.
The Homes Inside Quartiere Coppedè
External mosaics and frescoes decorate many of the villas and apartments. Details such as Moorish arches, Gothic gargoyles, Palazzos with Tuscan turrets, and Liberty sculptures also embellish these homes. Warm, deep, rich colors in shades of burnt orange, peach, marigold, and rose are all intertwined and complement the deep green color of the climbing vines and trees. What you won't find here? There are no cafes or restaurants in the Quartiere Coppedè neighborhood.
There are several "fairy houses," called Villino delle Fate located in areas of the neighborhood. You can find them on: Via Aterno 4, Piazza Mincio 3, and also on Via Brenta 7-11. While strolling, take in the well-preserved colorful frescoes and the unique design of these cottages.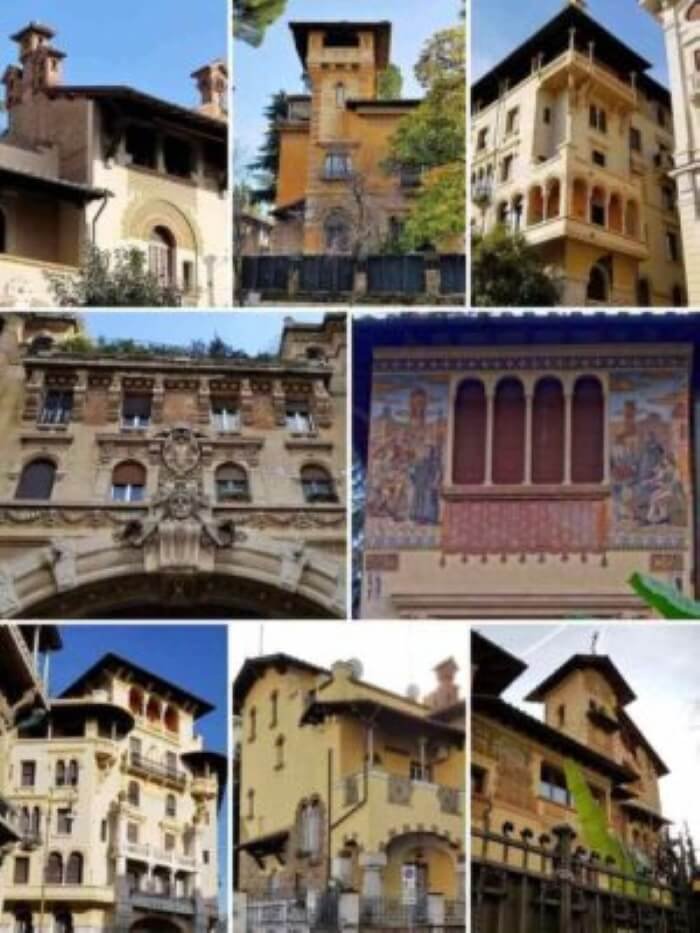 Compare hotels & vacation rentals here:
Hollywood
The Quartiere Coppedè because of its strange beauty, has been used as the setting for several Hollywood films. Dario Argento, a filmmaker was so taken and fascinated with this neighborhood that he used this location for several of his films, Inferno, The Bird with Crystal Plumes, and the thriller The Omen.
Fontana delle Rane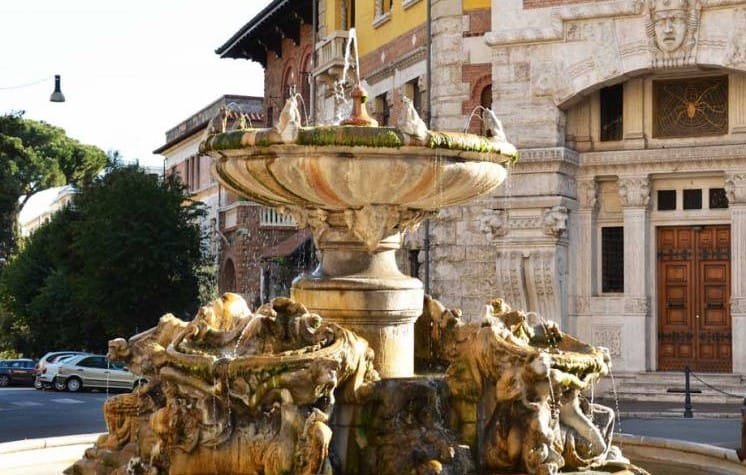 Just inside the main entrance sits the tiny and adorable Piazza Mincio, home of the Fontana delle Rane, Fountain of Frogs. Not only is this fountain known for its whimsical frog statues but also the fact that the Beatles once famously plunged themselves into it after a concert performance in Rome. After playing a gig at the nearby Piper Club in the 60s, rumor has it that they frolicked in the water. Eight stone frogs surround the top and watch the neighborhood. It was built in 1924 and was intended to be a tribute to fountains designed by Bernini.
How To Get To Quartiere Coppedè
The easiest way to get to the Quartiere Coppedè neighborhood is to take the number 3 or 19 tram. Your other option of using public transportation is the bus and disembark at the Piazza Buenos Aires stop. Coppedè is located outside of the city center near Viale Regina Margherita in the Trieste neighborhood.
In conclusion, this whimsical neighborhood is so amazing and worth your time to investigate when you are in Rome. #rome #Quartiere Coppedè #enchanting #mustsee