Monopoli the Town – Not the Game
Gary and I had the pleasure of a day visit to Monopoli during our 2019 adventure. Our "home base" was Conversano and Monopoli was just a little further south on the train route. We enjoyed every moment of this day and hope to return one day. There were so many memorable moments and experiences that day.
This post contains affiliate links that help keep this website running. By purchasing through our links, we make a small commission at no extra charge to you. Thank you for your support!
Monopoli is located at the heel of Italy's boot and has been inhabited since 500 BC. The early Greek city that was founded here brought the name, "Monos Polis." comes from the early Greek city that was founded here. This Italian town is not on most tourists' "to-do lists," but it should be.
After visiting this town, it's funny so many people commented on our social media about the Hasbro board game… although, it is spelled differently. Cute comments about the different properties in the game and sadly… we didn't see "Boardwalk."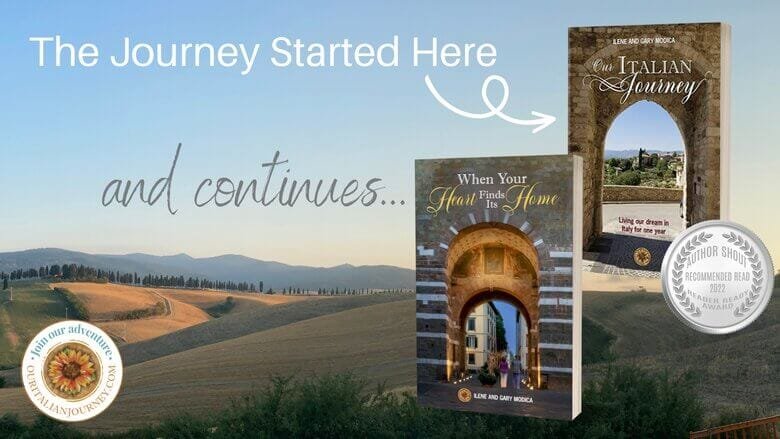 We hope you will consider joining our journey. It started in 2019 with "Our Italian Journey," and this part of the adventure has concluded with "When Your Heart Finds Its Home." Both are available wherever books are sold.
Please take a moment when completed to leave a written review. It truly makes a difference in ranking. We also love to receive photos of our book(s) cover with you, a pet, or some creative way for our social media!
Centro Storico
Take your time and walk through the small streets and take in the sense of this quaint town. These homes are all in shades of white and cream, showing their age. Shutters and door colors range from various shades of blue adding to the charm of the home. Vivid blue doors against the white houses, made me feel like I was in Greece. Flowerpots are artfully arranged near the doorways and in window boxes. The white homes along with the shoreline contrast with the blue Puglia sky.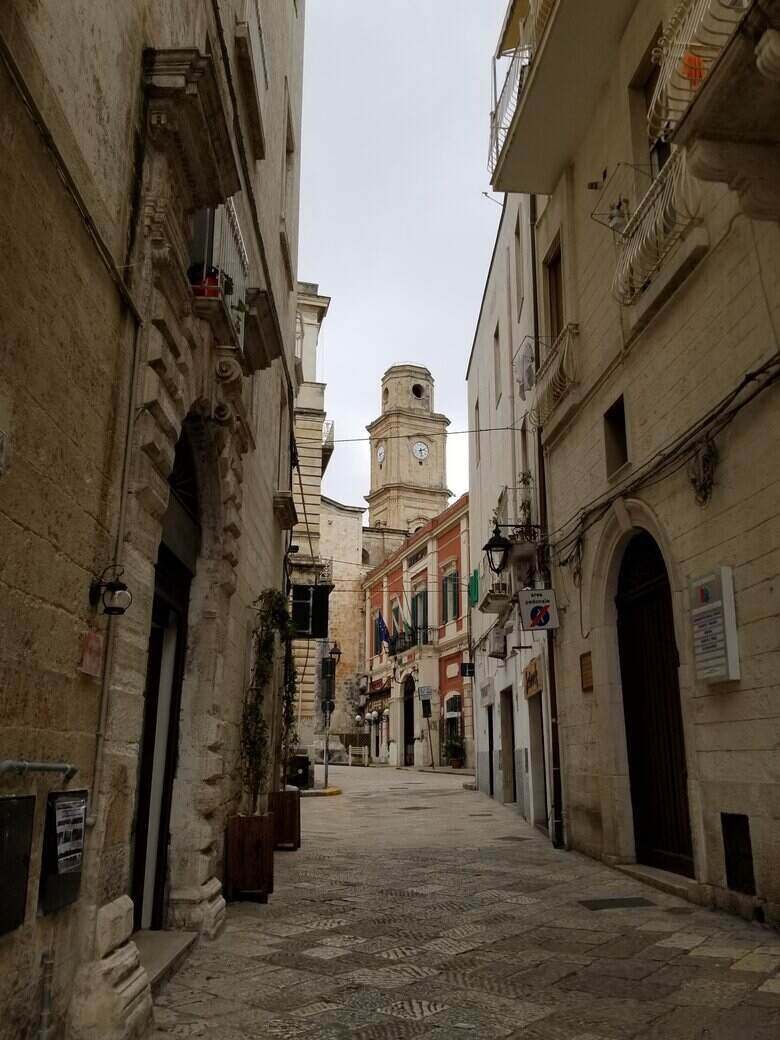 the charming streets of Monopoli
streets of Monopoli
the charming streets of Monopoli
,center>
The Harbor of Monopoli
Don't miss the small harbor. Here you will find boats of all sizes. There were no traditional small red and blue boats called "gozzo's" in the harbor this day. They are typical fishing boats used in shallow waters in this area of Puglia for catching octopus and local fish. Perhaps they were all out fishing? You can find gozzo boats all over Italy, especially in Capri or the Amalfi Coast but the color can vary.
We also didn't see any fishermen hauling in their nets but I'm sure this is a great town for seafood. In fact, we had lunch here (we talk about it in our book) and it was indeed – delicious!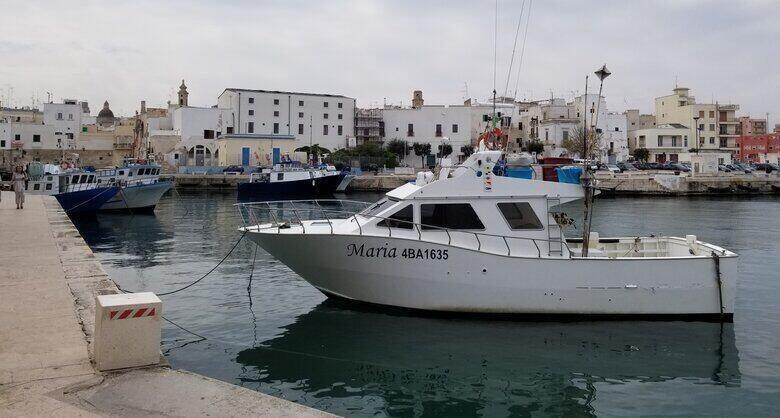 Lungomare
Take a stroll along the lungomare – the paved promenade that follows the coast weaving in and out of the old town. Two old cannons that protected this town at one time from invaders can still be found here – accompanied by a bit of graffiti. The symbolic red-and-white lighthouse, and what I believe is an old WWII bunker.
Cathedral Madonna della Madia
A beautiful Baroque church is more impressive inside than out. The ceiling will take your breath away and a piece of wood from the original wooden church still sits in front of the church today. Their website has great information about how the original wooden cathedral was never finished and why. The story is quite moving and you can find that story under the tab, Madonna of the Madia along with a timeline about the Cathedral.
How to get to Monopoli
Here are also links to previous posts of ours for some of the great towns we visited in Puglia:
We arrived in Monopoli by train from Conversano. The station is about a 20-minute walk to Centro Storico. It is the next stop going south from Polignano a Mare (another great town to visit.) Monopoli is about a 30-mile drive south of Bari. Within this area, you have lots of amazing towns to visit if you want to fully enjoy Puglia. Located relatively close together are Polignano A Mare, Martina Franca, and Alberobello, to name a few.
By the way… we didn't pass "GO" or collect $200!