Dario Cecchini
In 2019 Ilene and I were introduced to a few cooking shows by our daughter Ally and her significant other Brett. There was a bigger-than-life character in all three shows. His name is Dario Cecchini. He is a butcher just like I was back in the day. Dario resides in the town of Panzano in Chianti. He owns the town's butcher shop (macelleria) and a few restaurants. I told Ilene if we ever get the chance, I really must meet Dario. Not because he's a butcher but because he is a person, I'd like to call my friend. Well, I got the chance in April 2022.
This post contains affiliate links that help keep this website running. By purchasing through our links, we make a small commission at no extra charge to you. Thank you for your support!
Family Visiting Lucca
Ally and Brett were coming to visit us in Lucca for five days in April. Since they enjoyed the shows featuring Dario, we thought maybe they would like to meet him too. Of course, they said yes so, I made a reservation for the four of us for lunch. I decided on lunch because it is a two- and a half-hour drive to Panzano and I knew there would be vino involved. After looking at all the different ways to get there, we decided to hire a driver. This would be the best option and I'm very happy we did.
Arriving in Panzano
We arrived at the restaurant thirty minutes early. I immediately started looking to catch a glimpse of the man – the legend Dario. We were greeted by a young lady carrying a jug of wine and about ten wine glasses piled high in the other hand. Of course, when she asked if we would like a glass, Ilene and Ally said "yes."It's all part of the entertainment that was about to unfold before our eyes.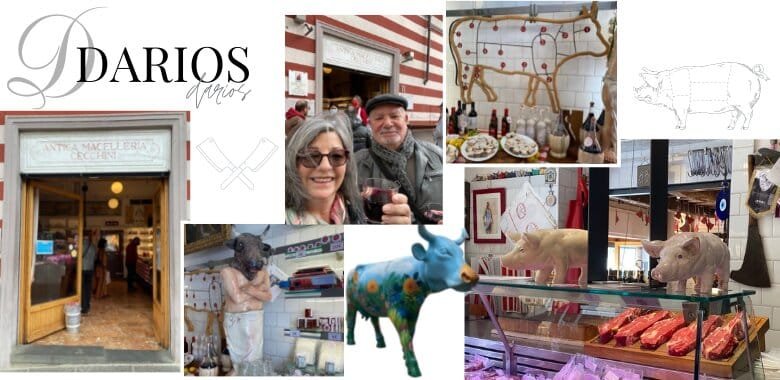 Ally and Brett headed to the gift shop while Ilene and I headed into the butcher shop. We were hoping Dario would be there and sure enough, he was. He was sitting in a corner of the shop, and he appeared to be looking at the books. As Ally and Brett came into the butcher shop, Dario came out from behind the counter to greet us. When Ilene told him I was a butcher – a big smile appeared on his face. He shook each of our hands and he gave me a big Italian hug. We chatted for a few minutes about where I worked as a butcher and he told me he had family living in Brooklyn, NY. I was truly appreciative of the time he took to talk to the four of us and to take pictures with us as well.
The Dario Dining Experience
Finally, a young lady told us to follow her to our table upstairs and as usual, Brett and I were the first to follow. I have a pretty good appetite, but Brett could eat all day long. Many times, while we are visiting a new town in Italy, he will make a few food stops along the way. As soon as we sat down the steaks (beef) started coming off the grill. All in all, we had five different cuts of beef, a baked potato that was out of this world, and finally, an orange cake with a sugar-crusted topping.
Oh, need I forget, each table had a gallon jug of wine which I did my best to put a dent into. Some friends who went to Dario's said the food and wine were okay and you really go there for the show. Well, let me throw my two cents in here. The carpaccio appetizer was excellent. The beef was cooked perfectly and tasted delicious. The wine was an excellent table red from the Chianti region and the cake was to die for.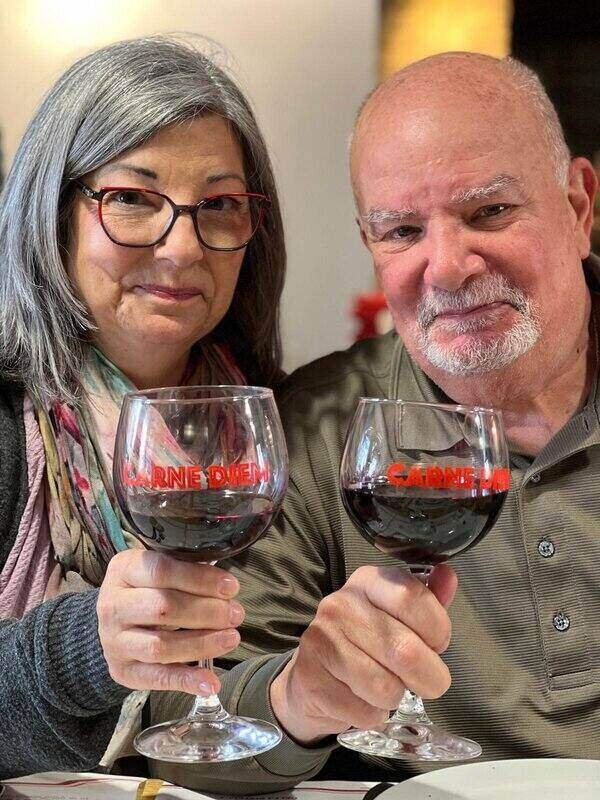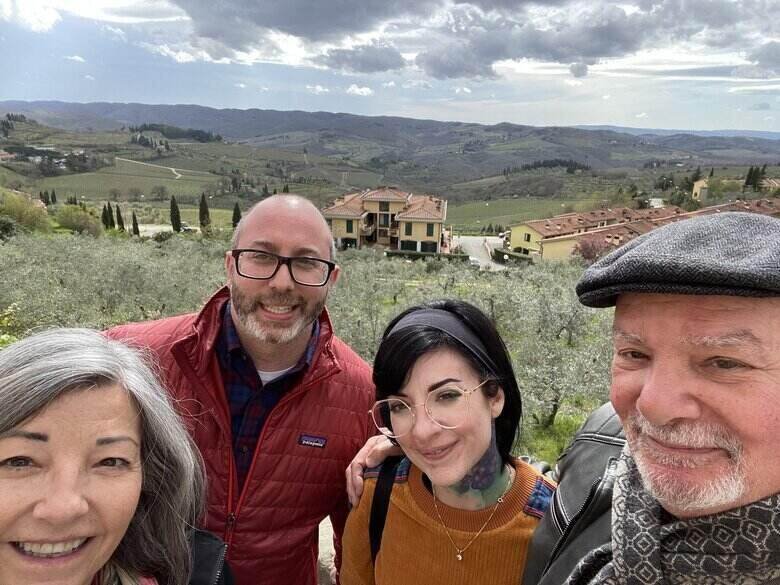 The lunch cost fifty euros per person and was worth every penny! Toss in the fact that I got to meet one of my favorite characters and had a personal conversation with him — priceless. I can not wait to go back and maybe this time stay in the town overnight and spend some time talking with my new friend again.