What in the World is Vino Sfuso?
In case you're not aware… let's introduce you to an entirely different category of wine. Sfuso or vino sfuso is the name given for bulk wine, you know the kind sold in five-liter boxes or bottles. Vino sfuso is something wonderful for those on a budget or simply want to have a less expensive everyday go-to house wine. This concept is basically wine on tap, usually smaller stores selling quality local wines directly to the consumer. It is drawn from barrels and casks into reusable glass bottles.
This post contains affiliate links that help keep this website running. By purchasing through our links, we make a small commission at no extra charge to you. Thank you for your support!
When Did Sfuso Start?
Believe it or not, the concept of vino sfuso dates back to the fifteenth century when distinguished winemaking families began selling their surplus wine directly to the townspeople. This happened in Florence, Italy, and was sold through the famous wine windows which can still be found today. Florentines would knock on the little window and have their bottles filled.
Some of Tuscany's best-known winemakers today sold sfuso, names such as Ricasoli and Frescobaldi. But in the mid-1900s, it was reported that vino sfuso was being diluted and the Italian government put a stop to the practice. Believe it or not, it was in 2003 that the bureaucracy ended and the sale of unbottled wine was allowed once again.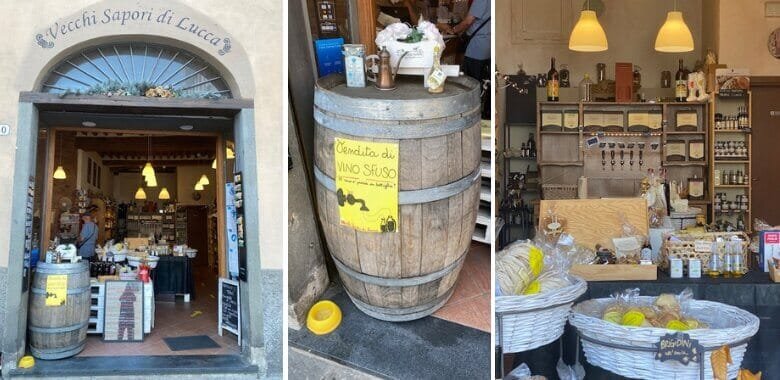 Different Types of Vino Sfuso
Most stores selling sfuso offer five or more types of wine. They offer sparkling, white, or red wines. These wines are not home brews but come from some of the best vineyards in Italy. We've enjoyed reds such as Montalcino Rosso, Chianti, Bulgari, and sangiovese, and whites like chardonnay and vermentino which are all very good.
Again, the best part of buying sfuso's is the price. We buy a Montecarlo Rosso from one of our favorite restaurants Cicci's for €25,00 for a five-liter box. Breaking down to €3,85 for a 750 ml bottle. This has become our everyday wine in Lucca. We cook with it, and we will sit on our terrazzo enjoying a glass while watching the sunset. The cost of wine doesn't matter, it's about your taste and what you like. As the saying goes; you can lead a horse to water, but you can't make him drink it. Although, we do have some friends who don't care for sfuso, and that's okay.
Before COVID hit you were able to take your bottles to where they sold sfuso and fill the bottles up yourself. Today sfuso's either prepackaged in five-liter boxes or they pour it fresh for you in a bottle they must supply.
Here's More Information…
Sfuso wine will always be younger wines
Many will agree it's a better value than most grocery store finds. Disclaimer: not always true in Italy
It's less expensive because you are paying for the wine, not a beautifully designed glossy label
Does it taste good? Yes – for an everyday wine, or as Italians call it, "Vino da tavola," table wine – it's pretty darn good
When you go into a store, you can actually taste it for free before you purchase. We actually tasted some sfuso we didn't care for as much as others. Tasting it before purchasing makes great sense.