The Beach Town of Rimini
Rimini is a small coastal town on the Adriatic coast, in Italy's Emilia-Romagna region. It's known for its beachside nightclubs, fantastic seafood, and very shallow waters. The waves just simply roll gently to shore. We even found a cute swing in the water! This town must be swamped in the summer. When we visited later in the year, it was pretty much deserted.
This post contains affiliate links that help keep this website running. By purchasing through our links, we make a small commission at no extra charge to you. Thank you for your support!
For over 150 years, Rimini has been the place where generations of Italians vacation and create memories. With the calm water, it's easy to understand why it would be a favorite vacation spot for families with small children. This shoreline actually reminds me of when we lived in Florida near Daytona Beach. We would love to take our oldest daughter, who was about a year old at the time. We would just sit and watch her run in and out of the water without a care in the world.
The street running parallel to the beach is full of seafood restaurants from sit-down white tablecloths to the kind you can wear your bathing suit and order at a bar. Rimini is noted for its friendliness and hospitality of its inhabitants. The sandy beach offers a little over nine miles of beach, roughly 1200 hotels, and about 230 colorful bathing establishments.
Things to do on Rimini Beach
Rimini is a great place to enjoy an aperitif on the beach, or even take a bicycle ride. The sand is not loose, soft sand so we saw quite a few people riding their bicycles along and near the water. Paddle boarders, kitesurfing, and nordic walking can all be activities found along the beach. Several places rent equipment along this stretch, too. During the summer, you'll find a Ferris wheel, like our photo in the feature image of this post. I captured a photo before it was taken down for the season.
Rimini Patrol
What was a bit unusual is while we were resting on beach chairs, helicopters sometimes four at a time, would be patrolling the coastline. We assumed at this time in the world standing, it was to watch for refugees that would come to shore to Italy by boat. But that is just our assumption. They would fly by about every 15-20 minutes and if you wanted to sleep, it might have kept you awake.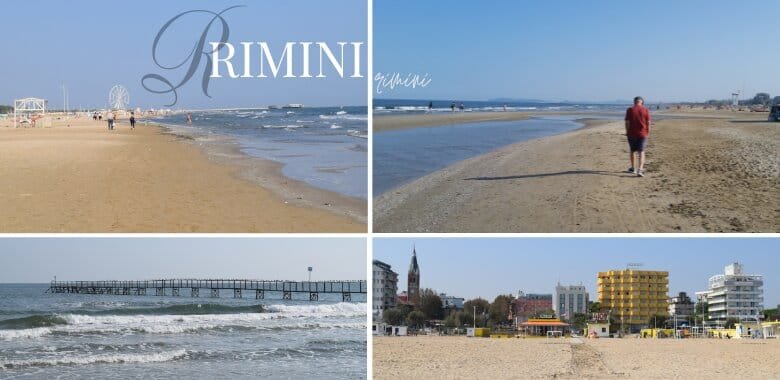 Rimini was our Stop Over Location
Rimini is a great "home base" to get to San Marino as it's just 12 miles away. The bus takes you there in about an hour and only costs 10€ round trip; which was well worth it. Without a car, this was the only way we could figure out how to visit one of the small separate countries within Italy. Yes, San Marino is not a city in Italy, but a separate country. It's also straight-up sitting on a mountain.