We've received many emails expressing an interest as to exactly where we grocery shop in Lucca. Now that we have put our roots down, we are beginning to establish our favorite places. Two words should come to your mind when talking about food and living in Italy – fresh, and seasonal.  
This post contains affiliate links that help keep this website running. By purchasing through our links, we make a small commission at no extra charge to you. Thank you for your support!
These two words are what eating in Italy is all about. Whether you are cooking at home or eating in a restaurant, it's all about what is currently in season. That alone also means fresh. Oh yes, perhaps it is three words… add local. Locally grown.
Grocery Shop: Seasonal Fruits and Vegetables
I'm sure you already know but when you choose fruits or vegetables that are "in-season," you are choosing a healthy way of eating. Fresh produce is full of vitamins and minerals which begin to lessen the moment they are picked.
Besides vitamins and minerals, what else is there about fresh produce? Taste. When you purchase fresh and in season – the taste is amazing. Mother Nature knows her stuff. She knows the right time to have the sunshine and the rains come to make the ripe and delicious and ready for you to enjoy. Hence, when you see strawberries in December that are red, plump, and beautiful – it means they grew up and cultivated in a greenhouse somewhere out of Mother Nature's hands.
What is especially nice in Italy? When you grocery shop, all stores indicate where the product is originally from. So if you are seeing strawberries on the shelf in the middle of winter in Italy – you know they are not from Italy and are imported from somewhere else.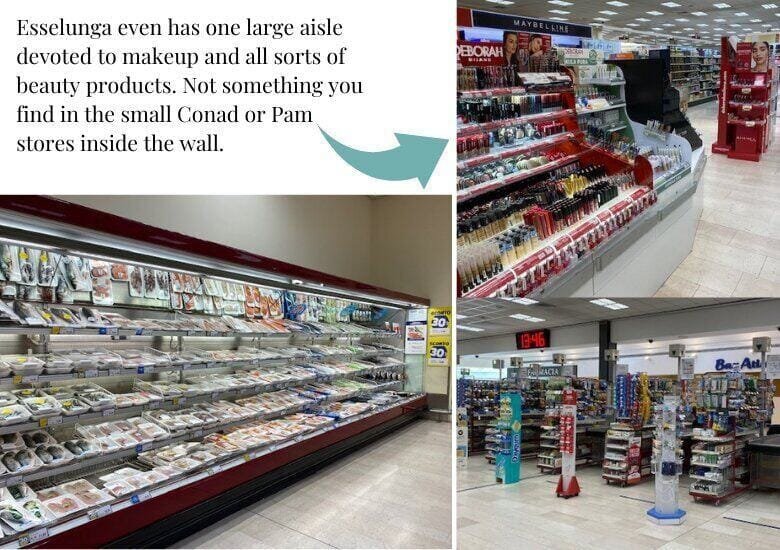 Italy Seasonal Eating Guide
| | | | |
| --- | --- | --- | --- |
| AUTUMN | WINTER | SPRING | SUMMER |
| Apples | Artichoke | Asparagus | Berries |
| Chestnuts | Cauliflower | Beans | Cucumber |
| Figs | Carrot | Beets | Eggplant |
| Fennel | Kale | Cherries | Figs |
| Mushrooms | Lentils | Garlic | Melon |
| Pumpkin | Oranges | Lemons | Peaches |
| Spinach | Pears | Leeks | Plums |
| Truffles | Persimmon | Strawberries | Tomato |
| | Pomegranate | Zucchini | Watermelon |
| | Potatoes | | |
| | Radicchio | | |
Restaurants in Italy
When eating out in Italy, the menu will coincide and reflect the produce that is in season. If you find a restaurant serving out-of-season items, it is a good indication of a tourist trap. Look at the menu and find another.
Mom & Pop Grocery Shops
First and by far, our favorite place to shop is Tuccori on Via Santa Croce in Lucca. This macelleria has a husband and wife team, Graziana and Mariano. You can find out more about them in our recommendations for restaurants in Lucca. Their family works there and are all so kind.
Yes, technically they are not a restaurant but, they have some of the best-prepared dishes. Their lasagna is out of this world plus so many other things they make and have on hand for you to take away. Generally, this is where we shop for meats. Their cheese selection is amazing and since Graziana speaks English, she is always able to help us with our questions.
When it Comes to Produce
When it comes to purchasing our fruits and vegetables, we still would prefer to purchase from the farmer's market when we can or some of the smaller individual stores near us. First, it helps the little store owners and also, we like their produce. It's always fun to talk a little Italian knowing the correct Italian word for what we want to purchase – instead of just pointing.
Main Grocery Shop
When it comes to grocery shopping in Lucca, there are several "chain stores" inside the wall that are relatively close to us. Both Conad and Pam are Italian-owned stores and are good for stopping by for last-minute things. Both of these stores are very small and don't carry a large variety of products.
Lidl, a German-owned company has a store outside the wall by Porta Elisa. It is quite close, and we take our bicycles there often for a few things we especially like there. They have an inexpensive Sicilian wine we both like, a brioche bread loaf (on occasion,) bakery soft large pretzels, and an unusual item – cheddar cheese slices!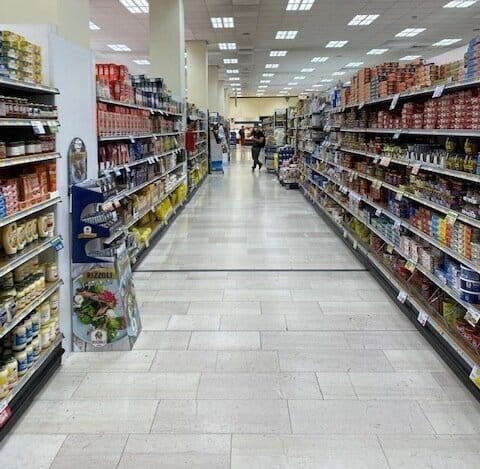 Hands down our favorite grocery store are Esselunga. There are two stores, each outside the wall, one to the north and south of historic Centro. Both are accessible with our bicycles and have wide aisles, and oodles of selections, and things are fresh. Even produce. This store even has those scanners when you first enter although Gary and I are not brave enough for that yet. This is as close to an "American-style" grocery store as you can get.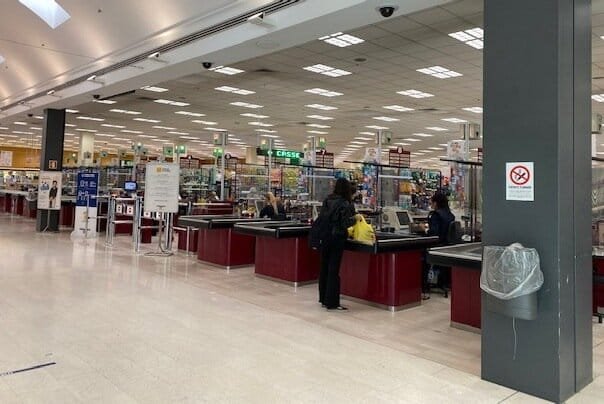 Conclusion
So now you know where to find us when shopping in Lucca. There are quite a few things that we are used to purchasing that we just can't find here in Lucca or even in Italy. Horseradish happens to be one of them – but that doesn't mean we've given up looking. Generally, larger-size jars or cans are just not found here either. One thing that used to be nonexistent years ago is zip-lock bags. Now they are readily available – even in different sizes in the stores. Stay tuned for a separate post on shopping for items other than food.