Cannoli Dip
This dip is fantastic and served with chocolate and regular graham crackers and is easy to make!! I have been asked several times to bring this for dessert. I actually found this on Pinterest and have it pinned under Italian Desserts if you want to check it out there.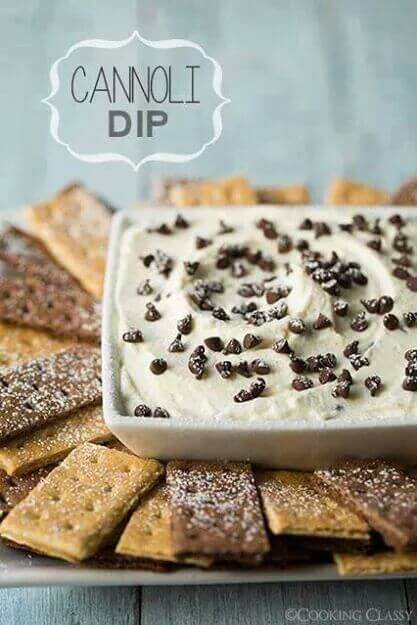 Cannoli Dip
Course: Appeizer, Dessert
Cuisine: None
Difficulty: Easy
This tastes so good – it's hard to believe it's so easy!
Ingredients
15 oz. Ricotta Cheese strained (see step 1)

8 oz. Mascarpone cheese Italian Cream Cheese

1/2 cup powdered sugar plus more for dusting at the end, if desired

1/2 cup heavy cream

1/2 cup mini semi-sweet chocolate chips keep 2 tbsp min to garnish
Directions
First, you have to strain the Ricotta cheese into a mixing bowl. Cheesecloth works best but paper towels in combination would work too. Twist to squeeze as much of the liquid out as you can and discard the liquid.
In a mixing bowl using a spatula, blend together the Ricotta and the Mascarpone cheese; smoothing out any lumps as you go. Fold in powdered sugar.
In a separate mixing bowl, whip heavy cream until stiff peaks form. Add half of the whipped cream to the Ricotta mixture and fold until combined, then add the remaining half until combined.
Fold in chocolate chips, reserving 1 – 2 Tbsp to garnish.
Serve chilled and topped with remaining chocolate chips, dusted lightly with powdered sugar. Serve with graham crackers, strawberries, whatever!
This freezes well too so you can make it ahead and then thaw it in the fridge before serving.

Lobby Box's Movie Night Themed Snack Boxes