How to Order & Enjoy Coffee in Italy
Saying that coffee is a big industry in Italy is an understatement! According to coffeeresearch.org, 14 billion espresso coffees are consumed each year in Italy. Estimates show that over 270,364 people work as baristas, and over 57.5% of these baristas have ten or more years of experience. Let's compare that figure to the United States. Americans consume 400 million cups of coffee per day, although I believe this figure is a bit understated.
This post contains affiliate links that help keep this website running. By purchasing through our links, we make a small commission at no extra charge to you. Thank you for your support!
When traveling in Italy, one of the best ways to enjoy the culture is sitting in a café while enjoying a cup of coffee and people-watching. In Italy, a cafe is usually called a bar, (not to be confused with an American bar or club) and is where the Italians go to enjoy their caffeine.
There is a protocol, however on how to order coffee in Italy. Most tourists don't worry about fitting in or being judged by Italians but here is where you can stand out; if you want to.
A Few Facts to Know
You will notice that locals stand at the counter and order their coffee. Sometimes they down it and are out the door before you blink your eyes!
It is less expensive to order coffee at the counter. Usually, when ordering at the counter, you pay the cashier first and then go to the barista with your receipt and order your drink.
If you sit, you will pay a different price than at the counter. I even think I remember that sitting outside can even cost more than sitting inside. If you want to sit and review the day's upcoming events, this might be worth the cost. You also will be able to stay for as long as you want at the table.
How to be sure how to pay; before or after your coffee? I usually will watch for a moment to see how the person in front of me accomplishes this task, hoping they are local.
Cappuccino is only consumed in the morning, before noon. More on this later.

A List of Coffee Beverages:
Cappuccino
My go-to morning coffee is the cappuccino which is equal parts espresso, steamed milk, and milk foam. Cappuccino is usually served in a large cup. I laughed a few times as the cup was as large as a small soup bowl. Depending on the barista, if they know you're a tourist, they will put a design in the foam for you. There is definitely an art to this as I have seen some intricate designs. The one below was from a trip to Florence when we had a morning coffee at Santa Maria Novella. I thought it was adorable. Hope he wasn't doing a portrait of me!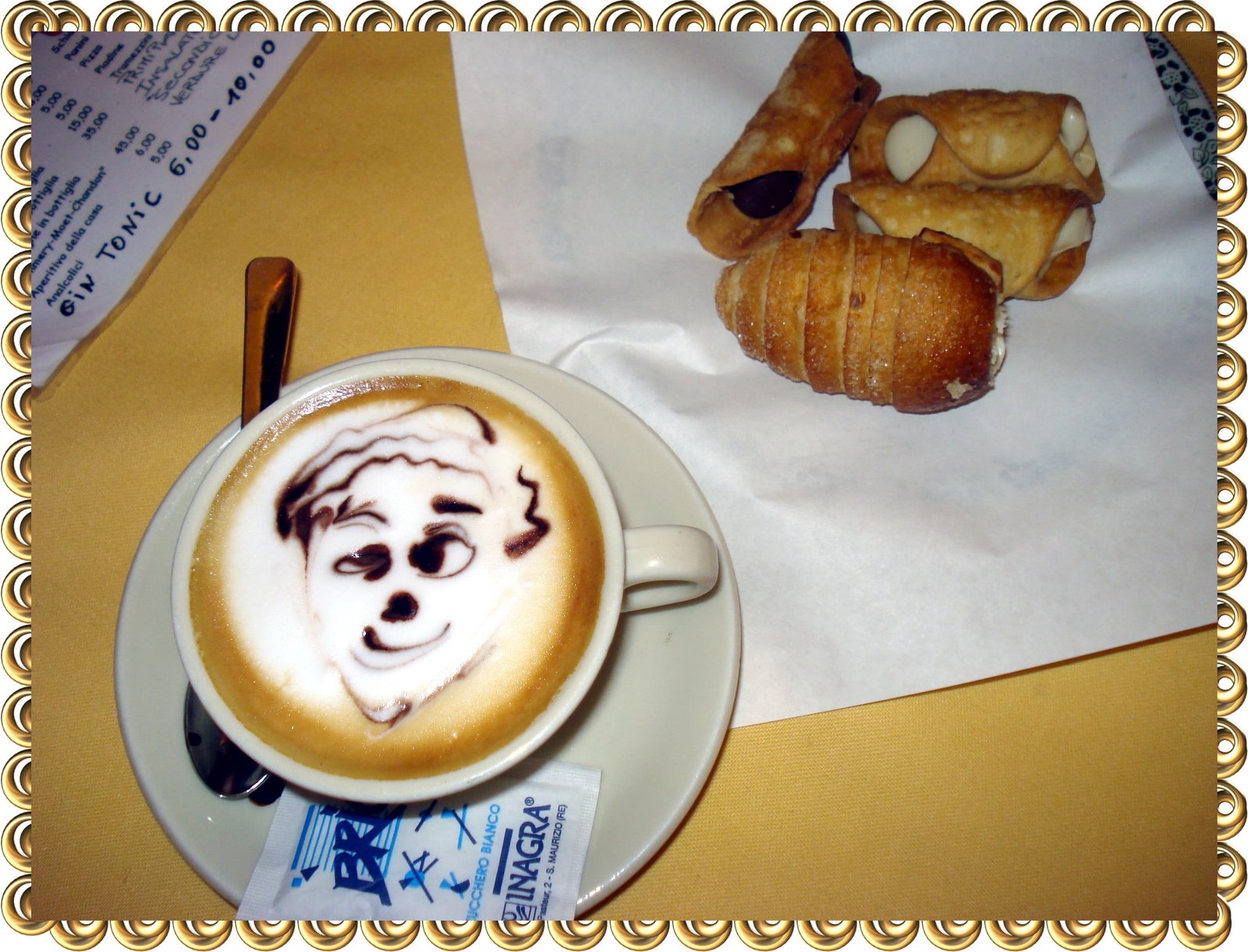 Caffè – Espresso
Caffe is a strong shot of espresso also known as a caffe normale. It is the main foundation of any coffee drink found in Italy. It is only served black unless you want a double which you would then order a doppio. This will be served with sugar and a tiny spoon. Depending on the café, you might get a biscuit along with it on the dish.
How much caffeine is in a shot of espresso? One shot (an ounce) of espresso has 63 mg of caffeine, according to the Department of Agriculture. By comparison, a regular cup of coffee averages 12-16 mg of caffeine per ounce.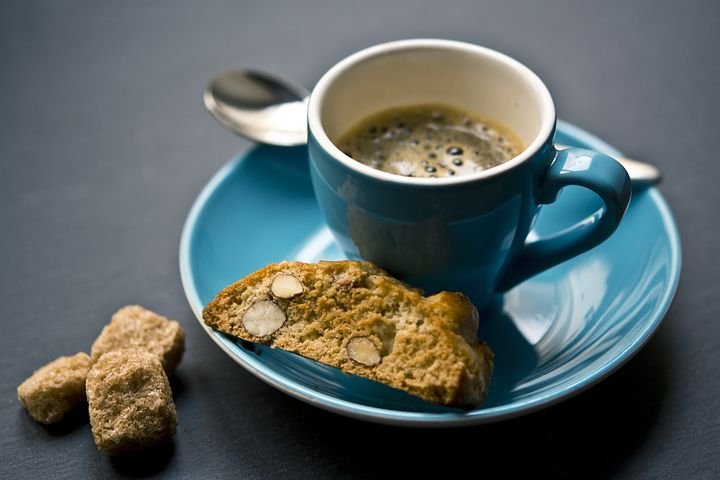 Little Italy: Italian Essentials
from: Cratejoy
Caffè Macchiato
This caffe is espresso 'stained' with a little milk. If you are looking for a little more milk than a simple caffe provides, this is the one for you. Even though this caffe contains milk, this is usually enjoyed throughout the day.
Caffé Ristretto
Caffee Ristretto is espresso with less water and is stronger in taste. This is super strong as there seems to be very little water used in making it. I like espresso but not sure about this one!
Caffè Lungo or Americano
These are both espressos diluted with more water, therefore a weaker taste. An Americano is simply an espresso that is diluted with hot water to mimic American-style drip coffee. It might work for you but this is what Gary & I make when we are in an apartment in Italy. It is not something I would order in a Café.
Caffè Latte
Caffe Latte is a shot of espresso with lots of warm milk. It is actually one-part espresso and two parts steamed milk. You will get some foam on top. Like cappuccinos, these are consumed traditionally in the morning or before noon.
Caffè Corretto
Usually consumed later in the day, Caffee Corretto is espresso 'corrected' with a shot of liquor (sambuca, grappa, or your choice). This is our choice of coffee after a special meal in a restaurant. My choice is sambuca or amaretto and Gary is definitely – grappa! I call grappa 'jet fuel' as it is quite potent and has an acquired taste.
Caffè Freddo
This is also known as 'ice coffee'. It is also known as Shakerato. Using either name, it is simply espresso shaken with ice and sugar until the drink develops a slightly frothy head and is enjoyed in the summer.
Iced Cafe Amaretto
In my favorite restaurant in Florence, our friend Francesca made me this delicious after-dinner drink. She knows I love Amaretto so I'm not sure this is what she would call "her" drink but this is how she made it:
Make a cup of espresso
Put the coffee into a shaker with a fitted lid
Add about 4 ice cubes
1 shot or about 2 tablespoons of Amaretto
a splash of cream
Shake well, about 15 seconds. Open the shaker and pour it into a glass – removing the ice.
**, Of course, you could add some vanilla gelato or whipped cream to the top but I had to draw the line somewhere!