It's been quite a while since Gary and I stopped at an Autogrill rest station on the autostrada (Italy's highway). We mainly travel by train, but a recent car trip with friends to the northern part of Italy brought back memories.
This post contains affiliate links that help keep this website running. By purchasing through our links, we make a small commission at no extra charge to you. Thank you for your support!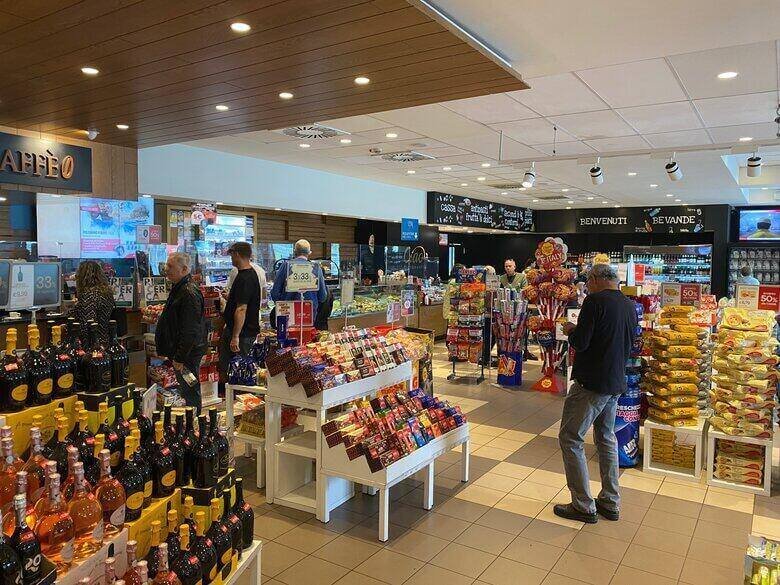 A stop at the Autogrill rest station is not just a rest stop. It can be an adventure. It has great coffee, amazing sandwiches, snacks, candy, and souvenirs. But also found here most times is a glorified convenience store filled with various pretty bags of pasta, tins of olive oil, bottles of wine, limoncello, beer, and Prosecco. It is also the place to use the restroom and get gas for your vehicle. I recently found out that the brand, Autogrill accounts for sixty-five percent of the rest stops in Italy. Who knew?
Autogrill is one of the world's largest food-service chains. Italy has more frequent rest stops than any other European country with France and Spain a close second and third. Currently, they have over 600 locations.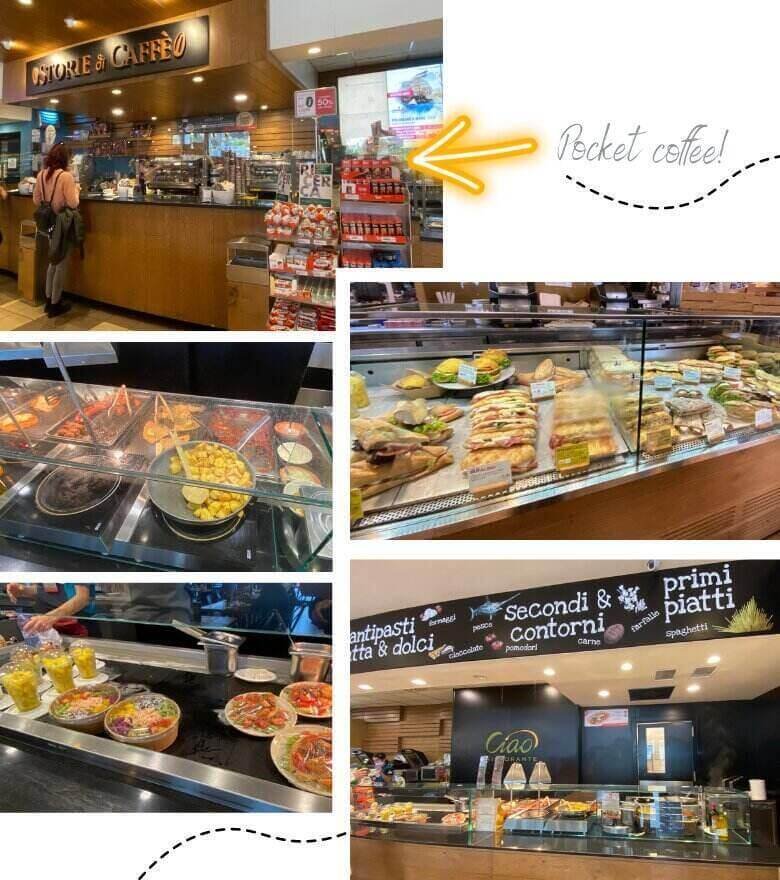 What I Found Amazing…
My friend JoAn and I commented on the first thing I saw. Several items came in unusually large, h-u-g-e sizes. The chocolate bars, lollipops, popcorn containers, and cookies made me giggle. Why would you need such large quantities of something like this while traveling on the road? Even if you had a dozen children in the car… really you'd want them to have these large containers where half of it might end up all over the seats and floor? Who would give their child that much sugar while in a contained place for a long time? Eeekks! See for yourself and judge.
Then I spotted these enormous packages of markers, pencils, and crayons on the way out. I recognized all the packaging characters from our grandchildren but I was beside myself. I felt like Alice in Wonderland where I was small and everything was so large. Why would you sell such a large amount of coloring items at a rest stop? Is it just me or would you find these all over your car at the end of the trip?
My usual purchase is a bag… okay- so I do get the larger family size, of peanut M&Ms, but it doesn't contain an abundance of pieces!
A Bit About the Autostrada
You must take a ticket when entering the autostrada, and pay when you exit. The fare will be determined by the distance you travel on this toll highway. If you want to budget for tolls or get an idea of what your entire trip might cost, you can use this website from Michelin for an estimate. It's a pretty cool way to find out if you should take country roads, or if the highway would be worth the cost and your time.
When exiting, be prepared to pay with cash. All our friends who are residents have a Telepass which allows you just to go through a separate lane and get billed monthly. A little "beep" registers as you go through the Telepass gate. Be very careful when exiting the autostrada and avoid this lane as there is no one in the booth. It would be a nightmare, especially if cars begin to pile up behind you.
All signs on an autostrada are green in color. These same color signs will lead you to the autostrada if you have not yet gotten on. It's an easy indication – especially with all the various signs on the side roads.
Autogrill's Typical Offerings:
Coffee: The main reason to stop, other than perhaps using the bathroom, might be a "pick me up" of coffee. Usually, the coffee is pretty decent here and you can get an espresso, cappuccino, and a macchiato. In case you are unaware, a macchiato is a little steamed milk in your expresso. Sometimes an espresso can be bitter if good coffee is not used or it's cooked at too high a temperature.
Dolce: There usually is a variety of pastries, plain and filled, that will satisfy any sweet tooth. Another option that might be available is fresh fruit cut up in plastic cups which might include pineapple, melon, strawberries, apples, and grapes.
… and then there's…
Sandwiches: There are wide varieties to choose from. A cold Caprese would entail mozzarella, tomato, and sometimes lettuce and generally served on a long roll. A variety of panini is offered with various selections of prosciutto, mortadella (bologna), and salami, all including some variety of cheese. Ask as many of these can be toasted on the panini press and bring new life to a sandwich that might have been around a while. Ohhh… let's also not forget pizza. It's always offered and looked pretty darn good.
Full meal selections: You will be blown away by the possible selections of having a full meal at the Autogrill. Pasta and sauce, roasted chicken, eggplant parmesan, and beef are just some of the offerings I have seen. We recently had a mix of meats and roasted vegetables that satisfied both Gary and me. I was trying to be good because the grilled potato wedges looked awfully good too.
Pocket Coffee: One of our favorite finds years ago was small boxes of a delight by The Ferrero company. It is a shot of expresso (liquid center) inside a chocolate capsule and is delicious. Well, to us anyway. We've brought boxes of these back to family in the States who thought it was quite unique. These help you get through until the next Autogrill stop. (See photo above.)
Conclusion
As much as Gary and I like traveling by train, I miss stopping like this on the side of the autostrada. If you haven't done it because you weren't quite sure what you would find – hopefully, this post will encourage you to be adventurous and stop. Now mind you, not all rest stops are the same. You can use Google to find out which are rated better on your route. Happy traveling by car!