Our recent trip to Portugal was amazing! We planned a ten-day trip recently to visit three areas of this country. As the saying goes… best-laid plans of mice and men often go awry… and so… we changed it during our trip. As I've always mentioned, you really need to be flexible on any vacation. Especially in another country.
This post contains affiliate links that help keep this website running. By purchasing through our links, we make a small commission at no extra charge to you. Thank you for your support!
We have begun our European travel adventure and Portugal was high on both Gary's and my list. What I mean about "European travel" is that many Europeans "country-hop" as transportation is relatively inexpensive to visit other countries from within the EU. The airfares are pretty incredible. Our first trip began in Brussels, located in Belgium late last winter. Of course, I wanted to enjoy the Christmas markets there, but the weather was bitterly cold for us. That was our first adventure. Our second country to hop to was… Portugal.
Our Portugal Itinerary
We planned ten days with six of them scheduled in Lisbon. Originally we made the mistake of thinking we needed a car in Lisbon so we wound up canceling the car for the days we planned to be there and picked it up at the end of this portion of the trip. This saved us a chunk of money and we used local transportation instead.
We did plan a one-day trip from Lisbon to Porto located in the northern part of Portugal. We heard amazing things about Porto, but it was a three-hour drive from Lisbon. When we saw almost everything we wanted to do and see in Lisbon in five days, we considered changing our plans and staying overnight in Porto and spending the complete day there instead. The only problem with that change would mean a six-hour trip then to our last location – the Algarve.
So as I always say… leave something to return to. We left Porto for another trip to Portugal and changed the extra day to be spent relaxing on the beach in the south of Portugal – in Lagos. Our itinerary then changed to look like this:
| | |
| --- | --- |
| Monday-Saturday | 5 days in Lisbon |
| Saturday-Wednesday | 5 days in Lagos – Algarve |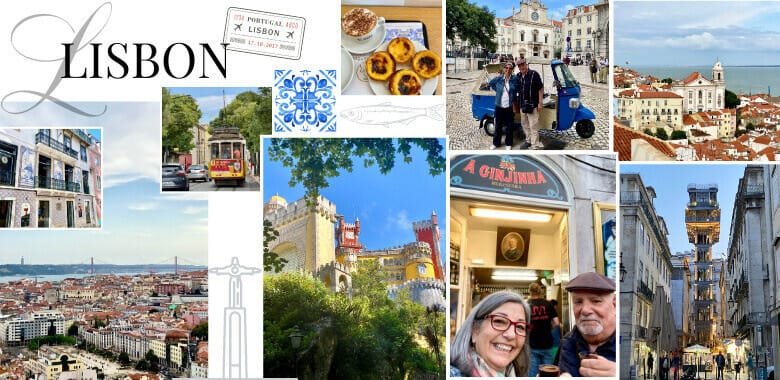 Lisbon, Portugal
Lisbon is much bigger than either Gary or I thought. The airport was nice and we easily used the Metro to get from the airport to our hotel. I will say though, our hotel was nice but it turned out to be outside of the city center. The problem: For us to go out and explore in the morning, we usually like to spend a few hours relaxing in the hotel before starting the evening adventure. This meant additional transportation on the Metro going back and forth. Next time, we will look for a hotel in the center of town.
The first thing we did is take a Tuk Tuk tour of the city with a recommendation from a friend. Ricardo was awesome in his knowledge of the city and it was so much fun riding in his little decked-out ape. The 1.5-hour tour cost €150 for both of us. This tour encompassed two parts of town and again – was fantastic. It was a great way to get an overall view of the city and its layout along with a bit of history. There are plenty of these little vehicles around town and I'm sure they are all good in some way, but we can highly recommend Ricardo. You can message him on WhatsApp at +351 929 077 063.
A friend suggested to us that we purchased tickets for the castle ahead of time and I'm sure glad we did. The line was long when we approached and since we already had tickets – we walked right in. We strolled through the castle and enjoyed taking photos from several vantage points. There are narrow steps to climb to reach each of the different levels. We stayed about 2.5 hours at this location.
We booked a full-day tour with a company, Lisbon Native for a cost of €113 for both of us using Booking.com. There were several sites we wanted to see and this company offered them all in a small van tour. There were a total of eight of us in the van which made it enjoyable and they picked us up at our hotel. Jose Pereira was our guide for the day, and he was awesome!
We first went to the Palace of Pena which is an amazing colorful castle in Sintra. The ride was beautiful and the information Jose provided along the way was so valuable. We did have to purchase tickets to go inside the Palace of Pena on our own, prior to the tour – but it was minimal. This castle is a must-visit. From the castle, we went into the town of Sintra for some time exploring on our own. Gary and I used our 1.5 hours to enjoy lunch, dessert, and shopping.
After Sintra, we traveled along the coast to Cabo da Roca or Cape Roca. It is THE westernmost point of continental Europe and is situated in the municipality of Sintra. The lighthouse was nice to see, and the feeling of being on the Atlantic Ocean in such an unusual spot in Europe made it an amazing experience. We spent about a half hour at this location.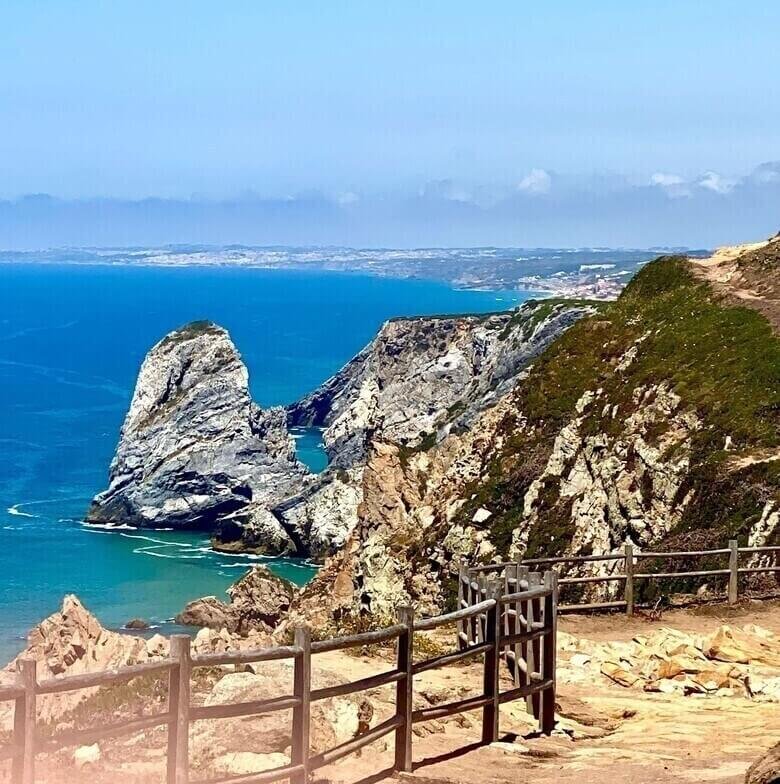 Our last stop on the tour was the coastal resort town of Cascais. It's known for its sandy beaches and busy marina. We stopped here for about 45 minutes and walked the town with a gelato. The town was simply charming – also exclusive and expensive but a fun stop to see.
>
There were several places we wanted to visit in and around Centro. We visited:
Santa Justina Lift: We didn't go up in the lift but it gives you amazing views of the city.
Alfama Miradouro de Santa Luzia: The views from this observation point are beautiful and it's a great part of town to walk around and explore.
Time Out Market: This market is at the far end of town and if you are in the area, it was nice to experience and have lunch but wasn't quite worth our effort to get to. It's a marketplace offering various food at different booths where you sit in the communal center. It's just like the Mercato in Florence and Rome.
Belém Tower: This was worth the trip to see this castle in the water. Not sure it was worth the admission because there is nothing to do inside and you are only allowed to stay for about 20 minutes. The line was quite long when we arrived.
Stop and try a Pastel de nata or Pastel de Belém! They are a Portuguese egg custard tart pastry, optionally dusted with cinnamon. They were simply amazing and worth every calorie!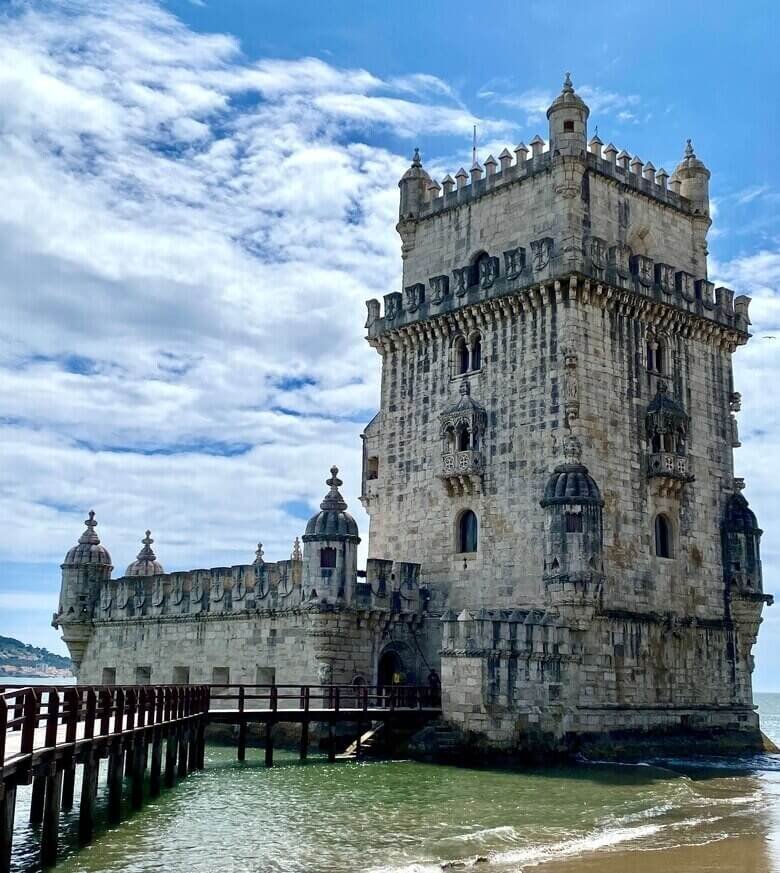 Transportation
We used the Metro Underground and it was clean and inexpensive. Again, our hotel was outside the city center so this was the fastest and most inexpensive way to go. We also used Uber a few times as it was less expensive than a taxi – but that taxis weren't that expensive either. The funicular by the Hard Rock Cafe was fun to take up to the higher level of the city. We enjoyed a ride on Tram #28 which took us through a good part of the city going east and west. We used this tram to experience a few of the places Phil Rosenthal ate on his Lisbon episode Somebody Feed Phil – one of our favorite Netflix shows.
---
Lagos – Algarve, Portugal
The Algarve, Portugal's southernmost region, is known for its Atlantic beaches and resorts. Transformed in the 1960s, whitewashed fishing villages overlooking sandy coves line the coastline along with Villas, hotels, bars, and restaurants. We used this time to relax and enjoy some downtime. We are not true "beach people" but enjoy the beauty of it.
One of the most picturesque beaches of the Algarve is Donna Ana. This beach is located in a calm cove, backed by towering rugged cliffs overlooked by a seafood bar & hotels. The views and rock formations were incredible and we took bunches of photos. Camilo Beach is another beautiful area of rock formations in the water but also 200 steps down to the water level. We didn't go down… knowing we'd have to climb up.
We booked Dream Wave boat tour through Trip Advisor at a cost of €32 per person. We explored the Algarve coastline on a high-speed jet boat on a tour departing from Albufeira which was an hour's drive from our hotel in Lagos. It was a beautiful day and we even got to stop and watch a large school of dolphins swim right by our boat. The caves along the coastline were breathtaking and worth seeing from the perspective of the water. It was a truly great experience. You could get out and swim for a brief time but no one over 30 seemed to want to get in the chilly water! Oh… this included us!
Conclusion
We will definitely return to Portugal to explore more. The food was amazing, especially since we both like seafood. As always, follow our social media for photos.