All Aboard — Train Travel in Italy
Train travel in Italy – one of the top questions we get asked a lot on our blog. It seems that although there is quite a bit written about traveling by train on the Internet, people still have questions. It's usually about what they've read or heard and are apprehensive about using the train system. So in that vein, I'll try to put you at ease with the train system we've come to use often.
This post contains affiliate links that help keep this website running. By purchasing through our links, we make a small commission at no extra charge to you. Thank you for your support!
Purchasing a Ticket
Let's start by buying a ticket. Most if not all ticket agents have an understanding of the English language. They are very helpful especially if you try to use their language. The line "Sto imparando l' Italiano," I'm learning Italian, usually brings a smile to their face. Their usual reply – "Brava." That's when they usually will admit to you they understand a little English.
Next, tell them where you want to go and the train you'd like to catch if you know the time. If you don't know the time, they will look it up while you stand there. You also need to convey whether you want a one-way or round trip ticket and lastly how many tickets you require and if any travelers are children. That's it, easy peasy.
The ticket agent will show you all of the info on the ticket you'll need to know but if they don't I've got you covered. Here are the important things you'll need to know.
The train number, this way you can look at the partenza, departing board and find your train and binario, track number.
It will show you your seat number(s)
Car number that you can find on the side of the train
It will also show the ticket class (1st or 2nd class)
Using the Ticket Machine
Sometimes the lines are long at the ticket counter. You can also purchase your tickets at the train station at a ticket machine using cash or credit card. These machines walk you through the steps in several different languages and are very easy to use. We were intimidated by them at first but once we tried it, we usually purchase them using this method. Note that most of the tobacco shops in the train station will also sell train tickets.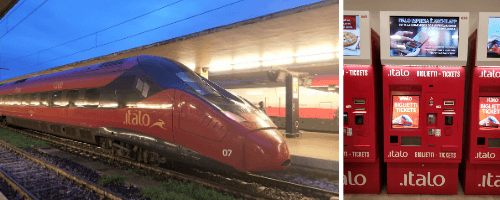 Using the Internet
The easiest way to purchase tickets is on the train lines web page. The best part other than being really easy to navigate is that you will not need to remember to validate your tickets. Once the tickets are purchased on the Internet, an email will be sent to you with all of your information. You can also make a change to your ticket in case your plans change or you made an error.
When the conductor comes by and asks for your tickets you simply show him your email confirmation and bar code on your smartphone. Then sit back and enjoy the ride.
Save Money on High-Speed Trains for Train Travel in Italy
The earlier you book your train travel in Italy the less expensive it will be and here is a great example. When leaving Lucca at the end of November 2019, we knew what time we had to leave Lucca in order to arrive in Florence at Santa Maria Novella to change trains to get to Rome. Our tickets from SMN to Rome on the high-speed train cost €24,90 per person plus €2,00 upgrade to Prima.** Gary noticed if we purchased them the day before our departure date, the cost increased €44,90 per person plus Prima then went to €14,00 per person! An hour before the train left, I looked at my phone just to see if Prima must not have been sold out and was reduced then to €12,00 each.
** As we have said, we normally do not upgrade when traveling by train. However, if the trip is longer than 1.5 hours, we will consider it depending on the cost. Chances are too that there will be better room for our luggage in this class; as there are fewer people. Now, for this particular trip, when I first looked at the costs online, the Prima upgrade was offered at €4,00 each. The next day when I booked them, the same upgrade was reduced to €2,00 each so I decided to enjoy a little more room for this part of the trip.
Both these books beautifully capture the essence of Italy, its people, and the strong sense of community that defines life in small Italian towns. With lyrical prose and reflections, Ilene & Gary invite readers to accompany them on a journey of self-discovery and transformation in the heart of Tuscany.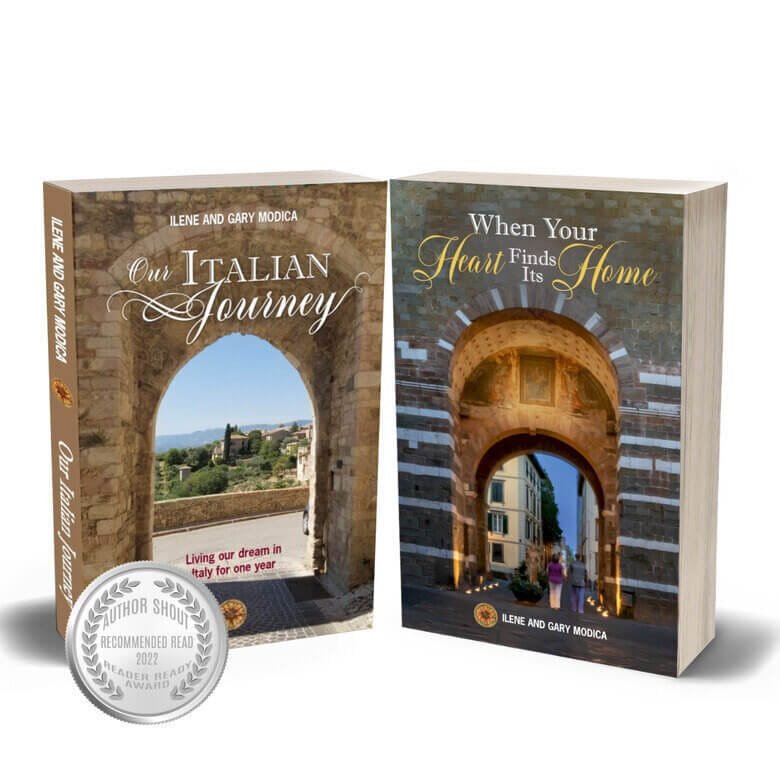 Different Train Lines
There are two major train lines in Italy. Trenitalia is owned and operated by the Government and Italo is privately owned. Unfortunately, Italo doesn't have as many trains and goes everywhere as Trenitalia does but I find their trains cleaner and more comfortable. In most cases, Italo is a bit more expensive than Trenitalia but they run specials on their website which usually wind up costing less than Trenitalia.
Trenitalia
Trenitalia trains are broken down by category. They are the local, intercity, and regional trains. These trains do not assign seats, so you need to know if you are in 1st class or 2nd class and enter the cars marked as such. They are marked on the outside of the trains and are easy to spot.
If you are traveling using the local, intercity, or regional trains you will have to validate or stamp your ticket. Stamp machines are all over the terminal inside as well as most platforms. They are green and white or smaller yellow machines.
If you are to use the green and white machine, make sure it has a green light indicating it is working.
Make sure you hear the machine stamp the ticket and actually look at the ticket for the printed timestamp. Sometimes the machine can be out of ink and even though the machine makes the sound – it may not actually print. You could be fined for not having the stamp on the ticket, even if it was the machine's fault. The stamp shows the conductor when/where you got on the train and that your ticket is valid.
There are times when you get small 3×4 size (left photo below) tickets and sometimes you get the full size (right photo). We have yet to determine the reason why.
If you are traveling on the faster Frecciarossa line of trains you won't need to stamp your ticket as they are assigned seats only. Here too you have several classes of seating to choose from. We always purchase seats in 2nd class. These tickets are less expensive and there really isn't that much of a difference especially since trips on the Frecciarossa lines are shorter due to the train speeds.
Italo
Italo doesn't have the different types of trains that Trenitalia has but they do have different seating classifications. Their seating classes are Smart, Economy, Prima, Club Executive, and Club Salotto. We usually pick Economy or Smart and find they are very comfortable and less expensive. They usually have an upgrade available for a few euros more if you want a little more comfort when you make your reservation. You do not need to validate (stamp) tickets for any Italo trains since they are all assigned seats.
We find that the windows on the Italo trains are bigger and better for viewing the countryside.
As a side note, Italo has an attendant on their trains whose sole job is making sure that the bathrooms are clean and well-stocked as well as cleaning the trash receptacles.
Italo also has a cart service similar to what is offered on the airlines for the Prima class. The first cart sells a variety of focaccia sandwiches and wraps. You pay with a credit or debit card. Water, Pepsi, beer, and even prosecco are offered at reasonable prices. The prices range from €3,90-€6,90.
A cart offering free water, coffee, crackers, and pastry will also come by one of the Prima classes. We both like their crackers with rosemary!
Using The Local Lines
There are a few small train lines, but they are also very easy to use. Their tickets will always need to be validated – stamped. One cautionary note about the small regional trains. They very seldom are on time. The train line we used in Conversano in Puglia (Ferrovia Sud-Est) was always at least fifteen minutes late going to Bari which is where the main train line is located for transfers. We would always allow extra time to make sure we didn't miss our connections. The same thing in Naples with the Circumvesuviana local train line. You could count on it that they would be late.
Trains with assigned seats do not need tickets validated and all trains without assigned seating must be validated!
Understanding the Partenza (Departure) Display Board
One thing that is sure to confuse you at first glance is that all trains on the display board show the last stop on that line. But all boards (the large display or TV monitors) will indicate the individual stops the train makes along the way. For example, the train from Florence S.M.N. station to Pescia will show the last stop being Lucca, not Pescia. Pescia will be among the stops listed as an individual stop but it is not the final destination of the train. Just look at the monitor where the stops appear.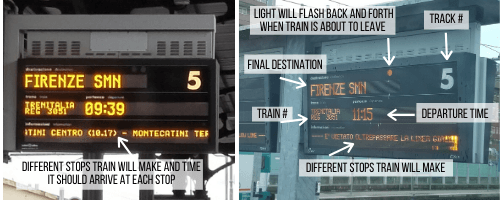 Also, remember your train ticket has a train number and the departure time and the display board shows you the track number. This is the best way to make sure you are getting on the right train.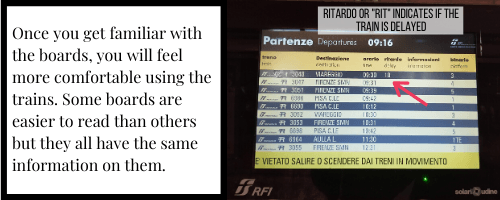 You will also notice words such as testa and coda on the boards. They indicate where the food or first-class cars are located. Testa means "head" or front of the train and coda means "tail" or back of the train.
When in Doubt – Ask
Now I understand this can be confusing for the first-time traveler but if all else fails and you are still not sure, ask at the ticket desk or in the case of larger terminals at the help desk. As I stated earlier most people working for the train lines have some understanding of the English language and will only to happy to assist you.


Here is a list of the websites I use for train travel. Their apps for your smartphones are very easy to use and helpful to have this information on hand when traveling.
Trenitalia – has an English version and I believe other languages too.
Italo – has an English version and other languages as well and is extremely easy to use. On their website, they show the price for one ticket but in the ordering section, you can add the number of travelers you need.
For a quick glance at train timetables, I use the Trenit App This link will take you to their website and you can download it for Android and iOS. This app gives you track numbers and I find it very informative.
The Best Website for All Information – Train Travel in Italy
The best website for all general information is Trainline. If you are looking for information about other countries, just use this link and go to their homepage. Scroll a little downward and you will see a box on the right side "What's in this Guide?" Here you will find excellent information on almost everything you need to know about train travel.
If in that same grey box, you click on the link for Train Companies in Italy you will find photos of what the different train class seats look like. This is towards the bottom of the page.
The link for Good to Know (FAQs) has more helpful information.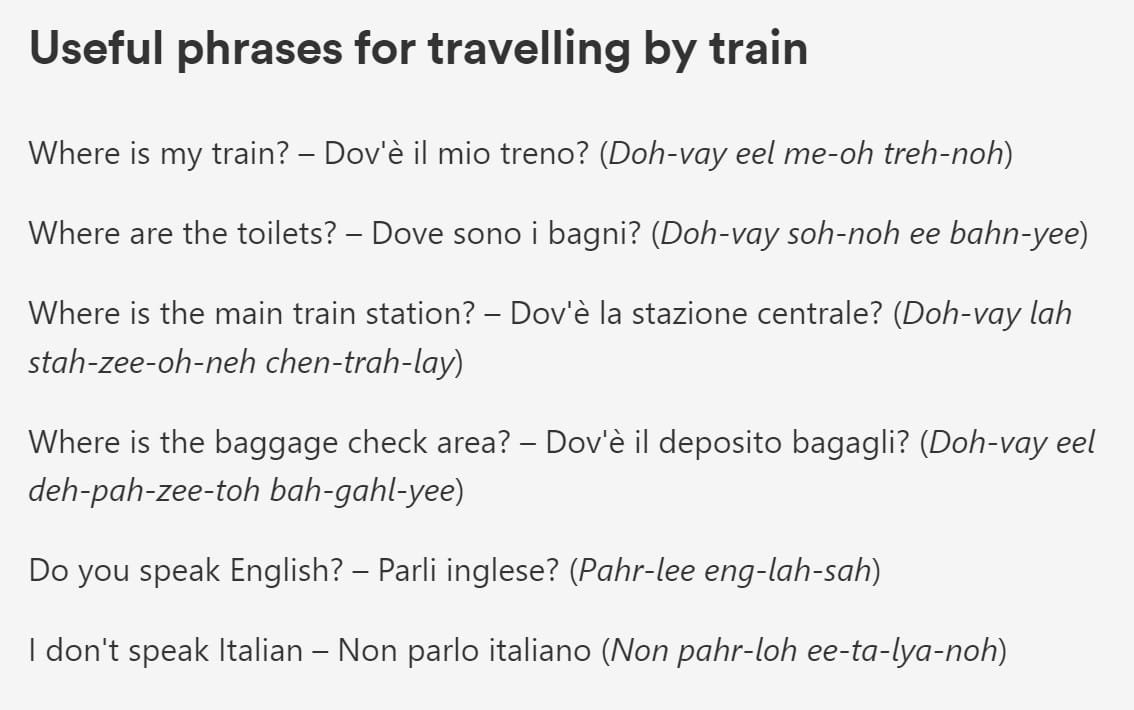 Video Showing How to Validate a Ticket
Here is a video we took at the Lucca train station when we left for a few days to visit Florence. We thought we'd show you exactly what the "stamp" or validation looks like on a train ticket. Always make sure it prints the time/date or go see the ticket agent. The machine could sound like it stamped it, but could possibly be out of ink.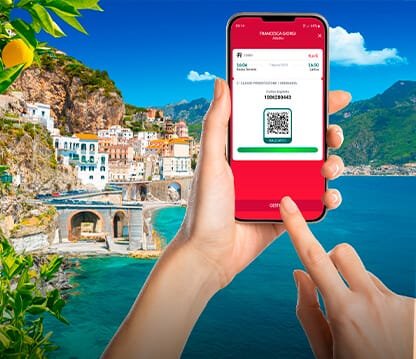 The new "check-in" policy started in 2023! This updated information is strictly for traveling on Trenitalia – not any other train line. Also… this update is regarding tickets purchased on Trenitalia's App and on their website for regional trains.
See all new features:
Remember to check-in before your scheduled train departure time to validate your ticket.
Simply open the "My journeys" area in the Trenitalia APP or website or open the link in the e-mail or text message you received and select "check-in".
The journey date and time can be changed an unlimited number of times before 11:59 PM the day before your scheduled departure.
You can change your departure time an unlimited number of times on the day of your journey if you haven't yet checked in.
You can buy your Digital Regional Ticket on this website, on the Trenitalia App, at authorized Travel Agencies, and on the Trenitalia website. Here is their website regarding this updated information!
Train Travel in Italy Closing
In closing, train travel in Italy is really easy and a very comfortable way to travel. Millions of Italians use the rails every year. Don't be afraid of train travel in Italy, embrace it and you'll be happy you did. Also remember, the first time will be scary, after that, you'll travel like a pro.
Please check our site for more information about traveling by train. We have quite a few posts about this subject!