You aren't supposed to clean your Moka Pot with Soap? How does it then get clean?
This post contains affiliate links that help keep this website running. By purchasing through our links, we make a small commission at no extra charge to you. Thank you for your support!
It's a sure bet that every household in Italy has at least one Moka pot. They probably have two or three in different sizes of course, but for argument's sake- I'll put my euros on at least one. Hands down, the iconic 8-sided coffee maker is the best way to make espresso coffee. But it's a well-known fact among Italians… you never wash your Moka Pot with soap.
N – E – V – E – R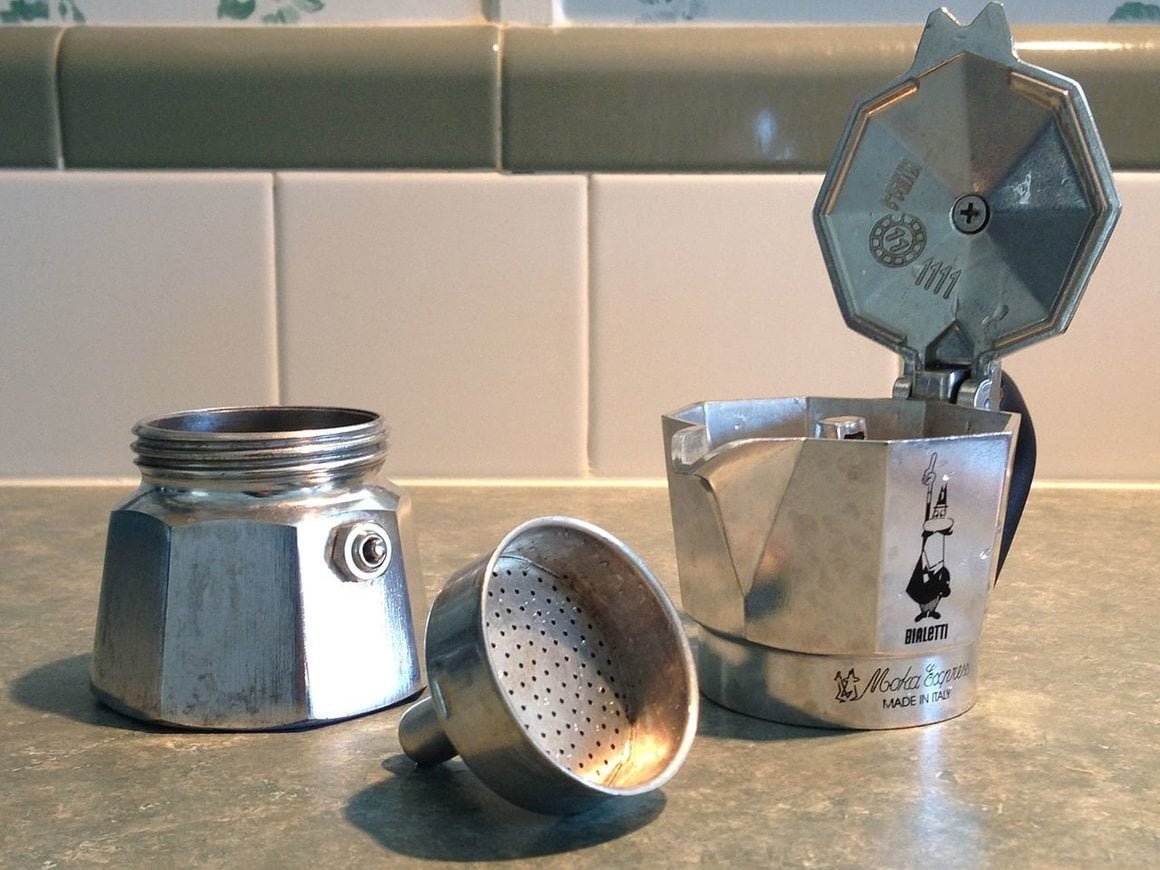 So… What's The Procedure to Clean my Moka Pot?
Step 1: After every use, take it apart and toss the grinds. If you have a compost pile- that would be awesome. Coffee is great to put in it. I've been known to dilute the grinds in water and add them to my outdoor plants for extra nourishment. That's the first step. By the way, when you try and remove the grinds, don't bang the aluminum filter against the side of the garbage can. You can easily damage and dent the filter this way.
Step 2: Thoroughly rinse all three pieces with warm to hot water. The bottom water container will be easy, then you need to rinse the inside and the bottom of the top portion with the nozzle. Grinds will adhere to the bottom of the top part and you must clean it completely. The filter needs to have water run through both the "basket" end – as well as the "tube" end. Once you have rinsed water through it, hold the filter by the tube end and shake it downwards into the sink. You will be surprised by the number of grinds that will still come out of the filter into the sink. Shake until only clear water comes through, just a few shakes should do it.
… and the last step…
Step 3: Again, don't use soap. Soap will discolor the outside, and change the natural behavior of the inside of the pot. If any soap were to be left inside – it would change the flavor of the coffee too. Also, Moka Pots after time build up a thin layer of oil inside the chamber. Oil leftover from brewing coffee actually aids the coffee maker in consistently brewing rich, flavorful espresso.
While on the subject, don't even think of putting it in the dishwasher either.
If you accidentally use soap on your Moka Pot, immediately wash it with hot water. I would also put a small amount of coffee in the pot and once brewed, toss it all. It will be undrinkable from the soap.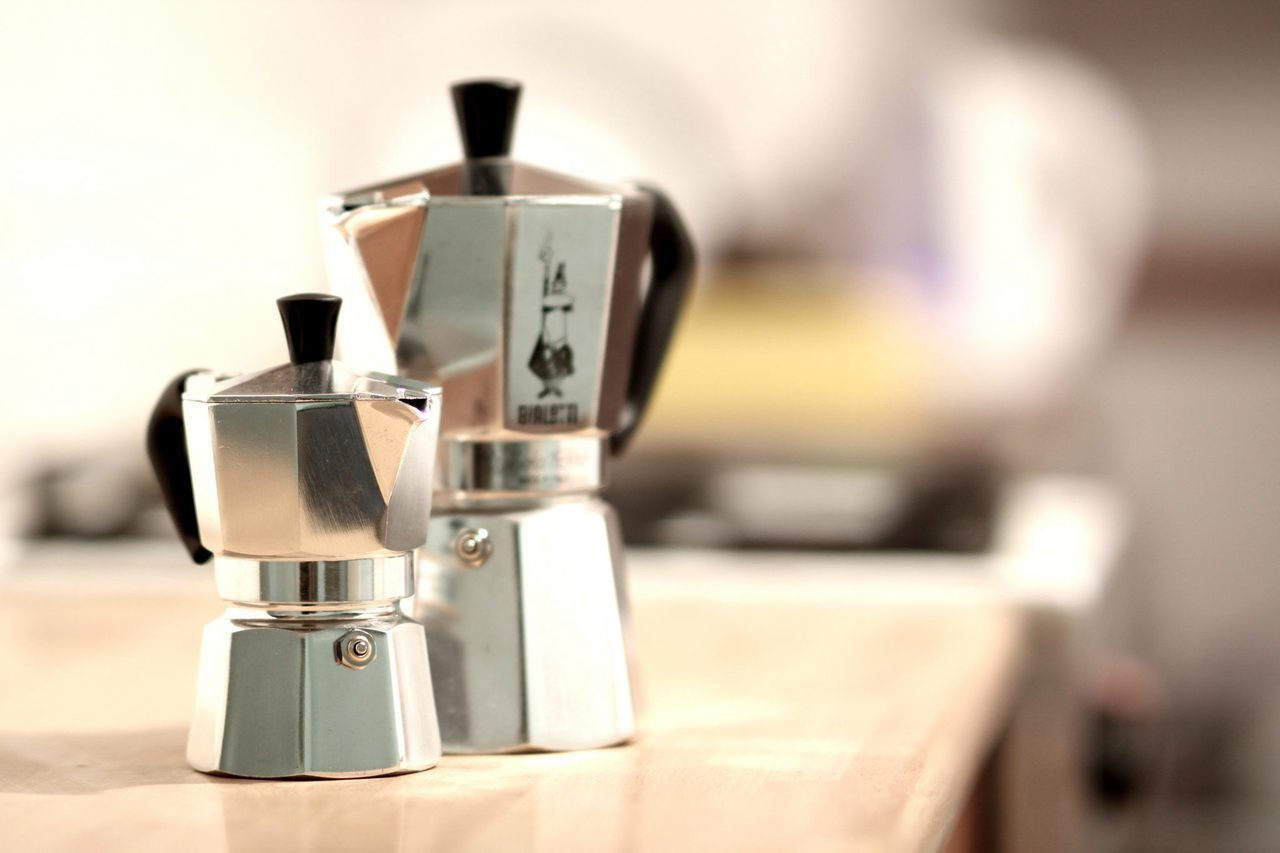 Descaling Your Moka Pot
If you feel it necessary, you can safely descale your Moka Pot.
You will need:
One tablespoon of white vinegar
One tablespoon of lemon juice
Simply follow these easy steps: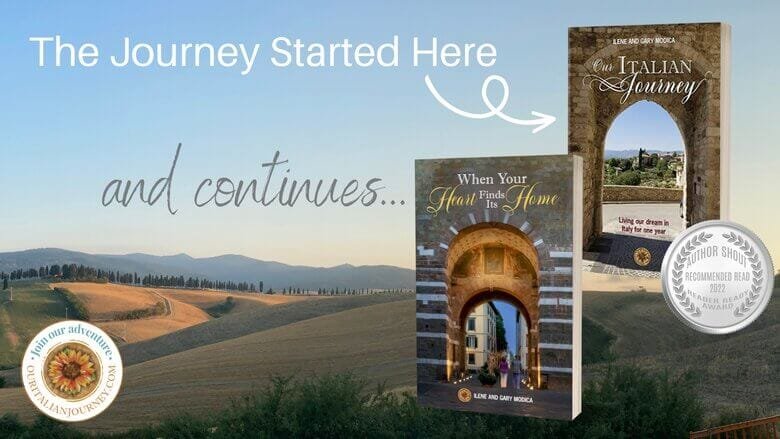 We hope you will consider joining our journey. It started in 2019 with "Our Italian Journey," and this part of the adventure has concluded with "When Your Heart Finds Its Home." Both are available wherever books are sold.
Please take a moment when completed to leave a written review. It truly makes a difference in ranking. We also love to receive photos of our book(s) cover with you, a pet, or some creative way for our social media!