This post contains affiliate links which means that we may receive a small commission if you make a purchase through a link at no additional cost to you. Thank you for your support!
In Love With Verona, Italy
Where is Verona located in Italy and why will you love it too? You will find Verona about two hours between Milan and Venice on the northern train line. Of course, Verona was made famous by Shakespeare's star-crossed lovers Romeo and Juliet, but visiting Verona is so much more. This city is found in the Veneto region of Italy and this medieval old town was built along the edge of the Adige River, Google map
We spent three days exploring this beautiful city on a side trip when we were staying in Parma (in 2016) for 90-days. We stayed in a B&B right next to the Verona di Arena. There was a rock concert going on while we were there but it didn't affect our trip at all. Of course, we would have loved it if Andrea Bocelli was performing! What we both loved about this city is the fact that although it was "touristy" it had a very relaxed feeling.
Here are a few reasons we loved Verona and things you should try and see when visiting this magical city. These are in no particular order:
1.  House of Juliet
The House of Juliet is where the real-life Cappello family lived with their young daughter, Juliet. The tiny romantic courtyard is worth the trip to see, in my opinion. It can be very crowded and there is always a line for people to take pictures of each other rubbing Juliet's breast, hoping to get lucky in love. For a small fee, you can go up and stand on Juliet's balcony and of course, take more photos.
I was taken aback by the amount of graffiti along the entrance to the courtyard on wood boards that protect the beautiful stone walls. When I say, graffiti, I mean the names and dates of people who came to visit the courtyard. I didn't sign my name but I did leave a letter to Juliet. Not asking for advice, but to tell her I am so grateful to have found the love of my life and have been married to him for almost 38 years as of this post!
On February 14th, Valentine's Day, and September 17th, Juliet's birthday, Juliet's house, and its inner courtyard host events, readings, and performances dedicated to Juliet and to love.
The city is so famous for love that it gets letters addressed to "Juliet, in Verona, Italy." There are volunteers that respond to these letters! You can find out more at www.julietclub.com. One of our favorite movies is Letters to Juliet, about a girl who finds a letter while visiting the House of Juliet, replies to her, and then when she actually comes for a visit from England, helps her travel through Italy to hopefully reunite her with her lost love of 50 years.
2. Juliet's Tomb
You can also visit Juliet's tomb which is in a different location in the city in another beautiful courtyard situation.
3.  Arena di Verona
Ancient Romans considered Verona an ideal spot to rest before crossing the Alps. Because of this, Verona has quite a few Roman ruins. The third-largest amphitheater is located here in Piazza Bra.  It dates back to the First Century A.D. and still has most of the original stone. In ancient times, it held nearly 30,000 people but today, it is used for summer festivals and concerts. For security reasons, this amphitheater now has a maximum attendance of 15,000 people.
4. Castelvecchio
This beautifully preserved 14th-Century fortress is a great stop to see different views of the city. It will take you a few hours to explore but one you should investigate. This castle has seven towers and lots of narrow walkways to explore. If you come across a gate, try it as it is unlocked and lets you explore even further. It is also a museum of artifacts and a collection of paintings that includes pieces by Italian masters Mantegna, Bellini, and Pisanello.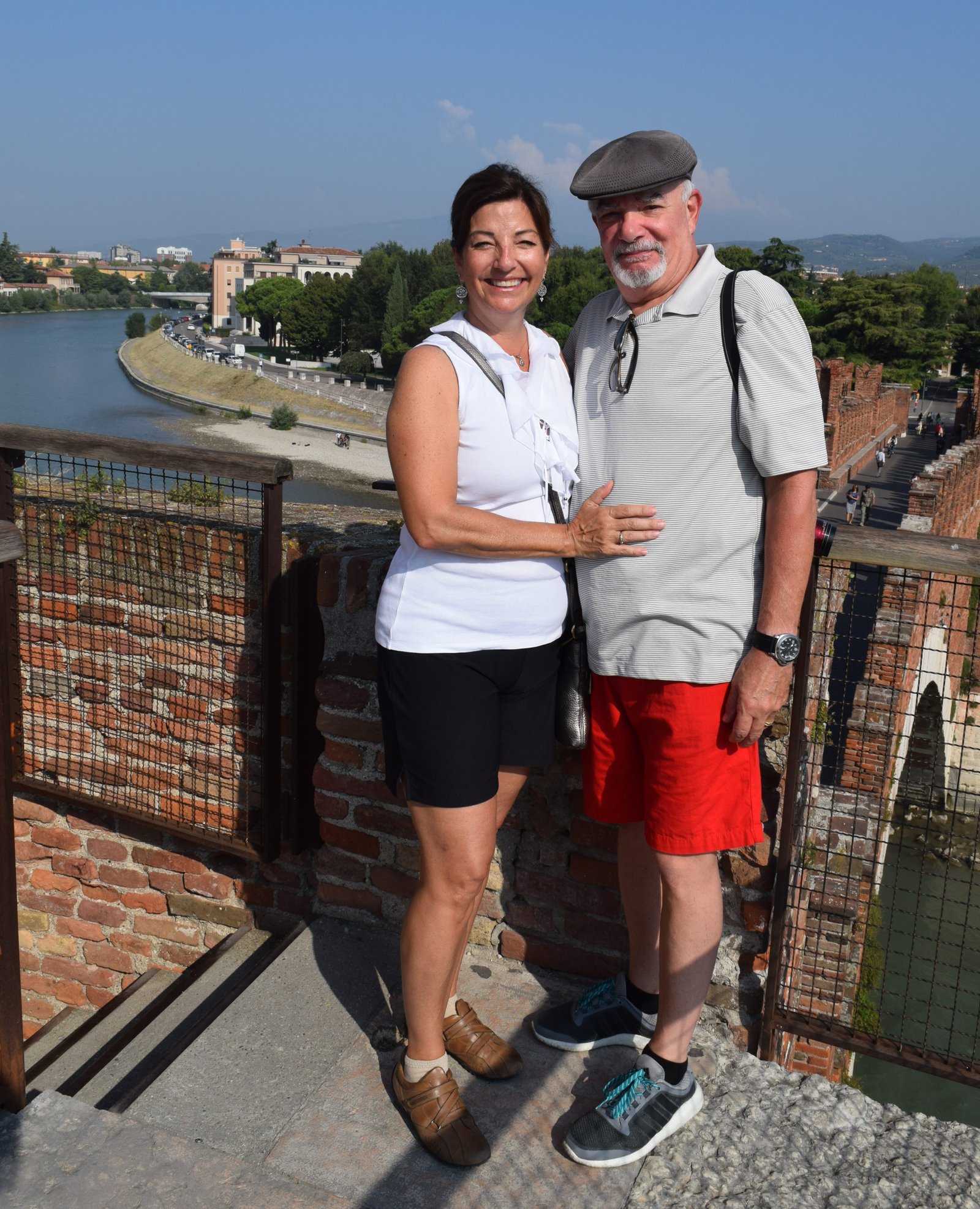 5.  Piazza delle Erbe
Piazza delle Erbe is a market square where vendors come and sell what is in season. Also sold here are souvenirs and trinkets from the small shops. People have gathered in this piazza since Roman times when this piazza was a forum. There are great restaurants to sit in and have an aperitivo while people watch. This piazza is surrounded by Renaissance architecture and an amazing fountain in the center.
6.  Duomo
Verona's main cathedral (Duomo) is simply stunning. The outside might be plain but the inside of this 12th-century church is incredibly elaborate. It is worth taking a moment to walk around and see some of the beautiful artwork including a painting by the Italian master Titian.

7.  Piazza Bra
This is the largest piazza in Verona, Italy with some claims that it might be the largest in all of Italy. The piazza is lined with numerous restaurants. It is a great place to sit and enjoy a meal and people-watch.
An ancient traditional fair of Saint Lucy is held in Piazza Brà. This recurrence takes place each year between December 11-13th.
8.  Ponte Pietra Bridge
The Stone Bridge is located in one of the most panoramic areas in Verona. This bridge has been reconstructed many times throughout its history but remains one of the most important Roman monuments. (see the picture in #9)
9.  Basilica of San Zeno Maggiore
This large 11-12th-Century Basilica is considered the finest Romanesque building in northern Italy. These days, you enter this church through a side entrance through an elegant Romanesque cloister but don't miss the bronze doors at the front main entrance. These doors are reliefs of Biblical scenes and are amazing. This church has beautiful frescoes from the 13th to 15th centuries. In the choir area is a marble figure, thought to be St. Zeno, the fourth-century bishop of Verona. Located in the crypt as his remains.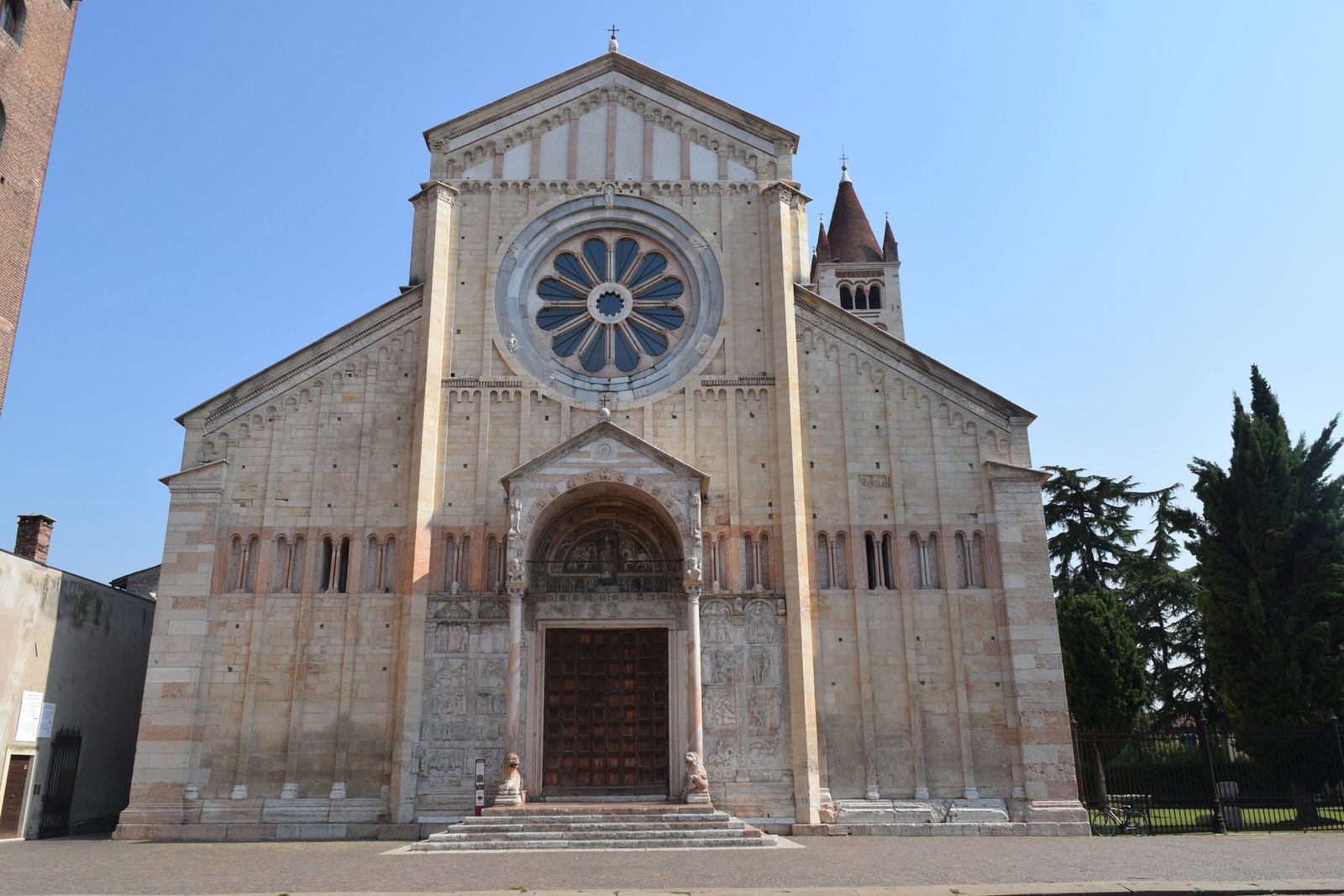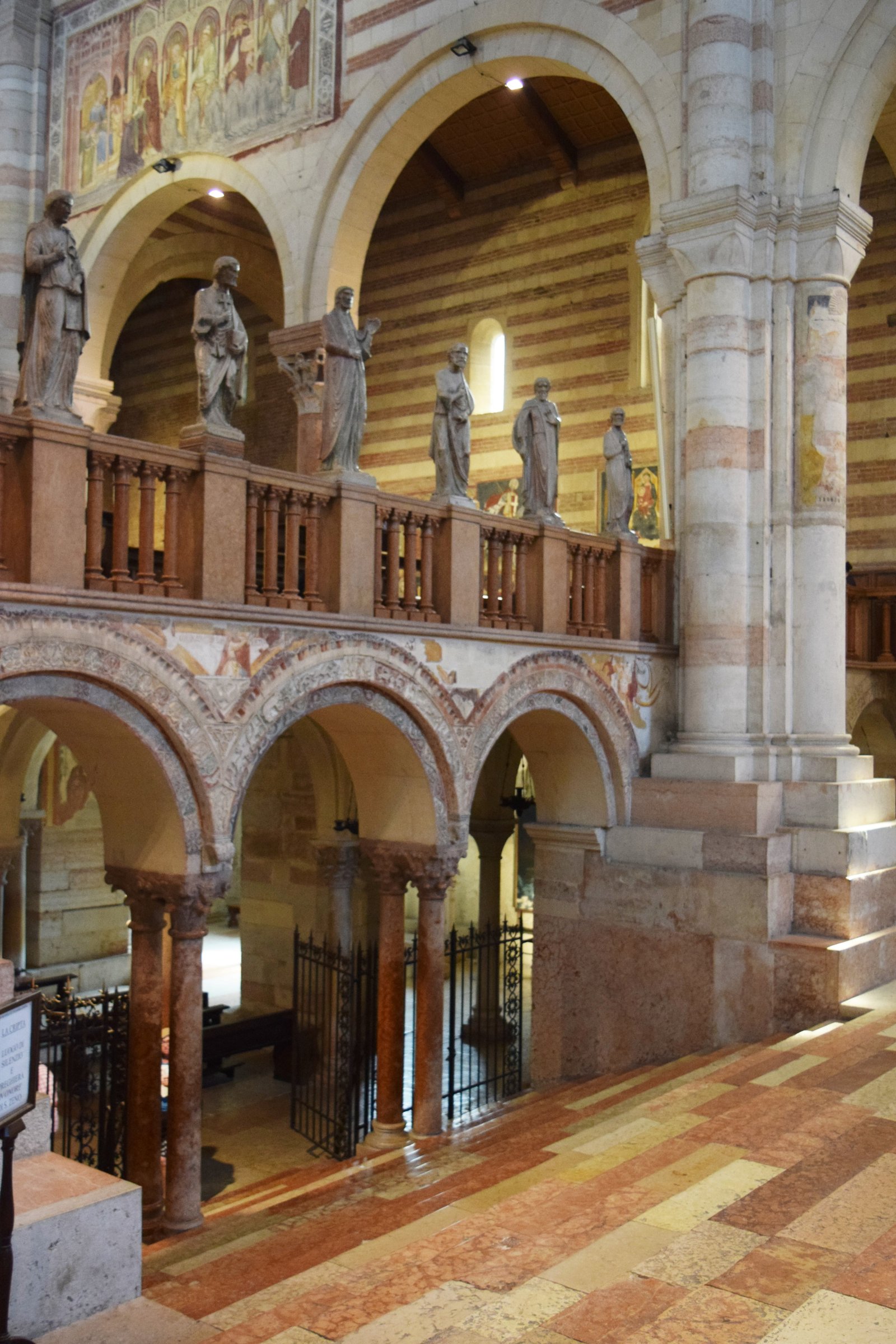 10.  Teatro Romano
Across the Ponte Pietra located on the hillside is the Teatro Romano. This Roman Theater was built in the first century during the reign of Augustus and excavated between 1904 and 1939. It is a difficult climb up to the top and difficult if you have walking or climbing issues. If you make the climb, you will see the remains of the stage. The theater is now home to the summer Verona Jazz Festival. Climb to the top to get the best views of the city and the Ponte Pietra.
In closing…
Besides eating, for me, the highlight of Verona is the evening passeggiata (stroll). It's a multigenerational affair that is truly part of the Italian heritage. We love taking part and just enjoying the city and the people.
Look at the ancient ruins we found looking for gelato, right in the middle of the street!

---