This post contains affiliate links which means that we may receive a small commission if you make a purchase through a link at no additional cost to you. Thank you for your support!
Palio di Parma
You have no doubt heard of the famous Palio horserace held twice a year in Sienna, Italy. It is an amazing event; one which we still have not yet attended but is on our "bucket list". It seems other areas of Italy also have Palio races. We happen to see barricades being put up in Piazza Garibaldi only to discover that Parma's version was being held that day!
The Palio takes place in the afternoon, after the set of the five doors, starting from the respective port, have reached in procession to the Piazza Duomo Pilotta. After the performance, the five groups of flag wavers move the festivities to Piazza Garibaldi for the parade and races.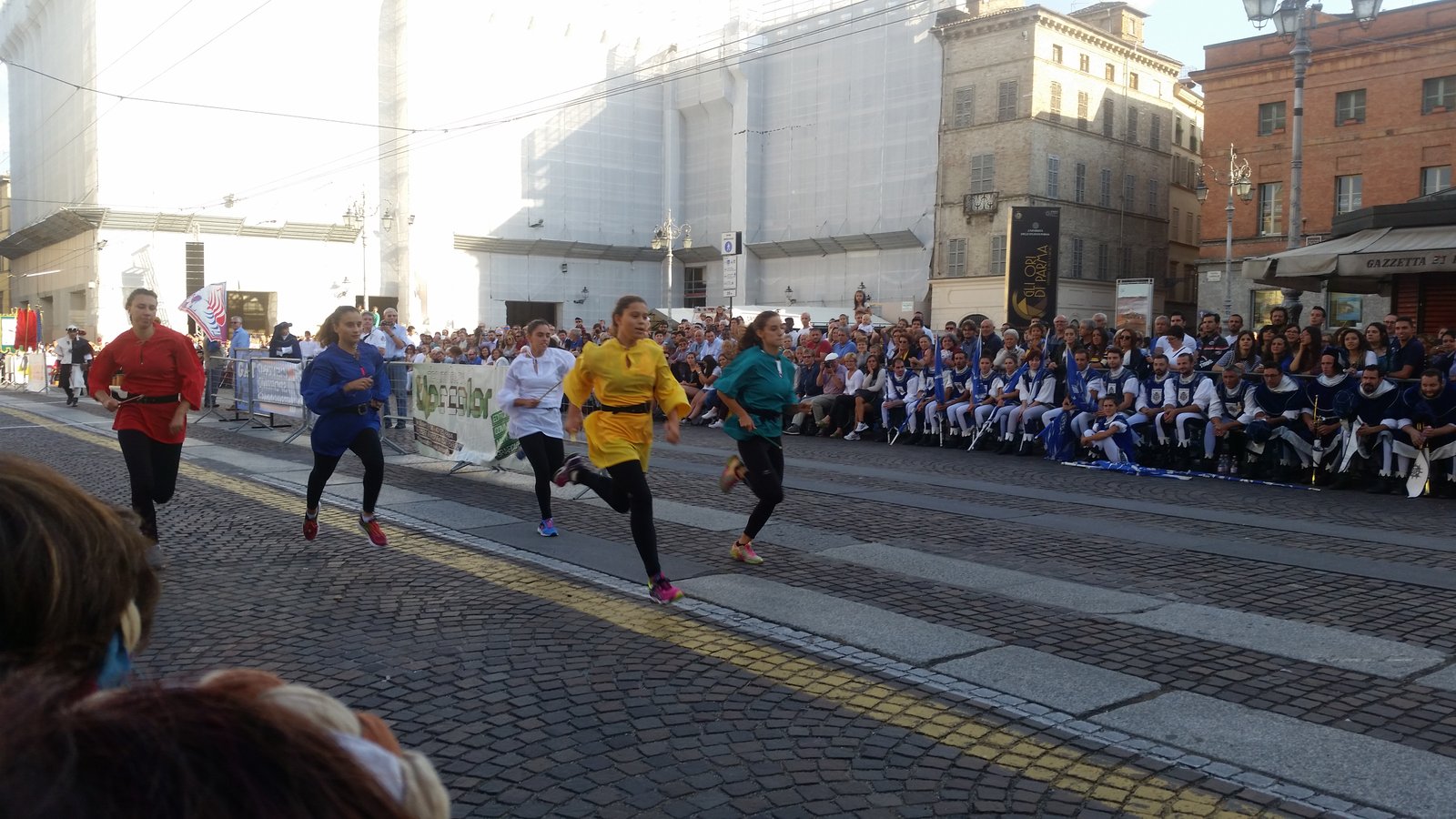 Since 1978, the Palio di Parma has been reorganized by The Italian Sports Centre in Parma. There are three-speed races, a donkey (children riding), a women's race (the Green Cloth Stroke), and a race of men (the Scarlet Corsa) each representing one of the five gates. The donkey racing was quite amusing as some of the donkeys decided they didn't want to race so they got pushed most of the way! The women's and men's races were what we know as "relay" races where each team of five passes the "baton" to the next person. We were standing mostly with the blue section (New Door) so we were rooting for them. We won 2 out of the 3 races this year!!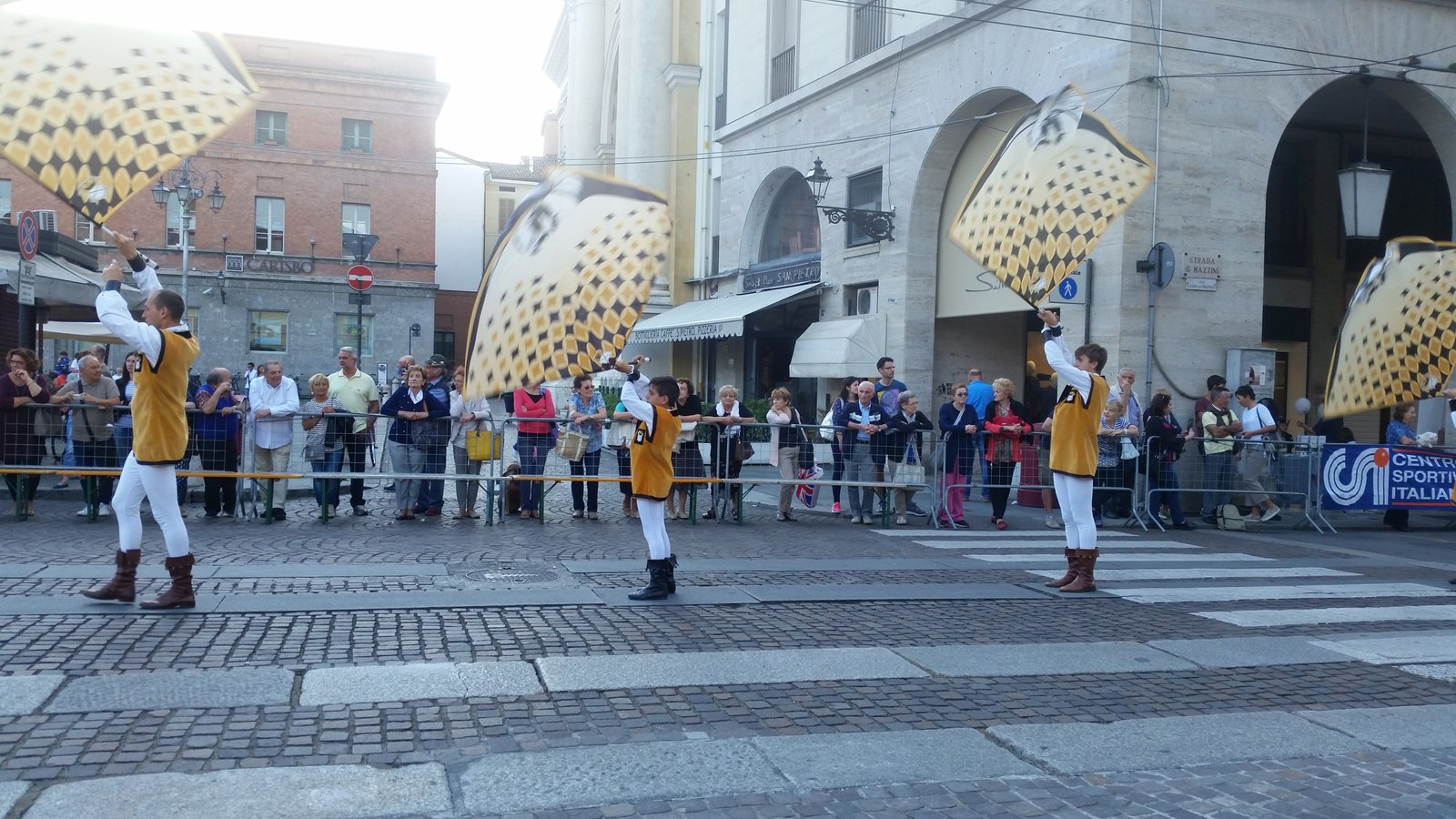 In addition to the races, there are costume parades and battles of medieval warriors. Each of the five gates of the city is also represented by a different group of flag wavers who perform several times in the two days of festivities.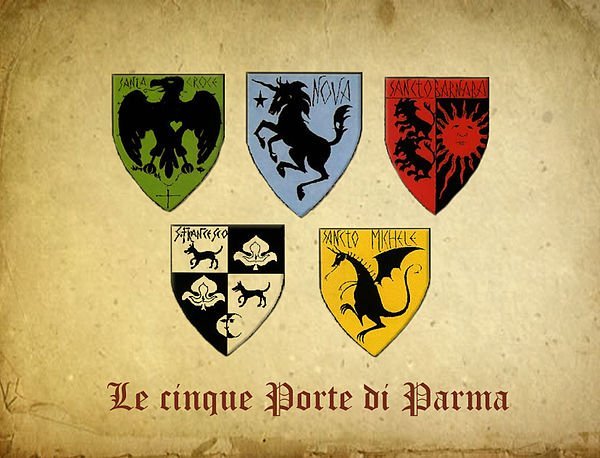 Here is the color breakdown:
| Motto | Colors | Family | Territory | Church Symbol | |
| --- | --- | --- | --- | --- | --- |
| Eagle | Green | Rossi of San Secondo | Via d'Azeglio, Piazzale Inzani, Via Imbriani (north side), Via Gramsci, quarteri Pablo, Golese and San Pancrazio, the "north west of the city." | Church of the Holy Cross (Parma) (the square Santa Croce) | |
| Motto | Colors | Family | Territory | Church Symbol | |
| --- | --- | --- | --- | --- | --- |
| Wolf | Black & White | Pallavicino, Wolves & Cavalcabò | Bixio street, south side of Via D'Azeglio the Annunciation Bridge, Street of the Constituent Assembly, Via Imbriani (south side), Via della Salute, Montanara neighborhoods, windlass and Vigatto, "southwest area of the city." | Church of the Santissima Annunziata (Parma)(d'Azeglio Road) | |
| Motto | Colors | Family | Territory | Church Symbol | |
| --- | --- | --- | --- | --- | --- |
| Unicorn | Blue | Cornazzano & Terzi di Parma | Strada Farini, Borgo Giacomo, Via XXII Luglio, Borgo Felino, Citadel district, "south of the city." | Sant'Uldarico, Parma (Strada Farini) | |
| Motto | Colors | Family | Territory | Church Symbol | |
| --- | --- | --- | --- | --- | --- |
| Dragon | Yellow | Sanvitale | Strada della Repubblica, Via Dalmatia, Viale Tanara, High Street, Avenue of Italian Partisans, Viale Pier Maria Rossi, neighborhoods Ljubljana and San Lazzaro, the "city of the east." | Church of St. Sepulchre (Parma) (via della Repubblica) | |
| Motto | Colors | Family | Territory | Church Symbol | |
| --- | --- | --- | --- | --- | --- |
| Lion | Red | Correggio | Strada Garibaldi, Cavour Street, Borgo Parmigianino, Via Verdi, Viale Toscanini, San LEONARDO neighborhoods and Cortile San Martino, the "north-east of the city." | Church of San Francesco del Prato (Piazzale San Francesco) | |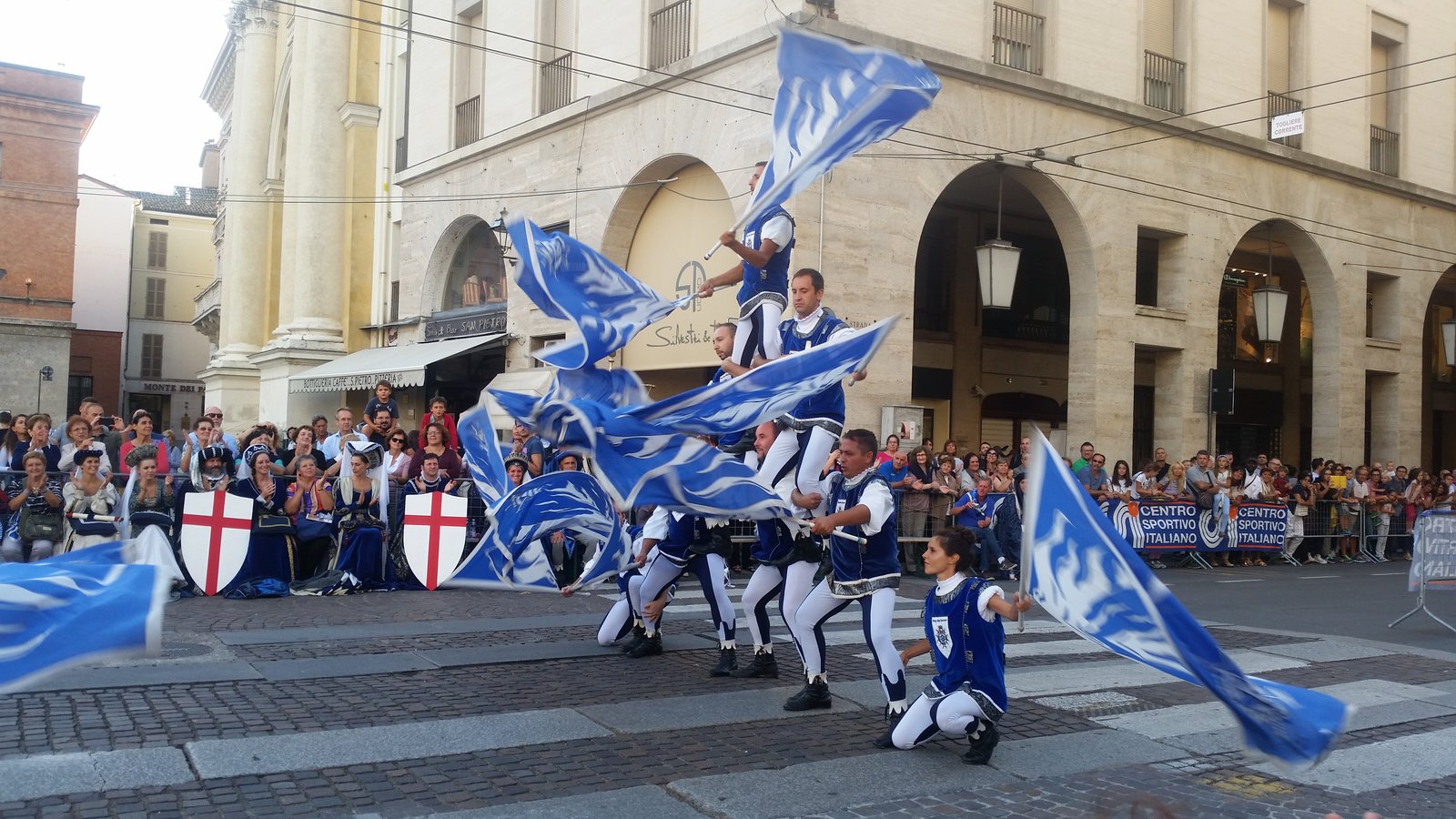 ---