Leather in Florence
Buying real leather in Florence is a bit overwhelming. When you walk through the streets, almost every third store seems to be selling leather goods. Jackets, handbags, wallets, etc. can be found hanging in an array of colors, styles, and designs.
This post contains affiliate links that help keep this website running. By purchasing through our links, we make a small commission at no extra charge to you. Thank you for your support!
Decisions On What To Buy
Let's look at purchasing a jacket. You need to ask yourself:
Do I want an "Italian" leather jacket, one that is made in Italy?
Do I want an  "Italian leather" jacket, that is made with Italian leather? from Italy? From Florence?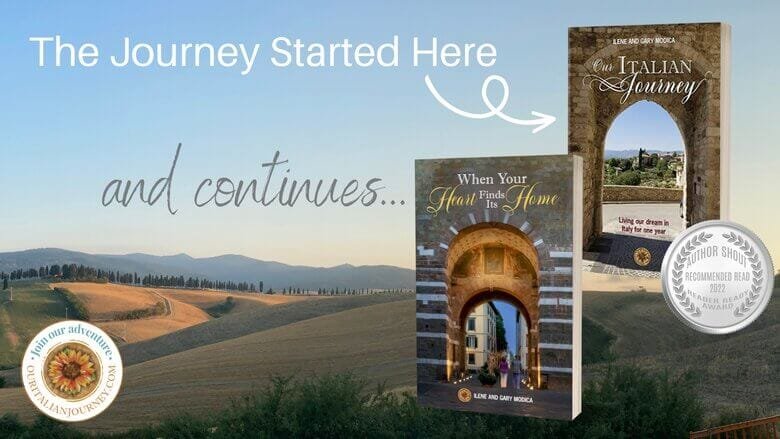 We hope you will consider joining our journey. It started in 2019 with "Our Italian Journey," and this part of the adventure has concluded with "When Your Heart Finds Its Home." Both are available wherever books are sold.
Please take a moment when completed to leave a written review. It truly makes a difference in ranking. We also love to receive photos of our book(s) cover with you, a pet, or some creative way for our social media!
Price
Jackets that cost under 200€, may indeed be made in Italy…. however, the leather may have come from another country. You need to investigate and find out if the jacket is "Italian" and "real" leather, OR if has it been "sewn" in Italy. Not easy to do when standing in a leather store as you are relying on the store owner for this information. So what to do?
There are plenty of stores that have been around for years. You can check websites from the city you are in or, go to the Tourist Information (ti) booth and ask for their advice. It more than likely will be a purchase that you plan to have for years to come so it is worth doing your homework.
Our Experience
Gary was after a leather jacket and I wouldn't consider us just average shoppers. We knew we didn't want to purchase from one of the market vendors, our preference. We were given a recommendation by a fellow blogger who lives here in Florence
The owner Massimo speaks English and was just wonderful. Actually, the entire staff is great and there is no pressure to buy when you enter the store. We even happen to meet Massimo's wife, Collette; what a really nice couple!
While Gary was trying on a few jackets, ya… I did too! Massimo gave us a nice deal for the two jackets and even did an alteration, at no charge on our jackets. I would return to this store the next time we visit Florence. They have become friends and we visit them every chance we can. We highly recommend this wonderful couple.
Pelletteria Massimo Leather
Via Borgo La Noce, 13/R
50123 – Firenze, FI
Tel. +39 055218634
Email: massimoleather@gmail.com
Website: http://www.massimoleather.com